To kick off our coverage of the 2011 high school class all-star game circuit, we begin with prospects from the McDonald's All-American game who will not be playing at either the Nike Hoop Summit or the Jordan Brand Classic.
Marshall Plumlee,7'0, Center
Committed to Duke
One of the more impressive performers at this year's McDonald's All-American practices;
Marshall Plumlee
(#67 Scout, #82 Rivals, #37 ESPN) exceeded expectations relative to his modest recruiting rankings with his athleticism and aggressiveness.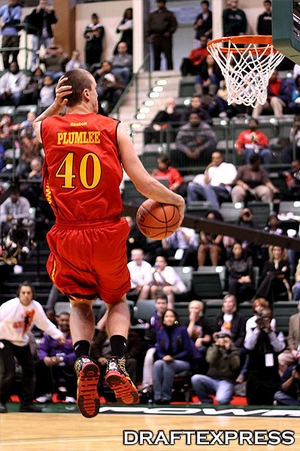 Sporting a long frame with great potential for growth and an athletic profile similar in many ways to his brother, 2008 McDonald's All-American
Mason Plumlee
, Marshall is an impressive specimen for a big man his age. A bit taller than his older brothers at nearly 7'0, he clearly needs to continue packing on muscle to help battle inside the paint, but he's made tremendous progress in that area already over the past year or so, and will likely continue to do so as his body fills out in time.
Despite his lack of strength relative to the more physically mature players he'll be matching up with in the ACC next season, Plumlee isn't afraid to mix it up down low. Though he converted many of his touches this week facing-up and using his quickness to create separation for his hook shot, he was equally as impressive fighting for position when crashing the offensive glass, finishing in traffic with his tremendous explosiveness, and scrapping for loose balls.
Stepping away from the basket, Plumlee knocked down a few face-up jump shots, but was primarily looking to put the ball on the ground when he got a touch on the block. He hasn't been known to try to impose his will offensively in the past, but showed an unexpected assertiveness here that could set him apart from his brothers. If Marshall can continue to play with the aggression he did this week, gain some weight, and polish his skill level, he could be a great asset for Coach K down the road.
Defensively, Plumlee's potential was very clear. He's a good rebounder in his area already and showed a fine energy level. His physical tools competitiveness will help him in the college game, and with some added strength and experience, he'll fit in just fine with the coaching he'll receive in Durham.
Considering Plumlee may be competing with both his brothers for playing time next season, as well as with fellow McDonald's All-American
Ryan Kelly
, he may not be looking at extensive playing time early in his career, but with his size, athleticism, and budding skill-set, he's a definite prospect to keep an eye on down the road.
Chane Behanan, 6'7, Power Forward/Center
Committed to Louisville
Though
Chane Behanan
(#27 Scout, #23 Rivals, #27 ESPN) didn't post tremendous numbers during the Mcdonald's All-American game itself, he showed a number of promising tools throughout the week in practice.
Behanan was easily the strongest interior player in attendance this week, and his powerfully built lower body allowed him to carve out space very effectively around the basket. On the offensive end, he showed a good feel for scoring around the rim and did a solid job making his presence felt on the offensive glass. The Bowling Green HS product has tree trunk legs and could grow into an extremely strong interior oriented power forward, a la
Craig Smith
, if he continues to work on his frame.
In addition to his play around the basket, Behanan flashed some potential when facing up and putting the ball on the floor from the midrange, though his decision making in space isn't always ideal. Shorter than many of the other players at his position in attendance, the former Cincinnati commit proved to be pretty agile and bouncy despite carrying some extra weight. His length is a limitation defensively, but his toughness is a definite plus when he's dialed in.
Showing solid touch out on the perimeter, Behanan has the potential to be a bruising inside-outside power forward on the next level. His body is ready-made for Big East play, but his ability to polish his midrange game, refine his post moves, and maximize his physique will all play a role in his success at Louisville as an undersized power forward/center, and reflect how he is perceived as a NBA prospect moving forward.
Branden Dawson, 6'6, Small Forward
Committed to Michigan State
Amongst the more impressive physical specimens at the McDonald's All-American game,
Branden Dawson
(#18 Scout, #13 Rivals, #20 ESPN) exceeded expectations with his bruising style of play throughout the week.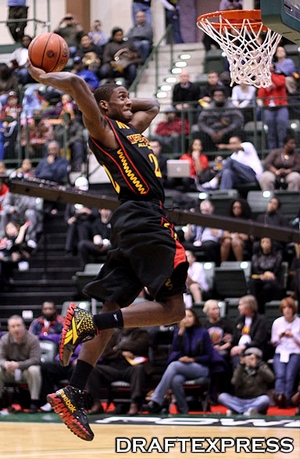 An exceptional run-jump athlete with a sturdy frame, long-arms, and giant hands, Dawson has physical attributes somewhat similar to those of
Kawhi Leonard
. He shares Leonard's tremendous rebounding ability too, looking extremely good crashing the glass on both ends for a future small forward.
On the offensive end, Dawson is still clearly a work in progress. He's very capable of finishing above the rim, but is still developing the perimeter shooting, ball-handling, and passing to ease his transition to the wing at Michigan State. Dawson showed improvement in each of those areas this week, and was one of the few players able to contain
Austin Rivers
in practice on the defensive end thanks to his blend of length, lateral quickness, and intensity.
Dawson has impressive role player potential, and with continued development as a perimeter scorer could be a big piece of the puzzle as Michigan State looks to retool. He certainly fits the mentality Tom Izzo looks for.
Cody Zeller, 6'11, Center
Committed to Indiana
The younger brother of former Notre Dame forward Luke Zeller and North Carolina star
Tyler Zeller
,
Cody Zeller
(#17 Scout, #20 Rivals, #12 ESPN) shares some of his brothers' attributes, but didn't do much to distinguish himself from the pack over the course of the week.
Possessing good height, but a narrow, skinny frame, Zeller played hard and smart, but struggled to finish against the stronger, more athletic, and more aggressive players he was regularly matched up with inside the paint. He has good touch with both hands, and can step out and shoot the ball from the perimeter, but will need to gain weight and refine the same jump hook shot his brother did to help him establish position down low and score over defenders.
Though Cody is not as athletic as his brother Tyler, he should see plenty of playing time to develop his game as Tom Crean rebuilds the Indiana program. He'll be joined by a very talented group of recruits next season, and if he can continue to add toughness and improve his rebounding and defensive skills, should be a factor in the Big Ten sometime down the road.
Amir Williams, 6'10, Center
Committed to Ohio State
One of the more quiet participants in this year's McDonald's All-American game, surprise-participant
Amir Williams
(#42 Scout, #73 Rivals, #36 ESPN) was slowed by an eye injury over the course of the week.
Williams is a fairly long strider with a giant wingspan, but is not a polished player. His size helps him score around the basket and his length makes him a factor defensively, but he needs to continue to add strength to become more effective dealing with contact down low.
The Detroit Country Day product made the most of the few touches he saw on the offensive end this week, mostly just finishing the plays his teammates created for him. He has no trouble playing above the rim when he can gather himself, but he'll need to polish his midrange jump shot and back to the basket game to become an effective one-on-one scorer at the next level.
If
Jared Sullinger
indeed stays at Ohio State, Williams may see some of the minutes left behind by
Dallas Lauderdale
on one of the top teams in the country. Like many big men his age, he has a ways to go in terms of improving his feel for the game and skill-level, but should be able to contribute immediately on the defensive end thanks to his physical tools.