D.J. Newbill
Recent Tweets
All Tweets
DraftExpress: Players who went undrafted (#3) Dez Wells D.J. Newbill Treveon Graham Terran Petteway Ryan Boatright Keifer Sykes Joshua Smith
2015-06-26 00:23:07
Team: Villeurbanne
Physicals
Positions
Salary
Misc
H: 6' 4"
W: 214 lbs
Bday: 05/22/1992
(23 Years Old)

Current: SG
NBA: SG
Possible: SG

Agent: Stephen Pina

High School: Strawberry Mansion
Hometown: Philadelphia, PA

Predraft Measurements
| Year | Source | Height w/o Shoes | Height w/shoes | Weight | Wingspan | Standing Reach | Body Fat | No Step Vert | Max Vert |
| --- | --- | --- | --- | --- | --- | --- | --- | --- | --- |
| 2015 | Portsmouth | 6' 2.75" | NA | 214 | 6' 6" | 8' 5.5" | NA | 24.5 | NA |
| 2014 | Nike Skills Academy | NA | 6' 5" | 215 | 6' 5" | NA | NA | NA | NA |



Basic Per Game Statistics

- Comprehensive Stats - Statistical Top 25s
| Year | League | Name | GP | Min | Pts | FG | FGA | FG% | 2Pt | 2PtA | 2P% | 3Pt | 3PtA | 3P% | FTM | FTA | FT% | Off | Def | TOT | Asts | Stls | Blks | TOs | PFs |
| --- | --- | --- | --- | --- | --- | --- | --- | --- | --- | --- | --- | --- | --- | --- | --- | --- | --- | --- | --- | --- | --- | --- | --- | --- | --- |
| 2015/16 | French | D.J. Newbill | 9 | 17.8 | 7.1 | 2.8 | 5.4 | 51.0 | 2.3 | 3.7 | 63.6 | 0.4 | 1.8 | 25.0 | 1.1 | 1.4 | 76.9 | 0.8 | 1.2 | 2.0 | 1.7 | 0.7 | 0.3 | 1.2 | 1.9 |

Player Page&nbsp&nbsp| Player Stats | Related Articles&nbsp&nbsp| Add to My Draft Express&nbsp
&nbsp
ASM Pro Day Interviews: Lalanne, Newbill, Speedy Smith, Kendall Gray
June 16, 2015
[Read Full Article]

---
Portsmouth Invitational Tournament: Day Three Standouts
April 11, 2015
D.J. Newbill, 6'4" SG, Penn State
14 points, 5 assists, 7 rebounds, 7-19 shooting (0-5 3P)

Penn State guard D.J. Newbill had sort of a mixed bad during his semi-final game at Portsmouth. On one hand, Newbill's 14 points were second on the team in scoring, and he showcased a nice series of moves to get into the lane despite average physical tools. Newbill struggled to convert once in the lane, being disrupted by the long and athletic Gabe Olaseni, who finished the night with 5 blocks, and seemingly altered at least 5 more.

More disconcerting for Newbill was his perimeter shot, as he failed to hit any of the five three point attempts he took. A big part of this was shot selection, as Newbill was eager to look for his own shot coming off the pick and roll, settling for tough, contested jump shots.

This was nothing new for Newbill, and something that has been a staple of his game for some time. While last night was certainly an off-night for the guard, his reliance on that shot off the dribble can lead to some streaky play.

Newbill's likely transition to more of an off the ball role should help limit that, but here at Portsmouth Newbill played on the ball quite a bit as well, including some time as point in a big lineup alongside Wesley Saunders on the perimeter. While this led Newbill to settling for some contested shots, Newbill did flash some nice passes while running the offense, ending the night with 5 assists to only 2 turnovers. So far in the tournament Newbill is averaging 4.5 assists per night, while sporting a 3-to-1 assist-to-turnover ratio.

[Read Full Article]

---
D.J. Newbill Updated NBA Draft Scouting Report
March 16, 2015
Josh Riddell

D.J. Newbill ended his collegiate career with a quarterfinal Big Ten tournament loss against Purdue, leaving him without an NCAA tournament appearance in his career. Newbill was not highly recruited out of high school and played one season at Southern Miss before transferring to Penn State, where he became one of the best players in the Big Ten, culminating in being named to the Big Ten All-Conference 2nd team this season. After three solid seasons with the Nittany Lions, Newbill can now turn his attention to the professional ranks, hoping to impress scouts in the pre-draft process and hear his name called in the upcoming draft.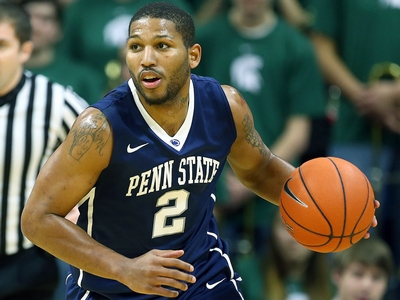 US Presswire



Newbill was a prolific college scorer, averaging 18.6 points per 40 minutes pace adjusted while shooting 48.5% from 2's and 37% from 3 his senior season. He was asked to do it all for the Nittany Lions on the offensive end, attempting 14.2 field goal attempts per 40 minutes pace adjusted while playing 37.1 minutes per night.

Listed as a shooting guard, Newbill had the ball in his hands frequently for the Nittany Lions on the offensive end. Measured at 6'5" at the 2014 Nike Skills Academy, Newbill may be able to matchup size-wise with NBA shooting guards but his length will put him at a disadvantage, as he was measured with a wingspan of just 6'5", a below average mark for his height relative to other NBA draft prospects. He also doesn't have great quickness or explosiveness to compensate for his average size and length. He is a strong player but some of this stems from simply being older than most college players, as he will turn 23 in May, since he had to sit out a year because of his transfer from Southern Miss after his freshman season. He doesn't have great physical tools, but he is crafty with the ball, and possesses terrific scoring instincts, which helps him get good looks at the rim.

Penn State ran Newbill off ball screens time and time again, turning Newbill into a player who could score a variety of ways out of this action. He reads the defense well before using the ball screen, rejecting it or snaking around the screen to beat the defense depending on how the defense is reacting. When he gets to the rim, he is a decent finisher as he averaged 55% around the rim according to Synergy Sports Technology. He has been able to use his physicality to power his way to the rim against collegiate defenders, but may not have the same success against NBA rim protectors, which is somewhat of a concern as he already doesn't always have the foot speed to beat collegiate defenders. He did show a usable runner at times throughout the season and will need to implement this more if he gets an opportunity at the next level to score after he gets into the paint.

When he is cut off from his path to the rim, he is capable of gathering himself for a dangerous pull-up jump shot, shooting an excellent 40.9% on 208 jump shots off the dribble. The 197 points he scored this season off pull-up jumpers ranks #1 in all of college basketball according to Synergy Sports Technology, showing how effective and prolific he is in these situations. This is a tough way to make a living, but Newbill found a way to make it work, even if this skill is becoming less and less popular these days, particularly from players like Newbill who will at best be fringe players in the NBA.

While Newbill's assists totals don't jump off the page, as he had only 2.8 per 40 minutes pace adjusted, up from his junior year average of 1.9, he has shown good vision in half court situations but it hasn't always resulted in converted baskets. He makes the simple pass on target when he draws the double team to get his teammate an open shot. He does struggle with turnovers which lead to a -1.64 pure point rating, but this may be a function of being a ball-dominant guard for Penn State. Newbill will need to show he can be a more efficient creator when he doesn't have to do so much offensively.

He may not be asked to play with the ball in his hands as much at the NBA level so Newbill will also need to show he is capable of playing off the ball in a supporting role. Newbill shot 40.8% in catch and shoot opportunities, although this came on 71 attempts, many fewer attempts than his shots off the dribble. He showed nice form on his shots, a good sign that he should be a capable shooter, but he doesn't get much lift on his jump shots and he may struggle to get off clean looks against NBA defenders.

Defensively, Newbill may struggle to make an impact primarily based on his below average physical skills. With his combination of size and length, opposing players will be able to shoot over him while he will have trouble keeping players in front of him because of his lack of lateral quickness. He hasn't demonstrated great fundamentals on this end of the court, as he doesn't get into a defensive stance to help with his speed deficiency and he is late to close out on shooters, further hurting his ability to contest shots. While he may struggle on this end, he will need to focus on his energy level defensively as his offensive role lessens at the next level.

His collegiate career now complete, Newbill turns his attention toward the pre-draft process, where he will need to show translatable skills at the Portsmouth Invitational Tournament, if he decides to attend, and any pre-draft workouts. Newbill's terrific scoring instincts, both on and off the ball, is attractive, and if he can show he can compete athletically with other draft prospects and hold his own defensively, he could find his way into the NBA at some point, even if he doesn't get picked in June.

[Read Full Article]

---