Perspective is a funny thing. No matter how level headed a person thinks they are, real perspective can never be gained until they've seen how bad it can get.
While it's been an open and shut case for months that John Wall is the consensus top pick in this year's NBA Draft, it's even more of a runaway race for
Da'Sean Butler
having the most perspective of any of the prospects remaining in this draft class.
"I've learned from all of this that I can take a lot," Butler said. "I was pretty much at the highest point I could be when I was in the Final Four and then this happened."
The former West Virginia star is of course speaking of the night two months ago when his hopes of landing on an NBA roster this fall were suddenly thrown into a spin cycle. With a little less than nine minutes remaining in the Mountaineers national semi-final matchup with eventual champion Duke, Butler drove to the basket and collided with the Blue Devils Brian Zoubek. Moments later the senior forward lay on his back clutching his left knee, grimacing from the pain cause by a torn ACL.
It wasn't until the next day at an Indianapolis hospital that he learned the diagnosis. Just three months away from draft night, an injury of that severity seemed to spell the end of Butler's dream of hearing his named read by David Stern. But in a turn of character that speaks volumes about his maturity – a maturity that is far beyond his years – Butler immediately began to focus on what he needed to do in order to return to form.
"I was kind of upset about it but I realized I had a lot of work to do to get back to where I was before the injury," he said. "It was the perfect time really to make me a better player and a stronger person."
If teams made their picks based entirely on maturity or character, it's a safe bet Butler would be at or near the top of everyone's board. With that said, his body of work during the regular season was impressive enough that he still stands a very good chance of being drafted, despite not being able to participate in individual workouts.
Since suffering the injury in early April, Butler has spent time in both Morgantown and Pensacola, FL rehabbing his knee, first relying heavily on swimming pool workouts and more recently on the basketball court where he has received clearance to start running and jumping again.
While his personal focus has been physical, Butler's draft experience has been vastly different from other prospects in that he and agent Richard Katz haven't been selling what the 6-7 forward can do in the workout setting, but his existing body of work and what he brings to the table as a teammate.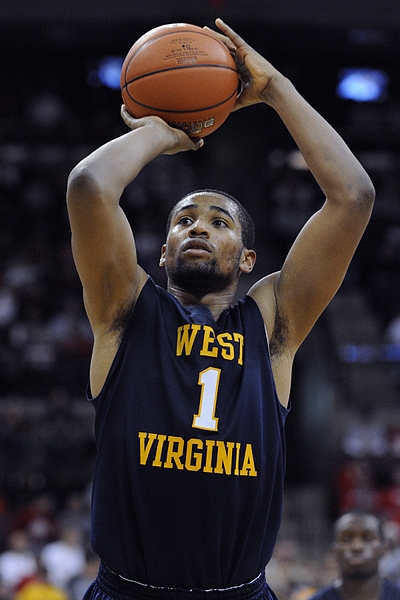 While scouts and GMs turned out in droves to see what prospects could do on the floor at the NBA Combine in Chicago, Butler and Katz ventured to the Windy City on their own to sell the New Jersey native. The feedback was good.
"Teams gave me feedback as far as I would fit their system and I'm the kind of guy they'd love to have on their team," Butler said. "It wasn't so much about basketball as it was about me being a person they wanted, which is a good thing to hear."
Intangibles have been Butler's biggest selling point in his interaction with teams to date and according to him, few if any of his conversations with representatives have centered on the status of his knee. General Managers looking for answers regarding the Big East standout's ability on the court need look no further than his body of work from this past season.
Forget about the fact that Butler established career highs in scoring, rebounding and assists while minimizing his turnovers, the senior emerged as the go-to option for a team that spent the regular season ranked among the top teams in the country and made a run to the Final Four. The quality of his play this year has proved to be a great source of comfort for Butler in an otherwise trying time.
"I'm not going to say I was perfect all year, but I did well for myself, so I shouldn't have to worry about the basketball because I think I had a very good showing this season," he said. "When the injury happened I was sad because I really wanted to go show the people that I want to work out and play, but they've seen me play, so right now they just need to see what kind of a person I am. I'm not worried about that part because I know I'm a good person."
A good person who is ready to get back on the basketball court any way he can. While he won't be able to participate in the Summer League following the draft, Butler has been told that he will have a clean bill of health in time for the start of training camp.
Butler will be making his final pitches to teams in the final ten days leading up to draft night. He is scheduled to meet with The Thunder, Clippers, Trail Blazers and the Spurs, with a possible meeting with the Pacers also in the works.
Regardless of what teams come away thinking of his efforts on the court in the last year, there should be little doubt they will all come away impressed with Da'Sean Butler the person.
"I've managed to see positives throughout this entire process. Even when people are telling me I might not get drafted or something like that, hearing that and then thinking back to how I was fine a few months ago, I've learned about myself as an individual. Hearing the good things teams have to say about me just adds to my confidence."