David Walker Updated NBA Draft Scouting Report
April 3, 2016
Josh Riddell

After leading his team to the NCAA Tournament as a junior and nearly knocking off Notre Dame, David Walker's senior season ended in disappointment without a postseason appearance. The combo guard did have a successful individual season, earning CAA All-Conference first team honors while scoring 18.3 points per game on a 63% true shooting percentage.

Walker has played both on and off the ball for stretches of time with Northeastern, although he was rarely charged with the task of bringing the ball up the floor. He was free to conserve his energy for the half-court offense and it's easy to envision a NBA team using him at either guard position. His 6'6" height and improved frame, up nearly 25 pounds from his freshman season, should allow him to compete against either backcourt position. Additionally, he is a plus athlete with a quick first step and impressive leaping ability.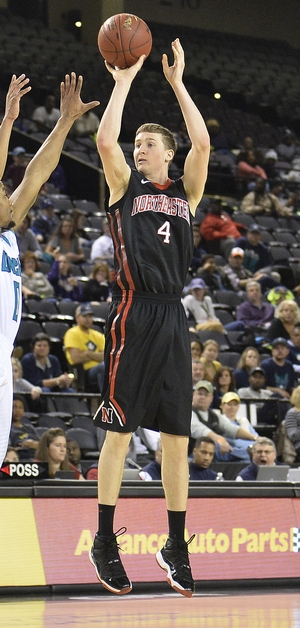 US Presswire
With the ball in his hands, Walker excels at running the pick and roll and should be able to find success in this area as a professional. He displays good vision and uses his height to see over the defense to find his open teammates. He makes good decisions coming off the screen, either to pass to his defender or to step into a jump shot, and he made 39.1% of his jumpers off the dribble according to Synergy Sports Technology, a solid mark for these type of shots.
His assist production wasn't very high relative to other point guards at just
4.2
per 40 minutes pace adjusted. That's because he split his time with playing off the ball and this mark would actually be sixth among shooting guards in our top-100.
Off the ball, he's developed a reputation as a lights out shooter and his senior season saw him achieve a career high of 41.7% from beyond the three point line. With his height, he has no issue getting his shot off and his stroke is reliable, even showing NBA range. He shows a willingness to attack closeouts from time to time although he has some room to grow as a creator off the dribble without the use of a ball screen.
When working off the dribble in the open floor either by attacking closeouts or in dribble handoff situations, his first step is better than his top speed as he explodes into his move to get a step on his defender. He needs that initial space from his man as he doesn't have great ball handling skills or strength in traffic to slither through the paint. He has struggled to finish when he drives inside the arc and this was the first season he's converted more than 50% of his twos. He can't always get all the way to the rim, which forces him into difficult mid-range shots. When he is in the restricted area, he avoids contact instead of absorbing it to finish or draw a foul. His 5.0 free throw attempts per 40 minutes pace adjusted is
below average
for a point guard in our top 100. Even though he has bulked up throughout his college career, he'll need to add even more strength to be confident in seeking out contact in the paint.
This was especially true in his three highest profile games against Michigan State, N.C. State and Miami. In these matchups, he struggled to finish against the length of BCS conference defenders and his two point percentage dipped to 38.7% in this small sample.
There were too many times when Walker looked passive, despite being Northeastern's best offensive weapon and he was content to pass and watch the play develop. Part of that is due to their style of play, but a lot of that is due to his mentality as well. He wasn't aggressive enough to demand the ball when the team needed a big bucket and often leaves you wanting more relative to his talent-level. His 12.7 field goal attempts per 40 minutes pace adjusted was
one of the lowest marks
among all players in our top-100, and raises many question marks.
Walker will have the chance to prove himself in a new situation, whether that be at the Portsmouth Invitational Tournament if he accepts an invitation, individual workouts or the NBA Combine (if invited). Showing that he is willing to use his talent to be aggressive and impact the game consistently as he makes the transition to the professional ranks could go a long way in boosting his draft stock.
In these settings leading up to the draft, he'll also need to show what type of defensive player he can be since he was often in a zone over the past season. In the zone, he didn't foul much but that's because he often played with little intensity. He didn't initiate contact to show a competitive streak against cutters and would give up on the play when overmatched and outmuscled. Walker has shown some potential to guard multiple positions in the past and he has a baseline level of athleticism to develop into a plus defender, but he'll need to show that can translate to man to man settings, which is currently a major question marks.
Walker has some areas in which to prove himself in the pre-draft process, most notably his offensive aggressiveness and defensive intensity. With his height, athleticism, shooting ability, and potential as a pick and roll navigator, he'll no doubt get some serious draft consideration and could earn a spot on a roster.
[
Read Full Article
]
Top NBA Prospects in the Non-BCS Conferences, Part 9: Prospects #21-25
November 13, 2015
Jonathan Givony

A native of Stow, Ohio, just outside of Akron, David Walker turning down scholarship offers from the likes of Cleveland State, Kent State, Youngstown State, St. Francis (Pa.) and Gardner Webb to attend Colonial conference-based Northeastern in Boston.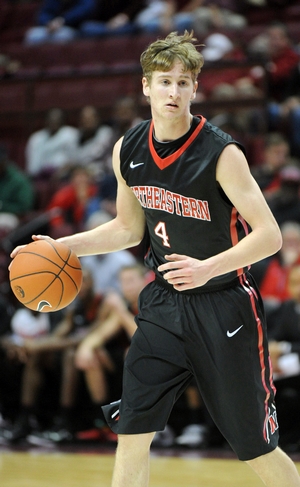 US Presswire
Listed at just 176 pounds going into his freshman season, despite standing 6'6, Walker's skinny frame likely played a role in him not drawing attention from bigger schools despite being an all-state player in talent-rich Ohio.
Walker stepping into a significant role at Northeastern already as a freshman, becoming a starter early in the season and averaging 30 minutes per game in his debut campaign, earning him a spot on the CAA's All-Rookie team. His numbers were fairly modest as a junior, averaging 14.8 points, 3.8 rebounds and 4.0 assists per-40 minutes, but had a number of very impressive performances against ACC opponents (22 points, 4 assists in a win at Florida State, 15 points 7 assists vs Notre Dame) that hint at good things to come in his final season of eligibility.
Northeastern won the CAA conference tournament last year as the #3 seed, making the NCAA Tournament for the first time in 24 years. They gave Notre Dame all they could handle in the opening round, in a dramatic NCAA Tournament game as a #14 seed, being down by two points with under 30 seconds left to play.
Walker has good size for either guard spot at 6'6, and has filled out his frame over the years nicely, now tipping the scales at 196 pounds according to Northeastern's roster. He is a very good athlete on top of that, quick, with nice burst in the open court, and impressive explosiveness, and may not have reached his full potential yet from a physical standpoint.
Walker plays both on and off the ball for Northeastern, even if he is rarely the one tasked with bringing the ball up the floor for them. He serves as both a floor spacer thanks to his strong perimeter shooting ability, and a facilitator in the half-court who can play pick and roll, use dribble hand-offs, and attack in the open court when given the opportunity.
Walker is dangerous in spot-up situations, where he can make open looks (he hit 41% of his catch and shoot jumpers last season), or attack closeouts with strong footwork and a quick first step. He has good range on his jumper and is a confident shooter, often hitting shots from NBA range last season, and converting 39% of his overall 3-pointers. He has some room to clean up his mechanics and become an even more fluid shooter, as he at times tends to contort his body sideways and shoot somewhat of a push shot, something that becomes more of an issue when he's pulling up off the dribble. He has excellent natural touch, though, as evidenced by the 87% he shot from the free throw line last year.
Despite standing 6'6, Walker can also legitimately play the point guard position as well, as he has an excellent feel for the game and is both a highly creative and instinctive passer. He can handle the ball with either hand, will operate at different speeds nicely, has an extra gear he can get to, and shows good potential on the pick and roll, where he can whip the ball to different spots on the court, particularly to the roll man diving to the rim.
While Walker is a good athlete overall, and will come up with some highlight reel caliber plays at times finishing above the rim impressively off two feet, that hasn't translated to being a very efficient scorer inside the arc. He's never hit the 50% mark from 2-point range in his college career thus far, and doesn't get to the free throw line very often (4.2 times per-40) to compensate.
Walker is a very average finisher inside the paint, hitting just 31 of his 67 attempts (46%) on the season. He relies too much on his natural touch here, going up very soft at times with floaters and scoop shots, and seems to avoid contact with his somewhat narrow frame. NBA scouts will wonder whether it's a lack of strength or toughness that prevents him from utilizing his athleticism better inside the lane, as he looks capable of being far aggressive in these situations, particularly considering the level of competition he plays at.
Defensively, Walker has nice versatility, often asked to defend 1s, 2s and 3s for Northeastern, sometimes in the same game. He has good size, solid length, and the quickness to move his feet, close out effectively on the perimeter, and get in the passing lanes, averaging 1.6 steals per-40 in his college career. While he's quite a solid defender at the CAA level, he will undoubtedly have to improve dramatically in a few different areas to effectively make the transition to playing against pros.
Walker's lack of strength is an issue, as he has real trouble getting over the top of screens at times. He lacks a degree of aggressiveness here as well, which is reflected in how shockingly few fouls he's committed over the course of his college career, just 80 in 3449 minutes, or one every 43 minutes he's on the floor. Scouts will certainly want to see a little more nastiness from Walker, as he's not immune to getting pushed around or getting burned off the dribble.
With games against the likes of Michigan State, N.C. State, Miami and Harvard, scouts will have a few opportunities to see Walker competing against strong opposition outside of CAA conference play. 6'6 guards who can handle, pass and shoot are always going to get looks from the pro ranks, and with a strong senior year, Walker has a chance to put himself firmly on the NBA radar screen.
[
Read Full Article
]