2014 Portsmouth Invitational Tournament, Final Recap
April 20, 2014
An aggressive scorer at Weber State (23.3 points per 40 minutes as a senior), Berry continued his scoring ways at the PIT, knocking down jump shots, finishing around the rim in the half court and running the lanes hard in transition.

He's not the most explosive athlete vertically, but he's very quick in the open floor and loves to get out and run, showing an ability to fill the lanes and finish or make plays with the ball in his hands. The 6-4 shooting guard has a good build for a shooting guard, and he uses that strength, along with a quick first step, to get to the rim and finish. Berry welcomes contact at the rim, evident by his 10.1 free throw attempts per 40 minutes. He's equally as good with both hands around the rim, where he converted 61.4% of his attempts, and is able to finish through contact.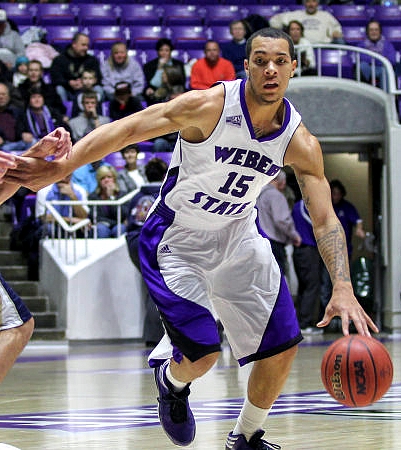 Weber State
Berry excels as a jump shooter, sporting solid mechanics and excellent elevation. He's equally as effective both in catch and shoot situations (1.16 PPP) and off the bounce (0.864 PPP), showing the ability to operate out of the pick and roll or stop on a dime and pull up in isolation situations. Because of his ability to rise up and get his shot off over defenders, Berry is also very effective running off screens as he gets his feet set quickly and squares his shoulders nicely.
While he's a scorer first and foremost, Berry is also a very willing passer (4.7 assists per 40). He makes the extra pass and is capable of getting into the lane and making plays on the move. Berry does, however, have a tendency to get a bit out of control and turn the ball over (15.5 TO% in the half court). He's a bit spastic with the ball, and on the court in general, which leads to turnovers and poor shot selection at times. Berry is very good when he's able to get going to the rim in a straight line, but he struggles consistently creating high percentage shots against high-level defenders in the half court.
On the defensive end Berry is rock solid when he's fully engaged. He's not a big-time playmaker off the ball (0.9 steals per 40) but he does a nice job keeping his man in front of him, showcasing good lateral quickness and effort. Berry does have a tendency to get on his heels and stand up in his stance, but he certainly has the lateral quickness and effort to be a good defender at the professional level.
Overall Berry helped himself through three days at the PIT, showcasing his shooting stroke, ability to play with the ball in his hands, transition scoring, and defense. Berry will almost certainly garner a summer league invite and vet camp offer, which could potentially lead to a spot at the end of an NBA bench. If Berry ends up on the outside looking in, expect him to have a very productive career overseas as a scoring two-guard.
[
Read Full Article
]
Top NBA Prospects in the Non-BCS Conferences, Part Four: (#16-20)
November 4, 2013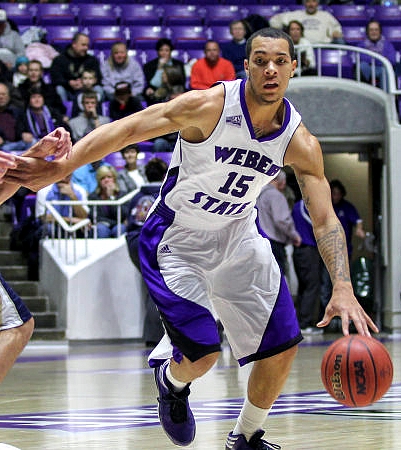 Weber State
Matt Kamalsky
Hailing from the same Oakland Rebels AAU program that produced Damian Lillard, Davion Berry transferred to Weber State after playing two seasons at Division II Cal State-Monterey Bay. A prolific scorer at the Division II level, Berry made his presence felt immediately after sitting out the 2011-2012 season as a transfer. Averaging 15.2 points on 47.6% shooting from the field and 41.4% from beyond the arc, the fourth year junior led the Wildcats to the Big Sky Tournament and CIT Finals as the team finished with a record-breaking 30-7 record.
Standing 6'4 with average length and explosiveness, Berry doesn't have outstanding physical tools for a guard, lacking a degree of size and leaping ability, but he does possess solid quickness and a knack for playing at different speeds. It is ability to use those two things to his advantage, coupled with his ability to pass and score from the perimeter that make him an intriguing pro prospect.
The most productive scorer on an exceptionally efficient, strikingly balanced Weber State offense that had each of its top-four scorers average over 1.00 points per-possession, Berry proved to be an aggressive, but unselfish player last season. Capable of scoring in bunches, he appeared content to blend into the Wildcats' system and move the ball for stretches during the team's dominant run through much of its conference schedule.
An opportunistic offensive player, Berry was most aggressive in transition, where he did as much damage as almost any player in the country last season. Whether he's pushing the ball himself or getting wide and running to the rim or the arc, Berry hunts shots when the tempo of the game quickens. Though he forces the issue at times and attempts some wild shots at the rim, he's capable of finishing with flair around the defense and is adept at running to space around the arc.
In the half court, Berry is not as relentless, scoring and facilitating at a nice rate nonetheless. Though he did not usually bring the ball up the floor, Berry was Weber State's primary threat to create on the pick and roll last season, leading the team not just in scoring, but also assists.
Though he is a natural scorer, Berry averaged an impressive 4.7 assist per-40 minutes pace adjusted last season. He's willing to make the extra pass on the perimeter, won't hesitate to feed the post, and made a number of simply outstanding feeds to the roll man operating in the two-man game last season. On top of that, many of his 2.6 turnovers per-40 minutes pace adjusted were well-intentioned passes, as he does a very nice job protecting the ball for the most part.
A very capable ball-handler, it will be interesting to see just how often Berry is asked to handle pressure in the full court in addition to what he's already asked to do on the pick and roll, as Weber State often operated by committee last season, but will be reshuffling the talent it returns to account for a few key departures. If he relishes a new opportunity to slide over to the point guard position for significant stretches and proves that he can be a capable option, such a development would be a valuable addition to the skill set he can bring to the next level, and could improve his NBA standing significantly.
As a scorer in the half court, Berry does the majority of his scoring with his jump shot. Knocking down 40% of his perimeter attempts last season, he shoots the ball with a quick release and deep range. Though he fades away at times, his ability to hit shots with his feet set and off the dribble makes him a dangerous offensive weapon.
Picking and choose his spots when attacking the basket, Berry's shot a respectable 56% at the rim last season, but his lack of explosiveness limits his finishing ability at times. He's a creative finisher, but forces himself to make difficult off-balance short-range shots when pressured and attempts some tough floaters when he has an opening but can't get all the way to the rim.
Defensively, Berry struggles with mental lapses. He's aggressive when closing out shooters and holds his own one-on-one when he's dialed in, but he doesn't deny dribble penetration consistently and gives up some easy opportunities when he loses focus. His lack of size at the shooting guard position would be a concern on the next level as well.
Losing the two seniors on last season's team to the professional ranks, Weber State returns plenty of talent, but may not spread the wealth quite as much as they did a year ago offensively. It will be interesting to see what that means for Davion Berry as a senior, since unlike so many low-major prospects we've seen in the past, his team has not relied heavily on his abilities to win them games on a nightly basis. If he can make improvements defensively and strides as a finisher and primary ball-handler, while being asked to shoulder a greater load offensively to help compensate for his lack of size and great athleticism, Berry could certainly emerge as one of the more intriguing low-major NBA prospects in the country.
[
Read Full Article
]