Ryan Thomson
A native of Upper Marlboro, Maryland, Melo Trimble decided to remain close to home after a stellar high school career that saw him become a McDonald's All-American in 2014. Trimble committed to Maryland very early, in December 2012, and was able to step into a huge role as the lead point-guard after the transfer of Seth Allen to Virginia Tech.
As a freshman, Trimble shouldered a huge offensive load for the Terrapins, and performed admirably, ranking second among all freshman point-guards in scoring, only behind current Los Angeles Lakers guard D'Angelo Russell, at 16.2 points per game. As a sophomore Trimble saw his scoring drop slightly but his assists increase from 3 per game to 4.9, but needs to continue to improve his turnover rate, which at 2.7 per game isn't particularly impressive. Trimble elected to put his name in the 2016 NBA draft pool, and competed at the NBA Combine, but wisely chose to return to College Park after a poor showing and lukewarm feedback from NBA teams.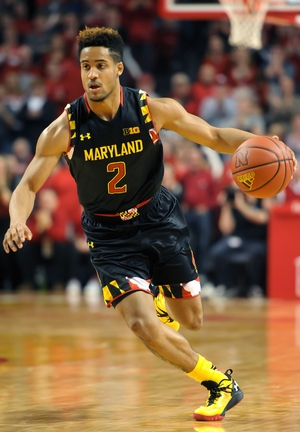 Standing 6'3, and weighing 192 pounds, Trimble appears to have solid size for the point-guard position at the next level, except for his very pedestrian 6'2" wingspan, which puts him in a club with similarly sized guards such as former Wichita State guard Fred VanVleet and current Orlando Magic guard Shabazz Napier. Trimble isn't an explosive vertical athlete at the rim, but shows a natural ability to change speeds on the perimeter and in transition.
Trimble featured heavily for the Maryland offense during the 2015-2016 season as both their primary playmaker and scorer, leading the team in both categories with 15.1 points and 4.9 assists per game. Being forced to shoulder such an offensive load for the Terrapins has been a balancing act for Trimble, deciphering when he needs to be aggressive as a scorer and when he needs to focus on creating offense for his very talented teammates. At this stage of his development it is abundantly clear that Trimble's value is largely based as a shot maker.
More than half of Trimble's total possessions as a sophomore came in the pick and roll action, per Synergy Sports Technology. He does a good job of playing with pace and changing speeds, particularly when engaging the defending big, showcasing a great deal of comfort in splitting and snaking against poor defense, but has a tendency to over-dribble and make possessions more difficult than they typically should be. When Trimble gets his defender hit by the screen he is able to create enough space to step into his pull up jumper or continue into the paint for a floater that he employs quite often, though not always with a high degree of efficiency or accuracy.
As a finisher inside the paint, Trimble struggles against length due to his poor tools, converting only 50% of his field goal attempts in half-court situations, per Synergy Sports Technology, often times relying on creating contact and getting a whistle leading to free-throws. In the event that the defender is able to avoid contact on the screen, Trimble doesn't have enough burst to get by high level defenders and struggles to create high quality shots.
As a passer in the pick and roll, Trimble is comfortable making kick out passes once he gets into the paint, while also showcasing an ability to make basic drop off passes leading to easy catch and finishes for Maryland's army of bigs. At times it appears that Trimble's timing is off as a passer, making passes one or two dribbles too late, forcing his teammates to take contested jump shots. A number of what should be simple passes end up being deflected, as Trimble has a tendency to telegraph where he intends to pass, evidenced by his 3.2 turnovers per-40 as a sophomore. If Trimble intends to dispel some of the prevailing attitudes towards him, he will need to continue to improve his ability to read tagging defenders and make quick decisions with the ball, trusting his teammates to make shots.
For Trimble to inspire confidence that he can be a shot-making guard at the NBA level, he will need to improve his consistency as a perimeter shooter. As a freshman in 2014-2015, Trimble shot the ball particularly well from behind the three-point line, converting 41.2% on 4.2 attempts per game, but with an increase in attempts and a greater focus on being a playmaker as a sophomore, he shot only 31.1% on 5.2 attempts per game. Trimble's jump shot mechanically is terrific, typically he is on balance, and follows through high while being able to get into his shot very quickly. His percentage being as low as it was as a sophomore can likely be attributed to the high degree of difficulty shots that he at times settles for. He needs to continue to improve his shot selection and understand the value of open shots versus low percentage, contested shots off the dribble.
Defensively, Trimble struggles to move his feet laterally, and it appears at times that his huge responsibilities on the offensive end take their toll on his defensive effort, which fluctuates from possession to possession. Trimble averaged 1.5 steals per-40 as a sophomore, but doesn't possess the length that typically accompanies defensive pests with only a 6'2" wingspan. Off the ball, he needs to improve his engagement and awareness, often times playing rigid and upright, not in a stance which puts him at a disadvantage chasing guards off of pin down's and simply being late on close-outs. Trimble isn't a physical defensive player and struggles to keep bigger, stronger guards in front without being physically over matched. His effort level needs to improve, particularly in pursuing guards in the pick and roll action, where at Maryland he was content to veer late and allow his rim protectors to do the majority of defensive work. At the next level, the sheer amount of ball screen actions and the responsibility of the guard to get back in front of the ball handler is magnified.
With no sign of Trimble's workload lessening as a junior, and Maryland having lost all their starters save for Trimble, it will be interesting to see what kind of season he can turn in, paying particular attention to his potential growth as a point guard and playmaker. It will also be key for Trimble to continue to raise his shooting percentages while limiting his turnovers and improve his effort level on the defensive side of the ball.