Top NBA Prospects in the ACC, Part Ten: Prospects #26-31
October 16, 2015
Ranked as one of the top 100 players in the high school class of 2014 according to the RSCI, Donte Grantham stepped into the void created by the departure of K.J. McDaniels to play a key role for the Tigers as a true freshman. Starting every game and finishing the year averaging 8.8 points and 4.6 rebounds over 29.6 minutes per game, Grantham flashed intriguing long-term potential, even if he wasn't overwhelming productive.

Listed at 6'8 with a 210 pound frame, Grantham has excellent size for a player that spent the majority of the season playing small forward. A very good athlete overall, Grantham doesn't have elite footspeed, but does possession nice explosiveness and body control.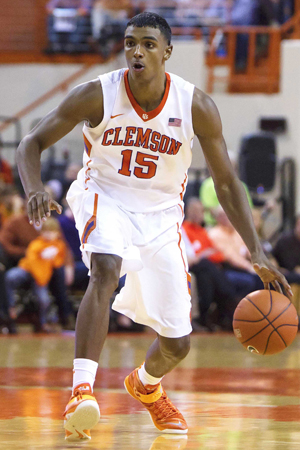 US Presswire
Offensively, Grantham's primary contributions came as a set shooter, though he was asked to do a little bit of everything in his freshman campaign. With just over half of his 8.8 field attempts per game coming beyond the arc, Grantham, for better or worse, hunted jump shots both in transition and the half court. Connecting on 28% of his three's on the year, the sophomore's mechanics are fairly solid, but his consistency still leaves something to be desired, especially in catch and shoot situations and at the free throw line where he shot just 55%.
A bit of a jack-of-all trades without one truly elite skill, Grantham was decidedly more effective when he was able to find opportunities at the rim, especially in transition. Lacking dynamic ball handling ability even though he flashes the ability to push the break himself and being a bit passive at times offensive, most of Grantham's opportunities inside came on broken plays or when he was attacking closeouts. When he was able to get inside, he shot a respectable 55%. He absorbs contact effectively when he puts his mind to finishing inside, but also shies away from going up strong inside periodically as well.
Thrown into the fire a year ago playing a role that had him running off screens and even handling the ball in the pick and roll on occasion, Grantham clearly has a lot of room to grow as a scorer on the whole, but should benefit from the significant opportunities he received as a freshman, and figures to receive moving forward, in the long run.
Aside from his ability to score the ball, Grantham proves to be a capable decision-maker and rebounder. He isn't a tremendous playmaker, but is unselfish when he sees an open teammate or an opportunity to feed the post. Though he isn't a particularly prolific rebounds, he contributes on the glass from the wing, scrapping for loose balls and crashing back inside when he isn't boxes out.
Defensively, Grantham's length and activity level help him hold his own. He gets beat of the dribble by smaller players from time to time, but makes athletic plays around the rim helping his teammates and seems to have the potential to be a very solid defensive player down the road if he makes an effort to be more aggressive as his body and game continue to mature.
Though he's far from a finished product, Donte Grantham's combination of size and versatility make him an intriguing player to keep an eye on in the coming years as he figures to become a prominent part of Clemson's gameplan.
[
Read Full Article
]