We wrap up our coverage on the top NBA draft prospects in the ACC with part eight, players ranked 26-31:
Davon Reed
,
Donte Grantham
,
Jaron Blossomgame
,
Konstantinos Mitoglou
,
Jalen Hudson
, and
Jamel Artis
.
---
More DX Conference Preseason Previews:
-The Top 20 NBA Draft Prospects in the Pac-12
-The Top 20 NBA Draft Prospects in the Big East
-The Top 15 NBA Draft Prospects in the Big 12
-The Top 20 NBA Draft Prospects in the SEC
-The Top 10 NBA Draft Prospects in the AAC
---
Top NBA Draft Prospects in the ACC
-
Top NBA Prospects in the ACC, Part One
(#1) Brandon Ingram (Scouting Video)
Top NBA Prospects in the ACC, Part Two
(#2) Demetrius Jackson (Scouting Video)
Top NBA Prospects in the ACC, Part Three
(#3) Justin Jackson (Scouting Video)
Top NBA Prospects in the ACC, Part Four
(#4) Chinanu Onuaku (Scouting Video)
Top NBA Prospects in the ACC, Part Five
(#5) Grayson Allen (Scouting Video)
Top NBA Prospects in the ACC, Part Six
(#6) Derryck Thornton
(#7) Kennedy Meeks
(#8) Theo Pinson
(#9) Chase Jeter
(#10) Luke Kennard
Top NBA Prospects in the ACC, Part Seven
(#11) Malcolm Brogdon
(#12) Donovan Mitchell
(#13) Brice Johnson
(#14) Michael Gbinije
(#15) Tyler Lydon
Top NBA Prospects in the ACC, Part Eight
(#16) Xavier Rathan-Mayes
(#17) Dwayne Bacon
(#18) Marcus Paige
(#19) Zach Auguste
(#20) Mike Tobey
Top NBA Prospects in the ACC, Part Nine
(#21) Sheldon McClellan
(#22) V.J. Beachem
(#23) Anthony Barber
(#24) Damion Lee
(#25) Steve Vasturia
---
#26, Davon Reed, 6'5, Junior, SG, Miami
Derek Bodner
Davon Reed missed the first three weeks of Miami's 2014-15 season after suffering a torn meniscus during offseason workouts. After returning in early December, Reed worked his way into the starting lineup, starting in 21 of the final 22 games for Miami and helping the Hurricanes rebound from a disappointing 2013-14 season.
Reed was measured at 6'5 in shoes at the LeBron James camp a few years ago, with an impressive 6'10.5 wingspan. That length, combined with a well-developed frame and good athletic tools provides Reed with considerable intrigue as a prospect, especially considering the potential he's shown as a jump shooter.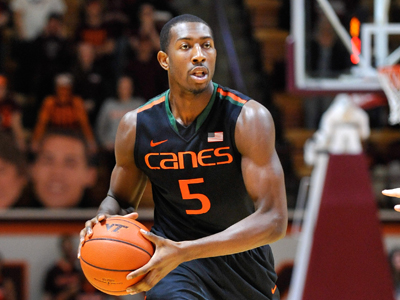 On the offensive side of the ball, Reed's primary contributions come from his set shot, which he hit at a tremendous clip last year. Reed made 45.7% on his 81 three point attempts last season and shot 46% on his catch and shoot opportunities per Synergy Sports Technology, a percentage which yielded 1.381 points per possession and placed Reed in the top 10% of college basketball.
Reed gets tremendous elevation on his jump shot and has range well beyond the college three point line. His shooting motion is compact, which combined with the elevation he gets allows him to get off accurate looks at the basket with little space. The overall sample size is small, so a regression wouldn't be all that surprising, but there's reason to believe Reed can be a plus shooter even with a larger sampling of attempts.
Reed also has a quick first step and long, rangy strides, which allows him to attack closeouts and get to the basket. He's a good athlete who can elevate around the rim, and has pretty good body control and touch around the hoop, although he doesn't yet appear to have confidence finishing with his left hand.
Because he's a relatively low-usage player, who gets shots primarily either behind the three point line or at the rim, Reed has a fairly high free throw rate at 47%. The combination of getting to the line – 3.7 attempts per 40 minutes, pace adjusted, compared to just 8.0 field goal attempts per 40 minutes pace adjusted – and effective three point shooting gives Reed excellent efficiency. His 62% true shooting percentage placed him in the top-15 among all shooting guards in our database last season.
The rest of Reed's offensive game is still a work in progress, as evidenced by his extremely low utilization in Miami's offense. Reed attempted just 5.5 field goal attempts in his 27.5 minutes per game, with an extremely low 15.7% usage rate. Reed is an inconsistent shooter off the dribble, which limits his usefulness in the pick and roll, and lacks the advanced ball handling skills and creativity to create with regularity. For the most part, Reed's offense is limited to spot-up attempts, transition opportunities, and cuts to the basket off the ball.
Reed's athleticism and physical profile gives him a lot of potential as a defender, although right now he's inconsistent in his ability to turn that potential into production. Reed has the length and lateral foot speed to defend on the perimeter, and the size and strength to defend multiple positions.
The effort is there, which is a big building block for his long-term development, but he's going to have to improve his technique and decision making in order to reach his three-and-D potential. Reed can frequently be caught too upright and off balance, and can get burned on misdirection moves. He can also get caught roaming off the ball looking for steals or when committing to double teams, and leave his man wide open at times. All of these are correctable deficiencies.
The upcoming 2015-16 season is a big one for Davon Reed, who played his entire sophomore season at 19 years of age. Reed has some potential as a three-and-D candidate, something that is extremely valued in today's NBA. If Reed is able to show that the accuracy he displayed in his jump shot is sustainable with more attempts, round out the rest of his offensive game so he can offer more in the half court, and turn some of his immense defensive potential into consistent production, he could find himself on the radar as a prospect down the line.
#27, Donte Grantham, 6'8, Sophomore, Small Forward, Clemson
Ranked as one of the top 100 players in the high school class of 2014 according to the RSCI, Donte Grantham stepped into the void created by the departure of K.J. McDaniels to play a key role for the Tigers as a true freshman. Starting every game and finishing the year averaging 8.8 points and 4.6 rebounds over 29.6 minutes per game, Grantham flashed intriguing long-term potential, even if he wasn't overwhelming productive.
Listed at 6'8 with a 210 pound frame, Grantham has excellent size for a player that spent the majority of the season playing small forward. A very good athlete overall, Grantham doesn't have elite footspeed, but does possession nice explosiveness and body control.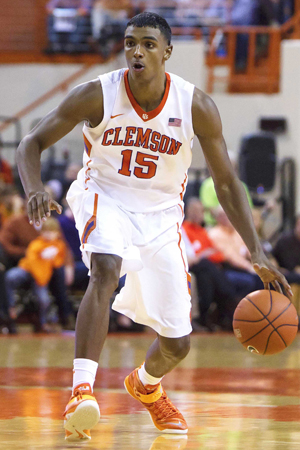 Offensively, Grantham's primary contributions came as a set shooter, though he was asked to do a little bit of everything in his freshman campaign. With just over half of his 8.8 field attempts per game coming beyond the arc, Grantham, for better or worse, hunted jump shots both in transition and the half court. Connecting on 28% of his three's on the year, the sophomore's mechanics are fairly solid, but his consistency still leaves something to be desired, especially in catch and shoot situations and at the free throw line where he shot just 55%.
A bit of a jack-of-all trades without one truly elite skill, Grantham was decidedly more effective when he was able to find opportunities at the rim, especially in transition. Lacking dynamic ball handling ability even though he flashes the ability to push the break himself and being a bit passive at times offensive, most of Grantham's opportunities inside came on broken plays or when he was attacking closeouts. When he was able to get inside, he shot a respectable 55%. He absorbs contact effectively when he puts his mind to finishing inside, but also shies away from going up strong inside periodically as well.
Thrown into the fire a year ago playing a role that had him running off screens and even handling the ball in the pick and roll on occasion, Grantham clearly has a lot of room to grow as a scorer on the whole, but should benefit from the significant opportunities he received as a freshman, and figures to receive moving forward, in the long run.
Aside from his ability to score the ball, Grantham proves to be a capable decision-maker and rebounder. He isn't a tremendous playmaker, but is unselfish when he sees an open teammate or an opportunity to feed the post. Though he isn't a particularly prolific rebounds, he contributes on the glass from the wing, scrapping for loose balls and crashing back inside when he isn't boxes out.
Defensively, Grantham's length and activity level help him hold his own. He gets beat of the dribble by smaller players from time to time, but makes athletic plays around the rim helping his teammates and seems to have the potential to be a very solid defensive player down the road if he makes an effort to be more aggressive as his body and game continue to mature.
Though he's far from a finished product, Donte Grantham's combination of size and versatility make him an intriguing player to keep an eye on in the coming years as he figures to become a prominent part of Clemson's gameplan.
#28 Jaron Blossomgame, 6-7, RS Junior, SF, Clemson
Josh Riddell
Taking on a larger scoring role after the departure of K.J. McDaniels, Jaron Blossomgame had a breakout sophomore season for the Clemson Tigers. He nearly doubled his point output, averaging 17.5 points per 40 minutes pace adjusted while taking a major step forward in his efficiency, raising his true shooting percentage from 45% to 56%.
Blossomgame had to redshirt his freshman year due to a broken leg suffered in his senior season of high school. He just turned 22 and is one of the oldest players in the junior class and the same age as many seniors.
He looks like a prototypical NBA small forward for the most part, measured at 6'7" with an impressive wingspan. He has long strides that help him get down the floor quickly and has great explosiveness around the rim. One area that will concern NBA teams is his skinny frame, especially at his age. He has the potential to add lower and upper body strength to increase his overall strength but will need to do so quickly, otherwise scouts will wonder if it will ever happen.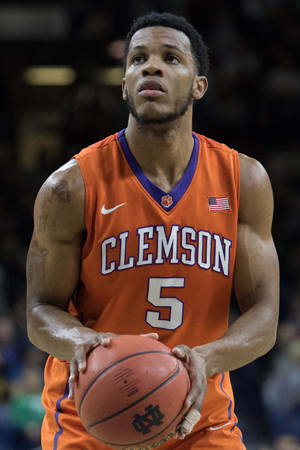 Blossomgame's strength offensively is his ability to convert shots in the paint. His overall two point field goal percentage was 53.7% while his conversion rate around the rim was an impressive 61.7% according to Synergy Sports. He uses his athletic tools to finish around the rim by elevating above the defense to get a clean look.
Most of his attempts in the paint are generated by straight line dribble drives. Although he doesn't have great handle, he has a nice burst with his first step that allows him to get into the lane. He can then explode to the rim and finish or if a defender is in his way, he has developed nice touch on a runner over the help. He doesn't shy away from contact, shooting 6.2 free throw attempts per 40 minutes pace adjusted,
second among ACC small forwards
.
He isn't much of a passer on his drives, creating only 1.3 assists per 40 minutes pace adjusted. He has a tendency to put his head down on drives, failing to see the open court. This will hurt him at the next level and he'll need to work on his vision to find open teammates when the defense collapses and takes away his driving lane.
He also contributes as an offensive rebounder, pulling down 3.3 per 40 minutes pace adjusted. His athleticism is a big key to his success here as well, as he uses his agility and leaping ability to sky above the rim and chase down rebounds outside his area. He also has great hands
He's struggled as a shooter in his two collegiate seasons, connecting on 25% of his three point attempts. His form isn't totally broken, so there is some potential there for him to develop as an outside shooter but it will take some time to develop a consistent stroke. His release point is inconsistent and he often hesitates right before his shooting motion, which throws off his timing. With his ability to attack closeouts, becoming a more consistent shooter will round out his skill-set and make him more attractive as a perimeter player to NBA teams.
Defensively, Blossomgame's athleticism hasn't translated to on-court success in locking down his defender. For a player of his length and quickness, he averages a paltry 0.5 blocks and 1.0 steals per 40 minutes pace adjusted. He doesn't look interested in playing defense, failing to close out on shooters or even get a hand up in the shooter's face.
He doesn't put in the effort to move his feet when guarding the ball and gets beat off the dribble easily. He then has a tendency to give up on the play, not working hard to recover. He has the tools to be a plus defender but will need to raise his intensity level to begin to contribute at the next level.
The one area Blossomgame helps defensively is rebounding, as he doesn't shy away from attacking the glass. His 7.6 defensive rebounds per 40 minutes pace adjusted continues to demonstrate his athleticism. To become a more complete defensive player, he'll have to do more than just focus on his rebounding and learn to play within the scheme of a team defense.
After leading the Tigers in scoring and rebounding last season, he'll be asked to shoulder a similar load this year. Another strong season will keep him on NBA radars and if he can improve his shooting and play with a little more effort defensively, he'll become a more serious draft prospect.
#29 Konstantinos Mitoglou, 6-10, Power Forward, Sophomore, Wake Forest
Jacob Eisenberg
Wake Forest's Konstantinos "Dinos" Mitoglou was something of a mystery before landing in Winston Salem last fall. Originally from Thessaloniki, Greece, Mitoglou actually played scrap minutes in three professional games for the Greek team Aris of the GBL before deciding to move stateside to play for Wake Forest in 2014. As a freshman, Mitoglou quickly became a focal point in the Demon Deacon's offense, leading the team with 52 three-pointers and averaging 17.3 points and 8.2 rebounds per-40 minutes. He followed up his impressive freshman season with a busy summer, in which he helped lead Greece to the semi-finals of the FIBA U-19 World Championships.
Mitoglou has the size and skills of a traditional European big man. At 6'10 and 245 pounds, he doesn't overwhelm opponents with his size but relies on finesse moves to gain open looks. He's not particularly long and his slow first step, mixed with unrefined lateral footwork, will limit his potential as a defender. Still, like most well-coached European players, Mitoglou has a nice understanding of where to position his body defensively and rarely leaves himself susceptible to a mismatch.
Offensively, Mitoglou is already one of the best floor-spacing big men in the NCAA and possesses a release that is both impressively quick and unconventionally high. When given time to spot up, Mitoglou's release point comes with his hands directly above his head, making it virtually impossible for defender's to block.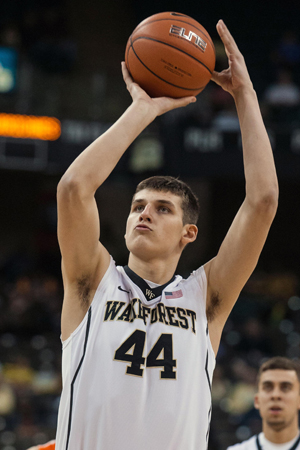 Early on as a freshman, Mitoglou struggled mightily with confidence: through Wake's first seven games, he made just two of his first 15 three-point attempts. Once he got comfortable in Danny Manning's offense, however, Mitoglou showed his potential as a sharpshooter. In the 26 games he played after his cold start, Mitoglou was one of the best perimeter shooters – regardless of position – in the nation. He finished the year hitting on 50 of his last 120 perimeter shots (41.7%), including a torrid five-game stretch in January and February where he made 21-of-36 (58.3%) three-point attempts against quality ACC opponents.
While Mitoglou has the body and ability to set up comfortably around the basket, he showed a strong preference to camp out on the perimeter as a freshman. Per Synergy Sports Technology, 66.7% of Mitoglou's offensive possessions in the half court came via the jump shot.
When he did try to use his size to bang down low, Mitoglou looked like a savvy interior threat. He made 28 of his 50 shots around the basket in the half court (non-post up), using his lower body strength proficiently to seal off defenders from entry passes and gain clean angles at the hoop. Mitoglou missed quite a few "gimme shots" around the rim, largely due to his impatience to get the release off, but should improve his finishing organically as he gains more experience. He shows dexterity with both hands and looks impressively comfortable posting up on either side in the paint, though the sample size is admittedly small.
Mitoglou's quick and high release means his shot's outcome is rarely influenced by the defense. According to Synergy, Mitoglou shot 34-for-85 (40%) on catch-and-shoot attempts when he was guarded last season. When he was left unguarded, Mitoglou's efficiency actually decreased – converting on just 14-of-40 (35%) of uncontested shots.
He was reluctant to put the ball on the ground as a freshman, though he didn't look totally out of sorts when he was forced to handle in limited spurts. He was somewhat careless at times, sporting a high 15.6% turnover rate, but that number should improve as he gains experience. Off the dribble near the paint, Mitoglou uses a wide spin move that's effective in creating space from the defender while bringing him closer to the basket for an easy look.
One of the biggest knocks on Mitoglou is that he's a vacuum with the ball. Mitoglou averaged just 0.7 assists per-40 minutes as a freshman – one of the lowest rates for any prospect in the DX database. Moreover, he averaged a 0.05 assists per possession last year, ranking him among the worst five freshmen in college last season at distributing.
Defensively, Mitoglou is below average but not for a lack of effort. He has a delayed reaction time to opponents' first steps, which will only get more problematic as the talent levels and game speed increase. While he has lower body strength, he could use some work in the gym to improve his upper body. In the post and around the basket last season, opponents shot 33-for-65 (50.7%) against him. Mitoglou's lack of length limits his rim protection, as evidenced by an unremarkable 1.1 blocks per-40 minute rate.
Overall, Mitoglou will need to show improvements as a finisher around the hoop and as a facilitator in the offense. He has underwhelming speed for the ACC at the moment so working on his conditioning and quickness will be absolutely essential for him to succeed at the next level. Scouts will certainly appreciate his combination of size and shooting but, at the moment, there are too many weaknesses in his game that need correcting. Still, with Wake Forest returning many of its core players from a season ago, expect Mitoglou's profile to rise as the team improves.
#30 Jalen Hudson, 6-5, Sophomore, Shooting Guard, Virginia Tech
Jonathan Givony
At the beginning of his high school senior season, Jalen Hudson of St. Vincent-St. Mary in Akron, Ohio announced his commitment to James Johnson and Virginia Tech. Five months later, Johnson was removed from his duties as head coach, replaced by Marquette's Buzz Williams, but Hudson elected to stay committed to the Hokies rather than reopen his recruiting process.
Hudson was not the most highly regarded prospect coming out of high school, as he not ranked as a top-150 recruit by any of the major scouting services. He played a variety of roles for Virginia Tech as a freshman, ranging from being tasked with bringing the ball up and getting team into their offense, to playing power forward in small-ball lineups, and everything in between. His minutes fluctuated wildly as well, as he played under 10 minutes in eight different contests, but saw as many as thirty minutes in other games, sometimes in the same week.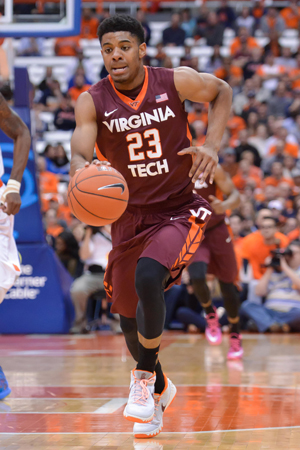 From a physical standpoint, there is a lot to like about him. He has a strong frame, long arms, and terrific athleticism, as he has nice quickness, a powerful first step, and is capable of finishing with impressive explosiveness around the basket. He does have average size for a shooting guard at 6-5, though.
Hudson proved to be a capable half-court shot-creator already as a freshman, which is somewhat rare among non-elite high school recruits. He can blow by opponents from a standstill without the benefit of a screen using purely his first step, and shows some developing ability to change speeds and keep defenders off-balance. He converted an impressive 57% of his 2-point attempts last year, and got to the free throw line at a nice clip as well. He can finish with both power and finesse, demonstrating nice touch on his floaters, and had a number of extremely impressive dunks in the half-court as well.
Hudson is still learning how to harness his shot-creation skill, which is certainly not that surprising considering he played the entire season as an 18-year old in arguably the most competitive conference in college basketball. He looks somewhat wild at times with his drives, simply lowering his head and trying to bully his way into the lane, renders him somewhat turnover prone. His passing ability and all-around decision making needs work, as evidenced by his extremely poor -4.98 PPR and negative assist to turnover ratio.
As a jump-shooter, Hudson was somewhat of a mixed bag as a freshman. He shows promising shooting mechanics, particularly with his feet set, getting nice elevation, with a quick release and good follow-through, and is capable of creating good looks for himself off the bounce as well. His shot-selection again, leaves a lot to be desired, though, and he tends to shoot somewhat of a line-drive jumper when he's contested and rushing his shot. Hudson converted just 28% of his 3-pointers as a freshman and 64% of his free throws, but the potential he showed as a shot-maker on occasion leaves some room for optimism.
Defensively, Hudson was not consistent at all as a freshman, which is likely the biggest reason why he often struggled to get off the bench for a team that went 2-16 in the ACC. When he's fully engaged and locked in to the task, Hudson can be a solid defender using his strong frame, length and athleticism. Unfortunately, that rarely seems to be the case, as he often looks stuck in half-speed, not playing with any real urgency. He gets beat off the dribble too frequently, will close-out in a lackluster fashion on the perimeter, and look slow to react to plays developing off the ball.
Considering his size, Hudson will likely need to develop into a lockdown defender to give himself a real chance at becoming an NBA player. Fortunately for him, he's in the right place to do so under a highly respected defensive coach in Buzz Williams, who sent a number of players to the NBA as the head coach of Marquette, many of whom are noted for their toughness.
Jalen Hudson showed his potential in small glimpses last year, scoring 32 and 26 points against Wake Forest and Duke respectively. He was also very up and down, which makes sense considering his lack of pedigree coming into college. With starting wing Ahmed Hill out following knee surgery, and another part-time starting wing electing to transfer, Hudson should have an opportunity to see more playing time if he can earn the trust of the coaching staff. His athleticism, ability to create his own shot and the fact that he's extremely young for his class could certainly him some NBA looks as his career moves forward.
#31 Jamel Artis, 6'7, Junior, Small Forward, Pittsburgh
One of the most improved players in the ACC a year ago, Pittsburgh's Jamel Artis earned All-ACC 3rd Team honors despite Pittsburgh's struggles in conference play. Leading the Panthers in scoring averaging 13.9 points while also contributing 6.2 rebounds per-game, Artis had a breakout year after a relatively quiet freshman campaign.
Measured at 6'6 in shoes with a 6'6 wingspan and a 207-pound frame at the LeBron James Skill Academy in 2011, Artis is currently listed at a very reasonable 6'7/220. Though he lacks great length, he has a nice combination of size and strength for the small forward position, even though he spent much of last year at the four spot. More rugged than explosive inside, Artis isn't a freak athlete, but does possess tremendous toughness and can play above the rim with a head of steam.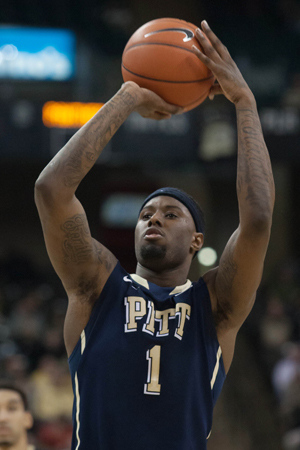 Flashing potential as an inside-outside scoring threat as a freshman, Artis improved his jump shot dramatically as a sophomore. After making 36% of his jump shots in his first season at the college level and attempting more of them inside the arc than beyond it, Artis connected on 42% as a sophomore while extending his range considerably. Shooting the ball with an extremely compact, consistent release, the Baltimore native attempted only 2.9 3-pointers per game a year ago, but made a surprising 40% of those attempts (up from 29% the year before) while continuing to make defenses pay for giving him space from the midrange or when he faces up in the mid-post. It will be interesting to see if Artis is more aggressive from deep this season.
Around the basket, Artis relies on his quick release and physical strength to either score over the defense or bully his way to good scoring position off the bounce. His aggressiveness plays against him at times as he takes some difficult, highly contested shots inside. Despite that, the junior seldom turns the ball over and does a decent job finding the open man moving the ball down low. Playing an increasingly efficient, low-mistake brand of basketball, Artis relishes his role as a combo forward at the college level.
Defensively, Artis moves his feet pretty well on the perimeter when he gets into a stance and makes the effort and proves to be a very capable rebounder. Unfortunately, he was too upright at times and a step slow getting out to shooters on the perimeter when he over-rotated defending off the ball and opposing offenses made him, and the Panthers as a whole, pay dearly as last year's team ranked as the worst defensive unit since Jamie Dixon became the Panthers Head Coach.
The second oldest player in our junior class rankings, Artis turns 23 in January. He may not be a particularly glamorous NBA prospect, but his sudden improvement as a shooter leave some room for optimism. He'll certainly be able to find a play to play at the next level, but that level will depend upon whether he can show improvement defensively and continue his growth offensively on the perimeter.