We continue our coverage of the top NBA Draft prospects in the ACC with scouting reports on prospects 20-23:
Tyus Battle
,
Donte Grantham
,
Bruce Brown
and
Kennedy Meeks
.
---
More DX Conference Previews
-The Top NBA Draft Prospects in the Big East
-The Top NBA Draft Prospects in the Pac-12
-The Top NBA Draft Prospects in the Big 12
-The Top NBA Draft Prospects in the SEC
-The Top NBA Draft Prospects in the Big Ten
---
Top NBA Draft Prospects in the ACC
Part One
(#1) Dennis Smith
Part Two
(#2) Jayson Tatum
Part Three
(#3) Harry Giles
Part Four
(#4) Jonathan Isaac
Part Five
(#5) Marques Bolden
Part Six
(#6) Tyler Lydon
Part Seven
(#7) Omer Yurtseven
Part Eight
(#8) Jaron Blossomgame
Part Nine
(#9) Grayson Allen
Part Ten
(#10) Dwayne Bacon
Part Eleven
(#11) V.J. Beachem
Part Twelve
(#12) Frank Jackson
(#13) Tony Bradley
(#14) Donovan Mitchell
(#15) Justin Jackson
Part Thirteen
(#16) Deng Adel
(#17) Andrew White
(#18) Raymond Spalding
(#19) V.J. King
---
#20, Tyus Battle, 6'6, Freshman, Shooting Guard, Syracuse
Without the benefit of extensive high school footage, we prefer to wait and see how Battle performs as a freshman before adding to
his DraftExpress profile
, which already features a scouting report breaking down his strengths and weaknesses, as well as an interview.
#21, Bruce Brown, 6'5, Freshman, Shooting Guard, Miami
Without the benefit of extensive high school footage, we prefer to wait and see how Brown performs as a freshman before adding to
his DraftExpress profile
.
#22, Donte Grantham, 6'8, Junior, Small Forward, Clemson
Ryan Thomson
A top 100 high school recruit, per the RSCI, after spending a post graduate year at Hargrave Military Academy in Virginia, Grantham committed to Clemson in October 2013. In his two seasons at Clemson, Grantham has seen some success and has been a key role player on teams that have hovered right around .500. He made some strides as a player during his sophomore season, and had likely his most complete game of the season against Notre Dame in February where he recorded 15 points, 7 rebounds, 4 assists while shooting 4/6 from beyond the three-point line. Grantham's development will be monitored throughout the year, in large part because of teammate Jaron Blossomgame, but how he responds to playing under a microscope will be something to keep an eye on.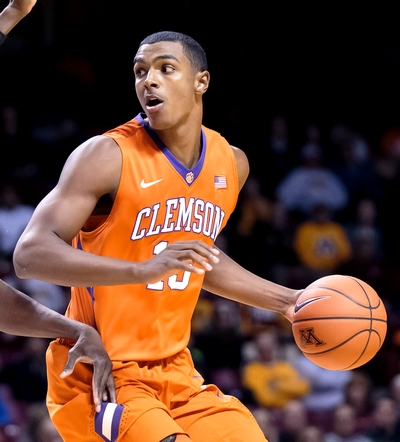 Listed at 6'8 and weighing a solid 215 pounds, Grantham has excellent size for the small forward position. Grantham returned to Clemson as a sophomore with an improved frame evident in his explosiveness in transition and around the rim in the half court. He doesn't possess elite quickness, but is a capable overall athlete, who may ultimately be able to play some small-ball power forward.
The majority of Grantham's offensive contribution came as a spot up shooter though he did take on a greater responsibility as a playmaker. As a freshman, he struggled from behind the arc, shooting only 27.9%, but after refining his mechanics, particularly tweaking his elbow placement, he saw a jump in effectiveness, shooting 35.4% on 5.1 attempts per game as a sophomore. Grantham does have a low release point, doesn't get much elevation and at times is off balance, which can be all become issues when defenders close out with speed.
Despite his growth as a perimeter shooter, Grantham saw a decrease in his effectiveness from two-point range, as his field goal percentage was an unimpressive 42.3% inside the arc. Grantham struggled to make shots off the bounce, shooting only 20.9% per Synergy Sports Technology, at times settling for difficult, contested pull ups. He is somewhat upright in his stance and doesn't have blow-by quickness when attacking from the perimeter, limiting his ability to get all the way to the rim to finish. When he was able to get into the paint he did a solid job of finishing plays, using either hand around the rim, showcasing an ability to finish above the rim or with a soft touch, shooting 53.2% on shots around the basket, per Synergy Sports Technology.
Grantham saw his responsibilities as a playmaker, particularly in the pick and roll action, more than double as a sophomore, and he responded fairly well, though his assists numbers remained relatively pedestrian at only 2.9 per-40. Grantham shows a certain maturity and level of poise when he is attacking in the pick and roll, doing a solid job of reading taggers and making the right play consistently. He needs to continue to improve his ball handling ability, which was a weakness when being guarded by smaller quicker players, though he was able to keep his turnovers relatively low at only 1.7 turnovers per-40. With Grantham having solid success in the pick and roll action, it will be interesting to see whether he will feature in that role more often for the Tigers, especially after the graduation of ball dominant guard Jordan Roper.
Despite playing in a bit of a hunched stance, Grantham has showcased an ability to be a multiple position defender. He isn't an elite lateral athlete, but has solid length and consistently plays hard, which helps negate some of his physical shortcomings. As a sophomore, Grantham averaged 1.2 steals per-40 in part because of his ability to anticipate and generate deflections in the passing lanes. Clemson employed Grantham at the top of their 1-3-1 trap in the half-court when trying to pick up the pace, and Grantham's length and disruptiveness played a huge role in the usefulness of that defensive scheme.
Grantham needs to put forth better effort when guarding against pin downs or floppy screens while also being more physical directing the ball screen action. Grantham's off ball awareness at times fluctuates, and he is late reacting to his opponent cutting or moving. Too often in the half-court, Grantham allowed the offensive player to dictate where he wanted to attack rather than effectively forcing him one direction. As a junior, it will be interesting to see whether or not Grantham takes greater pride in his defensive effort and commitment to the defensive glass, where he averaged an unimpressive 3.7 defensive rebounds per-40.
It will be interesting to see what sort of role Grantham creates for himself during his junior season at Clemson, as he possesses an intriguing skill set as a playmaker and spot up shooter, but needs to be more effective inside the three-point arc, while also maintaining a high level of defensive effort. Grantham's potential as a multiple positional defender and his natural feel for the game are likely to pique the interest of scouts and decision makers, and if the Tigers can make their first NCAA appearance since 2011, it will only help Grantham's standing.
#23, Kennedy Meeks, 6'9", Center, North Carolina
Julian Applebome
After a heartbreaking loss in last year's National Championship game, Charlotte native Kennedy Meeks will return to Chapel Hill this season for his senior season, attempting to shed some of the question marks surrounding his NBA potential. Meeks showed up to North Carolina as a McDonalds All American in 2013, and has been a significant, yet inconsistent piece for a Roy Williams program that has fallen short of its National Championship aspirations during his time on campus.
Durability has been somewhat of an issue for Meeks in college, as part of his junior campaign was hampered by a bone bruise in his left knee that caused him to miss seven games. When healthy, he also found himself bouncing in and out of the starting lineup on a team that featured talented frontcourt players such as Brice Johnson, Justin Jackson, Isaiah Hicks and Joel James. With the departure of Johnson to the NBA, Meeks will have the chance to be a senior leader on a talented North Carolina team that will look to make another Final Four run.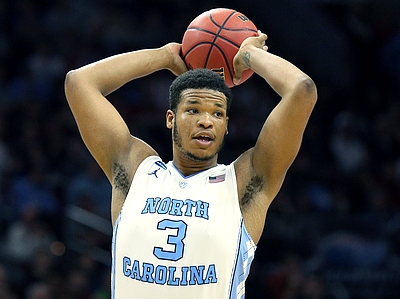 Many of the issues surrounding Meeks's pro potential revolve around his physical profile. At 6'9" and 279 pounds, he is undersized for the center position at the NBA level, and lacks the perimeter skill set, length or athleticism to compensate for his non ideal height. He came to North Carolina as a freshman checking in at 317 pounds, and his since shed some of that weight, but there are still some serious questions about his body type and conditioning. He has an average wingspan at 7'0" to go along with poor quickness, and is very much a below the rim player who lacks the explosiveness to emerge as a rim-protector. He is a strong player, with decent mobility and dexterity who is able to use his size and power to his advantage at the college level, but he will need to improve his body and maximize his athleticism to translate his game to the NBA level.
The majority of Meeks' offensive game is predicated on what he can do with his back to the basket. He has somewhat of a throwback, low post game and is able to score the ball effectively when he catches it deep in the post. He doesn't have a particularly consistent and reliable low post move that he likes to get to, but has good footwork and soft touch around the basket and is able to work his way to the rim, mostly looking to finish over his left shoulder. He's flashed the ability to face up in the post and knock down a short-range jump shot, something that opens up his ability to get to the rim. His aggressiveness on the offensive end very much comes and goes, and he is most effective when he is able to catch the ball deep in the paint, and make quick assertive moves going towards the rim. His free throw attempts per 40 minutes dropped last season to 3.6 from 6.1 the previous year, as UNC made Brice Johnson a much bigger focal point of their offensive game plan and threw most of the one on one touches his way.
Meeks hasn't been featured heavily as a screen and roll option over the last couple seasons, but has been effective in the limited action that he has seen in that spot. When he does make contact as a screener he is able to set useful screens with his wide body, and has the mobility, hands, and touch to roll to the rim and finish from in between spots. He's shown glimpses of being a decent mid-range shooter with nice touch, but is only 9-27 on jumpers (per Synergy) over the last two seasons. His ability to step out and knock down shots out to to the three-point line would be a valuable skill to add to his somewhat one dimensional offensive game, but he's fairly untested out there at this stage, and is just a career 63% free throw shooter.
Meeks has shown he has a good feel for the game on the offensive end of the floor, and is adept at moving without the ball and flashing in the post for quick scoring opportunities. He has good hands and is able to make some difficult catches on the move that he is able to convert into easy offense. He is also a skilled passer from the high post, and has a unique outlet passing ability that he catches teams off guard, with quick hitters after defensive rebounds.
Where Meeks has contributed most effectively and consistently during his college career is on the boards. Although his per 40 rebound numbers have declined since his freshman year, he has posted double digit per 40 rebound numbers each season at North Carolina and has a chance to be an effective rebounder at the professional level. Although he is not the most athletic guy, he uses his wide body well to clear space and has solid instincts, particularly on the offensive glass where he is able to find a good deal of his scoring. He has excellent timing and touch on the offensive boards and is a consistent threat to attack second chance scoring opportunities around the rim. When he is being aggressive and playing with a high energy level he becomes a real problem for teams on the offensive glass.
One of Meeks's biggest shortcomings and limitations as a pro prospect is his effectiveness on the defensive end. In an NBA world that is becoming more and more centered on spacing and spread pick and roll, Meeks struggles to defend anything on the perimeter, particularly situations in which he is forced to defend ball handlers in space. He is fairly effective holding his ground in the post, but his inability to defend ball screens limits how many minutes he can spend on the floor. He manages to come up with some steals and blocks because of his innate instincts and anticipation skills, but he is not a real threat as a rim protector given his athletic ability, especially at the next level. He is often caught out of position off the ball, and his intensity on the defensive end of the floor fluctuates depending on his touches and involvement on offense.
Meeks has proven that he can be an effective low post scorer at the college level, but where he fits in at the pro game still remains a question mark. It's hard to find a great deal of professional intrigue in a 6'9" center with below average athleticism and defensive intensity, but if Meeks can get his body right, show his conditioning is not an issue, and expand on his offensive game, his name will be in the discussion come next years' draft. Meeks hasn't done enough over his college career to increase his professional stock, so his senior season will be all important to prove that he can be a contributor at the next level.