Elijah Johnson
Recent Tweets
All Tweets
DraftExpress: More Undrafted Khalif Wyatt Elijah Johnson Will Clyburn Rodney Williams Jamelle Hagins Laurence Bowers Oleksandr Lypovyy Joan Sastre
2013-06-28 00:22:16
DraftExpress: Elijah Johnson's team is up by 29 points at halftime. Can they hold onto this lead? #pit2013
2013-04-10 19:44:57
DraftExpress: Was told KU didn't tell Elijah Johnson he was invited to Portsmouth until after deadline to accept. Dad begged to get him on alternate list.
2013-03-30 00:11:13
DraftExpress: Elijah Johnson hasn't been doing a very good job in the half-court although he's been carrying a heavy load. Will Self delegate more now?
2013-02-04 11:28:14
DraftExpress: KU Pick & roll\/Isolation plays used in 21 games (incl. passes) according to Synergy Elijah Johnson 133 Ben McLemore 62 Travis Releford 45
2013-02-04 11:15:31
Team: Panelefsiniakos
Physicals
Positions
Rankings
Salary
Misc
H: 6' 2"
W: 194 lbs
Bday: 07/11/1990
(25 Years Old)

Current: PG
NBA: PG
Possible: PG

RSCI: 24

Agent: Stephen Pina

High School: Cheyenne
Hometown: Las Vegas, NV

Predraft Measurements
| Year | Source | Height w/o Shoes | Height w/shoes | Weight | Wingspan | Standing Reach | Body Fat | No Step Vert | Max Vert |
| --- | --- | --- | --- | --- | --- | --- | --- | --- | --- |
| 2013 | Portsmouth | 6' 2.5" | NA | 194 | 6' 4.5" | 8' 1.5" | NA | NA | NA |



Basic Per Game Statistics

- Comprehensive Stats - Statistical Top 25s
| Year | League | Name | GP | Min | Pts | FG | FGA | FG% | 2Pt | 2PtA | 2P% | 3Pt | 3PtA | 3P% | FTM | FTA | FT% | Off | Def | TOT | Asts | Stls | Blks | TOs | PFs |
| --- | --- | --- | --- | --- | --- | --- | --- | --- | --- | --- | --- | --- | --- | --- | --- | --- | --- | --- | --- | --- | --- | --- | --- | --- | --- |
| 2014/15 | Greek | Elijah Johnson | 22 | 24.4 | 10.8 | 3.9 | 10.0 | 38.8 | 2.2 | 4.8 | 45.3 | 1.7 | 5.1 | 32.7 | 1.4 | 1.7 | 83.8 | 0.9 | 2.8 | 3.7 | 2.4 | 0.7 | 0.0 | 1.6 | 2.1 |

Player Page&nbsp&nbsp| Player Stats | Mock Draft History | Related Articles&nbsp&nbsp| Add to My Draft Express&nbsp
&nbsp
Top NBA Draft Prospects in the Big 12, Part Three
September 29, 2012


Mike Schmitz is the video analyst for DraftExpress. Follow him on twitter and subscribe to his YouTube page. He will be breaking down the NBA draft in digital format all year long for us.

[Read Full Article]

---
Trending Prospects (2/19/2012)
February 19, 2012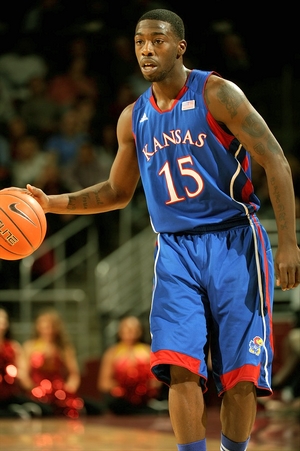 Icon SMI



Joe Treutlein

After being relegated to minor roles coming off the bench in his first two seasons in Lawrence, Elijah Johnson has finally gotten his opportunity this season, averaging 31.7 minutes per game and playing a key role on Kansas' #5 ranked squad.

Johnson's physical tools were his strongest asset coming into this season, and that hasn't changed with his expanded role. Johnson's most impressive moments are largely his explosive finishes at the rim and his excellent speed going to the basket, which still remain his biggest selling points in projecting his long term potential.

In terms of offensive production, Johnson hasn't had the smoothest road this season, as he's averaging just 10.9 points per-40 minutes (second lowest in our top-100 rankings) and sees his points totals fluctuate wildly from game to game (including zero points in 37 minutes in a victory over Baylor last week).

Johnson has only gotten to the free throw line 20 times all season (second worst amongst all players in our top-100 rankings), while nearly two thirds of his field goal attempts come from beyond the arc, which emphasizes the fairly minor role he plays on this Kansas squad.

While he is an immensely gifted player from a tools standpoint and shows flashes of excellent ability at times as well, Johnson is still inconsistent in most areas of his game and has struggled especially finding a consistent role in the half court offense.

Johnson plays primarily off the ball in the Jayhawks offense, deferring to teammate Tyshawn Taylor to run the show, but still does some playmaking himself. He shows great ability throwing alley-oops to cutting bigs, making post entry passes, and operating on quick drive-and-kick passes, but doesn't get many opportunities to run the offense as a traditional point guard.

He's also shown excellent flashes running the pick-and-roll at times, showing good vision and taking advantage of his size and speed, but he isn't utilized very heavily in this aspect and isn't consistent knocking down the pull-up jumper when defenders go under the screen. While Johnson certainly has some intriguing assets as a shot creator and distributor, his lack of experience running the point full time and his still largely unpolished ball-handling leaves question marks about his ability to be a pure point at the next level, where he probably best fits as a combo guard similar to what he does now.

Johnson's still developing advanced ball-handling skills are probably the largest thing holding him back from excelling consistently in the half court, as it greatly limits the ways in which he can utilize his superb physical tools going to the basket. While showing a great first step and excellent rangy strides with the ball, Johnson struggles heavily in isolations where he isn't very confident taking his man one-on-one. The increased spacing at the next level, more frequent use of pick-and-rolls, and possibly being in a more up-tempo offense are all things that could enhance Johnson's abilities in this area, but he will still need to improve his basketball IQ and learn how to better use his tools offensively, as he really struggles to get to the basket and draw fouls or finish consistently.

Johnson's perimeter shot is another inconsistent aspect of his offense, as despite having solid mechanics and often looking pretty comfortable shooting the basketball, he's shooting under 30% from three-point range on 5.4 attempts per game despite seeing the vast majority of his shots in catch-and-shoot situations. Improving here would be very beneficial to his chances of carving out a niche in the NBA, and making significant strides either here or with his shot creation will likely be crucial to his long-term staying power.

On the defensive end, Johnson shows similar inconsistencies due to his still developing fundamentals and awareness, but a solid motor and his excellent physical tools due a much better job masking his shortcomings. His physical tools here are nothing short of elite at the point guard position and still very good for a combo or two guard, as he has all the strength and speed he'll ever need on this end of the court.

He struggles at times in isolations, either due to letting out of his stance early or overextending himself, but his tools allow him to recover so well that he often can make up for it, though that likely won't be true at the next level. Johnson is more consistently effective as a disruptive force in team defense and on pick-and-rolls, where his size and speed allow him to cover a lot of ground. His somewhat erratic tendencies are definitely helped by playing on a very well-coached, effective defense, though he'll likely have to tighten up his technique at the next level where he won't have a consistent tools advantage against his opponents.

Looking forward, Johnson is still a raw prospect who's just scratching the surface of his potential, but despite his increased minutes this season it's tough to say if he's markedly improved in any area from a skills standpoint. Really shoring up either his playmaking or perimeter shooting ability to give him more consistent production in the half court will be key to his success, and he could also help himself by really working towards his potential on the defensive end. Going to an up-tempo team that can best utilize his tools in transition, pick-and-roll potential, and strong passing ability would definitely help his chances of sticking, but he will likely still need to make some substantive improvements with his skills to find himself a long term niche.

With Tyshawn Taylor graduating this spring and seemingly few options on the horizon to replace his significant role as Kansas' primary ball-handler, Johnson may opt to stay for his senior year, which could be his best bet from a development and exposure standpoint, as he doesn't look very close to being able to contribute to a NBA team right now, and doesn't have much of a resume to fall back on.

[Read Full Article]

---
Top NBA Draft Prospects in the Big 12, Part One (#1-5)
September 28, 2011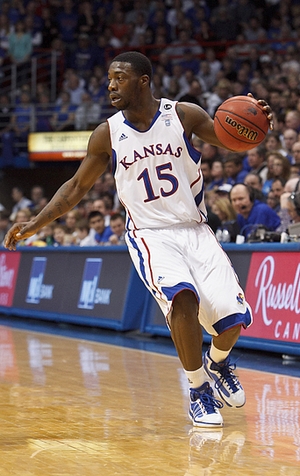 Icon SMI



Matt Kamalsky

Elijah Johnson's time seems to have finally arrived in Lawrence. Posting gaudy efficiency numbers in a bit role playing behind highly touted and more experienced guards like Josh Selby, Tyrel Reed and Brady Morningstar in his first two years on campus, the rising junior seems poised for a breakout season.

A top-25 recruit according to the RSCI coming out of high school, a big reason why the expectations for Johnson are so high are based on the fact that he has absolutely everything you look for in a NBA point guard physically. As we noted last time we wrote about him, the Las Vegas native is explosive in transition, fluid when he's weaving through the lane, smooth in the open floor, and has the size and strength to fit right in at the next level. Among prospects at his position in the college game, few have the raw tools on par with what he brings to the table.

The question for Johnson is not so much how his physical tools translate to the pro game, but whether he will rise to the occasion and be able to maintain his efficiency when Bill Self turns his loose as a key cog in his backcourt. The promising signs he showed as a freshman translated into small stretches of strong play last season as a sophomore, but the young guard hasn't had the opportunity to truly put everything together in a role that would clue scouts into his true NBA potential.

Despite his lack of consistent minutes, Johnson's skill set already manifests itself a few different ways. His terrific leaping ability and body control allow him to finish consistently, and often acrobatically, around the rim, whether he is receiving the ball off of a designed lob or cut to the rim. Johnson is also a capable jump shooter, knocking down 24 of his 56 (43%) attempts last season and appearing especially comfortable hitting shots with his feet set. As a point guard, Johnson shows a willingness to make the simple pass and make good decisions as a distributor. His speed gives him potential as a dynamic playmaker, but he did not tend to force the issue like many young players at his position tend to do. While all of the things Johnson did bode well for his future, they don't guarantee him much until he shows that he's capable of doing them consistently at a high-level.

As Johnson transitions into the larger role he seems destined to play this season, there are a few key areas of his game that NBA scouts will be paying especially close attention, most of which revolve around his ability to create shots for himself and others off the bounce while maintaining his efficiency. Likely the most significant aspect of his game they'll be watching will be his ability to create on the pick and roll. He only operated in the two-man game on a total of 9 possessions last season according to Synergy Sports Technology, and considering how significant pick and roll play is in the NBA, his ability to make things happen in the half-court with the ball in his hands will be constantly under the microscope.

On the defensive end, Johnson has all the tools to compete at a high level, but scouts will also pay close attention to his ability to consistently put the clamps on opposing point guards on a nightly basis. Johnson has had some good moments on the defensive end in the past, and has truly exceptional lateral quickness, but like all young guards, could stand to continue improving his fundamentals, become more of a factor defending off the ball, and specifically do a better job recognizing and working around screens.

Johnson is not the first highly touted recruit to start his career on the bench, and he would not be the first less-than-experienced prospect to put it all together as an upperclassmen either. While he has yet to prove the things he'll need to prove in order to legitimize his draft stock, he has proven to be an efficient role-player, and has all the tools to be successful when he begins to see significant minutes. For those reasons alone, Johnson is a player to pay especially close attention to this season as he could rocket up draft broads and a prospect we'll surely be revisiting as he teams up with TyShawn Taylor and Thomas Robinson to step up in place of the Morris twins.

[Read Full Article]

---
Top NBA Draft Prospects in the Big 12, Part One (#1-5)
September 13, 2010
Jonathan Givony

A former top-30 high school recruit with ideal physical attributes and a world of talent at his disposal, Freshman Elijah Johnson showed flashes of phenomenal potential in the very limited opportunities he had last season, playing just 6.6 minutes per game. The third string point guard for Kansas behind Sherron Collins and Tyshawn Taylor, Johnson will surely be contributing significantly more sooner rather than later.

Johnson has nice size for the point guard position at around 6-2, to go along with an excellent frame and excellent athleticism. He is very fast in the open court, and shows great potential with his ability to convert around the basket, not being afraid to use his strong body to bully his way to the rim and finish aggressively amongst the trees.

Johnson's perimeter shooting ability also looks promising, as he has a very nice looking stroke with fundamentally sound mechanics and an excellent follow through. He looks like a very capable threat with his feet set, but appears to have some work to do with his ability to shoot off the dribble.

Defensively, Johnson has excellent tools with his size, length, frame and lateral quickness, but appeared to be lacking somewhat in the experience and fundamentals department in the very little we were able to see from the minutes he was on the court.

As a point guard, Johnson appears to have good playmaking instincts, as he did not seem to have too many issues running Kansas' half-court offense in his limited time on the court last season, and posted a strong 7.4 assists per-40 minutes in a very small sample size of 151 minutes. Regardless, he shows very nice court vision of film and excellent anticipation skills at times, being able to not only make the simple pass but also surprising you at times with the swagger to go out and improvise on the fly with some extremely creative assists.

Clearly lacking experience as all freshmen point guards do, Johnson looks like an improvable ball-handler who still has plenty of work to do on his advanced shot-creating ability and pick and roll skills. Cutting down on unforced errors and continuing to improve on his mid-range game will be important for him moving forward.

With that said, the flashes of potential that Johnson dropped last season were hard to ignore, and when bunched together lead you to believe that he could be on his way to a breakout year as a sophomore. He was criticized at the high school level for being somewhat of an underachiever at times and not always playing up to his potential, so it will be interesting to see how that manifests itself in a larger role this season.

[Read Full Article]

---