Almost two months of action in the Adriatic league are behind us. With the departure of some prominent names from last year, the league has again lost a bit of quality. Even if the South-Eastern European clubs cannot compete with the riches of Russia and Spain financially, there is still an incredible pool of talent that produces a new batch of intriguing youngsters year in and year out. In recent years the Adriatic league has become to more powerful and richer European competitions what the NCAA is to NBA. In a way of course, since the strongest regional sides such as Olimpija, Cibona or Partizan are still able to cope with Europe's finest as evidenced by their strong starts in the Euroleague competition.
In the first part of article we take a look at five prospects who any considered to share the largest NBA potential in the region.
Nikola Pekovic
is having a tremendous season so far,
Milenko Tepic
and
Ante Tomic
are also playing well, while
Goran Dragic
and especially
Vladimir Dasic
have struggled to a certain extent.
NIKOLA PEKOVIC, 6-11, Center, KK Partizan Igokea, 1986
30 mpg, 21.4 ppg, 7.4rpg, 71.4% FG (Euroleague)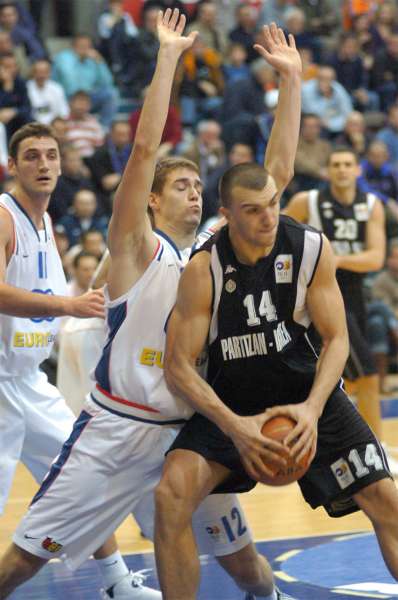 Nikola Pekovic has been nothing short of amazing this season. Early on, he's been among the most dominant players in the Euroleague statistically, and has lifted his team to a very good start. Has his great streak of performances helped his draft stock? Sure…but the real question is by just how much? Pekovic has not added all that many new wrinkles to his game in the offseason, he is still the same tough center who likes contact and physical play, but who's fundamentals are not that good and who's physical attributes would be fairly average on an NBA court.

Pekovic's success lies in his post game. He is incredibly strong, not just for a youngster, possessing great lower body strength and broad shoulders capable of putting on even more weight. He is certainly built well enough to hold his own in the NBA. Pekovic does a good job of using his strength in the low block, carving out space and positioning himself nicely. He asks for the ball and executes. Even if his moves are basic and simple, he is extremely efficient (shooting an incredible percentage from the field) and does not turn the ball over. Nikola's passing game will not wow anybody, but he is good at kicking the ball back to perimeter once he is double teamed, helping the team's ball-movement in the process.

Pekovic shows nimble feet in the paint, and will create his own shot by posting up once in a while, but most of damage he does prior to catching the ball by establishing good position and than just releasing his effective hook shot. Nikola has good hands, but sometimes struggles to make tougher layups due to his not so soft touch. He has range out to 15 feet, and has been moderately successful on a limited number of attempts this season, but his face the basket game is not a strong part of his repertoire at the moment. The touch on his jumper is somewhat average, and it takes time for him to release the ball.

The Serbian center is a good to very good rebounder who relies more on fundamentals than sheer athleticism. He does a proper job of positioning himself and boxing out his opponent, while his size also helps in the process. Pekovic's man-to-man defense has developed by leaps and bounds in the past two years. While he struggled in the past to defend on the perimeter, he now shows improved lateral movement and is able to stop dribble penetrations. At least when we are talking about big guys. He is not very aggressive around the three-point line and will not put a great pressure on pick and roll situations, but rather sometimes prefers to just go under the screen. Nikola is very good at defending post ups, making it really tough on offensive players with his toughness and strength. On the other hand, his help defense is not so good due to his relative lack of quickness and leaping ability.

Pekovic is a Center all the way, and despite being well built, he will not be considered anything more than an average athlete by NBA standards. He can get off the floor; but does not have great lift, and his fluidity could use some improvement. His quickness is also pretty average, not really being fast at running up and down the court or moving side to side. Add the fact that he does not have a prototypical European skill-set, and you begin to wonder if he'll be able to continue to dominate his opposition once he starts matching up with players who are just as big and strong as him (or more) in the NBA. He seems like the type of player who would have been quite a popular player amongst NBA scouts 10-15 years ago, but players his type (brute, back to the basket types) aren't quite as in demand these days it seems.

Even though he is tearing up Euroleague competition, Nikola is not a lock to get drafted in the first round in 2008 when he will be automatically eligible. Pekovic is a low risk type of prospect, who would probably pan out as a rock solid backup center, but who might not necessarily have the potential to develop into a quality starter. Still, it's very possible that someone decides to gamble on him somewhere in the first round (how high is hard to say this early), because even good backup centers aren't that easy to come by.
MILENKO TEPIC, 6-8, SG/SF, KK Partizan Igokea, 1987
27.5 mpg, 12.3 ppg, 3.4rpg, 3.1 apg, 13/28 3P, 58.7 FG% (Adriatic league)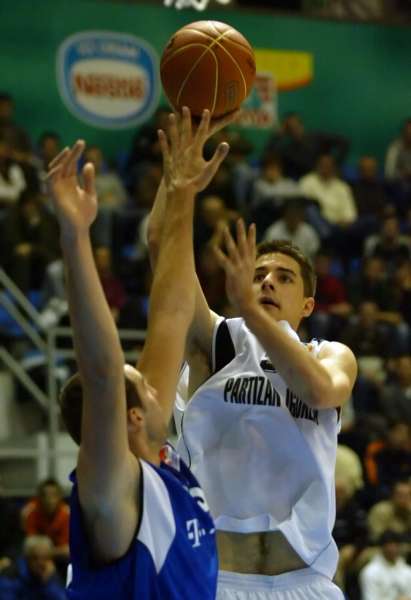 While
Milenko Tepic
has not been quite as sensational as his teammate
Nikola Pekovic
, he is also having a very good season. The most important news regarding Tepic is his improved jumper. He has obviously worked on this part of his game, which has been considered a glaring weakness in the past, as is now showing smoother mechanics and more confidence in his shot. Tepic would usually shy away from taking a perimeter jump-shot, but he is now keen to shoot even when there is some defensive pressure.
Overall, Tepic is a guy that has a well rounded floor game. He is very versatile as a 6-8 starting shooting guard, while running the offense when former NBA journeyman
Milt Palacio
is on the bench. Standing somewhere between 6-7 and 6-8, Tepic has a good size for what probably would be his NBA position - Small Forward. He is a well built wing player with strong legs, while his upper body could probably use some time in the weight room. Tepic is a sound athlete by European standards, whose athleticism would probably be considered slightly below average in the NBA. He has solid quickness, but is not explosive either vertically or in terms of his first step.
Tepic is a proven defender who usually takes care of the opponent's most dangerous perimeter scorer. He has good lateral quickness and understanding of what he has to do on the defensive end. He does a good job defending pick and rolls, going through screens while showing good intensity. Tepic uses his size to challenge shots and make it tough to shoot over him. He has been earning his minutes with his work on this end of the floor for some time now, while his offensive game has slowly been coming along. Would Tepic be a lock down defender in the NBA? Certainly not, as NBA athletes are much harder to deal with, and he does have not top notch athletic ability himself, but with his size, anticipation and attitude, he should be very solid in this regard.
Milenko is a savvy and smart offensive player, who takes what the defense gives him. He rarely rushes a shot or makes a questionable decision, as he is very mature for his age. The stronger parts of his offensive game are his ball-handling and passing ability. Tepic has very good vision and is able to keep an offense in flow with timely passes and penetrations. He is not very quick, but his ball-handling ability and savvy enables him to create separation and get into the lane. Once in the paint, Tepic shows good finishing ability with both hands, and is adept at finding open teammates in traffic.
Tepic has shown tremendous leadership ability so far in this career, establishing himself as a reference point in the junior categories, and winning a bunch of medals on the way. His character really shined through in a recent game versus Cibona when despite missing a three-pointer, turning the ball over and having his shot blocked (all) in crunch time, still came up with the game winning slashing drive in the waning moments of the game. His draft status will probably depend on how well he can shoot the rest of the way until he decides to enter the draft. If Tepic proves to be capable of knocking down open jump-shots, given his all around game and blue-collar attitude, he might get some serious looks in the later part of the first round, either in 2008 or 2009.
ANTE TOMIC, 7-2, PF/C, KK Zagreb, 1987
23.3 mpg, 11.3 ppg, 5.9 rpg, 1.2apg, 0.5 bpg, 59.5%FG (Adriatic league)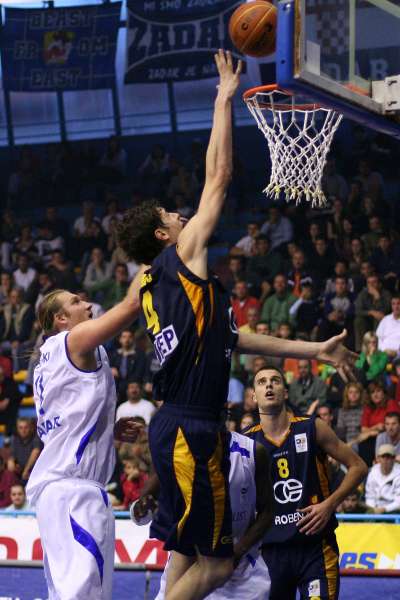 Ante Tomic got off to a rocky start after being forced by his team to pull out of last year's draft. He had a dispute with his coach early in the season, and was questioned for a lack of effort and character. After starting initially in one game, Danijel Jusup took him out after just three minutes, and Tomic never returned. He learned his lesson from there it seems, and has been Zagreb's best player in the last stretch of games. The issues around Tomic remain the same. He is rebounding the ball a bit better this season, but his lack of strength and defensive shortcomings might see his stock drop as time goes by, since there is seemingly no significant improvement in these areas of concern.

Tomic is a very light player with narrow shoulders, and there is a serious possibility that he might never gain enough weight to take the banging of the NBA game.

"It is a long process which will take years. It is not easy to gain weight. I don't know what he has done before, but Tomic has started to work according to our program recently, and hopefully there will be improvement", said Zagreb's coach Danijel Jusup. Tomic is not bulky nor wiry, he is a weak player who gets pushed around and outmuscled in the post regularly.

The 7-2 center is not a particularly good rebounder, despite his size. He struggles to box-out, and is also not much of a leaper. Tomic does a fairly job of fighting and denying post position, but is weak on rotations and does not present a real shot-blocking threat. He is a poor defensive player at this point, and it will take a lot of work on that end of the floor to succeed at a higher level.

What makes Tomic desirable beside his sheer size is his extremely intriguing offensive package. Coach Jusup mostly uses him in the mid and high post, unlike last season when he got more opportunities to play with his back to the basket. Ante can shoot, pass or even put the ball on the floor from 15 feet in. He has good footwork and a pair of terrifically soft hands. Jump-hooks, spin-moves, up-and-unders, turnaround jumpers –they are all part of his rather impressive repertoire. He feels more comfortable playing facing the basket, as he loses his effectiveness when matched up physically in the post.

Tomic has very good shooting mechanics and great touch from mid-range. He's been hitting perimeter jumpers with great consistency this season, and his range extends to about 20 feet. Ante is also adept at putting the ball on the floor and driving to the rim. He has even shown somewhat of a pull-up jumper, which is rare when talking about a player of his size.

Tomic is also a great passer. He recognizes cutters intelligently, and has good court vision, but is prone to making flashy play over the simple ones, leading to a high turnover rate. While he is able to be a very good finisher around the basket (59.5% FG) thanks to the great touch he has, Tomic very rarely dunks the ball.

Tomic has good quickness and nice coordination for his size. He is a decent athlete overall, but his lack of vertical explosiveness is bothersome. As already stated, he will need to seriously work on his body if he is to pursue a career in the NBA. Tomic reportedly had a guarantee from a team picking in 20s in the 2007 draft this past June, but his European agents spoiled the deal by failing to tell his team Zagreb (and receive permission) that he was leaving for the States. He was disappointed and angry afterwards and might be looking to re-enter next year again. Depending on teams opinions are about his potential physical growth, Tomic could get drafted as high as the lottery or maybe even fall out of the first round completely.
GORAN DRAGIC, 6-4, PG/SG, Olimpija Ljubljana, 1986
28.3 mpg, 8.3 ppg, 3.2 apg, 2.8 rpg, 2.8 tpg, 36.3%FG, 3/15 3P (Euroleague)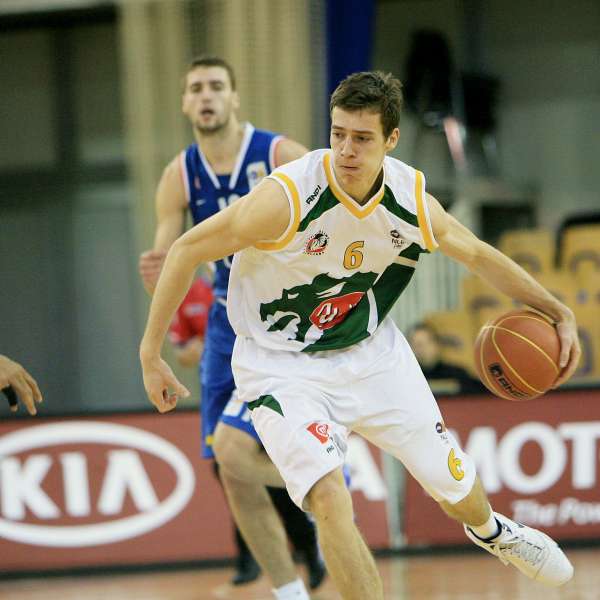 Goran Dragic had his coming out party at the Eurobasket this summer, where all his strengths and weaknesses were exposed against Europe's finest. Being loaned from Spanish powerhouse Tau Ceramica for the second year in a row, Dragic is still proving himself on the European scene. Coming back home to Ljubljana was expected to make things easier for him in terms of working on his offensive game, as he is getting more touches and larger responsibility on that end of the floor.
Dragic is shooting 9/30 from downtown combined in the Euroleague and Adriatic league. He has started the season well, but has cooled off lately and is still lacking confidence in his ability to stroke the ball from the perimeter. Dragic's mechanics are not terrible, but a steadier follow through and a more consistent release point would help. Being labeled as a poor shooter, defenders are backing off of him, making it harder for him to get into the lane. He is still able to score on drives to the hoop thanks his combination of size, quickness and good finishing ability, but a lack of a consistent shot is a big hindrance to his game.
Dargic is a solid, but not incredibly instinctive playmaker at this point. His decision making can be questionable at times, as he tries to make tough passes in traffic, over-penetrates and can turn the ball over under pressure. He's not the most fluid, imaginative point guard around. His turnovers per game (2.9) are high considering how much offense is run through him. Goran has good court vision and very solid ball-handling skills, enabling him to create looks off the bounce. He is a willing passer and delivers the ball better while on the move than from static positions. Dragic is a very good finisher, nicely using both hands and getting proper lift.
The Slovenian is slowly turning himself into one of the best defensive players at his position in Europe. He did a tremendous job defending
Tony Parker
in the Eurobasket, and is continuing his great defensive display in the Euroleague. Goran has great size for a PG (6-foot-4), is athletic, with good lateral quickness, and has excellent defensive fundamentals. He fights through screens despite his slight build, gets into the passing lanes, and is very aggressive with his ability to create extra possessions for his team. The majority of European point guards didn't succeed in the NBA because of either athletic shortcomings or lack of defensive resilience. Dragic passes the test in both categories and then some.
Dragic has done a great job of making himself familiar to NBA executives with his excellent perfomance at the Eurobasket. He will be automatically eligible for next year's draft, and if he wants to establish himself as a solid first round pick, he should show improvement in his perimeter shooting ability, as well as his ability to run a team. His offensive game as a whole is below average for a NBA guard.
VLADIMIR DASIC, 6-9, SF/PF, Buducnost Podgorica, 1988
14.4 mpg, 3.7 ppg, 2.6 rpg, 1.3 spg, 24.2 FG%, 1/17 3FG (Adriatic league)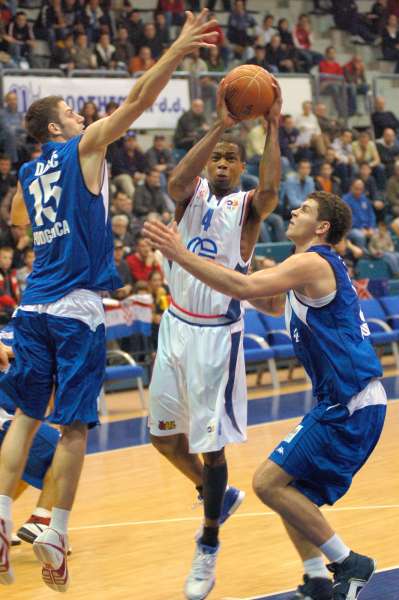 Vladimir Dasic is playing terrible basketball at the moment and is not utilized properly in Buducnost's team. The 19-year old is averaging a mere 3.7 points in 15 minutes of action, which is far worse than last season's 8.2 points in 22 minutes. The Montenegrin is appearing more and more to be a typical example of a tweener who does not have enough skills and quickness to play on the perimeter, while not being strong enough to hold his own down low. The Coach has decided to stash Dasic around the three-point line, which has turned out to be a pretty bad decision so far.

Dasic used his good athleticism and solid fundamentals to put up decent numbers last season playing in the mid-high post, but he now finds himself further from the basket where he's just not comfortable. He has the size advantage, but has struggled mightily creating off the dribble and shooting the ball. Dasic is a good athlete with a nice frame and solid quickness for his size, but when put up against players who are 4 to 5 inches shorter than him, his average to below average ball-handling and shooting ability becomes much more noticeable.

Dasic has been terrible from beyond the arc this season (1/17), after not much better already last year (26.2%). His release point is inconsistent and it takes him time to set his feet. When he is forced to shoot on the move or under pressure, his accuracy drops dramatically. Dasic can get to the basket with his long strides, but it is usually a straight drive when he recognizes the opening. He has not shown the ability to change gears or directions, which has led to a large number of offensive fouls. In the post, Dasic establishes good position, but has shown only basic moves so far, and his footwork has a long ways to go.

The combo forward plays solid defense, switching well and using his size to cover multiple positions. He is not particularly good in straight up defense on the perimeter due to his lateral quickness, but has good awareness and is very solid help defender. Dasic is a tough kid with a good frame that should fill out nicely, and is already pretty strong for his age. When getting the chance to play under the basket, he shows good rebounding fundamentals, sealing his man and getting the job done on the glass.

Dasic is still a fairly young player and his recent slump should motivate him to work harder on his game. He has the physical package and basic fundamentals to succeed eventually, but will need to spend a lot of hours in the gym working on his technique if he is to live up to his potential and become a first round pick in a year or two.