J.P. Tokoto
Recent Tweets
All Tweets
DraftExpress: With the #58 pick the Philadelphia 76ers take J.P. Tokoto from North Carolina. DX Profile http://t.co/csYrxYD4YJ
2015-06-26 00:13:57
DraftExpress: Still available at #50 Jonathan Holmes Christian Wood Robert Upshaw Michael Fraizer Mam Jaiteh J.P. Tokoto Cliff Alexander
2015-06-25 23:52:44
DraftExpress: New on DX Updated Scouting Report on UNC shooting guard J.P. Tokoto http://t.co/MY8JQb1KGn @InsideCarolina http://t.co/dcO3ZkMovI
2015-06-17 11:17:17
Team: Oklahoma City
Physicals
Positions
Rankings
Salary
Misc
H: 6' 6"
W: 196 lbs
Bday: 09/15/1993
(22 Years Old)

Current: SG
NBA: SG
Possible: SG

RSCI: 59

Agent: Steve McCaskill

High School: Menomonee Falls
Hometown: Menominee, WI
Drafted: Pick 58 in 2015 by 76ers

Predraft Measurements
| Year | Source | Height w/o Shoes | Height w/shoes | Weight | Wingspan | Standing Reach | Body Fat | No Step Vert | Max Vert |
| --- | --- | --- | --- | --- | --- | --- | --- | --- | --- |
| 2015 | NBA Draft Combine | 6' 5.25" | 6' 6.25" | 196 | 6' 10" | 8' 4.5" | 4.1 | 34.5 | 40.0 |
| 2011 | LeBron James Camp | NA | 6' 6.5" | 185 | 6' 9" | NA | NA | NA | NA |
| 2011 | Kevin Durant Camp | NA | 6' 7" | 185 | 6' 9" | NA | NA | NA | NA |
| 2010 | NBA Top 100 Camp | 6' 5" | NA | 178 | 6' 10" | 8' 4" | NA | NA | NA |



Basic Per Game Statistics

- Comprehensive Stats - Statistical Top 25s
| Year | League | Name | GP | Min | Pts | FG | FGA | FG% | 2Pt | 2PtA | 2P% | 3Pt | 3PtA | 3P% | FTM | FTA | FT% | Off | Def | TOT | Asts | Stls | Blks | TOs | PFs |
| --- | --- | --- | --- | --- | --- | --- | --- | --- | --- | --- | --- | --- | --- | --- | --- | --- | --- | --- | --- | --- | --- | --- | --- | --- | --- |
| 2015/16 | DLEAGUE | J.P. Tokoto | 6 | 26.8 | 12.2 | 4.5 | 10.7 | 42.2 | 3.8 | 9.3 | 41.1 | 0.7 | 1.3 | 50.0 | 2.5 | 3.3 | 75.0 | 1.5 | 3.5 | 5.0 | 2.7 | 2.7 | 0.2 | 2.2 | 3.5 |

Player Page&nbsp&nbsp| Player Stats | Mock Draft History | Related Articles&nbsp&nbsp| Add to My Draft Express&nbsp
&nbsp
J.P. Tokoto Updated NBA Draft Scouting Report
June 17, 2015
Josh Riddell

One of the most athletic players in college basketball, J.P. Tokoto decided to declare for the NBA Draft after his junior season. He'll hope to show he has a refined skill set to match his athleticism and be a productive shooting guard at the NBA level.

Measured at 6'6.25" with an impressive 6'10" wingspan and a developing 196-pound frame at the NBA Draft Combine, Tokoto rounds out his athletic tool kit with great explosiveness, agility and quickness. He'll be able to match the size, length and athleticism of most NBA guards which provides him an interesting foundation as a prospect heading into the season.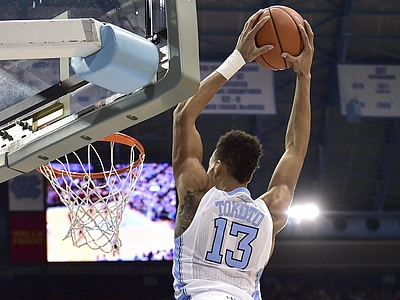 US Presswire



Tokoto gets a significant portion of his production in the open court, with 24.8% of his offensive possessions coming in transition according to Synergy Sports Technology. He can run the wings with ease and is also able to handle the ball in the open floor and make smart decisions on the break. He's an above the rim player and a capable finisher around the basket when given the opportunity, especially in transition.

Tokoto is somewhat limited offensively and scored the fewest points per 40 minutes pace adjusted of all prospects in our top 100 at just [url=http://www.draftexpress.com/stats.php?sort=6&q=&league=NCAA&year=2015&per=per40pace&min=15&stage=all&conference=All&pos=all&qual=top100]10.6 points

[Read Full Article]

---
2015 NBA Combine Interview: Michael Frazier and J.P. Tokoto
May 21, 2015
[Read Full Article]

---
J.P. Tokoto Workout Video
May 20, 2015
An interview with North Carolina's J.P. Tokoto featuring footage from his pre-draft workouts at IMG Academy and in Chicago.

(Video may not load with Internet Explorer. Use Chrome or Firefox)
---
More Pre-Draft Interviews/Workout Videos
-Jarell Martin Workout Video
-D'Angelo Russell Interview
-Quinn Cook Interview
-Frank Kaminsky Workout Video
-Robert Upshaw Workout Video
-Rakeem Christmasn Workout Video
-Myles Turner Workout Video
-Stanley Johnson Interview
-Kelly Oubre Interview
-Frank Kaminsky Interview
-Satnam Singh Interview
-Satnam Singh Workout Video
-Alan Williams Interview
-Aaron White Interview
-T.J. McConnell Interview
-Chasson Randle Workout Video
-Chris Walker Interview
-Chris Walker Workout Video
-Cameron Payne Workout Video
-Cameron Payne Interview
[Read Full Article]

---
NBA Combine Competitive Action Recap: Day One
May 14, 2015
13 points, 5 rebounds, 2 assists, 1 turnover, 3 steals, 5-5 2P, 1-1 3P, 25 minutes

J.P. Tokoto played extremely well, showing off his terrific strengths while minimizing his weaknesses , having a highly efficient and productive outing. He started things off with a steal and dunk in transition, followed that up with a spot-up 3-pointer and a pair of pull-up jumpers, and capped things off with another absolute monster two-foot dunk from outside of the paint.

Tokoto did exactly what he needed to do, playing strong defense, finishing emphatically with his tremendous athleticism, and showing some improvement as an outside shooter, which is a very positive development considering how much he struggled with this part of his game at UNC. Tokoto clearly has been working hard on his mechanics and consistency since electing to enter the draft, and the fact that he was able to step into his shot so confidently and knock down jumpers is a good sign for his future, even if it's obviously a very small sample size.

[Read Full Article]

---
Jerian Grant vs J.P. Tokoto Video Analysis
January 7, 2015
More Situational Videos from Mike Schmitz
-Jahlil Okafor vs Frank Kaminsky Head to Head Matchup Video Analysis
-Myles Turner vs Kentucky's NBA Frontcourt Video Analysis
-Kristaps Porzingis vs Barcelona Video Analysis
-Ben Simmons vs Ivan Rabb Video Analysis
-Jakob Poeltl vs Cliff Alexander Head to Head Matchup Video Analysis
-Montrezl Harrell vs Kentucky's NBA Frontcourt Video Analysis
-Rashad Vaughn vs Arizona Video Analysis
-Christian Wood vs Arizona Video Analysis
---
Take a look at our video section for a compilation of all the videos we've produced this year.
[Read Full Article]

---
Top NBA Prospects in the ACC, Part 8: Prospects #12-16
October 23, 2014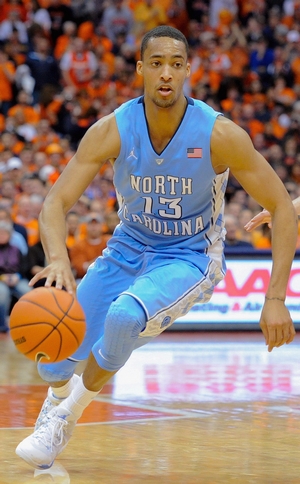 US Presswire



Jonathan Givony

A bit contributor as a freshman at 8.4 minutes per game, J.P. Tokoto became a hugely important player for North Carolina as a sophomore (29 mpg) in the wake of P.J. Hairston's suspension and eventual dismissal, as UNC had absolutely zero depth on the wing.

Not known for his offense, Tokoto was neither a prolific (12.3 points per-40) or efficient (51% TS%) scorer for the Tar Heels, both of which would rank towards the bottom of realistic draft prospects in each respective category.

Standing around 6-6 or possibly 6-7 in shoes, with a 6-9 wingspan, Tokoto has good size for the wing, although average length and strength. He's one of the best athletes in college basketball, though, being amazingly quick, fluid and explosive, making him a fixture on highlight reels with his incredible leaping ability.

Tokoto is a unique offensive player—exceedingly raw from a skills standpoint, but with a surprisingly good feel for passing and getting teammates involved. He does a great job of moving the ball crisply within the flow of offense, finding the open man with impressive creativity, be it by passing ahead in transition, dishing to the weakside cutter, feeding the post, or making the simple extra pass to spot-up shooters (or in UNC's case last season, shooter).

Freakishly athletic players with very limited skill-levels rarely see the floor the way Tokoto does, which leaves a lot of room for optimism regarding his technical ability catching up with his physical tools down the road.

For now, though, Tokoto is very much a limited player in the half-court, struggling to stay effective when he's not finishing around the basket (where he converts an excellent 67% of his attempts) or making plays for others, which hurt UNC's spacing badly last year.

Tokoto possesses very limited range on his jump-shot, only hitting 8 of his 45 (18%) 3-point attempts in his college career thus far. His shooting mechanics are very inconsistent, as he often catches the ball with his legs splayed apart and then elevates with poor balance, a rigid motion and a varying release point, leading to some very bad misses. The fact that Tokoto has only made 58 of his 122 (47.5%) free throw attempts thus far in his career at UNC shows just how much work he has to do on his outside shot, something that will be vital for his chances at carving out a niche in the NBA.

Tokoto also isn't much of a shot-creator at this stage either, as he has very crude ball-handling skills that make it difficult for him to take advantage of his freakish athleticism. When Tokoto can get a step on his man attacking the paint in a straight line, he can be absolutely exhilarating, as he possesses a quick first step, incredibly long strides and outstanding body control, allowing him to simply glide towards the basket and then elevate from tremendous distances for emphatic finishes.

At this stage, though, he struggles badly when a well-organized half-court defense forces him to change directions with the ball, operate at different speeds, or use his left hand, causing him to settle for some very difficult jumpers in the mid-range area.

Being as athletic as he is, and also sporting above average instincts and anticipation skills, Tokoto can make some very impressive plays defensively, particularly in terms of his ability to get in the passing lanes (2.3 steals per-40) or crash the glass (8.1 rebounds per-40, a terrific rate for a wing player). He has the size and quickness to guard up to three positions at the college level, and possibly in the NBA too.

With that said, he's often not quite as good of a defender as he should be considering his physical tools, as he tends to rely too much on his freakish athleticism to get the job done and doesn't show great fundamentals or the highest intensity level. Tokoto gets beat off the dribble a lot more than you'd expect, not fighting through screens (partially due to his relatively weak frame) or closing out with much urgency on the perimeter. He'll need to develop much more of a junkyard dog mentality to maximize his tools on this end of the floor, as he's simply too limited a player offensively to get by operating at half-speed the way he often did last season.

Despite his shortcomings, Tokoto has some impressive gifts that aren't that easy to come by, and will make him a prospect NBA teams will likely continue to track regardless of where he starts his career. If he can find a way to become at least an adequate shooter, and decides to ratchet up the intensity defensively, he could stick around for quite some time, as players with his combination of size, athleticism and passing ability are coveted commodities these days.

[Read Full Article]

---