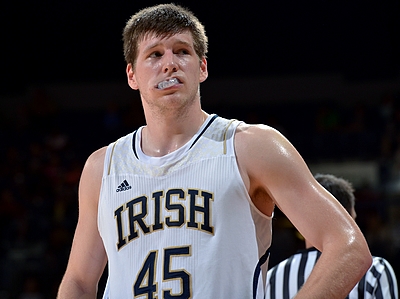 Walker Beeken
After a somewhat surprising breakout junior season in which he established himself as one of the best big men in the Big East, Notre Dame's
Jack Cooley
has continued his productive play as a senior, scoring efficiently and
leading the NCAA in rebounding per-minute
.
Standing at 6-9, with a strong, sturdy frame, Cooley's intrigue as a prospect starts with his work on the boards, as he's taken his rebounding prowess to another level this season, hauling down a phenomenal 15.3 rebounds per-40, which ranks him
amongst the 20 best college basketball rebounders
in our database's history, which goes back to the 2001-2002 season.
Cooley utilizes his size and strength to fight hard for position around the basket, and he embraces contact and pursues the ball with great intensity, enabling him to get rebounds out of his area, despite a lack of overwhelming quickness or explosiveness.
In addition to his rebounding prowess, Cooley is also an efficient scorer at the college level (62% true shooting percentage), doing the majority of his damage in the basket area, off of deep post ups, offensive rebounds, cuts, and as the roller in pick-and-roll sets.
He is an excellent screener, and Coach Mike Brey has used him more this season as the screener for guards Eric Atkins and
Jerian Grant
in pick-and-rolls, where Cooley rolls hard to the rim and shows good hands, with the ability to finish through contact and with either hand.
About 28% of Cooley's possessions as a senior have been post-ups, and he's continued to score effectively from his sweet spot on the right block. His go-to move is a jump hook turning to his left shoulder, which he gets off quickly and shows nice touch, and he also does a nice job establishing position and sealing off his man for easy baskets off of ball reversals. He doesn't show much variety in his post moves or footwork, and he isn't much of a face-up threat, but he does a nice job playing within his limitations and focusing on what works for him offensively.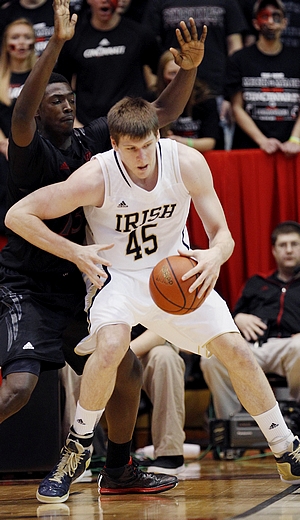 Cooley's effectiveness as a post scorer likely wouldn't all translate against the bigger, longer, more athletic players that he'd face at the NBA level, which is why we noted in the preseason that being able to consistently knock down catch-and-shoot mid-range jump shots would likely be a big boost to his stock and give him more value on the offensive end.
So far this season, he's still shooting less than one jumper per game, but he's connected on 10 of those 20 attempts. With such a small sample size, NBA teams would likely want to see further evidence in workouts to get a better idea of where he is as a shooter. His release is a bit slow, and his mechanics are not very fluid, but he does show some comfort out to about 15 feet, and he shoots 67% from the free throw line, which puts him around the middle of the pack amongst big men.
On the defensive end, not much has changed from what we noted in the preseason. Cooley is tough and physical and willing to battle for position on the interior, but he doesn't possess great size, length or athleticism to defend one-on-one in the post against the types of interior big men he'd likely face at the NBA level. He also lacks the lateral quickness to defend face-up big men further away from the basket, which is something he'd see much more of at the NBA level, particular if he's asked to defend power forwards.
Overall, even though Cooley hasn't shown great improvement in any one area as a senior, his continued production likely squashes any notions that his breakout junior year was at all a fluke. He's a player who probably doesn't have great upside to grow into due to his lack of physical tools, but scouts should have some comfort in knowing what they're getting with Cooley.
While 6-9 centers with limited athleticism aren't highly coveted by NBA teams, he is a tough, physical presence around the basket who plays with a great motor and has proven to be one of the best rebounders in Big East history, which should be enough to earn him plenty of looks through the pre-draft process and beyond.