Jerian Grant
Recent Tweets
All Tweets
DraftExpress: After 17 picks still sitting in the Green Room Bobby Portis Jerian Grant Sam Dekker Rondae Hollis-Jefferson Kevon Looney. Who is last?
2015-06-25 21:29:21
DraftExpress: Best players available at #13 according to the DX Top-100 Devin Booker Rondae Hollis-Jefferson Tyus Jones Jerian Grant Kelly Oubre.
2015-06-25 20:59:18
DraftExpress: Top NBA Prospects in the ACC Prospects #10-14 C.J. Fair DaJuan Coleman Brice Johnson Robert Carter Jerian Grant http://t.co/ZjATYj0WSm
2013-09-11 18:03:49
DraftExpress: Top NBA Prospects in the ACC Prospects #10-14 http://t.co/ZjATYj0WSm C.J. Fair DaJuan Coleman Brice Johnson Robert Carter Jerian Grant
2013-09-11 11:22:03
DraftExpress: Yes. Another one coming too. Jerami Grant. Top-50 recruit. Super athletic SF RT @visbol Is Jerian Grant Jerai's brother/Harvey Grant's son?
2011-12-26 02:04:42
Team: Knicks
Physicals
Positions
Rankings
Salary
Misc
H: 6' 5"
W: 198 lbs
Bday: 10/09/1992
(23 Years Old)

Current: PG
NBA: PG
Possible: PG

RSCI: 111

Agent: Raymond Brothers

High School: DeMatha Catholic
Hometown: Silver Spring, MD
Drafted: Pick 19 in 2015 by New York

Predraft Measurements
| Year | Source | Height w/o Shoes | Height w/shoes | Weight | Wingspan | Standing Reach | Body Fat | No Step Vert | Max Vert |
| --- | --- | --- | --- | --- | --- | --- | --- | --- | --- |
| 2015 | NBA Draft Combine | 6' 3.25" | 6' 4.25" | 198 | 6' 7.5" | 8' 4" | 5.6 | NA | NA |



Basic Per Game Statistics

- Comprehensive Stats - Statistical Top 25s
| Year | League | Name | GP | Min | Pts | FG | FGA | FG% | 2Pt | 2PtA | 2P% | 3Pt | 3PtA | 3P% | FTM | FTA | FT% | Off | Def | TOT | Asts | Stls | Blks | TOs | PFs |
| --- | --- | --- | --- | --- | --- | --- | --- | --- | --- | --- | --- | --- | --- | --- | --- | --- | --- | --- | --- | --- | --- | --- | --- | --- | --- |
| 2015/16 | NBA | Jerian Grant | 18 | 18.1 | 5.8 | 1.9 | 4.9 | 38.2 | 1.7 | 3.9 | 44.3 | 0.2 | 1.1 | 15.8 | 1.8 | 2.2 | 84.6 | 0.2 | 1.8 | 2.0 | 2.8 | 0.5 | 0.0 | 1.2 | 1.7 |

Player Page&nbsp&nbsp| Player Stats | Mock Draft History | Related Articles&nbsp&nbsp| Add to My Draft Express&nbsp
&nbsp
Jerian Grant NBA Draft Scouting Report and Video Breakdown
March 31, 2015
Scouting Report by Jonathan Givony. Video Analysis by Mike Schmitz

Deemed ineligible "due to an academic matter" only 12 games into his redshirt junior season, Jerian Grant exceeded all expectations as a senior, leading Notre Dame to an ACC Conference Tournament Championship, an NCAA Tournament Elite Eight appearance, and First Team All-America honors--boosting his draft stock tremendously in the process.

(Video may not load with Internet Explorer. Use Chrome or Firefox)

At 6-5, Grant has tremendous size for a point guard, which allows him to see over the top of defenses and get his shot off almost whenever he pleases. He's an underrated athlete, showing a very quick first step and the ability to change speeds fluidly, even if he possesses just an average frame and isn't terribly explosive from a vertical standpoint.

Grant's best attribute from an NBA standpoint clearly revolves around his playmaking ability. He is a decisive passer and an extremely unselfish player overall, making reads automatically and whipping the ball impressively all over the court. He has a tremendous natural feel for finding the open man regardless of where they are on the floor, being capable of making every pass in the book, be it high or low, and to cutters, rollers or shooters. Unlike many big guards, he's not a combo looking to make the transition to the point, he's already a tremendous distributor.

His 7.3 assists per-40 minutes pace adjusted ranks fourth among DX Top-100 prospects, despite the fact that he shared playmaking duties with another capable guard in sophomore Demetrius Jackson, a strong NBA prospect in his own right. Grant's 6.22 pure point ratio ranks second in our Top-100, an indication of not only his passing skill but also how infrequently he turns the ball over, coughing it up on just 14% of his possessions.

This manifests itself most prominently on the pick and roll, where Grant found himself dozens of times each game, which should ease his transition to the NBA significantly. He's also very effective in transition or creating out of isolation situations.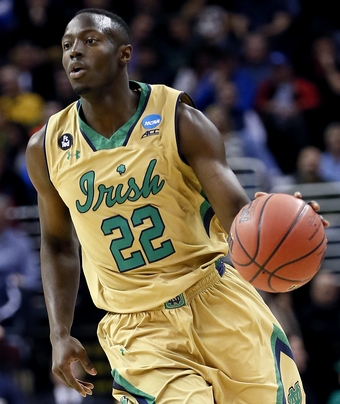 US Presswire



Grant was a capable scorer for the Irish, averaging over 18 points per-40 pace adjusted on a solid 60% TS%. He doesn't really excel in any one area here, but rather picks his spots nicely, pushing the ball up the floor in the early offense and finding places to score out of pick and rolls, spot-ups and in one on one situations. Far from being a non-shooter like many big guards, Grant made a decent amount of 3s throughout his career, hitting 1.5 per game on average, at a 34.5% clip. His mechanics in catch and shoot situations could stand to improve, as he possesses a somewhat rigid release, and he's actually slightly more effective pulling up off the dribble than he is with his feet set, which is important considering how much he handles the ball.

Against better competition, Grant has a tendency to struggle as a finisher inside the paint, hitting just 51% of his 2-point attempts against BCS teams with a .500 record or better as a senior (44% for his college career). He actually got to the free throw line quite a bit more often in these games, an indication of his savvy, which helped him salvage a solid 56% TS% in these games.

Still, there are question marks about how this part of his game will translate to the NBA, as he does not possess a very strong frame, is fairly limited vertically, and lacks a degree of toughness when forced to take contact and finish in the paint.

(Video may not load with Internet Explorer. Use Chrome or Firefox)

These same issues manifest themselves on the defensive end as well, where he shows flashes, but is far too inconsistent at the moment. Grant has a difficult time fighting through screens and isn't physical enough overall using his body to wall off opponents, both on the perimeter in the post. He doesn't show great urgency on this end of the floor, not always getting in a defensive stance, relying too much on his terrific instincts and anticipation skills in the passing lanes. Grant averaged 1.7 steals per-40 minutes over the course of his career, a very nice rate, but was incredibly underwhelming on the glass for a player his size, posting just 3.3 rebounds per-40.

Grant's size, combined with his solid lateral quickness and smarts should give him a chance to develop into a capable defender in the NBA in time , particularly once he gets in the weight room and maximizes his frame. Mike Brey's teams at Notre Dame have never been known for their defensive prowess, and this year was no exception, with a sub-100 defensive efficiency ranking. It's possible that in a system that places greater emphasis on this part of the game, he could find a way to be more effective.

Despite spending five years in college, Grant won't be close to being the oldest player drafted this June, as he came into school very young, which is part of the reason he elected to redshirt his first year. While he certainly doesn't have the same type of upside as many of the underclassmen who will get picked, he also doesn't share much of the downside. Grant's ability to play both guard positions should help him get on the floor early on in his NBA career, and if he's able to address some of his deficiencies, he'll have no problem carving out a strong career for himself as a versatile role-player.

[Read Full Article]

---
Jerian Grant vs J.P. Tokoto Video Analysis
January 7, 2015
More Situational Videos from Mike Schmitz
-Jahlil Okafor vs Frank Kaminsky Head to Head Matchup Video Analysis
-Myles Turner vs Kentucky's NBA Frontcourt Video Analysis
-Kristaps Porzingis vs Barcelona Video Analysis
-Ben Simmons vs Ivan Rabb Video Analysis
-Jakob Poeltl vs Cliff Alexander Head to Head Matchup Video Analysis
-Montrezl Harrell vs Kentucky's NBA Frontcourt Video Analysis
-Rashad Vaughn vs Arizona Video Analysis
-Christian Wood vs Arizona Video Analysis
---
Take a look at our video section for a compilation of all the videos we've produced this year.
[Read Full Article]

---
Top NBA Prospects in the ACC, Part 7: Prospects #7-11
October 23, 2014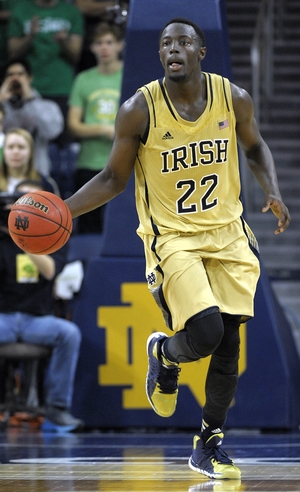 US Presswire



Matt Kamalsky

The last of Harvey Grant's three sons still competing at the collegiate level, Jerian Grant started last season on a tear before withdrawing from Notre Dame mid-season after an academic-related suspension. The Irish sputtered to a 15-17 record without their star guard, who averaged 19 points and 6.2 assists per-game over the 12 games he appeared in. Returning to Notre Dame for his fifth year as a redshirt senior, Grant will have a chance to put last season behind him and solidify himself as one of the premier guards in the ACC in 2015.

Standing 6'5 with an improved, but still lanky frame and a nice wingspan, Grant has outstanding size for a player who frequently functions as a primary ball-handler. The DeMatha Catholic product lacks a degree of athleticism, as he isn't a great leaper nor exceptionally quick, but he's not a poor athlete either relative to big guards we've seen in his mold in the past.

As we've noted in our previous reports over the last two years, Grant's biggest merit as a prospect is his ability to create offense, both for himself and others. That quality was apparent in his shortened 2014 campaign as he was nothing short of phenomenal on the break during Notre Dame's non-conference schedule and continued to show promise as a playmaker in the two-man game. Scoring an outrageous 1.179 points per-possession over 15.8 possessions per-game according to Synergy Sports Technology, Grant scorched the likes of Miami (Ohio), Santa Clara, Cornell, and Delaware for 20+ points on very efficient shooting numbers, but struggled at times at well, with his efficiency ultimately getting a boost from Notre Dame's early schedule and the small sample of games he appeared in.

Regardless of the circumstances of Grant's performance last season, there's no debating that he was tremendous at times. Some 24.2% of Grant's possessions came in transition, where he converted his shots at a 77% clip and posted an assist-to-turnover ratio of 5.3/1 in the open court. Grant looked to push the ball early and often on the break, which coupled with his high basketball IQ, led him to have a significant impact in this area a year ago.

In the half court, Grant was not quite as good, but continued to finish at a solid 57% rate around the rim and was able to score in isolation and off screen situations at a nice clip thanks to his 40% conversion rate on jump shots. Though his release point seems to waver a bit at times, this was a promising step considering Grant shot 33% from the perimeter two years ago. When he's in rhythm, he looks fairly comfortable scoring away from the rim, especially from the midrange, but he still settles for some off balance step-back jumpers, and will look at bit rigid or hurried on some attempts, notably when he's spotting up.

Scouts will be keeping a close eye on Grant's play this season to see if he can back up his 13% uptick in 2P% and 6% improvement from beyond the arc last year, as his ability to score at an efficient level will certainly improve his standing in their eyes, as it helps make up for his lack of outstanding quickness and leaves some room for optimism that he could be entrusted as an extra ball-handler at the next level.

Though Grant isn't a freak athlete, he finds ways to impact the game outside of the scoring column. Among the 17 shooting guards in our top-100, his assist to field goal ratio of 0.53 ranks first, while his free throw attempt to field goal percentage ratio of 0.53 and 2.3 steals per-40 minutes pace adjusted rank second. Averaging 7.1 assists per-40 minutes pace adjusted to lead his peer group by a sizeable margin, Grant is an unselfish passer with a knack for consistently making the simple pass in the pick and roll. Despite the volume with which he made plays for others, Grant's 2.1 turnovers per-40 minutes pace adjusted is equal to the sample mean.

Though Grant is not overwhelmingly quick, his length and awareness helped him collect errant passes at a nice rate defensively. He plays with better energy on this end of the floor than he did early in his career, but still gives up a fair amount of dribble penetration, looking most comfortable playing in Notre Dame's zone where he can be a bit more aggressive on the perimeter knowing he has help behind him.

Looking ahead, Grant will be a player to watch this season as he looks to prove that his start to last season was no fluke. His size and feel for the game will likely help him rank among the top senior guard prospects in the 2015 NBA Draft, but he still has some room to improve his reputation among NBA decision-makers as questions remain about his defensive potential, ability to create shots as a primary ball-handler at the NBA level, and provide efficient shooting if he's destined for a role off the ball.

[Read Full Article]

---
Top NBA Draft Prospects in the ACC, Part Six (#10-14)
September 11, 2013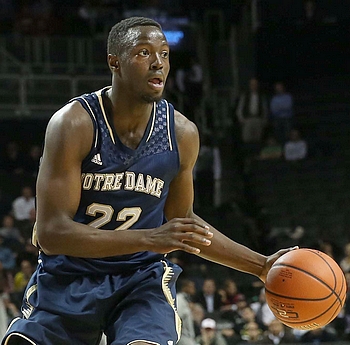 US Presswire



Josh Riddell

Jerian Grant enters his redshirt junior season coming off a Big East All-Conference second team selection and looking to build off of two promising campaigns while improving his overall draft stock in a new conference. Grant now has two years of playing experience in the Big East and will need to take a leap forward for Notre Dame to have success in the new look ACC.

Grant played with the ball in his hands significantly more last season than his freshman season. His usage rate increased from 21.2 to 24.4%, even if his scoring only saw a slight uptick on a per-40 basis, from 14.5 to 15.2.

Grant's biggest asset at this point is his ability to create offense, not necessarily for himself, but especially for his teammates. Grant averaged 6.3 assists per 40 minutes pace adjusted, tops among returning shooting guard prospects in our top-100 rankings by a wide margin, showing his vision and unselfishness as he made good post entry passes and kicked out to open teammates off dribble penetration.

While Grant is capable of beating his defender off the dribble, getting to the rim and finishing, he doesn't have much upper body strength so he may have trouble replicating this skill against the bigger players in the NBA. Although he has shown the ability to get all the way to the rim, his average athleticism and strength often forces him to settle for pull up jumpers. He did see an increase in his efficiency in jump shots off the dribble, as he improved his field goal percentage from 24.7% in 2011-12 to 32.8% in 2012-13 on these types of plays, but it's difficult to rely on this type of offense as a primary source of production. While he still has some work to do in this area, he saw an uptick in production due to a lower reliance on step back jumpers, allowing him to stay on balance as he pulls up for jump shots.

Grant is a terrific at creating out of the pick and roll, as Notre Dame scored 0.911 points per possession when accounting for Grant's points and assists, according to Synergy Sports. He could do a better job of using the screen, as he has a tendency to pull up for a jump shot behind the screen instead of using the pick to create a lane for the dribble drive. He will also completely reject the screen at times and is an ineffective creator when he does so. Grant is great at passing out of the pick and roll, both to the roll man and to shooters on the wing, thanks to his excellent combination of size and court vision, which are arguably his best traits as a NBA prospect.

With that said, poor decision making haunted Grant on a nightly basis, from turning the ball over on jump passes to forcing contested jumpers early in the shot clock when Notre Dame was in need of a good possession. Grant saw a rise in his turnovers, from 2.0 to 3.1 per 40 minutes pace adjusted (or 15.6% to 20.8% when looking at turnover rate). He will be a focal point of the Notre Dame offense again and will need to improve on his decision making skills to cut down on these mistakes. Grant shows flashes of brilliance on the offensive end, but these mistakes are hampering him from being a more efficient offensive player.

Generally speaking, Grant is neither an overly prolific or efficient scorer at this stage, as his 15.2 points per-40, while an improvement on last season, ranks last among top-100 shooting guards, while his true shooting percentage also ranks last in that group. He's not a high-level perimeter shooter at this stage, making just 34% of his 3-point attempts, and he doesn't get to the free throw line all that frequently either. His calling card is his passing ability, but there are question marks regarding he will have the ball in his hands enough to translate that part of his game to the NBA.

Defensively, Grant has a tendency to get beat off the dribble, as he sometimes loafs on his first lateral step, allowing the offensive player to get by him. However, he often is able to make up that difference with lateral quickness to contest the shot, but he won't be able to do that so easily on a regular basis against high level competition.

In other defensive areas, Grant is an adequate defender and uses his quickness and hands to create steals or turnovers for the Irish. He's an average pick and roll defender, but again, his lackadaisical effort on his first step allows offensive players to get by him and force him to scramble to recover to try to defend the shot attempt. His size, length and lateral quickness give him the potential to be a strong defender, but he needs to work on staying in front of the ball by concentrating on his footwork.

Grant has some very nice tools to work with, as his size, length, passing ability and basketball IQ give him a good framework to build off. With that said, he will likely have to improve his perimeter shooting and defensive prowess in order to help transition into a more compact role at the pro level.

[Read Full Article]

---
Top NBA Draft Prospects in the Big East, Part Two
October 13, 2012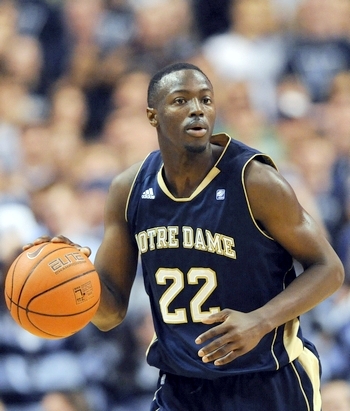 US Presswire



Jonathan Givony

After redshirting his first year to preserve a year of eligibility amongst a crowded Notre Dame backcourt, Jerian Grant hit the ground running, being named to the Big East's all-rookie team last season. Grant posted a sparkling near 3/1 assist to turnover ratio in his redshirt freshman season, while leading Notre Dame to a surprise 13-5 record and a third place finish in the Big East.

Now with a full season of experience underneath his belt, and plenty of talent alongside him, Grant will be expected to take the next step in his development and possibly help Notre Dame finally get out of the first weekend of the NCAA tournament for the first time in a decade.

Grant's main virtues as a NBA prospect revolve around his high basketball IQ and ability to create offense for teammates. Seeing time as both the primary and secondary ball-handler in Notre Dame's slow-tempo offense, Grant is a very intelligent passer who does a good job operating patiently out of the pick and roll. He finds teammates unselfishly and creatively with post-entry passes and on drive and kick plays, racking up an impressive number of assists (5.8 per-40p) as a freshman relative to his turnover rate (2.1 per-40p).

Also a solid outside shooter, Grant shows good mechanics on his jumper knocking down nearly two 3-pointers per game last season. At the moment he's significantly better in catch and shoot (36%) situations than he is off the dribble (25%), but he shows potential with both, something he can continue to harness to further solidify his pro prospects moving forward.

Where Grant must improve if he's to develop into a legitimate NBA prospect is as a scorer inside the arc. Half of his field goal attempts came from beyond the 3-point line, and he was only able to convert a paltry 41% of his 2-pointers last season. Possessing a narrow frame, and average explosiveness, Grant really struggles finishing in traffic inside the paint, not doing a great job creating contact or getting to the free throw line. He prefers to drive primarily left when attacking the basket, but isn't very proficient with his left hand finishing around the rim, which makes it easier for defenses to contest his shots.

Defensively, Grant shows nice potential with his solid size and length, particularly if he's able to get stronger as his career progresses. Asked to spend time guarding both backcourt positions, he moves his feet well here, usually putting a solid effort in, despite playing 36 minutes per game last season. He does a nice job contesting opponents' shots with his long wingspan, and gets plenty of steals in turn. He has some problems at times fighting through screens, but should be able to develop into a fairly versatile option here in time.

Having just turned 20 years old, it will be interesting to see what type of season Grant can put together building off his very promising freshman campaign. The son of former NBA player Harvey Grant and nephew of Horace, Jerian has the right makeup to have a solid career at the pro level if he continues to develop both physically and skill-wise.

[Read Full Article]

---