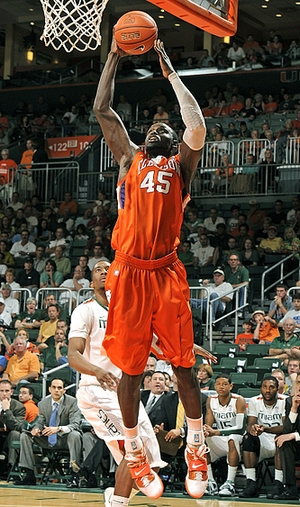 Matt Williams
When we last checked in on
Jerai Grant
back in October, we reflected on the very basic role he played offensively in his first three seasons at Clemson. Feeding almost exclusively off hustle plays at that juncture, Grant has continued to do the dirty work for the Tigers down low this season, but has seen his role expand significantly in the wake of
Trevor Booker
's departure. Though the expansion of his role hasn't meant much to his NBA potential, it played a significant role in Clemson's surprise NCAA Tournament bid.
Seeing nearly twice as many possessions this season than he did last season, Grant carved out a niche for himself as Clemson's top interior scoring threat. Spending the spring and summer working on his post repertoire, Grant showed developing footwork and the ability to score with basic drop-step and up-and-under moves. Converting 47% of his 3.2 post-up shot attempts per-game according to Synergy Sports Technology, Grant showed the ability to have his way with small front lines on the college level, but struggled against more athletic front-courts.
Grant's increased usage also extended to the midrange, where he attempted less than one jumper per-contest, but flashed the ability to step away from the rim for the first time. Lacking a degree of fluidity in his release, Grant didn't spend too much time facing up and putting the ball on the floor despite his quickness, but knocked down an occasion catch-and-shoot jumper and made significant strides at the charity stripe—boosting his percentages from 59% last season to 71%.
While Grant showed some degree of development in his skill level, his role at the next level won't include situations where he'll be creating offensive chances for himself, making his development as a post threat and jump shooter more of a bonus than a selling point. Ultimately, Grant will be asked to do many of the same things that we described as his strengths in our last report when he was playing next to
Trevor Booker
: catch and finish, rebound, set screens, and defend.
An explosive athlete, Grant is at his best when his teammates are creating shot for him at the basket. Finishing at a 62.4% rate around the rim, Grant is a hard-worker and does a nice job staying active down low. Showing very solid quickness, he does a nice job filling lanes in transition and flashing to the rim when he sees an opening.
A capable rebounder on both ends, Grant does a fantastic job pursuing the ball off the rim, has very good hands, and is capable of rebounding outside of his area. This season, Grant's rebounding numbers on the offensive end have slipped a bit. A lot of that has to do with his increased usage, as he isn't the type of
DeJuan Blair
-style rebounder that can hold position and regularly cleans up his own misses. He's at his best when he can crash the glass from the midrange and use his speed to his advantage.
Grant's mobility is a key part of his defensive presence as well. Possessing good lateral quickness and playing with very strong intensity, the Maryland native can hedge the pick and roll very effectively out on the perimeter, and deny penetration consistently from the midrange. He does a fine job in the post thanks to his length and leaping ability, but struggles to hold position against stronger players and is too susceptible to fakes at this point in his career. It will be important for him to continue to add the bulk necessary to defend the post in one-on-one situations and box out stronger forwards to augment his presence as a shot blocker and versatility on that end of the floor.
By no means is Grant a glamorous NBA prospect, but he has experience doing a number of things that NBA teams value, and has a strong pedigree coming from a family of professional basketball players. His lack of size and offensive polish are limiting factors, but if he can showcase his talents against his peers like he'll have the opportunity to at the Portsmouth Invitational, he could endear himself to NBA decision-makers with his work ethic.