Jeremy Wise
left the University of Southern Mississippi at the end of his junior season as a relatively unknown player who had received limited attention from NBA scouts. Some lambasted the 22-year-old's decision to leave the collegiate ranks and play in the NBA Development League, but Wise ended up having an excellent 2009-10 season with the Bakersfield Jam, doing wonders for his NBA draft stock and overall professional outlook in the process. While he is not a sure thing to get drafted, and at age 24 is quite a bit older than most prospects, Wise is firmly in the draft discussion thanks to the significant improvement he's made and his interesting skill set.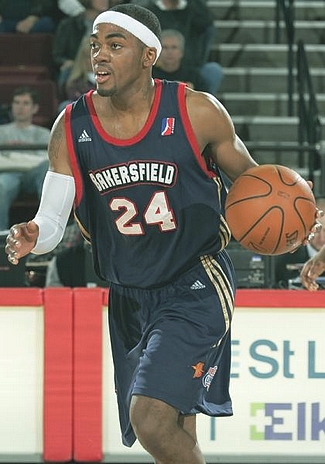 Measuring 6-0 ½ without shoes, with a 6-5 ½ wingspan and weighing 181 pounds (at his latest NBA workout), Wise is not the biggest combo guard you'll find. His size is just average and his frame still needs work -- something he's already begun to address, having added 16 pounds since he entered the D-League. He is a good athlete, however, dynamic in the open court with excellent quickness and agility in the lane, and he has little trouble beating his man off the dribble. He is quick off his feet around the basket, making him extremely dangerous in transition, on the pick-and-roll and in isolation sets.
Offensively, Wise showed major improvement as the season went on. He clearly benefited from playing against the far stronger level of competition he saw in the D-League than on an underachieving Southern Miss team in Conference USA. Wise averaged 20.3 points per 40 minutes pace adjusted, shooting an excellent 55% inside the arc, 37.5% outside of it and 84.6% from the free throw line (all career highs). His efficiency numbers stack up extremely well with other guards in this draft, despite the fact that he was going up against professionals and grown men, as opposed to amateurs in the NCAA.
On film, Wise is impressive. He's clearly a much better player than the one we saw in college and even at the D-League Showcase in January. Wise pushes the ball up the court extremely well and can be spectacular at times with the ball in his hands. He shows a knack for getting to the rim and finishing, and he's extremely adept at creating his own shot in the half court.
According to Synergy Sports Technology, Wise ranks amongst the top players in the D-League in pick-and-roll and isolation situations and was one of the best finishers around the basket in the league, even though he exclusively uses his left hand around the rim. He ranks No. 1 amongst all point guards in this draft in that area according to our Situational Statistics series. Wise also got to the line at a good rate and converted 55% of his 2-pointers, which is impressive.
Despite the praise, Wise is not without his flaws. For one, he is not a great shooter, even after the significant improvement he made in this season. Only 18% of Wise's field goal attempts came from 3-point range, and he only looks comfortable from outside the arc when he can fully set his feet. Even then, he shoots in an awkward manner, as many lefties do, from the side of his head, with a highly deliberate motion that seems to fluctuate, particularly when fatigue becomes an issue.
With that said, Wise did make the catch-and-shoot 3-pointers he took at a good clip, and he was making them from the NBA line -- as opposed to college range -- which is quite a bit more difficult. We must also keep in mind that he shot 24.5% from beyond the arc as a junior and upped that to 38% this year, showing how much he's grown as a perimeter shooter, despite the increased distance of the NBA 3-point line.
What's interesting about Wise is that he's probably a better off-the-dribble shooter than he is with his feet set. He made 39 of 90 pull-up shots, or 43.3%, on the year, as opposed to 29 of 75, or 39%, of his catch-and-shoot attempts. Utilizing his quick first step and solid ball-handling abilities, Wise easily created space against D-League defenders and, once he was open, was able to get excellent elevation. Furthermore, he does a good job of lofting his shots over defenders' outstretched arms, which allows him to compensate for his less than stellar size.
His proficiency in the mid-range area is a part of his game that will serve him well in the NBA. Also, Wise's experience playing under NBA rules with NBA-type spacing in the D-League gives him a significant advantage over his college counterparts and will make his transition to the pros that much easier.
Despite his improved scoring and solid assist numbers, Wise is still a combo guard. He's far more focused on scoring than passing. He has never been a traditional point guard, but he showed flashes of potential this season that suggest he could transition into an offensive spark as a lead guard off the bench in the NBA.
He runs the pick-and-roll effectively, to the tune of 1.175 points per possession, ranking him in the top 93% amongst D-League players according to Synergy Sports Technology. He also ranks
No. 1 amongst all point guards in this draft
in pick-and-roll effectiveness. Wise also turned the ball over less per 40 minutes pace adjusted than ever before in his career, boasting a solid 1.92 assist/turnover ratio.
He still has a lot of work to do, though, primarily in terms of his ability to run a team in the half court. He looks far more adept at creating shots for himself than making others better, showing just average court vision. He must do a better job of balancing his scoring and passing as he makes the transition to NBA point guard.
Unfortunately, Wise doesn't have a great deal of experience playing in a structured offense -- that's one thing his year in the D-League surely didn't help him with. His role with the Jam as the principal scoring guard afforded him few opportunities to be a traditional distributor. The culture of the D-League surely played into this philosophy, but far too often Wise drove into coverage under the basket or picked up his dribble without an exit strategy. He had prolonged bouts of tunnel vision, attacking the basket without looking for teammates despite showing solid drive-and-dish ability with pick-and-pop complements such as sweet-shooting center
Brian Butch
and face-up power forward
Will Daniels
.
Regardless, Wise showed flashes of potential throughout the season that suggest he can further develop his point guard skills at the next level, particularly in a role coming off the bench as a pace-changing scorer on an up-tempo NBA team.
While his inconsistent shooting from beyond the arc and his less than stellar size do him few favors when gauging his NBA potential, Wise's defense invites just as many, if not more, questions. Defense is rarely a priority in the D-League and while Wise has shown solid effort in spurts on this end of the floor, his size limits his potential in this area -- as does his experience level and awareness.
Wise has the length (6-5 ½ wingspan) and athleticism to be a disruptive force on defense, but he must improve as an off-ball defender and be more consistent in his intensity level if he's going to stick around in the NBA.
While Wise is far from a sure-thing to get drafted, he is a solid prospect who performed at a higher level against better competition in the NBA D-League than many of his counterparts in this draft did in the NCAA. Considering the fact that he started the season in training camp with the L.A. D-Fenders and was cut from their roster, the strides he's made over the past year are amazing.
Should he emerge as a second round draft pick, his journey from Conference USA to the D-League may emerge as a popular option for collegiate prospects toiling in obscurity for bad teams. Like
Mike Taylor
and Patrick Beverly before him, Wise is reaping the benefits of playing alongside professional basketball players while still being draft eligible and has caught the attention of scouts who likely did not consider him to be a prospect at Southern Miss.
"I've gotten a lot of calls from NBA teams," his head coach in the D-League, Will Voigt, told us. "Both during the draft process and over the course of the season—there were a couple of teams following him already then. He's already had 18 NBA workouts, with a few more to come. He's intriguing to a lot of people.
"I know he has a good chance of getting drafted, and even if he doesn't, he's going to be at the top of everyone's list for Summer League. I don't think there was a guy in our league who improved more over the course of the year than Jeremy. That's the most intriguing thing to me, look at where he was a year ago and see where he is now—it's like night and day. He's got really good upside to continue to improve as well. I compare him to a poor man's
Monta Ellis
or an early
Leandro Barbosa
.
"The best thing about him is how coachable he is. Not only can he take coaching but he can apply it. We reconstructed his shooting mechanics over the course of the season and he made huge strides for that reason. He'll do whatever he's asked and is a great teammate."
Regardless of whether or not Wise gets drafted, it is safe to assume that he has firmly established himself as an NBA prospect and has a bright future ahead of him as a high-level professional basketball player. Undersized but athletic scoring guards are finding homes on teams throughout the NBA and while Wise has much work to do, both in the weight room and on the court, he has established himself as one of the better players in a very weak point guard class. Should a team fall in love with his scoring ability, athleticism and potential, it would not be a surprise to hear
Jeremy Wise
's name called somewhere in the second round.