We continue our coverage of the top NBA prospects in the ACC with scouting reports on players ranked 7-11 in the conference:
Theo Pinson
,
Justin Jackson
,
Terry Rozier
.
Jerian Grant
and
Kennedy Meeks
.
The Top 20 NBA Draft Prospects in the Pac-12 Conference
The Top 20 NBA Draft Prospects in the Big 12 Conference
The Top 10 NBA Draft Prospects in the AAC Conference
The Top 22 NBA Draft Prospects in the SEC Conference
The Top 10 NBA Draft Prospects in the Big East Conference
The Top 20 NBA Draft Prospects in the Big Ten Conference
Top NBA Prospects in the ACC, Part 1
(#1) Jahlil Okafor (Scouting Video)
Top NBA Prospects in the ACC, Part 2
(#2) Justise Winslow (Scouting Video)
Top NBA Prospects in the ACC, Part 3
(#3) Montrezl Harrell (Scouting Video)
Top NBA Prospects in the ACC, Part 4
(#4) Tyus Jones (Scouting Video)
Top NBA Prospects in the ACC, Part 5
(#5) Brice Johnson (Scouting Video)
Top NBA Prospects in the ACC, Part 6
(#6) Marcus Paige (Scouting Video)
#7, Theo Pinson, 6-6, Freshman, Shooting Guard, North Carolina
Without the benefit of extensive high school footage, we prefer to wait and see how Pinson performs as a freshman before adding to his DraftExpress profile, which already features a scouting report and interview video.
#8, Justin Jackson, 6-8, Freshman, Small Forward, North Carolina
Without the benefit of extensive high school footage, we prefer to wait and see how Jackson performs as a freshman before adding to his DraftExpress profile, which already features a scouting report and interview video.
#9, Terry Rozier, 6-2, Sophomore, Point Guard, Louisville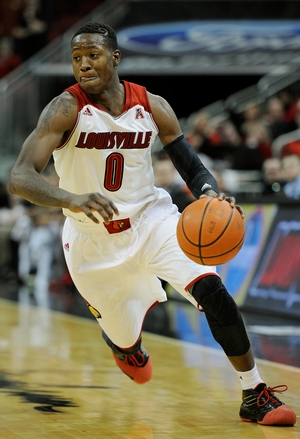 Jonathan Givony
Originally slated to enroll at Louisville in 2012, Terry Rozier's arrival on campus was delayed by a year after being unable to get academically eligible due to an insufficient GPA and ACT score. He went to Hargrave Military Academy for a year of prep school instead, where he significantly improved his standing in the eyes of high school recruiting services, going from being considered the 76th best prospect in the 2012 class according to the RSCI, to #18 in 2013.
Sporting outstanding physical attributes, Rozier has good size for a point guard (he measured 6-2 in shoes at the Nike Skills Academy this past summer), with a 6-6 1/2 wingspan, and a strong 189 pound frame that will only get bigger in time. He's also a terrific athlete, showing great speed in the open court, excellent quickness defensively, and the ability to play above the rim with ease when needed.
Somewhat up and down over the course of his delayed freshman campaign, Rozier bounced in and out of Rick Pitino's starting lineup, en route to playing 19 minutes per game on average. He saw most of his best outings coming against the weaker teams on Louisville's schedule, and struggled in particular down the stretch, averaging 4 points and 1 assist per game shooting 43% inside the arc and 18% for 3 in nine games in March.
Rozier's role this upcoming season will likely look a lot different than last year's. The majority of his touches last season came either as a spot-up shooter in the corner or in the open court, where his excellent speed is a major asset in getting him or his teammates good early shots in transition. Rick Pitino searched all season for the ideal backcourt partner to pair with the ball-dominant Russ Smith, and Rozier was mostly asked to play a complimentary role in the half-court, seeing very little playmaking responsibility.
Rozier did a good job of spacing the floor as a spot-up shooter last year, showing the ability to make jumpers consistently with his feet set and knocking down 37% of his 3-point attempts. He has good form, including a high arc and a nice release, even if he tends to fade away sometimes unnecessarily. Shooting off the dribble is a bit more of an adventure for Rozier, as he made only made 26% of his pull-ups last season, although on a very limited number of attempts (31) that makes it difficult to gauge how he would fare in a more featured role.
Generally speaking, Rozier was prone to bouts of streakiness as an overall shooter in the half-court, especially against tougher defenses, so NBA scouts will be watching this part of his game closely to see how it evolves when forced to operate with the ball in his hands more, like he'll be asked to do at the next level.
Seeing only a handful of possessions each game as the pick and roll ball-handler or operating in isolation settings, Rozier struggled badly to create shots efficiently for himself or others in the half-court last season—shooting just 27% from the field in these situations.
Rozier's ball-handling skills and ability to operate at different speeds are still a work in progress at this stage, as he struggles to dribble or finish with his left hand and shows just average court vision.
While he sports an outstanding first step, which allows him to get inside the paint fairly often, he's not a great creator or finisher at this stage, as he has a tendency to take very difficult runners and floaters from 5-8 feet rather than getting all the way to the rim. Rozier hit just 26 of the 65 shots he attempted in the paint last season (40%), and doesn't do a great job of seeking out contact and drawing fouls, generating a free throw attempt on just 21% of his used possessions last season, one of the lowest rates among returning Top-100 prospects.
As a passer, Rozier did an excellent job of keeping mistakes to a minimum last season, turning the ball over on just 8% of his possessions, one of the lowest rates among Top-100 prospects, which helped him post a sparkling 3.2 pure point ratio. Not seeing all that much time playing on the ball, half of Rozier's assists last season came in transition situations according to Synergy Sports Technology, while the rest appeared to be generated in the flow of Louisville's half-court offense. Things will likely look a lot different this year, as we'll get a much better idea of how natural a distributor Rozier is, and how good his feel for the game is at this stage.
One area that there's little doubt about is Rozier's defense, a place that he absolutely excelled in last season. His strong frame, long arms and quick feet are great assets on this end of the floor, and he combines that with an excellent intensity level, like we are accustomed to seeing from Rick Pitino's players. Rozier puts strong pressure on the ball, be it in full-court or half-court situations, moving his feet extremely well and playing a very physical style, and regularly gets in the passing lanes, averaging a very solid 2.1 steals per-40 minutes. He's one of the better rebounding guards you'll find at the college level as well, particularly on the offensive glass, helping demonstrate his superior physical tools at his position.
This is a big year for Rozier, who turns 21 in March and is about six months older than the average sophomore draft prospect due to his year at prep school. He gained a lot of experience apprenticing under Russ Smith last season, and now will be asked to shoulder significantly more ball-handling and playmaking responsibilities, which should tell us quite a bit about just how good of a prospect he projects as long term.
Rozier struggled badly at the adidas nations this past August, showing poor decision making skills and having a difficult time getting his outside shot going, hitting 41% of his 2-pointers and 14% of his 3s. With that said, his physical attributes are ideal for a point guard and he posted strong passing, defense and 3-point shooting metrics as a freshman, which helps him enter this season with quite a bit of hype and high expectations.
#10, Jerian Grant, 6-5, Senior, Shooting Guard, Notre Dame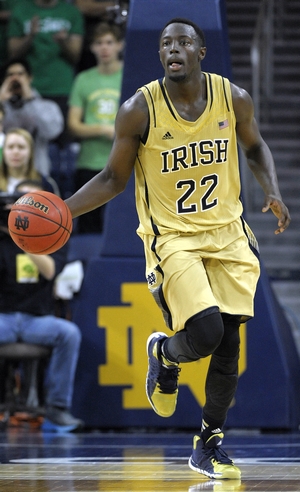 Matt Williams
The last of Harvey Grant's three sons still competing at the collegiate level, Jerian Grant started last season on a tear before withdrawing from Notre Dame mid-season after an academic-related suspension. The Irish sputtered to a 15-17 record without their star guard, who averaged 19 points and 6.2 assists per-game over the 12 games he appeared in. Returning to Notre Dame for his fifth year as a redshirt senior, Grant will have a chance to put last season behind him and solidify himself as one of the premier guards in the ACC in 2015.
Standing 6'5 with an improved, but still lanky frame and a nice wingspan, Grant has outstanding size for a player who frequently functions as a primary ball-handler. The DeMatha Catholic product lacks a degree of athleticism, as he isn't a great leaper nor exceptionally quick, but he's not a poor athlete either relative to big guards we've seen in his mold in the past.
As we've noted in our previous reports over the last two years, Grant's biggest merit as a prospect is his ability to create offense, both for himself and others. That quality was apparent in his shortened 2014 campaign as he was nothing short of phenomenal on the break during Notre Dame's non-conference schedule and continued to show promise as a playmaker in the two-man game. Scoring an outrageous 1.179 points per-possession over 15.8 possessions per-game according to Synergy Sports Technology, Grant scorched the likes of Miami (Ohio), Santa Clara, Cornell, and Delaware for 20+ points on very efficient shooting numbers, but struggled at times at well, with his efficiency ultimately getting a boost from Notre Dame's early schedule and the small sample of games he appeared in.
Regardless of the circumstances of Grant's performance last season, there's no debating that he was tremendous at times. Some 24.2% of Grant's possessions came in transition, where he converted his shots at a 77% clip and posted an assist-to-turnover ratio of 5.3/1 in the open court. Grant looked to push the ball early and often on the break, which coupled with his high basketball IQ, led him to have a significant impact in this area a year ago.
In the half court, Grant was not quite as good, but continued to finish at a solid 57% rate around the rim and was able to score in isolation and off screen situations at a nice clip thanks to his 40% conversion rate on jump shots. Though his release point seems to waver a bit at times, this was a promising step considering Grant shot 33% from the perimeter two years ago. When he's in rhythm, he looks fairly comfortable scoring away from the rim, especially from the midrange, but he still settles for some off balance step-back jumpers, and will look at bit rigid or hurried on some attempts, notably when he's spotting up.
Scouts will be keeping a close eye on Grant's play this season to see if he can back up his 13% uptick in 2P% and 6% improvement from beyond the arc last year, as his ability to score at an efficient level will certainly improve his standing in their eyes, as it helps make up for his lack of outstanding quickness and leaves some room for optimism that he could be entrusted as an extra ball-handler at the next level.
Though Grant isn't a freak athlete, he finds ways to impact the game outside of the scoring column. Among the 17 shooting guards in our top-100, his assist to field goal ratio of 0.53 ranks first, while his free throw attempt to field goal percentage ratio of 0.53 and 2.3 steals per-40 minutes pace adjusted rank second. Averaging 7.1 assists per-40 minutes pace adjusted to lead his peer group by a sizeable margin, Grant is an unselfish passer with a knack for consistently making the simple pass in the pick and roll. Despite the volume with which he made plays for others, Grant's 2.1 turnovers per-40 minutes pace adjusted is equal to the sample mean.
Though Grant is not overwhelmingly quick, his length and awareness helped him collect errant passes at a nice rate defensively. He plays with better energy on this end of the floor than he did early in his career, but still gives up a fair amount of dribble penetration, looking most comfortable playing in Notre Dame's zone where he can be a bit more aggressive on the perimeter knowing he has help behind him.
Looking ahead, Grant will be a player to watch this season as he looks to prove that his start to last season was no fluke. His size and feel for the game will likely help him rank among the top senior guard prospects in the 2015 NBA Draft, but he still has some room to improve his reputation among NBA decision-makers as questions remain about his defensive potential, ability to create shots as a primary ball-handler at the NBA level, and provide efficient shooting if he's destined for a role off the ball.
#11, Kennedy Meeks, 6'9", Sophomore, PF/C, North Carolina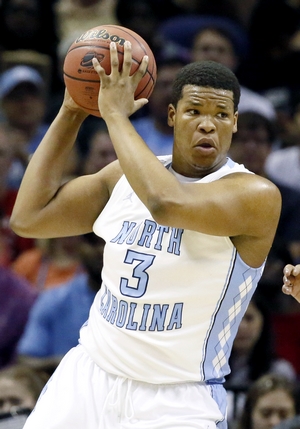 Derek Bodner
After arriving at Chapel Hill a reported 317 pounds, the 6'9" Kennedy Meeks flashed an intriguing skill set during his freshman season at UNC, but was ultimately held back by his poor conditioning.
At 17.5 points and 14.1 rebounds per 40 minutes pace adjusted, Meeks was able to produce extremely well on a per-minute basis, but keeping the big man on the court for an extended period of time proved difficult. This was partly due to foul trouble, as Meeks averaged 4 fouls per 40 minutes pace adjusted, but largely due to problems stemming from being so drastically out of shape.
Meeks offensive game was primarily based out of the post, which accounted for over 35% of his offense, according to Synergy Sports Technology. Meeks' post game is relatively straightforward, primarily revolving around a hook shot over either shoulder, and a turnaround jump shot that he prefers to use when going over his right. He does a really good job of using his size and strength to establish position and seal off the defender, and he has good touch around the hoop with either hand.
That being said, he shows flashes of a more advanced post game that could develop into a reliable weapon down the road. He shows the ability to use both drop step and up-and-under moves to his advantage, with the ability to use either foot as a pivot depending on what the defender gives him. It will be interesting to watch Meeks' post-game expand as he continues to refine his skills and becomes more experienced at the collegiate level.
The rest of his offensive game primarily comes off of hustle opportunities around the basket, including from offensive rebounds and cuts to the basket. Meeks was a downright dominant offensive rebounder, with his 5.5 offensive rebounds per 40 minutes pace adjusted ranking as the best figure in the DraftExpress Top 100, regardless of position. He struggles at times to convert these, as his weight hindered his ability to elevate in traffic, as does being relatively undersized for the pivot position at 6'9". But his soft hands, excellent feel for the game, constant motor and willingness to fight for position should continue to pay big dividends as he rounds himself into better shape.
The same problems crop up when finishing off cuts to the basket. Meeks does a fairly good job of finding seams in a defense, and has very reliable hands, catching most entry passes that come his way. But the combination of being undersized and his lack of explosion comes into play here as well, which causes him to hesitate and use pump fakes to try to get off a clean look, which in turn allows help defenders to come and contest the shot even further. Still, he has soft touch, and a willingness to battle through contact, which makes him a threat to finish down low despite being a below the rim player.
Meeks doesn't show a whole lot away from the basket, attempting only 11 jump shots according to Synergy Sports while doing virtually nothing off the dribble in a compact role as a freshman. He did show some solid touch on short jumpers out of post-up situations, and whether or not he is able to extend this out to mid-range and beyond will be something interesting to watch going forward, as his high skill-level seems to suggest he might down the road.
On the defensive side of the ball, Meeks does a good job of holding ground on the block, but he can at times wait to engage until after the offensive player has already established deep position. He struggles changing direction on the perimeter, and as such doesn't show hard when defending the pick and roll. North Carolina does a pretty good of hiding his deficiencies on the perimeter with different schemes and matchups, but this is something that's going to become a bigger issue against higher level competition in the pros.
On the plus side, Meeks is once again a dominant rebounder on this end of the court, hauling in an impressive 8.7 defensive rebounds per 40 minutes pace adjusted, good for a defensive rebounding rate of 24.9%. Besides his strength and physicality, Meeks shows nice ability to track the ball and good technique boxing out. This is one area of the game that Meeks should be able to hang his hat on when evaluating him as an NBA prospect.
The strength and conditioning coordinator at North Carolina said that Meeks was "probably the worst-conditioned guy [he] had ever seen" when he arrived at North Carolina last season, and it clearly showed at times, limiting both the time he was able to effectively stay on the court and also what he could do during the time that he was playing. Regardless, Meeks was statistically
the third most productive freshman
in college basketball after Jabari Parker and Joel Embiid, with a PER of 25, albeit in only 16.3 minutes per game.
The good news is, Meeks reportedly came into camp at 266 pounds this season, an incredible 50 pound drop over the course of a year under the guidance of UNC's strength and conditioning program, showing the huge commitment he made to both his diet and exercise program. It will be interesting to watch how his new physique impacts his game, as Meeks has the tools, skill set, and style of play that could be very interesting to NBA decision makers down the road.