2014 Portsmouth Invitational Tournament, Day One
April 17, 2014
Jerrelle Benimon, 6-7, Power Forward, Towson
10 points, 14 rebounds, 2 assists, 1 turnover, 4-10 FG (0-2 3P)

Jonathan Givony

Although he didn't put up massive scoring numbers, Benimon was one of the most impressive players in attendance on day one, showing the same super high skill-level and versatile offensive game that allowed him to win player of the year honors in the Colonial conference.

Listed at 6-8, with a powerful frame, Benimon's measurements this week, yet to be released, will be important. He's got great hands and phenomenal footwork, making a number of patient and under control post moves to finish with either hand around the basket. He uses his strong frame well and has very good body control, even if he's not necessarily an overwhelming athlete (he's not very quick and plays decidedly below the rim), something NBA teams might want to look more at against higher level competition than what he faced here. He's an intelligent player as well, making some really nice passes, which makes sense considering he averaged 3.5 assists per game this season.

Benimon also has the ability to step outside and make an open jumper, even if neither of his 3-point attempts last night fell. He made 34 3-pointers over the last two seasons, on 37% accuracy, and continuing to expand on this part of his game will likely be a major key in what level of professional basketball he ends up at and the type of role he plays. The majority of his jumpers (67/78) this season came off the dribble oddly enough as he played a very high usage role at Towson this season, complete with plenty of wild forays with the ball (34% of his offense amazingly came in one on one or pick and roll ball-handling situations), something that certainly won't be asked of him at the pro level. Simply being able to spot-up with his feet set from range (and act as a floor spacing 4-man) will go a long way in helping him carve out a niche.

Benimon is a solid rebounder, particularly on the defensive end, but his size and athletic limitations prevent him from being an overwhelming factor on the offensive glass or offer much in the way of rim protection on the other end of the floor. He showed better than expected lateral quickness here, doing a nice job of staying in front of smaller players when caught on switches, even if some concerns remain here for how he'd fare against bigger, stronger and more athletic competition due to his lack of size and explosiveness. His timing and smarts help him out here, but he may need to continue to slim down to maximize his potential on this end of the floor.

Benimon made a solid case for himself in his first outing at Portsmouth, which should pay dividends as the pre-draft process plays out. Additional strong showings here and in workouts in May and June could continue to help shore up his NBA prospects.
[
Read Full Article
]
Top NBA Prospects in the Non-BCS Conferences, Part Five: (#21-25)
November 5, 2013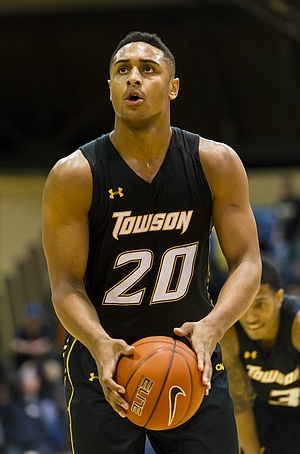 US Presswire
Derek Bodner
After playing a small role in his two seasons at Georgetown, 6'8" power forward Jerrelle Benimon transferred to Towson after his sophomore season, instantly becoming the focal point of the Tigers offensive system.
The transition to Towson's much more matchup predicated offensive system paid immediate dividends for Benimon, who averaged17.4 points and 11.3 rebounds in over 36 minutes per night during his breakout junior season. It also helped Towson turn around a team that went 1-31 the previous season, as they finished the 2012-13 campaign a very respectable 18-13, which placed them second in the Colonial Athletic Association, although they were disqualified from the CAA tournament due to low academic progress rate scores.
Benimon presents an intriguing combination of inside scoring, perimeter shooting, ball handling and bulk that is hard to defend against at the collegiate level. Benimon is equally as willing to bang down low as he is to shoot from the perimeter, and it's this dual threat that makes him such a tough cover for the defenses he's going up against.
According to Synergy Sports Technology, post-up opportunities accounted for over 15% of Benimon's offense, although his 0.788 points per possession resulted in just an average level of efficiency. Benimon has good touch down low with either hand, solid footwork, a quick spin move and a willingness to lower his shoulder and dislodge his defender. This also tends to lead to Benimon drawing fouls, with his 7.3 free throw attempts per 40 minutes pace adjusted a good figure, which helps Benimon maintain his efficiency even when his shot isn't falling. His major limiting factor in this facet of his game is his explosiveness around the rim, as he's fairly average from an athletic standpoint, and combined with his below average length presents some struggles finishing against length.
As a jump shooter, Benimon shows excellent form and good touch from the perimeter, particularly in catch and shoot situations or when using one or two rhythm dribbles to his left in order to setup his jump shot. He struggles a bit pulling up off the dribble, but considering his likely role at the next level, this isn't much of a concern. He's overall effective from either the collegiate three point line or from midrange, especially from the baseline.
This confidence in his jump shot could open up several things in the future. One area where Benimon wasn't used all that frequently at Towson but could see become a source of offense down the line is as a pick and pop threat, as he primarily prefers to roll to the basket. That being said, the area of his game that benefits the most from his perimeter shooting ability is as a face-up threat.
Already established as a threat from the perimeter, along with his comfort in putting the ball on the floor with either hand, Benimon is capable of generating offense off the dribble despite not having a great first step or overwhelming ability to elevate in the lane. His ability as a finisher once in the lane is once against similar to his profile in the post, as he shows good touch and body control, but his overall lack of explosiveness makes finishing harder due to his athletic profile.
The rest of his half-court offense comes mostly off offensive rebounds and cuts to the basket, where he uses his size, strength, and soft hands to his advantage. Benimon's 3.6 offensive rebounds per 40 minutes pace adjusted is right around average for a big man, and he does a fair job of converting these opportunities around the hoop. He also moves well without the ball and does a good job of finding seams in the defense.
One other area where Benimon gets a considerable amount of his offense is in transition, something not usually expected for a power forward who is not a particularly great run-jump athlete. Benimon is very comfortable grabbing a defensive rebound and pushing it himself in transition, although his success rate in doing this can be hit or miss at times. He has the ball handling ability to make this work, and forcing his defender to defend him full court is something that could pay dividends, both in his ability to get past his man and also in how it can free up the rest of the players in transition. That being said, Benimon can at times get caught trying to do too much, frequently winding up in a turnover or a broken play.
The first area of impact that Benimon makes on the defensive side of the ball is on the defensive glass, where his 8.6 defensive rebounds per 40 minutes pace adjusted and his 23.7% defensive rebounding rate are both excellent numbers. Benimon does a good job of using his size and strength, along with good technique and a feel for how to track the ball on the glass. His physical profile also benefits him when defending the post, as his lower body strength helps him hold his ground when he's properly engaged, and he does a good job of lowering his center of gravity and holding his ground, although he does at times wait too long to engage his man and can give up position before his opponent receives the ball. His athletic limitations show up more on the perimeter, where he can struggle to change direction at times. He does an okay job of making up for this at the collegiate level with proper spacing, but this is definitely a concern going forward as he defends against guards who are more comfortable shooting off the pick.
After his transfer from Georgetown and his first taste of major minutes at the collegiate level, Jerrelle Benimon did a good job of elevating his game and provided a huge infusion to the Towson program. While Benimon's physical limitations will likely always be a question, the combination of his inside-out game should keep him on the radar, particularly if Towson is able to make the NCAA Tournament after having their postseason ban lifted.
[
Read Full Article
]