L.A. Clippers Mini-Combine Recap and Analysis
May 22, 2014
Josh Huestis, 9 points, 2 rebounds, 2 turnovers, 4-for-8 FGs, 1-for-2 3FGs
Huestis showed his NBA potential on both ends of the floor, guarding multiple positions while finishing a couple of dunks on offense and knocking down a triple, which is key if he wants to make the transition to the wing spot. Huestis shot it with confidence all day and seems to be improving in that area. Given his athleticism, size and length, defensive potential, and improved shooting ability, Huestis has a definite chance to make it in the NBA and stick long-term.
[
Read Full Article
]
2014 Portsmouth Invitational Tournament, Day Two
April 18, 2014
Josh Huestis, 6-8, Small Forward, Stanford
10 points, 5 rebounds, 2 blocks, 1 steal, 1 assist, 0 turnovers, 5-11 FG (0-2 3P, 0-1 FT)

Jonathan Givony

On paper, Josh Huestis doesn't look like a particularly attractive NBA prospect, only scoring 12.5 points per-40 minutes pace adjusted in each of the last two seasons (the lowest rate of any player in our Top-100 rankings besides Aaron Craft), while doing so on middling efficiency (51% TS%, fourth worst in our Top-100).

NBA teams are quietly warming up to Huestis' role-playing potential, though, as he displays a number of intriguing qualities that could help him develop into a useful utility player.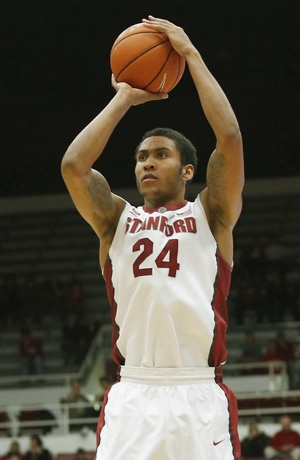 US Presswire
Measured at 6-8 in shoes, with a 7-1 wingspan and a solid 213 pound frame, Heustis has terrific size for a NBA small forward and is even big enough to see some minutes as a small-ball power forward in certain lineups. He's a good athlete, showing nice quickness and agility and the ability to play above the rim in transition.
Heustis' outside shooting will likely be the key to his NBA prospects. He displays solid form on his jumper, and made 34% of his 3-point attempts the last two seasons, albeit on only around two attempts per game (154 in 70 games). His touch isn't great and he only converted 33% of his shots with his feet set this year (he was actually better off the dribble), but the hope is that he can at least become a reliable enough corner 3-point shooter to keep defenses honest and allow him to stay on the floor.
The rest of Huestis' offensive game is nothing to write home about, as he's not a particularly skilled or talented player at this point in time. He struggles to put the ball on the floor and rarely gets to the free throw line, even if he's able to overpower smaller college opponents with his back to the basket inside the paint at times. To his credit, he looks like a smart player who doesn't force the issue too often and rarely turns the ball over, which bodes well for the role he is projected to play in the NBA.
The best thing that Huestis brings to the table, and the key attribute that makes him a NBA prospect, is his defense. His size, length and athleticism gives him the ability to guard multiple positions at the college level and beyond, and he shows terrific smarts and intensity locking down opponents. Even though he's a bit upright in his stance at times, Huestis' strong base helps him keep quicker opponents in front of him, while his length and activity level makes him very effective at contesting shots. Even when he gets beat off the dribble initially, he's often athletic enough to recover and make a play at the rim, as evidenced by the terrific shot-blocking numbers he's posted throughout his career at Stanford.
Although Huestis did not have an overwhelming first game at Portsmouth, NBA teams will certainly continue to track him throughout the draft process and he should be a very popular figure on the workout circuit this spring. Scouts are wondering if he can play a role similar to the one
Thabo Sefolosha
has in Oklahoma City the last few years, locking up multiple positions, making open jumpers, and helping the team's ball-movement.
[
Read Full Article
]