Jusuf Nurkic
Recent Tweets
All Tweets
DraftExpress2: Denver draftee Jusuf Nurkic averaged 21.4 PTS and 12 REB at the U20 Euro Div B Championship. His PER of 42+ ranks among top FIBA marks ever.
2014-07-21 15:51:57
DraftExpress: Props to @ZachLowe_NBA for including this amazing photo of Jusuf Nurkic's dad in his excellent draft recap article. http://t.co/ZGsrhmSxr4
2014-06-27 13:30:32
DraftExpress: Denver selects Jusuf Nurkic with the #16 pick acquired from Chicago. Really like this pick. Nurkic is a special talent.
2014-06-26 21:20:49
DraftExpress: Just spoke to Jusuf Nurkic's agents at CAA. As of today he has a clear buyout to leave Cedevita for the NBA to be paid over 24 months.
2014-06-25 15:59:04
DraftExpress: Jusuf Nurkic also invited to the NBA Draft Green Room his agent Leon Rose informed us. That makes three internationals with Exum and Saric.
2014-06-20 13:45:54
Team: Nuggets
Physicals
Positions
Salary
Misc
H: 6' 11"
W: 280 lbs
Bday: 08/23/1994
(21 Years Old)

Current: C
NBA: C
Possible: C

Agent: Dan Fegan
Current Salary:$1,762,680

High School:
Hometown: Tuzla, Bosnia and Herzegovina
Drafted: Pick 16 in 2014 by Nuggets

Predraft Measurements
| Year | Source | Height w/o Shoes | Height w/shoes | Weight | Wingspan | Standing Reach | Body Fat | No Step Vert | Max Vert |
| --- | --- | --- | --- | --- | --- | --- | --- | --- | --- |
| 2013 | Eurocamp | 6' 10" | 6' 11.5" | 280 | 7' 2" | 9' 1.5" | NA | 21.0 | 23.0 |



Basic Per Game Statistics

- Comprehensive Stats - Statistical Top 25s

Player Page&nbsp&nbsp| Player Stats | Mock Draft History | Related Articles&nbsp&nbsp| Add to My Draft Express&nbsp
&nbsp
Situational Statistics: the 2014 Center Crop
June 21, 2014
Jusuf Nurkic is not as impressive here as he was in our study of basic statistics as his per-possession efficiency numbers are not on par with his per-minute productivity numbers at this stage in his career. Generally speaking, Nurkic's 10.8 possessions used per-game (in just 16 minutes) ranks just average, as does his .979 points per possessions overall, but he does excel in a few notable areas.

Unlike many of his counterparts in the college game, much of Nurkic's offensive usage come as the screen setter in the pick and roll. His 1.6 possessions per-game as the roll man are the 3rd most among players in this group, and his 55.7% shooting ranks above average. That might not seem overly impressive, but when we dig a little deeper, we find that Nurkic's numbers on the whole are suppressed by his limited jump shooting efficiency. Shooting 65% when he rolls to the rim, but only 29% when he pops to the perimeter, Nurkic made just 7 of the 36 jump shots he attempted last season, which hurts him in some areas here, although perimeter shots didn't account for a large proportion of his total attempts. The Bosnian center has nice mobility for a player his size, which helps him in the European game where the pick and roll is an even more prominent component of some teams' offenses than it is in the NBA.

On top of his experience in the two-man game, Nurkic also provided a reliable back to the basket threat for Cedevita. He scores a third ranked .93 points per possession with his back to the basket, converting an above average 49.4% of his shots, but got to the line on a top-ranked 26.2% of his post up possessions. Nurkic's physical strength makes him a load on the block. He likes to turn over his left shoulder to either get to the rim or step into his hook shot, both of which yielded highly consistent results for him a year ago. He tossed in a few hooks with his left hand, but doesn't have quite as good touch as he does shooting with his right.

Nurkic finished at a slightly below average 60.9% clip around the rim this year, but is at a disadvantage around the rim relative to his peers, as the lowest percentage of his possessions per-game (10.3%) came from cuts, which usually amount to highly efficient catch-and-dunk opportunities for his counterparts in the NCAA.

If the 19 year old big man can improve as a shooter and continue to use his strength and footwork effectively around the rim, he has a chance to become the best back to the basket player to make the jump from Europe to the NBA since Nikola Pekovic.

[Read Full Article]

---
Clint Capela vs Jusuf Nurkic Head to Head Matchup Analysis
June 9, 2014
A detailed video analysis by Mike Schmitz of how Clint Capela and Jusuf Nurkic performed in their two matchups this season.

---
More Situational Videos from Mike Schmitz
Jabari Parker vs NBA Length
Nik Stauskas vs Gary Harris
Noah Vonleh vs NBA Length
Elfrid Payton vs Elite Competition
Doug McDermott vs NBA Length
Jabari Parker vs, Aaron Gordon
Joel Embiid vs NBA Caliber Centers
Julius Randle vs NBA Length
Andrew Wiggins vs Marcus Smart
---
Take a look at our brand new video section for a compilation of all the videos we've produced this year.
[Read Full Article]

---
Nurkic Making Noise in the Adriatic League
November 19, 2013
19-year old Jusuf Nurkic is one of the biggest surprises of the early season in Europe, currently ranking as the most productive player in the Adriatic League on a per-minute basis.


---
More International Prospect Video Scouting Reports
-Vasilije Micic (6-5, 1994, PG, Mega Vizura)
-Rasmus Larsen (6-11, 1994, PF, Manresa)
---

Nurkic only plays 16 minutes per game at the moment due to foul trouble, youth, conditioning issues and his team's style of play, but is making the most of his playing time in a major way, posting 13 points, 5.6 rebounds, 1.6 steals and 0.8 blocks in that span, shooting 63% from 2-point range. His per-40 minute production has been outrageous in turn, at 33 points, 14 rebounds, 4.1 steals, 1.9 blocks and 11.7 free throw attempts—helping him lead the Adriatic League in PER by a wide margin at 44.5 in the early going.

His Cedevita team is tied for first place in the Adriatic and looks to be in good position to advance to the next round of the EuroCup, led by a highly respected and experienced coach in Jasmin Repesa, who has the team playing a much more aggressive blend of basketball.

Nurkic's performance at both the Adriatic League and EuroCup levels thus far has given us a chance to take a detailed look at his strengths and weaknesses at this stage of his development in this video scouting report by Mike Schmitz:



Nurkic is just making his first steps in professional basketball at the tender age of 19, after only having started playing in organized settings in 2009. Like many Bosnians before him, he was brought to Slovenia at a young age, in a failed attempt to naturalize him for their national team. Nurkic started his career in Zlatorog Lasko, and spent two seasons there as a teenager, but was also loaned out to another Slovenian team, Olimpija Ljubljana, for a short period as well, having a very strong showing at the NIJT Belgrade which put him on the radar screen of NBA scouts.

A tug of war ensued shortly after when Croatian side Cedevita Zagreb, which was at the time led by Bosnian senior national team head coach Aco Petrovic, recruited him away from the Slovenians and signed him to his own squad in the spring of 2012, a dispute which was only resolved approximately six months later after FIBA ruled that Cedevita must compensate Lasko for the time they invested in him.

Nurkic was in turn invited by Petrovic to compete for the Bosnian U18 and senior national team squads in the summer of 2012, and represented both, being named the MVP of the U18 European Championship Division B after helping Bosnia get promoted to the A Division with his strong play.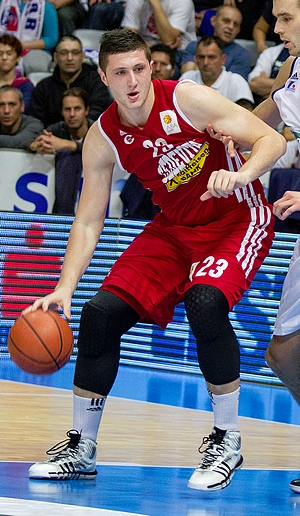 abaliga.com



The 2012-2013 season got off to a rocky start for Nurkic, as the prolonged dispute between Cedevita and Lasko over his rights prevented him from becoming an official part of their roster until the season was already underway. Nurkic did not make his first Adriatic League appearance for Cedevita until the sixth round of the season, and it quickly became clear that there would be little room for him on the roster, which prompted the team to loan him to fellow Croatian side KK Zadar in January.

Nurkic was a late invite to the adidas EuroCamp last June and represented himself well there, which undoubtedly put him in the scouting notebooks of NBA teams that were present. Despite being snubbed from the Bosnian senior national team squad at the Eurobasket this summer, his strong showing in Treviso has certainly carried over to the season thus far, and Nurkic is already dropping hints that he will test the 2014 NBA Draft waters as an early-entrant prospect. The fact that he has no buyout complications with his contract for the NBA certainly helps. Playing in the same city as fellow international prospect Dario Saric certainly will improve his visibility as the year goes on and should Zagreb an even more popular scouting destination.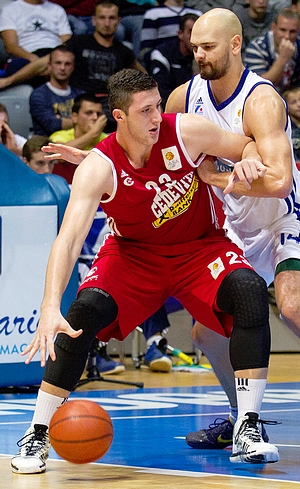 abaliga.com



We'll have to see if he's able to continue to produce as prolifically as he has thus far this season as the amount of attention he garners on and off the court increases, but he's certainly made a name for himself in the early going, which only adds more depth to what is shaping up to be a historic 2014 NBA Draft class.

[Read Full Article]

---
2013 adidas EuroCamp: Day One
June 8, 2013
-Jusuf Nurkic, a late addition to this year's event, had an impressive showing, scoring 12 points with 5 rebounds and 2 blocks in 24 minutes. One of the top-10 international prospects born in 1994, the 7'0 center showed a nice blend of size and skills. Joining Zadar mid-season after making his Euroleague debut with Cedevita earlier this year, Nurkic has had some strong performances in the Adriatic and Croatian Leagues for a player that just a year ago was competing exclusively at the junior level. He still has room to improve his conditioning and maximize his physical tools as it stands, but he has a massive frame and used that to his advantage on the block on both ends. Possessing solid shooting touch for a player his size, Nurkic is a player we'll be keeping an eye on both here and in the coming seasons.

[Read Full Article]

---