Kenny Kadji
Recent Tweets
All Tweets
DraftExpress: More Undrafted Vander Blue Robert Covington Adonis Thomas Kenny Kadji Vitalis Chikoko Seth Curry D.J. Stephens Augusto Cesar Lima.
2013-06-28 00:19:03
DraftExpress: DX Trending Prospects Kenny Kadji http://t.co/I5D55OtVEO
2013-02-21 12:44:56
DraftExpress: Miami's Kenny Kadji had a great game against Duke but keep in mind he's turning 25 in May. He's older than 6-year NBA pro Kevin Durant.
2013-01-24 12:08:01
DraftExpress: Top NBA Draft Prospects in the ACC, Part 7 (#16-20) - Rion Brown, Kenny Kadji, Ian Miller, Erick Green, C.J. Harris - http://t.co/IL338BLo
2012-09-25 01:09:33
Team: Brindisi
Physicals
Positions
Rankings
Salary
Misc
H: 6' 10"
W: 242 lbs
Bday: 05/19/1988
(27 Years Old)

Current: PF
NBA: PF
Possible: PF

RSCI: 36

Agent: David Bauman

High School: IMG Academy
Hometown: Bradenton, FL

Predraft Measurements
| Year | Source | Height w/o Shoes | Height w/shoes | Weight | Wingspan | Standing Reach | Body Fat | No Step Vert | Max Vert |
| --- | --- | --- | --- | --- | --- | --- | --- | --- | --- |
| 2013 | NBA Draft Combine | 6' 8.75" | 6' 10" | 242 | 7' 3" | 8' 10.5" | 7.5 | 34.0 | 38.0 |
| 2013 | Nets Workout | 6' 8.75" | 6' 10" | 242 | 7' 3" | 8' 10.5" | 7.5 | 34.0 | 38.0 |



Basic Per Game Statistics

- Comprehensive Stats - Statistical Top 25s
| Year | League | Name | GP | Min | Pts | FG | FGA | FG% | 2Pt | 2PtA | 2P% | 3Pt | 3PtA | 3P% | FTM | FTA | FT% | Off | Def | TOT | Asts | Stls | Blks | TOs | PFs |
| --- | --- | --- | --- | --- | --- | --- | --- | --- | --- | --- | --- | --- | --- | --- | --- | --- | --- | --- | --- | --- | --- | --- | --- | --- | --- |
| 2015/16 | Italian | Kenny Kadji | 9 | 32.3 | 15.3 | 6.0 | 13.1 | 45.8 | 4.9 | 9.1 | 53.7 | 1.1 | 4.0 | 27.8 | 2.2 | 2.9 | 76.9 | 2.1 | 7.3 | 9.4 | 1.0 | 0.8 | 0.8 | 1.9 | 3.0 |
| 2015/16 | Eurocup | Kenny Kadji | 7 | 25.0 | 9.9 | 3.3 | 8.3 | 39.7 | 2.6 | 5.4 | 47.4 | 0.7 | 2.9 | 25.0 | 2.6 | 3.0 | 85.7 | 1.3 | 3.1 | 4.4 | 0.7 | 0.7 | 0.4 | 2.3 | 3.6 |

Player Page&nbsp&nbsp| Player Stats | Related Articles&nbsp&nbsp| Add to My Draft Express&nbsp
&nbsp
NBA Combine Interviews: Len, Mitchell, Kadji, Murphy
May 29, 2013
[Read Full Article]

---
Trending Prospects: Kenny Kadji
February 21, 2013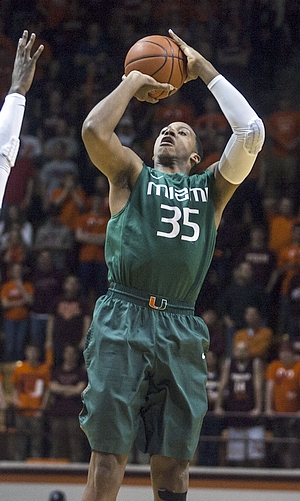 US Presswire



Derek Bodner

After a strong junior season, Kenny Kadji continues to be a major contributor for second year coach Jim Larranaga and the Miami Hurricanes, who currently possess a 20-3 overall record and sit atop the ACC with a 13-0 record, including impressive wins over Duke, Michigan State, Virginia, North Carolina State, and others.

On the offensive side of the court, Kadji is one of the most versatile players you'll find in college basketball, as he's capable of putting the ball in the net in a variety of ways. His floor-spacing ability remains one of his most intriguing aspects as a NBA prospect, with most of his jumpers coming from catch and shoot situations and pick and rolls. He has soft touch on his jump shot, with good form and a high release point that makes him very difficult to contest considering his terrific size.

While the 36.5% he is shooting from 3 point range is a drop off from the 41.8% he shot his junior year, he has upped his attempts to 3.5 three point attempts per game, and his overall point per possession on jump shots is up to an excellent 1.094 points per possession according to Synergy Sports Technology, an increase from 1.019 the previous season. 3-point attempts now represent over 80% of his jump shots, taking the long two point jump shots virtually out of his game and creating an overall more efficient jump shooter. Kadji appears to have extended his range, and should not have much trouble adjusting out to the longer NBA three point line.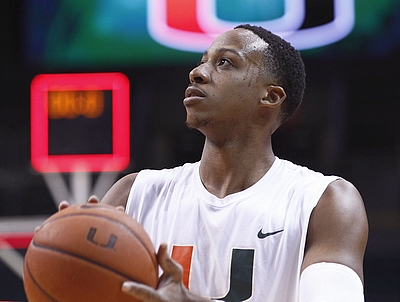 US Presswire



Kadji also continues to see considerable touches in the post. While he's not exceptionally tough or athletic and his footwork is not the most advanced out there in terms of counter moves, he has great size, a strong frame, long arms, and a high skill-level, which goes a long way at the college level on a team with too many offensive options for a defense to key in on him on any particular night. He has a high release point on his right handed hook that is tough to defend, and shows nice touch going over his left shoulder on a turnaround jump shot, both of which he appears to not have much trouble getting off over length.

On the negative side, most of his moves in the post are finished going away from the basket, and he doesn't draw fouls at a very high rate. The combination of a lack of power post move going towards the basket and his role as a jump shooter create a big man who is towards the bottom third of our database for power forward prospects in terms of free throw attempts per field goal attempts.

Kadji is capable of putting the ball on the floor fairly well for a player his size, showing the ability to beat opposing big men off the dribble with straight line drives going mostly to his right, usually to attack defenders closing out too aggressively in catch and shoot situations. He can also handle the ball a bit in transition. He doesn't have much of a left hand, though, and can become ineffective and turnover prone when met with resistance and forced to change direction. He has fairly good touch on a floater in the lane when he does get there, and his length, touch and scoring instincts make him a good finisher in the paint, despite the fact that he's not incredibly quick or explosive.

Defensively, Kadji doesn't possess tremendous leaping ability and struggles to move his feet laterally at times on the perimeter, both concerns when projecting to the next level. That being said, he stands 6'11", with very good length and a refined frame. He uses his length well defensively, both in the post and as a weakside help defender, and he has a strong lower body and does a good job holding position in the paint, with good timing on blocked shots. Miami is one of the top ranked defensive teams in the country, and Kadji is an integral piece of that equation. He's seeing plenty of minutes at the power forward position, which is very unique at the college level considering his size, and gives him a nice framework to build off for the pro level.

One of Kadji's main weaknesses last year was on the defensive glass, where his 5.1 defensive rebounds per 40 minutes pace adjusted were one of the worst figures in our database for a big man. He has improved upon that considerably, up to 7.1 defensive rebounds per 40 minutes pace adjusted, which, while still only an average figure for a power forward prospect is leaps and bounds better than his production last year. His length and lower body strength help him in this regard, and he has done a better job boxing out and fighting for position early. While still not the most instinctive rebounder, and still prone to suffering lapses in intensity at times, his improvement in this area is critical for his ability to find a role at the next level.

Overall, Kadji is having an outstanding senior season and has to be drawing plenty of attention to himself with the skill-level and scoring instincts he's displayed as a long-armed and strong 6-11 power forward. His improvement on the defensive glass and as a shooter makes it easier to project a trajectory where he could be a contributor, something he'll have to be able to do fairly early in his career, as he will be 25 years old at the time of the draft. His combination of scoring instincts, perimeter shooting ability and size is intriguing in today's NBA, particularly as Miami continues to have success in the ACC as they gear up for an NCAA tournament run.

Even though Kadji's advanced age competing against players 3-7 years younger than him on any given night makes his accomplishments this season slightly less impressive, there is a real dearth of skilled, non-one dimensional floor spacing big men who can hold their own defensively and on the glass, which should earn him plenty of looks over the course of the NBA pre-draft process.

[Read Full Article]

---
Top NBA Draft Prospects in the ACC, Part Seven
September 25, 2012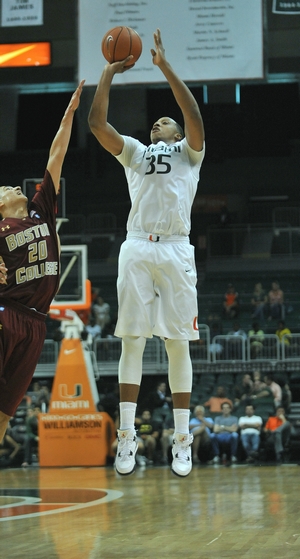 US Presswire



Last time we checked in on Kenny Kadji, he was coming off an unassuming freshman season at Florida. Seeing limited playing time in 9 games as a sophomore before missing the rest of the season with a back injury that ultimately required surgery, Kadji opted to transfer to Miami in search of a bigger role. After burning a year of eligibility sitting out as a transfer, the IMG Academy product made an immediate impact as a redshirt junior for the Hurricanes, averaging 11.7 points and 5.3 rebounds per-game in 2012.

Headed back to campus for his senior year, Kadji is a 6'11 power forward with a solid 240-pound frame and a tremendous wingspan. Despite his size and injury history, he is a fluid athlete with good coordination. He is not tremendously explosive or quick, but is incredibly rangy and made a handful of very impressive plays using his long strides taking the ball coast-to-coast in transition last season.

On the offensive end, Kadji has some intriguing tools for a power forward prospect only having played two full seasons of college hoops. He has excellent touch on his jump shot for a big man, possessing range out past the NCAA three-point line, where he shot 42% on 2.1 attempts per-game last season. Kadji's touch left him late in the year, as he appeared to be rushing things at times, but he showed potential on the pick-and-pop threat, surprised defenders with an occasional pull-up jumper, and shot the ball well when in rhythm. Kadji's ability to find his consistency away from the rim will be a point of interest this coming season.

Kadji's touch carries over to his approach in the post, where he shows rangy footwork, and scores with a variety of moves, but does so by virtue of his touch rather than his comfort level with any one of the moves he makes. Forcing some tough turnaround jump shots and up-and-unders away from the rim, but showing deft touch on his hook shot on occasion, Kadji's 38% shooting in the post demonstrates his improvement in recent seasons as well as the room he still has to improve. He does a great job fighting for position at times, and it will be interesting to see how his budding post skills develop this year, as he has the size, length, frame and touch to have more of an impact here than he did last year.

Kadji's biggest weakness at this point is his rebounding ability. For a player with his athleticism and size, ranking third last among rising senior power forward prospects in our database in rebounds per-40 minutes pace adjusted certainly raises some question marks about his instincts on the glass and intensity over the course of a game. Kadji is not as guilty of being apathetic as some poor rebounders we've seen at his position in the past, and will box out and go after an occasional loose ball, but doesn't aggressively look to go get the ball off the rim or show the reactivity that would allow him to make the most of his tools.

Defensively, Kadji does a good job using his size to his advantage, which helps him compensate for his lack of great lateral quickness. A solid team defender, Kadji will show and recover to help his guards, and while he'll find himself out of position at times, tends to err on the side of caution defensively. He is by no means a great shot-blocker, but finished fifth in the ACC at 1.6 per-game last season and does a much better job going straight up in the post than he did early in his career. He could stand to be a bit more aggressive fighting for position on the block, but certainly holds his own overall at this level.

A pleasant surprise last season for first year Head Coach Jim Larranaga, Kenny Kadji will have plenty of opportunities to build his resume as the x-factor in a very talented Miami front court. He won't be the focal point of the Hurricanes attack with Durand Scott and Reggie Johnson around, but if he can show improvement and polish in a complimentary role and be more aggressive on the glass, his size and skill set could pique the interest of NBA scouts. Kadji is far older than almost any other player in college basketball, as he will be 25 years old when the 2013 NBA Draft rolls around, but continued development and added consistency could placate some of those concerns considering his size and skill-level.

[Read Full Article]

---
Top NBA Draft Prospects in the SEC (Part Three: #11-15)
September 23, 2009
Jonathan Givony

Kenny Kadji played a fairly small role on an underachieving Florida team in his first season of college basketball. The highly touted freshman of Nigerian descent saw his minutes fluctuate dramatically throughout the year, but will be expected to step up his game in a major way competing in a very shallow Gator frontcourt.

Kadjiís productivity as a freshman did not match his placement on this list, he only averaged 4.4 points in 12.5 minutes. Still, there are some things to like about his potential moving forward. Kadjiís main appeal lies in his physical attributes, as he has a rare (for the NCAA) combination of size, bulk and length. He stands somewhere around 6-10 or 6-11, with an excellent wingspan, and a body that is already extremely developed and should be able to be toned impressively. While heís clearly made strides with his conditioning since arriving on campus in Gainesville, he could still stand to put even more work in in the weight room to continue to maximize his physical potential.

Offensively, Kadji was used almost entirely as an off the ball threat due to his below average feel and skill level. Heís capable of establishing deep post position thanks to his wide frame, but does not really know what to do with the ball once he receives it in a position to make a strong move and score. Kadji struggles badly to finish around the basket in traffic, lacking a bit of coordination and a degree of toughness and explosiveness. Like a lot of young big men, the college game seemed to move just a bit too fast for him at times as a freshman, which made him fairly turnover prone relative to his limited role. Kadji garnered just 4 assists in 34 games last year, committing 7 turnovers for every one assist he dished out. He does have good hands and nice touch, though, to go along with his strong physical attributes, which leaves plenty of room for optimism regarding his future development.

He already showed some very nice flashes as an offensive rebounder last year. This is a part of his game he can really develop even further with better activity level and a better feel that will come with added experience and playing time. In high school Kadji was known as being able to step out on occasion and knock down perimeter jumpers, something that we really didnít see much of in his freshman season, despite his decent shooting mechanics. Kadji only converted 51% of his free throws last season, a pretty good indication that he still has plenty of work to do in this area.

Defensively, Kadji has potential, but also has a long ways to go before he can be considered more than just average at best on this end of the floor. His big body and excellent length give him a good framework to build off, and already allowed him to emerge as a decent shot-blocking threat at times, but his poor fundamentals and inconsistent motor likely played a big role in the lack of playing time he received in some of Floridaís most crucial games last season. Kadji loses his focus easily and tends to give up deep post position without putting up enough of a fight. He needs to get tougher, smarter and more active if heís to take the next step in his development and earn the confidence of his coaching staff. One place where he can show that immediately is on the defensive glass, where his presence wasnít felt often enough in his freshman year.

Despite the fact that Kadji is the same age as many college seniors (he turns 22 in May), itís still way too early to be drawing any long-term conclusions about his pro potential. He undoubtedly has the tools to develop into an NBA player, but will have to continue to put the work in over the next few years to reach his full potential.

[Read Full Article]

---
adidas Nations Basketball Experience: 2008 High School Prospects
August 14, 2007
6-11 Cameroonian Kenny Kadji played for Team Africa, but is a highly touted member of the 2008 high school class. He is heading to Florida next year, right down the road from his current prep school at IMG Academy. Kadji was a very important cog on this interesting African squad. He played mostly at the 3 facing the basket next to Zaki and Ibaka, and showed the ability to both knock down shots and get to the basket off a few short dribbles. He's not a great athlete and surely could benefit from improving his conditioning, as he had a tendency to take plays off at times, particularly on the defensive end. His lateral quickness isn't great at the moment, which was certainly exposed playing such heavy minutes on the perimeter at the SF spot. He did show nice timing coming from the weak-side on a few occasions for a blocked shot, and does a good job using his body on either end of the floor to gain an advantage on weaker opponents. His back to the basket game could still use some work, though. He is all in all an interesting guy that will need to spend a few years in Gainesville to develop into a more immediate NBA prospect.

[Read Full Article]

---