Matt Williams
A productive role-player for the
Greek National team
and European powerhouse Olympiakos,
Kostas Papanikolaou
has been a steady contributor at the EuroLeague level for two years. After a tremendous showing this past week at the Euroleague Final Four in Istanbul, making all five of his 3-pointers and scoring a Euroleague career-high 18 points in the championship game victory, Papanikolaou's stock has risen to the point that it wouldn't be surprising at all to see a team take a shot on him in the second round on draft night.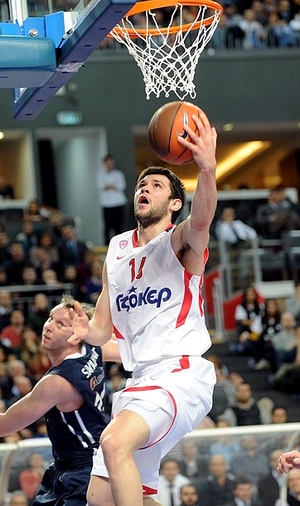 An average athlete with an excellent feel for the game, good fundamentals, and terrific maturity, Papanikolaou's profile may not jump off the page on first glance, but his size, defensive prowess, experience and productivity at the highest levels of European basketball make him one of the most intriguing 1990-born international prospects automatically eligible for the 2012 NBA Draft.
Standing 6'8 with a solid frame, Papanikolaou has excellent size for a NBA small forward, though he sees time at both forward spots for the Euroleague champions Olympiacos. He runs the floor with purpose, and is able to play above the rim when he has a head of steam, but is otherwise an average athlete. He isn't explosive from a stand-still and his limited agility makes it difficult for him to create his own shot in one-on-one situations, but his non-stop motor and willingness to initiate contact allow him to make some plays by virtue of his physical tools in the European game.
On the offensive end, Papanikolaou spends most of his time out on the perimeter, even if quite a few of his possessions end at the rim as a result of his off-ball movement. Not a terribly assertive scorer, Papanikolaou functions as a complementary player, seldom forcing the issue and making smart reads playing off his teammates. He's turned the ball over just 30 times so far this year in nearly 1000 minutes, about once for every 40 Euroleague minutes he plays.
Nearly half of Papanikolaou's touches come in spot-up situations according to Synergy Sports Technology, and the lefty has been a sporadic catch and shoot player in recent seasons. He is the definition of a rhythm shooter, seldom making a contested shot or a long jumper that he doesn't simply step into, but he's knocked down 39% of his catch and shoot jumpers this season. Showing a quick release and solid shooting mechanics, he's been a little streaky at times this year, making just 34% of his 3-pointers on the season. Considering how heavily his contributions offensively revolve around this part of his game, he'll need to continue improving his consistency to reach his full potential in the European game or otherwise, but his showing this past weekend at the Final Four was clearly a major and very visible step forward.
Apart from his touches as a spot-up shooter, most of Papanikolaou's shots come right at the rim. He isn't adept at creating his own shot, and is only a decent ball-handler, even if he does occasionally push the ball up the floor himself or beat his man and get to the rim with a straight-line drive. Extremely active off the ball, Papanikolaou proves to be a capable finisher at the rim, using his body well and showing good touch. He struggles to finish over and around athletic shot-blockers, but gets the job done in the paint at this level with timing and smarts, converting 60% of his field goal attempts inside the arc.
Defensively, Papanikolaou is rock solid at the Euroleague level. By no means is he a lock down defender, but he competes every possession, always boxes out, makes some plays in the passing lanes thanks to his anticipation, and does a terrific job pestering his man off the ball. Spending time defending both forward spots, Papaniolaou is better suited to defend the three, as his lack of size and tremendous physical strength can be a challenge for him in the post. His average lateral quickness may render him slightly less effective at the NBA level, but his fundamentals and basketball IQ would surely help him hold his own against better athletes. He's also a solid rebounder, particularly on the offensive end due to his activity level.
One of the most mature and polished players in this year's group of automatically eligible international prospects, Papanikolaou is by no means a glamorous player. He may not be an aggressive enough scorer for certain NBA coaches, but his size, defensive prowess, ability to accept and fill an important role, knack for playing low-mistake basketball, and reputation as a winner at every level he's played at make him one of the most intriguing role-playing prospects available in the second round.