After somewhat of a rocky transition period between the great generation of Diamantidis, Spanoulis, Zissis and Fotsis, we're starting to see a revival happening in one of the most important countries in Europe. The Greek national team appears to be in very good hands for the future, as we're seeing a number of high-level young prospects emerging in recent years. We take a look at some of the most interesting ones, led by
Linos Chrysikopoulos
.
-
Matt Williams
Fresh off a strong showing for the Greek U18 National Team,
Linos Chrysikopoulos
has performed admirably in limited minutes with Aris Thessaloniki in the Eurocup and Greek League this season. One of the youngest players at last year's adidas Eurocamp, Chrysikopoulos just turned 18 on the first of the month. While he hasn't been dominating A1 by any stretch of the imagination, he has shown quite a bit of promise and is clearly one of the most talented prospects in European basketball these days.
Much of the intrigue around Chrysikopoulos lies in his size, athleticism, and versatility. Though he has played the small forward position almost exclusively this season, the long, 6'9 youngster played mostly at the four earlier in his career, but has also seen time at as somewhat of a point forward for the Greek junior national team. Standing 6'8 without shoes and a 7-foot plus wingspan, Chrysikopoulos is a very good athlete, showing good quickness and running the floor with purpose in transition. A fluid and fairly explosive player for the European game, Chrysikopoulos hasn't reached his full potential from an athletic standpoint as he's yet to fully grow into his excellent frame.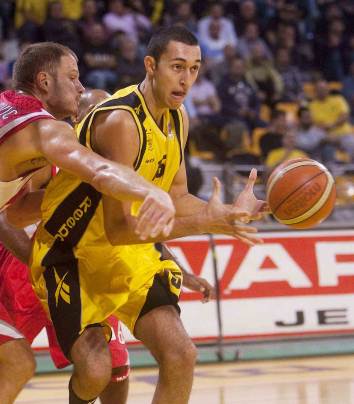 Chrysikopoulos is averaging 15.5 minutes per-game in Greek League play, and though he has shown versatility against younger players and flashes some intriguing offensive tools, he's functioning primarily as a spot-up shooter in Aris's offense –which limits his ability to work off the dribble, get to the rim, and create offense for his teammates—things we've seen him do at the junior level. Displaying a quick trigger and good perimeter footwork, Chrysikopoulos shoots with a low release point, but is extremely confident from the perimeter. He needs to improve his consistency, but with time, should become a reliable catch and shoot threat.
In addition to his ability to spot-up, Chrysikopoulos is also capable of putting the ball on the floor to pull up from the midrange when his defender is too aggressive and will even dribble into the post to utilize a turnaround jump shot against smaller defenders. His quickness and fluidity give him a lot of potential in this area, and even though this aspect of his game does not normally factor into his current role, but he did a nice job creating his own shot at the U18 Championships last summer and could become more of a factor in this area as his comfort level increases down the road. He still needs to add strength and tighten up his ball-handling ability, especially with his left hand, to prepare himself for the jump in competition he'll see playing in the very physical Greek league.
Around the basket, Chrysikopoulos showed mismatch potential in junior play, but will need to add weight to his skinny frame to give himself the ability to take shorter professional players down low and finish through contact at the rim. Quick off his feet, he isn't a powerful leaper at the moment, but his length allows him to dunk the ball when he's on the move, shoot over defender with his turnaround jumper, and finish craftily in the lane.
Defensively, Chrysikopoulos is still very much a work in progress. He does not show much in the way of lateral quickness or toughness, but could prove more effective if he maintained his stance and was more active with his feet. This is surely the main thing holding him back at the moment from seeing bigger minutes on a competitive team like Aris. As all young players are prone to do, Chrysikopoulos gets lost watching the ball from time to time, but manages to get by thanks to his ability to contest perimeter shots and force turnovers with his tremendous wingspan. As he gains strength and experience and continues to work on his fundamentals, Chrysikopoulos could be a pretty dynamic defender due to his natural physical tools.
Since this is Chrysikopoulos's first season seeing real playing time in the Greek League, it is important to point out that he doesn't look at all out of place in Aris's rotation. This is essential for a player that won't turn 19 till December of next year, as it will give him consistent opportunities to adapt to senior play. The fact that he's receiving playing time in such a pressure packed environment says a lot about the commitment Aris and Coach Drucker have made to developing him. With plenty of time to mature on the floor and to translate his intriguing versatility to a higher level of competition, Chrysikopoulos is definitely a prospect we'll be revisiting in the future.
-
Jonathan Givony
1990-born small forward
Kostas Papanikolaou
is considered one of the great hopes of Greek basketball, and he's seeing some of the most meaningful minutes of any prospect in Europe these days.
A decorated player at the junior level, Papanikolaou has quite a resume underneath his belt already for a 20-year old. He's the leader of a terrific generation of Greek youngsters that won the U-18 European Championships in 2008, the U-20 in 2009 (where he was named MVP) and the Albert Schweitzer Tournament in Mannheim in 2008. He also took silver medals with the Greek national team in 2007 at the U-18 European Championships, in 2009 at the U-19 World Championship in New Zealand (where they lost to the US) and this past summer at the European Under 20's.
He's already shown himself as one of the top players in his age group at every stage he's played at, and is now continuing that on the senior level by establishing himself as a legit rotation player on a Euroleague Final Four caliber team in Olympiacos.
Papanikolaou stands out more-so with his competitiveness and basketball IQ than with his physical tools. Standing 6-7, with a solid frame, he's a good athlete for Europe but is just average by NBA standards. A decent leaper in space, Papanikolaou is not overwhelmingly quick or explosive, being more likely to wow you with a heady play than with a highlight reel caliber dunk.
Playing on a very talented Olympiacos squad featuring three of the most creative players in Europe in
Milos Teodosic
,
Vassilis Spanoulis
and Theo Papaloukas, Papanikolaou is rarely asked to do anything more than wait for opportunities playing off the ball, and not make mistakes. 40% of his offense comes in spot-up situations according to Synergy Sports Technology, with the rest comprising of cuts to the basket, running the floor in transition, and offensive rebounds.
Although often acting as a floor-spacer while parked in the corner, Papanikolaou is not a very consistent shooter at this point in time, even if he's made strides in this area as of late. Strictly a flat-footed catch and shoot player, he shows a slow release and somewhat unorthodox mechanics like many left-handers do, knocking down 8 of his 24 3-point attempts in 16 games this season. Continuing to develop this part of his game will play a major role in how he's perceived in the future.
As a shot-creator, Papanikolaou is somewhat limited. He rarely puts the ball on the floor, and when doing so, is very left hand-dominant and mostly a straight-line dribbler. He does show very good court vision, though, making quick decisions on the fly and looking more than willing to make the extra pass. He's a very mature, fundamentally sound player who understands his role and rarely makes mistakes, which is why he's been able to earn playing time this season on an Olympiacos-team that has seemingly never had any patience for developing young players.
Defensively, he's a very effective player at the European level, as he has good size, smarts and maturity and brings a major effort in every moment he's on the court. His instincts on this end are very intriguing, as you'll regularly see him getting in the passing lanes for steals and was always one of the top shot-blockers in all of the youth competitions he played in. He does an excellent job of knowing when to leak out in transition and will get himself some easy baskets at times by just running the floor harder than anyone else.
From an NBA standpoint, Papanikolaou doesn't quite fit the mold of what teams usually look for in European prospects. His average athleticism, ball-handling and perimeter shooting skills are all significant factors working against him, and there are question marks about whether he has the lateral quickness to guard his position (probably small forward) effectively in the NBA.
Additionally, the team that owns his rights, Olympiacos, paid a mammoth 700,000 Euro buyout to secure his rights from fellow Greek team Aris Thessaloniki, so it's not so clear how quick they will be to let him go. If the NBA does become an option for him down the road (likely after being picked when he's automatically eligible in 2012 and then stashed), he'll have to choose between being a marginal role player in the US versus being a very well compensated leading player in his home country. The track record of Greek players in the NBA is virtually nil, and for good reason.
Regardless, Papanikolaou is a player that NBA teams will want to keep an eye on, as he's proven to be a winner at every level he's played at, and has the type of smarts and competitiveness that playoff-bound coaches covet. He'll have to continue to improve his shooting, but someone could look at him and envision him developing into somewhat of a cross between
Luke Walton
and
Omri Casspi
. That alone could make him a decent gamble for a team picking in the second round.
-
A standout at the U18 European Championships in 2008,
Kostas Sloukas
has seen his minutes nearly double from last season after being loaned to Aris Thessaloniki from Olympiakos. An extremely heady point guard, Sloukas is not a great athlete, but he has all the making of a high-level floor general on the European level, and could garner some minimal NBA attention later on in his career with the smart, consistent, low-mistake brand of basketball he plays.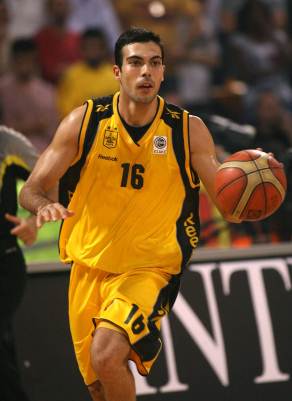 On the offensive end, Sloukas is first and foremost a floor general. He controls the tempo of the game, handles pressure, and makes good decisions. He's not a flashy ball-handler, nor will he make a highlight reel with his passes, but he plays like a leader, sees the floor well, and is not careless or over-aggressive.
Though he's a pass-first player, Sloukas does do some scoring, especially off the ball with his spot-up jump shot. A very capable shooter with his feet set, Sloukas has been very good off the dribble this season, which is a bit surprising considering his consistency drops of considerably when he shoots the ball with a hand in his face from a stand-still. Last summer at the U20 European Championships, Sloukas showed that he can add some offensive punch when he's not handling point guard responsibilities full time, playing next to a ball-dominant scorer in
Nikos Pappas
.
Though he brings some nice things to the table as a point guard and shooter, Sloukas is limited in other areas that factor prominently into his NBA potential. An underwhelming athlete, Sloukas struggles around the rim offensively and on the defensive end in the Greek League. Lacking the leaping ability to finish in a crowd and the lateral quickness to consistently deny penetration, Sloukas plays hard defensively, but simply doesn't have ideal physical tools to be effective in these areas against more athletic competition.
Despite his limitations, there's a lot to like about Sloukas on the whole. He'll post a terrific assist-to-turnover ratio, make the extra pass, and knock down shots from the perimeter. His weaknesses limit his upside to some degree, and he will need to step up and plays even more consistently in big minutes next season to garner NBA attention, but he will enjoy a fine career in Europe regardless.
-
While fellow prospect
Charalampos Giannopoulos
hasn't emerged as a high level prospect in a bit part for Panionios,
Vladimir Jankovic
has relished his opportunity. A solid athlete, the 20 year old Jankovic hasn't posted impressive numbers in just 10 minutes per-game, but he's flashed some nice tools. Standing 6'8 with long arms, Jankovic has nice size for a small forward, the position he's played exclusively this season. Capable of knocking down catch and shoot jump shots with range, but quick enough to get to the rim off the dribble in the Greek League, Jankovic is a smart finisher with promising mechanics on his shot.
A low mistake player, the keys for Jankovic will be developing his body, gaining experience, improving his consistency and refining his perimeter scoring arsenal. At the moment, most of his offense comes from catch and shoot jump shots and basic straight-line drives. The young Serbian-Greek wing uses changes of speeds fairly well, but still needs to refine his ball handling ability and pull up jumper to better prepare himself to deal with the more athletic defenders he'd face in the NBA. He could also stand to become more reliable with his feet set to help him spread the floor.
Having made 10 of the 19 shots he's attempted this season, Jankovic has played well when he's seen the floor. His ability to garner consistent minutes will be important to his development in the coming seasons, as he shows a nice skills level, but hasn't carved out an identity as more than a roleplayer.
Defensively, Jankovic holds his own substantially better than many prospects his age. He has solid lateral quickness for the European game, but is effective because he plays with a terrific effort level and won't back down from a challenge. If he can pack some muscle onto his frame to help him fight over screens and defend around the basket, he could project as a passable NBA defender.
With the rest of this and next season to improve his game, Jankovic is definitely a player to keep an eye on moving forward. His size, length, and intensity on the defensive end could allow him to generate some draft buzz if he makes progress offensively, gains some weight, and begins to see more playing time.
-
A player we last checked in on all the way back in 2007,
Charalampos Giannopoulos
is finally beginning to see consistent playing time with Panionios. Born in 1989, Giannopoulos is starting to translate the talents he showed at the junior level to A1 in limited minutes. Giannopoulos is first and foremost a shooter, showing a quick release with his feet set and the ability to put the ball on the floor to take whatever space defenders give him to pull up. He can get all the way to the rim with straight-line drives, but is mainly looking to stretch the floor –nearly two-thirds of his shots come from beyond the arc. His consistency has been less than impressive in the early going, as he's knocking down just 23.8% of his three point attempts, making him less than efficient in the small role he plays.
As it stands, Giannopoulos is a fringe prospect. He has solid size and length for a NBA small forward, but he's a poor athlete who wouldn't be able to hold his own defensively against NBA caliber players and doesn't bring much variety to the table offensively. Though he displayed some potential early in his career, especially during his strong performance at the L'Hospitalet Tournament, he's only now beginning to etch out a role for himself in the Greek League, and faces an uphill battle to generate interest amongst scouts as he becomes automatically eligible this summer.
-Two of the most important pieces of the Greek National Team for the foreseeable future will be
Nick Calathes
and
Kosta Koufos
. Calathes is having a very solid with Panathiniakos after seeing minutes with the national selection last summer, while Koufos is seeing limited minutes behind the likes of Kevin Love, Darko Milicic, and Nikola Pekovic. Couple Calathes and Koufos with Greece's slew of future draft prospects and there's reason for optimism moving forward.