NBA Combine Competitive Action Recap: Day One
May 14, 2015
8 points, 8 rebounds, 1 assist, 3 turnovers, 1 steal, 3-5 2P, 0-1 3P, 5 fouls, 21 minutes

Larry Nance did a good job of showing teams what his role in the NBA might look like, playing with great energy and intensity and grabbing 8 rebounds in 21 minutes, while playing strong defense, particularly on the pick and roll. His mobility and length at 6-9 allows his team to defend the pick and roll in a variety of ways, and he showed no issues switching onto guards even if called upon.

Offensively, Nance was constantly in motion, cutting, sprinting, and hustling non-stop, playing unselfishly and finding ways to contribute without a single play being called for him. Nance's offensive skill-level remains a work in progress and he didn't show the best feel for the game forcing the issue running into brick walls at times, but that goes with the territory of playing in this setting and that is a fairly easy thing to cut out of his game. Players like Lou Amundson have found a way to make a career out of doing the little things Nance displayed in the first game, and continuing along the same path will undoubtedly earn him some more workouts and opportunities to impress NBA teams.

[Read Full Article]

---
Top NBA Prospects in the Non-BCS Conferences, Part 8: Prospects 14-17
November 6, 2014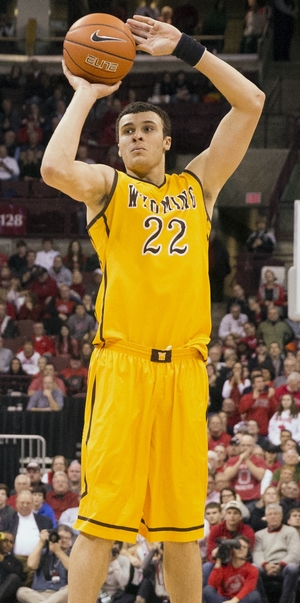 US Presswire



Derek Bodner

The son of former NBA player Larry Nance, Larry Nance Jr's gradual transformation at Wyoming was halted when he tore his ACL last February against Fresno State, ending his season.

Nance had continued his gradual progression as a player, first becoming a full time starter during his sophomore season, then growing to become Wyoming's leading scorer during his junior campaign, where he saw his scoring average increase from 14.2 points per 40 minutes pace adjusted to 19.1. He also increased his production elsewhere, with his defensive rebounding jumping substantially from 6.6 defensive rebounds per 40 minutes pace adjusted to 9.2, while blocking the most shots of his career, at 2.8 blocks per 40 minutes pace adjusted. The overall jump in productivity led to an outstanding 27.6 Player Efficiency Rating.

The biggest evolution in Larry Nance Jr's offensive game has been in the post, which now makes up over 28% of his offense, according to Synergy Sports. Nance has a strong base, which allows him to established good post position and have success backing his man down. Nance shows an ability to execute a jump hook over either shoulder, and does a good job in recognizing what the defender is giving him, with the ability to perform a strong drop step to seal off his defender in either direction. He also shows early signs of a developing turn around game, although his consistency and overall effectiveness in this aspect is still a work in progress. Nance is also an improving passer out of post-up situations, able to find an open cutter or set three point shooter, which makes it tough for defenders to double team him.

The rest of Nance's offense primarily comes off the ball, on a combination of pick and rolls, offensive rebounds, and cuts to the basket. He has good, soft hands, makes strong cuts to the basket, has a strong upper body that allows him to finish through contact, and has solid explosiveness around the hoop. While his excellent efficiency finishing around the rim will no doubt take a bit of a drop as he goes up against better athletes at the next level, his ability to score without plays being called for him is something that should help his draft stock as teams look at whether he can transition away from being an offensive focal point, a luxury he is unlikely to enjoy at the next level.

An area that it would be nice to see further development from Nance would be as a jump shooter, where he still remains largely inconsistent in his results. He seems to have made strides in making his release and delivery more consistent, and he shoots a good percentage from the line as a big man, but this hasn't yet translated into game action, as he's shooting only 32.1% on jump shots, per Synergy Sports, and hasn't yet show much range beyond 10-12 feet.

One area that has seen considerable improvement in Nance's game is on the defensive glass. Last season was the first one that Nance played without Leonard Washington, who Wyoming lost due to graduation. Washington was a force on the defensive glass, and Wyoming needed Nance to step up in his absence. Nance responded, increasing his defensive rebounds per 40 minutes pace adjusted from 6.6 to 9.2 per game, with his defensive rebounding percentage seeing a similar increase, from a solid 20.4% to 24.8%, both of which represent very good numbers for a power forward. Nance shows a good nose for the ball, with a good understanding of technique and positioning and a good lower body base to hold position. This is part of his game that should translate to the next level.

On the defensive side of the ball, Nance's physical profile makes him a very good post defender, as he has the strength to hold his position and the length, with his 6'8" height and 7'0.v" wingspan, to adequately contest shots. He also is pretty quick off his feet, registering 2.8 blocks per 40 minutes pace adjusted, with the ability to contest both his own man and as a weakside help defender. The biggest question mark comes on the pick and roll, as his lateral mobility is only average, and he'll be forced to defend the perimeter far more at the next level than he has at Wyoming.

Larry Nance Jr's evolution as an offensive player has made him extremely valuable for Wyoming, as he has become the focal point of their offense. How much of his post game will translate remains to be seen, but his ability to score off the ball, be a dominant defensive rebounder, and defend the post should give him a shot to make an NBA roster. Whether or not he can regain his explosiveness after his ACL injury will be key to his draft stock going forward, as would his ability to show some consistency in his jump shot, something that he'll certainly need in helping his offensive game translate to the next level.

[Read Full Article]

---