Top NBA Prospects in the SEC, Part Ten: Prospects #15-20
October 3, 2015
Kyle Nelson

Between his junior and senior seasons in high school, Luke Kornet grew from 6'3 to 6'10. Now listed at 7'1, Kornet has developed into a unique commodity, a big man with unlimited range who can also score efficiently around the basket. While Kornet emerged as an intriguing, albeit inconsistent player, scouts will be watching to see if he can take the next step forward as a junior alongside of Damion Jones.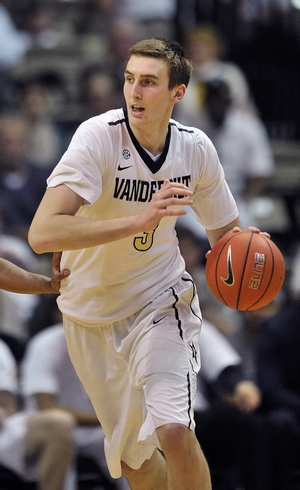 US Presswire
At 7'1 and 240-pounds with long arms, Kornet has excellent size for either post position. The junior big man needs to tone his frame considerably, however, as his 240-pound frame still has a ways to go to reach its full potential, even if he has big shoulders and plenty of room to keep filling out. He is not a particularly impressive athlete, either, lacking standout quickness and explosiveness, even if he can exploit matchups with slower-footed defenders on the perimeter with highly fluid closeouts. Coming off of
foot surgery
over the summer, just how well Kornet can maximize his physical tools carries significant implications for his professional prospects.
Playing mostly a backup role for Vanderbilt, Kornet averaged 16.3 points per 40 minutes pace adjusted and attempted more shots from beyond the arc than he did inside it, which makes perfect sense considering the success he enjoyed on the perimeter.
Kornet's most intriguing attribute from an NBA perspective is his perimeter shooting ability. While his release can still get quicker, he has picture perfect form and range out to the NBA 3-point line. Kornet made 40.7% of his 6.8 three point field goal attempts per 40 minutes pace adjusted, standing out as one of the top
perimeter shooting big men
in our database. Kornet looked particularly impressive as a spot-up option, ranking in the 99th percentile among college basketball players (and #1 among NBA prospects) in those situations according to Synergy Sports Technology. Kornet's unlimited range and impressive ability to stretch the floor is a valuable skill worth monitoring moving forward, especially with the NBA's increasing emphasis on having shooters at every position on the floor.
Inside of the three-point line, Kornet proved to be a mixed bag. On the one hand, he made an impressive 62% of his 2-point attempts, including 48.1% of his post up looks and 74% of his non-post up shot attempts inside the paint. In the post, Kornet demonstrates a soft touch, developing footwork, and a willingness to pass out of trouble. On the other hand, stronger defenders easily push him off the block due to his lack of strength and he struggles to finish through contact in traffic.
While Kornet's strengths, and future obviously lie farther away from the basket, his scouts will want to see him develop other NBA-caliber skills on the offensive end of the floor to not render him a one-dimensional player. He showed some potential as a passer and attacking closeouts in small doses, which are things he can continue to fine-tune to add versatility to his game.
While Kornet has a clear-cut role offensively at the pro level, his ability to hold his own on the other end of the floor remains a question mark. His 6.1 rebounds per 40 minutes pace adjusted rank him
among the worst rebounding big men
in our database, and would put him among the lowest figures ever for a big man draft pick if they continued to hold true.
His lack of strength and quickness also limits him as a post defender, where stronger offensive players have little trouble backing him down or spinning by him to the basket. Furthermore, his subpar foot speed does him few favors guarding the pick-and-roll or staying in front of offensive players who face him up. His size and length do allow him to block 1.9 shots per 40 minutes pace adjusted, but at this point it is hard he has significant work ahead of him before he can be counted on to defend either post position at the next level.
Thus, while Kornet is an extremely unique player with his combination of size and shooting touch, he has a long way to maximize his potential as a NBA prospect. In the meantime, he must continue to get stronger and improve his rebounding and defense. With a more consistent junior season, Luke Kornet should continue to get attention from scouts and has the potential to develop into a legitimate NBA prospect before he is done in Nashville.
[
Read Full Article
]