Top NBA Prospects in the Non-BCS Conferences, Part 9: Prospects #21-25
November 13, 2015
Jacob Eisenberg

Mamadou Ndiaye's journey from Senegal to the NCAA Tournament took a number of twists and turns along the way. He left Senegal as a teenager to pursue a career in basketball – a sport he didn't play growing up. Then he had to overcome a pituitary gland tumor, which threatened his life once he got here. Still, last March, it wasn't his backstory as much as his undeniable effectiveness that had Ndiaye trending on Twitter as his UC Irvine Anteaters took the Louisville Cardinals down to the wire in the first round of the tournament.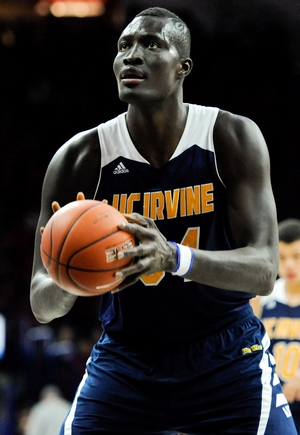 US Presswire
At 7'6 and with an unprecedented 8'1 wingspan, Ndiaye is simply the longest specimen to ever play in the NCAA according to our database. At 300 pounds, he has a big frame, but is still quite a ways away from optimizing his conditioning, strength-level and overall athleticism. Still, at the college level – particularly in the Big West – Ndiaye is able to get by with limited skill and thrive on size and length alone. As a sophomore he was limited to just 14 games with a foot injury, but he still averaged 20.9 points,10.5 rebounds and 3.4 blocks per-40 minutes pace adjusted.
Ndiaye had an extremely promising freshman season in 2014 and that perhaps set expectations unrealistically high for him as a sophomore. What figured to be his calling card as an NBA prospect – elite rim protection – saw a major regression in year two as his block rate dropped from 15.1% to 8.5% as a sophomore. Per-40 minutes pace adjusted, his block averages also dropped substantially from 6.1 blocks to 3.4 blocks. Injuries, always a major concern with players this size, clearly took their toll on Ndiaye last year, so it will be interesting to see how he bounces back in this regard.
UC Irvine plays a zone with Ndiaye anchoring the middle, and rarely leaving the paint, which is ideal considering his limitations. Still things would obviously be very different for him at the NBA level, with the defensive three second rules which prevents teams from utilizing exactly this strategy. Ndiaye's poor conditioning and slow reaction time could be an issue as he transitions to the pro level for that reason, and he already struggles with foul trouble even in the Big West conference, posting an unflattering 6.4 fouls per-40 minutes with pace adjusted last season. Like many players his size, getting up and down the court for any duration of extended time proves to be a struggle for him. He labors with his movements on a full court sprint and often gets winded within a few minutes of court action.
Offensively, Ndiaye feasted against his opponents in the Big West – where there weren't any other players above 7'0 tall. According to Synergy Sports Technology, Ndiaye converted on 49-of-75 (65.3%) field goal attempts around the basket. When he gets the ball in the paint, he's so tall and long that he doesn't even need to jump to put the ball in the basket. The problem is, if there's any obstacle between him and the basket, Ndiaye's unrefined offense usually prevents him from scoring. He has minimal touch on his shot – regardless of how close he takes it from. The shots often clank off of the back rim and out. His awareness is also somewhat of an issue, as he's often a step slow reacting to things occurring on the floor, particularly when it comes to catching the ball with his average hands. He's generated an assist on just 1.8% of his possessions at the college level (dead last in the NCAA), compared with a sky high 20% turnover rate.
Still, with his size, Ndiaye predictably gets fouled often, attempting 7.8 free throw attempts per-40 minutes with pace adjusted. Regardless, his poor touch translates from the line as well, where he converted on just 51.8% of his free throws. To his credit the 51.8% is a step up from the 43% from his freshman year, so that's encouraging.
Ndiaye really hasn't had many opportunities to prove himself against quality opponents. He dwarfed Montrezl Harrell in the tournament en route to 12 points and five rebounds in 30 minutes. Still, having just one block in that game was discouraging. Against Arizona's Kaleb Tarczewski, Ndiaye shot 3-for-5 from the field with nine points and five rebounds (also just one block) in 25 minutes. At the adidas Nations this summer, he really struggled against elite college players, which may have hurt his stock considering how many NBA scouts were in attendance.
Overall, Ndiaye is an intriguing project because of his obvious potential as a rim protector. Still, his injury issues and general decline in productivity was discouraging last season, a trend he will have to rebuke as a junior to ease scouts' worries.
[
Read Full Article
]
Top NBA Prospects in the Non-BCS Conferences, Part 8: Prospects 14-17
November 6, 2014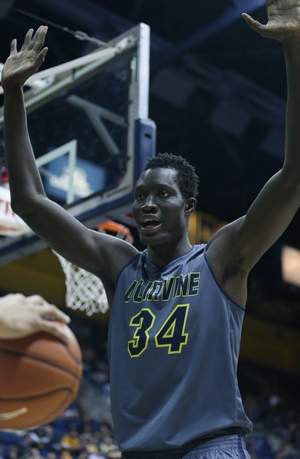 US Presswire
Josh Riddell
Born in Senegal, 7'4" Mamadou Ndiaye came to America in 2010 to attend high school and pursue his dream of playing professional basketball. Shortly thereafter, he received a health scare as doctors found a
tumor on his pituitary gland
, which threatened not only his basketball future, but his overall health long-term. Doctors were able to remove the tumor and Ndiaye went on to attend UC Irvine, where he averaged 15 points, 11.7 rebounds and 6.0 blocks per 40 minutes pace adjusted in 21.8 minutes.
Ndiaye was measured at 7'4" in 2012 along with a wingspan of 8'1",
the longest in our database
. While his size and length puts him on draft radars, the rest of physical tools may not measure up in today's NBA. As many players of his size are, Ndiaye struggles to get up and down the floor effectively, particularly after being in the game for more than a few minutes at a time. Once he's over the half-court line, his mobility is solid for a player his size, but his conditioning needs a lot of work and it's unclear whether the vastly different rules in the NBA (shorter shot clock, defensive three second rule) and much quicker pace of each possession will allow him to remain effective. He also needs to bulk up and add strength and has plenty of room to do so on his 290 pound frame.
Using his tremendous size advantage in the Big West, Ndiaye was able to score in the post almost at will and showed some nice footwork in the process. He's so big and long that he can dunk the ball without even jumping as long as he catches it reasonably close to the paint.
As the only seven footer in the conference (with the second biggest player who played at least twenty minutes measured at 6'10"), Ndiaye often was able to just turn and shoot an easy hook shot over his opponent when he got position. He needs to improve his touch around the rim, as many of these hook shots had too much power and clanged badly off the rim. While he was effective when gaining deep post-position on the block, he was too easily pushed away from the rim because of his lack of strength. Beyond that, Ndiaye doesn't currently possess the skill-level necessary to score when he was not directly around the basket, but considering how new to the game he is, that isn't particularly surprising.
Ndiaye struggled when matched up against fellow seven footers and major conference big men in several matchups against Pac 12 competition. He struggled to score against big men of similar height, especially Arizona State's 7'2" Jordan Bachynski. When defenders were tall enough to challenge his shot, he struggled to find other ways to contribute with the ball in his hands. UC Irvine has only one major conference matchup this season as Ndiaye will face seven footer Kaleb Tarczewski, so a nice showing by Ndiaye will certainly go a long way.
One area he can improve on to make him a more efficient post player is his passing out of the post. Ndiaye generated just six assists in all of last season in 696 minutes of action, with a 1.8% assist percentage that ranked as the fourth worst rate in all of college basketball. Historically speaking, only a handful of college players have been drafted the past 15 years after posting such a poor assist percentage, and all of them were one (or usually more) seasons removed from that after spending time improving their feel for the game.
25% of Ndiaye's post-possessions ended in a turnover last season, the third worst rate in college basketball among players with 100+ possessions. While he was able to hit a terrific 69% of the shots he
did
get off with his back to the basket, his outrageously high turnover rate dragged his overall scoring effectiveness under a point per possession in these situations.
Ndiaye was asked to control the paint in the middle of a 2-3 zone for UC Irvine, so we don't have a major sense of how he will be able to matchup in a man to man defense, especially guarding ball screens. He was active in the zone, moving his feet well in the small area he was asked to defend to challenge shots and stop penetration. He is slow at times to react to passes and cutters and needs to improve his awareness to see the action develop.
He did protect the rim incredibly well,
leading the nation with 6.0 blocks per 40 minutes pace adjusted
. His length allows him to wait on the shot to be released and he has good instincts to help him block shots. He is vulnerable in the post as stronger players can back him down and draw fouls as Ndiaye committed 5.5 fouls per 40 minutes pace adjusted last season.
It will be interesting to watch Ndiaye's development in his second season and see how he grows as a player. Despite being just a sophomore, he is already listed at 21 years old and would be one of the oldest players in his class. The Arizona matchup in the second game of the year will provide a nice baseline for Ndiaye's progress in the offseason and could be a launching point to a strong season.
While Ndiaye's unprecedented combination of height and length will draw the attention of scouts, he will have to answer questions regarding his strength and conditioning, skill level, and health to become a serious draft prospect. As a sophomore, Ndiaye hopes to lead UC Irvine to its first ever NCAA tournament bid after falling short in the conference tournament last season, while continuing to learn the game.
[
Read Full Article
]