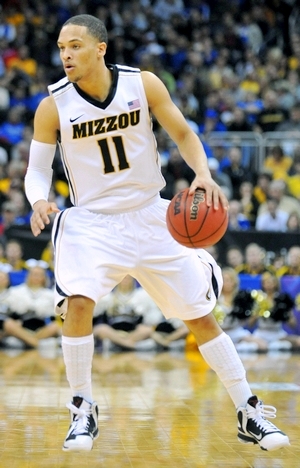 Jonathan Givony
Coming off the bench in all 35 games last season,
Michael Dixon
played an understated, yet extremely important role for Missouri. Forced to shoulder a smaller role than he would virtually anywhere else in the country alongside one of the best point guards in college basketball in
Phil Pressey
, Dixon nevertheless had an extremely impressive 2011-12 season in his own right, averaging over 20 points per-40 on excellent efficiency (58% 2P, 37% 3P, 88% FT) while posting a 2/1 assist to turnover ratio.
Late in games, Dixon often morphed into Missouri's go-to guy, playing some of his best basketball in the months of February and March, while leading the team in usage rate in the 27 minutes he averaged per game.
Standing 6-1, with an identical wingspan, Dixon isn't particularly impressive physically from a NBA standpoint, even if he brings excellent quickness to the table.
Dixon's best attributes revolve around his tremendous shot-creating ability, ranking as one of the most efficient pick and roll and isolation threats in all of college basketball according to Synergy Sports Technology. Showing a quick first step, excellent ball-handling skills, and unlimited confidence, Dixon is a handful for any defender to stay in front of at the college level in both transition and in the half-court, drawing fouls at a solid rate, and making 88% of his free throws attempts.
Possessing one of the best pull-up jumpers in the NCAA, opponents are forced to guard him very closely, but he's also highly capable of driving both left or right aggressively and finishing with either hand around the basket, despite his average size, thanks to his hard-nosed mentality and soft touch off the glass. Converting 58% of his 2-point attempts, Dixon was one of the most efficient PGs in college basketball last season inside the arc.
Also a solid 3-point shooter, Dixon is curiously better shooting off the dribble (43%) than he is with his feet (39%). While he sees a decent amount of time playing off the ball alongside
Phil Pressey
, he shows unconventional mechanics on his catch and shoot jumpers, catching and releasing the ball with a very wide stance, that may be affecting his rhythm. Nevertheless, he makes over one and a half 3-pointers per game, on good percentages (37%), and shows a quick release and deep range on his pull-up jumper.
More than just a scorer, Dixon is also a very effective distributor, as his strong assist to turnover ratio and 2.2 pure point rating
indicates
. He makes crisp passes in a variety of ways, be it on drive and dish plays, pick and roll bounce passes or lobs, moving the ball ahead in transition, or with skip-passes to an open shooter—Dixon is an unselfish player who shows great timing setting up his teammates for easy baskets like a real point guard should.
Despite being named to the Big-12 All-Defensive team last season, Dixon's outlook at the pro level on that end of the floor doesn't look quite as promising. Lacking ideal size, but also not showing great length or strength to make up for it, Dixon will be at a disadvantage physically against most NBA opponents. He does possess quick feet, nice hands and a real competitive streak to help compensate in this area, but there's no way around the fact that he struggles guarding bigger players as we can already see at the NCAA level, where he sees a good amount of his minutes defending collegiate shooting guards.
With
Marcus Denmon
, Matt Pressey and
Kim English
off to the pro ranks, Dixon was on track to return to the starting lineup in his senior year, a place he found himself often as a sophomore. Unfortunately for him, he was
recently suspended indefinitely
for apparent academic reasons, which is a tough blow for Missouri.
Luckily for them, while most teams would kill to have one great point guard on their roster, Missouri has two, which should go a long way in helping them replicate having the most efficient offense in college basketball, as they did last season, should Dixon's issues be resolved.
In terms of his pro prospects, it's a little strange for NBA scouts to evaluate a point guard prospect like Dixon seeing many of his minutes playing off the ball, but Dixon and Pressey, as well as Missouri's coaching staff, seem to do a good job of making the best of the situation, which can sometimes be more of a problem defensively than offensively.
While Dixon's lack of size isn't ideal, it's difficult to find point guards who can shoot, create efficiently inside the arc, and make plays for others, which makes him an intriguing prospect for the professional level. Playing on a seemingly much more balanced team than last season, he will have every opportunity to show his merits as a NBA prospect playing under the spotlight all year long.