Recapping the ten most impressive performances from day two of the competitive action at the NBA Combine.
-NBA Combine Competitive Action Recap: Day One
Game Three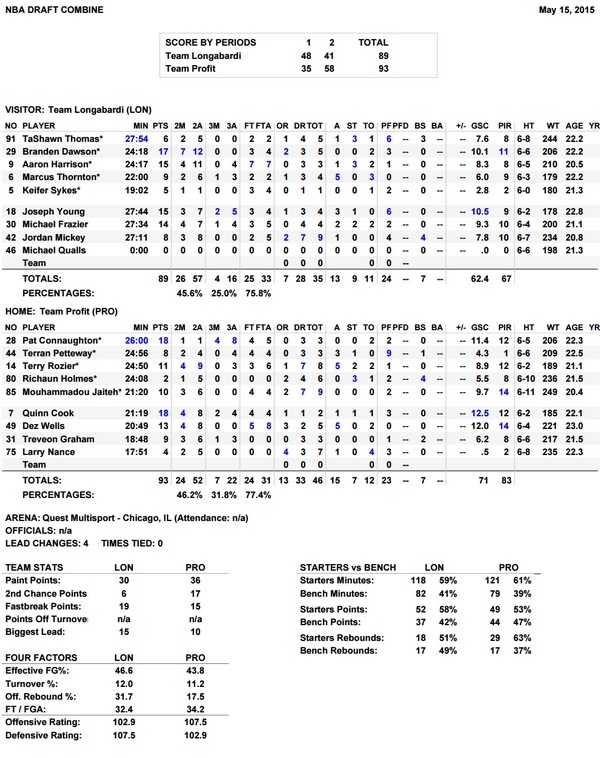 Quinn Cook, 6-2, Point Guard, Duke
18 points, 2 rebounds, 1 assist, 1 turnover, 1 steal, 4-8 2P, 2-4 3P, 4-4 FT, 21 minutes
Quinn Cook
was not having a particularly impressive game early on, struggling with his outside shot and having a difficult time finishing around the basket. He came alive with his team down by 15 points, though, making some big hustle plays and hitting a number of difficult shots, before icing the game at the free throw line. His experience, energy and leadership skills were on full display, as they often were at Duke, and it really wasn't a surprise at all to see him will his team back into the game (and finish the Combine undefeated) considering what we've seen from him over the past four years.
While much of the attention for Duke's national title run deservedly went to the freshmen Okafor, Winslow and
Tyus Jones
, Cook's role shouldn't be understated. He shot 40% from the 3-point line, made 90% of his free throws, played competitive defense every minute he was on the floor, and absolutely never turned the ball over (8.8% TO%, #1 among DX-100 PGs).
NBA teams have quietly been talking about his potential as a role player off the bench thanks to his ability to organize, make open shots, compete on defense, and bring superb character to their organization every day thanks to his very strong intangibles. Even if he doesn't get drafted, he'll have a very good chance to make a roster and play a similar role to that of
Patrick Mills
or
Matthew Dellavedova
if he can find a way to carve out a niche.
Pat Connaughton, 6-6, Shooting Guard, Notre Dame
18 points, 3 rebounds, 0 assists, 2 turnovers, 0 steals, 1-1 2P, 4-8 3P, 26 minutes
After a fairly quiet first game,
Pat Connaughton
really came alive in the second and final contest, hitting a barrage of 3-pointers both with his feet set and off the dribble, some of which came from well beyond the NBA 3-point line. A 42% 3-point shooter this season, Connaughton has picture perfect form on his jump-shot, making him an extremely reliable option in catch and shoot situations. He even flashed a little more than just his outside shot, shot-faking on one occasion and smartly drawing a foul in the lane, and coming off a curl on another occasion and tossing in a pretty floater in the lane. Connaughton is not a particularly gifted defender, something he'll have to work on, but he makes up for it in other areas, particularly with his rebounding at the college level.
A lot of eyebrows were raised when Connaughton posted a 44 inch max vertical leap in the athletic testing, and he is indeed an extremely explosive jumper off one leg as he displayed on a number of occasions this past season, most notably against Kentucky in the NCAA Tournament. Many teams questioned the validity of that figure though considering that he measured a standing reach (a key component of the vertical leap) of just 8-feet, which is one of the smallest numbers ever for a player his size (particularly one with a 6-9 wingspan). Even more strange is the fact that he measured a standing reach of 8-3 ½ just a month ago at the Portsmouth Invitational Tournament, which is a much more realistic figure in all likelihood. Regardless, even if Connaughton's vertical leap is closer to the 40 inch mark, that's still a very impressive mark.
Branden Dawson, 6-6, SF/PF, Michigan State
17 points, 5 rebounds, 0 assists, 2 turnovers, 7-12 2P, 0-0 3P, 3-4 FT, 24 minutes
After a relatively quiet first game, shooting just 3-11 from the field,
Branden Dawson
had a much stronger outing in his team's final game, leading them in scoring with 17 points despite seeing just 24 minutes of action. Dawson did not have a great showing in the shooting drills in the morning, sporting a fairly slow and mechanical looking jumper with somewhat of a hitch at the end of his release, but he nevertheless made a number of mid-range jumpers off the dribble in rhythm in the game, looking fairly confident and aggressive in doing so. He also showed some ball-handling ability in the open floor, another element of his game that we didn't see too much of in his time at Michigan State.
Dawson also used his tremendous athleticism to finish above the rim repeatedly, and defended a variety of different positions, grabbing some strong rebounds as we've grown accustomed to seeing from him.
Dawson's lack of size (he measured 6-5 ½ without shoes) is a bit of a tough sell at the power forward spot, but his 6-11 wingspan, chiseled 230 pound frame, and outstanding athleticism does give him a fighting chance when he's playing the way he did today. Teams do like his pedigree after playing under Tom Izzo for four years, and even if he doesn't hear his name called on draft night, he'll certainly continue to get looks from NBA teams, especially if he can find a way to become at least a passable corner 3-point shooter.
Michael Frazier, 6-5, Shooting Guard, Florida
14 points, 4 rebounds, 2 assists, 2 turnovers, 2 steals, 4-7 2P, 1-4 3P, 27 minutes
After a strong 17-point outing in the first game (3/5 3P),
Michael Frazier
put together another strong performance in his team's final contest, showcasing a little more versatility than we had grown accustomed to seeing from him in his three years at Florida. He is a strong athlete who competes hard defensively, which already separates him somewhat from most one dimensional shooters, and he was able to hit a variety of shots in different ways that demonstrated that he may be able to develop into more than just a floor-spacer on offense. Frazier ran off a screen elegantly and hit a beautiful shot with great footwork and balance, and also converted a number of off the dribble jumpers in the mid-range area when the defense sagged off him. Combine all that with very solid measurements for a NBA shooting guard (6-5 in shoes, 6-8 wingspan), and a terrific showing in the shooting drills, and it's easy to point to Frazier as one of the players who helped themselves the most at the NBA Combine this week.
Jordan Mickey, 6-8, Power Forward, LSU
8 points, 9 rebounds, 1 assist, 0 turnovers, 4 blocks, 3-8 2P, 2-5 FT, 27 minutes
After being arguably the best player on the floor in his team's first game, Mickey once again had a very strong showing in day two, particularly on the defensive end of the court. He was again incredibly active trying to protect the rim and still stay solid on the glass, coming up with plenty of deflections and blocks in the process. Offensively, his lack of polish showed at times, but he was able to draw some fouls in post-up situations, and stepped into a very nice looking 20-foot jumper in the early offense that he swished in very comfortable manner. Mickey's shot looked better than advertised in the shooting drills, even out to the NBA 3-point line, and it wouldn't be shocking to see him continue to move his game out to that range as his career moves on. Combine all that with the fact that he measured a legit 6-8 in shoes, with a superb 7-3 ¼ wingspan, and it's much easier to envision
Jordan Mickey
as an early 2nd round draft pick (or maybe even late first) than it was a few weeks back. He was clearly one of the best players in Chicago, and likely helped himself as much as anyone.
Game Four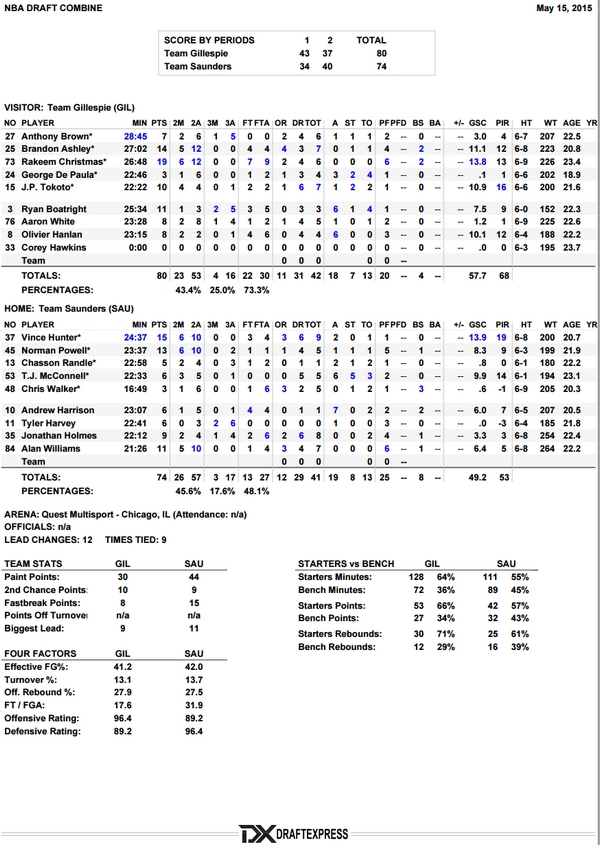 Alan Williams, Center, UC Santa Barbara
11 points, 7 rebounds, 1 block, 5-10 2P, 1-4 FT, 21 minutes FT
The UC Santa Barbara big man strung together back-to-back impressive performances, going for 12 points and 15 rebounds on Thursday and 11 points and 7 rebounds on Friday. As was the case in the college ranks, Williams dominated the glass on both ends of the floor, keeping plays alive and beating opponents to the ball, despite his lack of vertical explosiveness and average 8' 10.5" standing reach.
Williams has outstanding instincts on the glass and isn't afraid to throw his 261-pound body around. Williams snatched 9 offensive rebounds in 62 total minutes over the course of both games, including two put backs during Friday's session. Williams did more than just man the boards, however. The 6' 8.25" center proved to be extremely nimble on his feet for a player his size, regularly hedging and recovering in the pick and roll and sprinting into screens on the offensive end.
Although not the fastest-twitch player against elite athleticism, Williams showed that he had the footwork to at least keep power forwards in front as a space defender. As was the case on Thursday, Williams was a mixed bag offensively as he scored on the block and in the paint but struggled to get it going from 15 feet and out, which is one of the main aspects of his game limiting his ability to play the four at the NBA level.
Williams missed a handful of mid-range jumpers over the course of both sessions (and went 3-of-8 from the line) but was able to assert his dominance in the paint on a couple of occasions thanks to his strength, footwork, and touch. Williams pivoted spun back to his left shoulder and dropped in right handed jump hook from well outside of the right block on one occasion, and buried
Rakeem Christmas
with a deep seal and finished an And 1 jump hook on another possession. Williams' average size, limited leaping ability, and struggles playing outside of 15 feet hurt his NBA chances, but his strength, outstanding rebounding instincts, touch in the paint and agility for his size may him an attractive option to a team in the second round.
Norman Powell, Shooting Guard, UCLA
13 points, 5 rebounds, 1 steal, 6-10 2P, 0-2 3P, 1-1 FT, 21 minutes FT
Powell wasn't perfect on Friday but he made enough dynamic plays on both ends of the floor to help make up for some of his shortcomings as a shooter and overall scorer in the half court. Powell put together an impressive second half in which he used his athleticism to make plays in the open court and his aggressive mentality to attack the rim in the half court, all while chasing
Anthony Brown
around relentlessly on the other end of the floor.
Powell struggled with his jump shot overall on Thursday and Friday, but he was able to knock down a one-dribble pull up after a hard jab step right and pound dribble going left. Powell's most impressive play came on a straight line drive after his defender gambled on the pass. Powell attacked the rim and took off well outside of the painted area for what looked like a dunk attempt vs
Rakeem Christmas
. As the 6' 3" explosive shooting guard saw Christmas 7' 5" wingspan at the rim he adjusted mid-air and finished underneath the Syracuse big man's arms to convert the And 1.
Powell finished another straight line drive off of a side out of bounds play and also attacked the rim in the half court to draw the backline defender before dropping it off to
Vince Hunter
for a layup. As was the case on Thursday (and at times at UCLA) Powell did tend to settle for contested jumpers early in the clock and showed an average feel for the game when he tries to play outside of himself. Luckily for Powell, he projects more as a role player at the NBA level and has the potential to be a lockdown defender who can make plays in the open court and attack in a straight line in the half court. Powell needs to refine his jump shot to keep defenses honest, but he showed other aspects of his game on Friday that make him an intriguing pick in the second round.
Jonathan Holmes, Power Forward/Small Forward, Texas
9 points, 8 rebounds, 1 block, 2-4 2P, 1-4 3P, 2-6 FT, 22 minutes
Holmes didn't shoot the ball all that well on Friday (1-for-4 from 3 with the only make being a banked shot, and 2-for-6 from the line) but he once again flashed his versatility on the offensive end, showing he has the skill set to hurt defenses from multiple areas on the floor.
Holmes couldn't get his jumper going, but he was able to get to the line off of a strong straight line drive from the left wing early in the first half. Holmes did some damage in the paint as well, oftentimes operating as the roll man or attacking the rim from mid-post spots. Holmes caught and finished an
Andrew Harrison
drop off, got to the line after an aggressive rip through drive from the mid-post, and spun and finished a jump hook after receiving a pass from the perimeter just outside of the left block. With Holmes' ability to make shots from the perimeter (although not all that consistently) and score on the interior at 6' 9" 242 pounds, he's going to be very easy for NBA coaches to fit him into their offensive sets at either forward spot.
Holmes also did some nice things defensively, blocking a
Brandon Ashley
jump shot and forcing a turnover by containing the ball in the pick and roll. Holmes isn't exactly great in one area and still has room to improve as a jump shooter, but with his NBA ready body and offensive versatility he's a solid option for a playoff team looking for someone who can play a role right away as a stretch four who can play some three in a pinch. Players in his mold are very much en vogue in today's NBA, and it feels like Holmes still has plenty of upside to grow into, despite being a senior.
T.J. McConnell, Point Guard, Arizona
6 points, 6 assists, 5 rebounds, 5 steals, 3-5 2P, 0-1 3P, 22 minutes

McConnell was one of the best players on the floor on Friday as he impacted the game on both ends of the floor with his ball pressure, defensive toughness, playmaking ability, and vocal nature. McConnell set the tone on the defensive end, where he picked up 94 feet for the second consecutive game, hounding opposing guards and making them work just to initiate the offense. McConnell finished the game with five steals and forced a handful of turnovers with his relentless ball pressure.

The 23-year-old Arizona point guard also made plays as an off ball defender, showing excellent instincts and anticipation in the passing lanes while also regularly stunting at shooters to force them to second guess their open look and put the ball on the floor as the defense recovered.

While McConnell set the tone on the defensive end, he also ran the show as the floor general on offense. McConnell moved the ball ahead in transition with regularity, broke down his man off the dribble to find shooters and bigs underneath, hit the pop man with pocket passes out of the pick and roll, and hit the weakside shooter in the hands consistently, playing with excellent pace and timing out of ball screens. McConnell also knocked down a 15-foot pull up, finished in transition after an on ball steal, and got all the way to the rim in the half court and converted an uncontested finger roll.

McConnell did miss a spot up three and a pull up jumper and fail to finish a speed layup at the rim against length, but he played a complete game on both ends of the floor and certainly helped himself in both 5 on 5 sessions. McConnell may not hear his name called during the 2015 NBA Draft, but he'll certainly get his fair share of summer league and vet camp invites, giving him a chance to play his way onto an NBA roster as a third point guard.
Olivier Hanlan, Point Guard/Shooting Guard, Boston College
8 points, 6 assists, 4 rebounds, 5 steals, 2-2 2P, 0-1 3P, 4-6 FT, 23 minutes

The Boston College combo guard showed his offensive talent on Friday both as a scorer and playmaker. Hanlan did a tremendous job playing at different speeds and stopping on a dime to change directions, allowing him to slice through the defense and get to the line or kick out to teammates. The Canadian guard, who left Boston College after his junior season, proved he's comfortable operating both on and off the ball. He beat the pick and roll big defender on a couple of different occasions with crossovers and combo moves, and also attacked closeouts from the wing spots, showing a strong first step and solid burst. Hanlan didn't shy away from contact in the paint and got to the line 10 times in two games. Although he did most of his damage attacking the rim, Hanlan is a very capable shooter with compact mechanics and a solid release point. Although he didn't break out with any monster performances, Hanlan showed glimpses of his offensive talent both as a scorer and capable playmaker. The 6' 4" guard has solid value as a second round pick who projects as a scoring point guard who's able to also run an offense and facilitate when necessary.