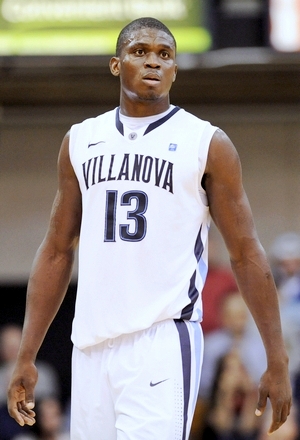 Matt Williams
A prospect we've covered in detail on five separate occasions over the past few years, Mouphtaou Yarou is one of the only returning seniors on Jay Wright's roster. The Benin native's junior season was not a major departure from what we saw from him as a sophomore –he was a rock solid rebounder, provided a physical presence around the basket defensively, and showed nominal progress in a marginally bigger offensive role. With Maalik Wayns and Dominic Cheek moving on to the professional level, Villanova will look to a number of newcomers to help fill the void in its backcourt. Yarou's ability to become a more polished offensive player and mesh with his new teammates will be a key to the Wildcat's success and his draft stock.
A 6'9 center with a 6'11 wingspan, Yarou's biggest strength is his ability to use his 250-pound frame to be a presence on the glass and on the defensive end. An average athlete, Yarou lacks great agility and operates mostly below the rim, but compensates with a solid mobility, a terrific motor, and a willingness to be physical in the paint.
On the offensive end, Yarou remains capable, but raw, and has yet to answer many of the questions we outlined in our last report. He scores in the post with a basic repertoire of moves, finishes at a good rate around the basket, and is a stand out rebounder at the college level, but he still lacks polish, appears mechanical at times, and is limited in his ability to make major contributions on this end of the floor with any consistency.
Yarou did take significantly more jump shots last season than he did as a sophomore, seemingly trying to become a more versatile offense threat. Finding mixed results, he connected on 15 of the 44 jumpers he attempted, but still has plenty of work to do to become a competent midrange scorer and a more viable offensive weapon on the whole.
Defensively, Yarou's motor allows him to be a factor in the paint and on the boards as he tries to get his hands on every loose ball. His inability to change directions quickly limits him away from the basket to some degree and he finds himself out of position at times, particularly guarding the pick and roll, but he seldom gives up on plays. Making some terrific plays rotating over from the weakside, Yarou has all the tools to capably defend at the NBA level. He didn't block shots at quite the same rate he did as a sophomore, but didn't foul at as high a rate either, doing a better job going straight up and simply absorbing contact right into his chest.
One of the top senior prospects at the center position, Mouphtaou Yarou has yet to live up to the lofty expectations set for him earlier in his career. He's made small, consistent improvements in each of his seasons at Villanova, but a breakout year, especially on the offensive end, could help him regain some of the momentum he's lost among NBA decision-makers in recent seasons.