NBA Draft Prospect of the Week: Robert Upshaw
March 11, 2015
Robert Upshaw was in the midst of a strong sophomore season for Washington until he was abruptly dismissed at the end of January, with head coach Lorenzo Romar wishing him "well as he moves forward in his life." This was the second time the 7-footer was shown the door by a college program in mid-season, which is a serious red flag NBA teams will want to explore further should he decide to enter the draft.

Nevertheless, Upshaw's talent will likely lead a team to give him another opportunity, as players with his physical tools are rare and coveted commodities in today's NBA.

(Video may not load with Internet Explorer. Use Chrome or Firefox)

Standing 7-0, with a 7-4 wingspan and a 264 pound frame, Upshaw has good mobility for a player his size. He runs the floor well when he wants to, can cover ground fluidly inside the arc, and plays above the rim with relative ease. Although not a freakish athlete, he's very agile.

Upshaw's best attribute from a NBA standpoint is undoubtedly his ability to protect the basket. His terrific length, mobility and instincts helped him emerge as a terrific weakside presence, blocking an outstanding 7 shots per-40 minutes in his 19 games at Washington, which ranks #1 in all of college basketball by a good margin. Look no further than the drop-off the Huskies suffered once he was booted off the squad to understand what his presence meant to them defensively. Washington was 0.07 points per possession better (0.97 compared with 1.04) with him on the floor this season, while opposing teams shot 38.5% from 2-point range with him patrolling the lane, and 49.7% when he wasn't on the court.

Upshaw's strength gives him good potential as a post defender as well, even if he doesn't always make the most of it at the moment. He tends to let opponents establish deep post position on him at times, just thinking his length and timing will bail him out, which it often did at the college level. Similarly, his mobility gives him some potential as a pick and roll defender, but his poor fundamentals and average intensity caused him to look like somewhat of a fish out of water when stepping outside of the paint.

Upshaw rebounded at an excellent clip this season—with his 13.4 rebounds per-40 minutes ranking fifth best among college prospects in our Top-100 rankings. He has very good potential here thanks to his long arms, strong frame, soft hands and solid instincts, even if he doesn't always take advantage of this as much as he should due to his average motor and occasionally poor focus.

Offensively, Upshaw showed some flashes on occasion this past season, scoring nearly 18 points per-40 on an excellent 60% shooting from the field. He was one of the best finishers in college basketball, converting a scintillating 75% of his attempts around the basket thanks to his solid hands, quick vertical jump and long arms. His post-game is a work in progress, though, as while he has the strength to back down weaker opponents, and decent footwork and touch, he shows nothing resembling an off-hand or counter moves if his right-handed jump-hook shot is taken away, and is a poor passer as well. He generated an assist on just 4% of his possessions, or one for every 53 minutes he's on the court.

Upshaw gets to the free throw line at a solid rate (7 times per-40), but is largely hopeless once there—converting just 43% of his attempts from the charity stripe on the season. He doesn't have any range outside of the paint, as you'd probably glean from his poor free throw percentage.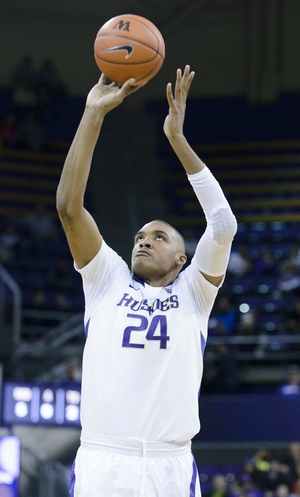 US Presswire



Upshaw was slowly moving his way up draft boards before being dismissed, leading Washington to a solid 14-5 record, while posting excellent individual stats. He's now in fairly murky territory, though, being booted off two separate programs in three years and leaving plenty of question marks about his off-court habits. Can a NBA team trust him enough to invest a first round pick on? Is there any reason to believe things will be any different on the next stop of his journey than they were at Fresno State or Washington? To Upshaw's credit, plenty of people make mistakes at age of 21 and still go on to lead productive lives and careers. But he'll have to give NBA teams reason to believe things will be different before they are willing to make a long-term investment in his future.

[Read Full Article]

---
Robert Upshaw vs Jakob Poeltl Head to Head Matchup Video Analysis
January 26, 2015
More Situational Videos from Mike Schmitz
-Jahlil Okafor vs Frank Kaminsky Head to Head Matchup Video Analysis
-Myles Turner vs Kentucky's NBA Frontcourt Video Analysis
-Kristaps Porzingis vs Barcelona Video Analysis
-Ben Simmons vs Ivan Rabb Video Analysis
-Jakob Poeltl vs Cliff Alexander Head to Head Matchup Video Analysis
-Montrezl Harrell vs Kentucky's NBA Frontcourt Video Analysis
-Rashad Vaughn vs Arizona Video Analysis
-Christian Wood vs Arizona Video Analysis
-Jerian Grant vs J.P. Tokoto Video Analysis
-Bobby Portis vs Damian Jones Video Analysis
-D'Angelo Russell vs Louisville Video Analysis
-Delon Wright vs Rondae Hollis-Jefferson Video Analysis
-Stanley Johnson vs Anthony Brown Head to Head Matchup Video Analysis
---
Take a look at our video section for a compilation of all the videos we've produced this year.
[Read Full Article]

---