Sean Kilpatrick
Recent Tweets
All Tweets
DraftExpress: Notable Undrafted 2 Deonte Burton Mike Moser Bryce Cotton Sim Bhullar Sean Kilpatrick Kendall Williams Jordan Bachynski Niels Giffey
2014-06-27 00:11:20
Team: Delaware
Physicals
Positions
Salary
Misc
H: 6' 4"
W: 219 lbs
Bday: 01/06/1990
(25 Years Old)

Current: SG
NBA: SG
Possible: SG

Agent: Zach Kurtin

High School: Notre Dame Prep
Hometown: White Plains, NY

Predraft Measurements
| Year | Source | Height w/o Shoes | Height w/shoes | Weight | Wingspan | Standing Reach | Body Fat | No Step Vert | Max Vert |
| --- | --- | --- | --- | --- | --- | --- | --- | --- | --- |
| 2014 | NBA Draft Combine | 6' 2.5" | 6' 4.25" | 219 | 6' 7" | 8' 3" | 9.2 | NA | NA |



Basic Per Game Statistics

- Comprehensive Stats - Statistical Top 25s
| Year | League | Name | GP | Min | Pts | FG | FGA | FG% | 2Pt | 2PtA | 2P% | 3Pt | 3PtA | 3P% | FTM | FTA | FT% | Off | Def | TOT | Asts | Stls | Blks | TOs | PFs |
| --- | --- | --- | --- | --- | --- | --- | --- | --- | --- | --- | --- | --- | --- | --- | --- | --- | --- | --- | --- | --- | --- | --- | --- | --- | --- |
| 2015/16 | DLEAGUE | Sean Kilpatrick | 4 | 35.5 | 27.3 | 9.8 | 18.8 | 52.0 | 6.0 | 10.8 | 55.8 | 3.8 | 8.0 | 46.9 | 4.0 | 5.3 | 76.2 | 1.5 | 2.5 | 4.0 | 1.5 | 1.3 | 0.0 | 3.0 | 0.8 |

Player Page&nbsp&nbsp| Player Stats | Mock Draft History | Related Articles&nbsp&nbsp| Add to My Draft Express&nbsp
&nbsp
Situational Statistics: the 2014 Shooting Guard Crop
June 19, 2014
-Sean Kilpatrick warrants mention as the highest usage player in this group. Using 19.9 possessions per-game and placing prominently in usage in nearly every playtype, Kilpatrick ranked slightly above average in scoring efficiency. He was particularly efficient in limited isolation touches and overcomes his below average overall jump shooting accuracy by scoring 1.307 points per finishing chance to rank 3rd among his peers. Playing against defenses geared to stop him and carrying Cincinnati offensively for long stretches, Kilpatrick's mustered solid efficiency numbers in a huge role with tremendous toughness and intensity.

[Read Full Article]

---
Sean Kilpatrick 2014 NBA Pre-Draft Workout and Interview Video
May 27, 2014
We joined Sean Kilpatrick as he works out in preparation for the 2014 NBA Draft, and discussed a number of topics with him, including what he's trying to improve on in the short-term, what he feels he can bring to a NBA teams, and how he's enjoyed the draft process so far.



Video produced by Tad Hathaway of 312Media



Previous 2014 NBA Draft Workout Videos


-Joe Harris
-Doug McDermott
-Nik Stauskas
-Adreian Payne
-K.J. McDaniels

[Read Full Article]

---
Top NBA Prospects in the AAC, Part Three: (#6-10)
October 23, 2013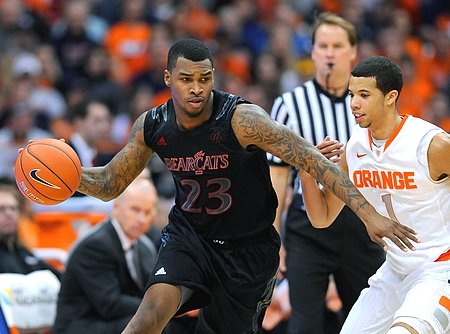 US Presswire



Josh Riddell

Sean Kilpatrick spent his summer playing at the World University Games, where he averaged 7.5 points per game in 18 minutes for the USA team, who finished a disappointing 9th in the tournament. Kilpatrick did get to play alongside some of the top returning collegiate players and will look to leverage this experience into another successful season at Cincinnati, as he hopes to finish his career by leading the Bearcats back to the NCAA tournament for a fourth consecutive year.

After stepping into a larger offensive role his sophomore season, Kilpatrick increased his workload on the offensive end even more in his junior season, as he upped his field goal attempts per game from 11.7 to 14.4. However, he was less efficient with his shots, as his effective field goal percentage dropped from 53% to 48%. Going deeper, we see that while his two point field goal percentage increased slightly from 49.7% to 50.7%, his three point field goal percentage dropped substantially from 37.6% to 30.7%. Scouts will want to see how Kilpatrick responds in his senior season and whether he's able to shoot the ball with consistency like he did in the past.

Kilpatrick still relies on jump shots for the majority of his offense, but his shot selection was not as good last year, which is one of the main reasons his field goal percentage dropped. Many of his catch and shoot attempts were contested, and even though he has a quick release, these were difficult shots to convert. He also took many more shots off the dribble, and while he was great at remaining on balance in his sophomore season, he struggled with this in his junior year, which turned many of his shot attempts off the dribble into off-balance shots. Kilpatrick won't have much help on the offensive end again this season, so will need to balance the need for carrying the offense with showing he can make smart decisions in terms of shot-selection.

Kilpatrick more than doubled his pick and roll plays from his sophomore to junior season, as 10.4% of his plays were logged by Synergy Sports Tech as the ball handler in the pick and roll. However, he did not look comfortable handling the ball in these situations, causing him to make bad decisions, such as too many contested mid-range jumpers, and turnovers. While he won't expected to be a great option with the ball in his hands in the NBA, scouts will want to see him round out his offensive game.

Another way Kilpatrick can do this is by getting to the rim more, especially when his jump shot is not falling. His 5.0 free throw attempts per 40 minutes pace adjusted is up significantly from 2.8 the year before, but is still only average for a shooting guard. He has the strength to bully his way through the paint and finish at the rim, but he does need to become a more confident ball-handler to feel comfortable getting to the rim off the dribble. His lack of confidence creating off the dribble limits his scoring opportunities, which could hurt his attractiveness to scouts.

Defensively, Kilpatrick is already at a detriment due to his physical tools, as he is only 6'4" with an average wingspan, putting him at an immediate disadvantage against NBA caliber wing players. He compounds this by showing poor fundamentals on defense as he is often out of position or closes out poorly when playing off the ball. Against ball screens, he doesn't always put forth the effort necessary to stop the action, which leads to easy opportunities for his opponent.

On the ball, he shows a much better work ethic as he moves his feet well to try to stay in front of the defender. However, he often gets beat off the dribble and tends to give up on the play when his man is by him. Scouts will want to see more effort and discipline from him on this side of the court, especially considering his disadvantages physically.

Overall, scouts will want to see Kilpatrick find the success he had shooting in his sophomore season where he posted much more efficient shooting percentages. Kilpatrick will again be the primary offensive weapon for the Bearcats and will have to show he can do more than shoot jump shots to impress draft scouts in his senior season, where he will turn 24 in January. A shooter of his skill will certainly find interest from Europe, but he'll need to round out his offensive game while putting forth better effort on the defensive end to garner more buzz from NBA teams.

[Read Full Article]

---
Top NBA Prospects in the Big East, Part Four
October 18, 2012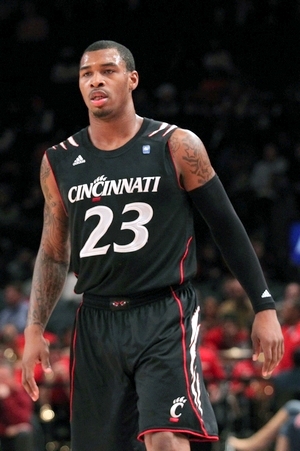 US Presswire



Derek Bodner

After playing 20 minutes per game as a spark off the bench his freshman year, Sean Kilpatrick stepped into a starter's role for the Cincinnati Bearcats. While his per-minute production took a hit, from 19.7 points per 40 minutes to 16.8, his 14.3 points per game led the deep Bearcats in scoring.

Kilpatrick's bread and butter remains his jump shot, with over 50% of his offense coming from behind the three point line, where he shoots 37.6% from three point range on nearly 7 attempts per game, with range out beyond the NBA three point line. Kilpatrick has a short, compact release which allows him to get his shot off with little space and shows very good follow through and consistency in his release, leading to consistent results.

He also does a good job shooting off the dribble, showing an ability to square up and gain his balance off the dribble. This threat to shoot off the dribble opens up some driving lanes for Kilpatrick, which is mostly a mixed bag at this point. Kilpatrick is fairly quick, and has a strong frame, making him a threat to get in the paint if defenses close out recklessly. According to Synergy Sports Technology, Kilpatrick got 11.8% of his offense off of isolation situations this past year, up from just 2.3% his freshman year.

Not having great size, and showing just average explosiveness, Kilpatrick struggles finishing around the rim. He looks to show signs of having a solid floater and pull-up game, which if he can improve upon could help him mask this limitation somewhat.

The biggest obstacle preventing Kilpatrick from getting substantially more of his offense off of penetration right now is his lack of advanced ball handling moves. Kilpatrick is an average ball handler for a guard, lacking much in the way of counter moves and ability to change direction, and his left hand is under-developed. He does a good job of keeping turnovers to a minimum, but improving his ball handling skills is absolutely imperative if he hopes to become an effective high-volume shot creator.

Looking forward, Kilpatrick is a good shooter off catch and shoot opportunities, with a large portion of his jump shots coming in classic catch and shoot situations. He does a good job of being in good shooting position and ready for the pass, and his quick, consistent release make him a threat to shoot with the slightest bit of space. As he looks to move to the next level this is an area where a large portion of his offense is likely to come from as he's asked to create less for himself and others.

His ability to shoot off the dribble also lends him to potentially becoming a pick and roll threat at the next level. Kilpatrick hasn't been used very heavily in pick and roll sets thus far, as Cincinnati doesn't run a whole lot of pick and rolls to begin with and when they do Cashmere Wright and Dion Dixon have gotten the most of the opportunities. That being said, while Kilpatrick isn't all that natural of a passer, he has shown good ability as a scorer off the pick and roll in the limited opportunities he has gotten, with an ability to both get into the lane and shoot off the dribble. With Cincinnati having lost Dion Dixon to graduation, whether or not Kilpatrick is placed in more pick and roll opportunities will be interesting to watch.

On the defensive side of the ball, Kilpatrick stands 6'4" with an average wingspan, which could present some problems defending bigger shooting guards at the next level. He moves his feet relatively well, and puts a very good effort in, but struggles recognizing and fighting over screens. Continuing to add strength to his frame would be beneficial going forward.

With Cincinnati having lost Dion Dixon and Yancy Gates to graduation, they will be looking for Cashmere Wright and Sean Kilpatrick to create more for them in the half-court. In order to do so, Kilpatrick will have to become a more well-rounded scorer. How well Kilpatrick, reportedly a very hard worker, improves upon these skills could go a long way towards determining what kind of role he may be able to fill at the next level.

[Read Full Article]

---