Steve Novak
Recent Tweets
All Tweets
DraftExpress: Van Gundy started Steve Novak (Morey told him "play him play him") his first game as a rookie, but he thought he was a 4. Very strange #SSAC
2012-03-02 02:48:52
DraftExpress: Steve Novak will sign a 10-day contract with the San Antonio Spurs tomorrow. Spent 48 hours in the D-League before getting the call-up.
2011-02-07 10:31:58
Top 25s - Full List
Team: Thunder
Physicals
Positions
Rankings
Salary
Misc
H: 6' 9"
W: 216 lbs
Bday: 06/13/1984
(31 Years Old)

Current: SF/PF
NBA: SF
Possible: SF/PF

RSCI: 59

Agent: Mark Bartelstein
Current Salary:$3,445,947

High School: Brown Deer HS
Hometown: Brown Deer, WI
Drafted: Pick 32 in 2006 by Rockets
Best Case: 6-10 Kyle Korver
Worst Case: Matt Freije

Predraft Measurements
| Year | Source | Height w/o Shoes | Height w/shoes | Weight | Wingspan | Standing Reach | Body Fat | No Step Vert | Max Vert |
| --- | --- | --- | --- | --- | --- | --- | --- | --- | --- |
| 2006 | NBA Pre-Draft Camp | 6' 8" | 6' 9.25" | 216 | 6' 9.5" | 8' 7" | 8.1 | 24.5 | 31.0 |
| 2006 | Portsmouth | 6' 8.5" | 6' 10" | 216 | 6' 9.5" | NA | NA | NA | NA |



Basic Per Game Statistics

- Comprehensive Stats - Statistical Top 25s
| Year | League | Name | GP | Min | Pts | FG | FGA | FG% | 2Pt | 2PtA | 2P% | 3Pt | 3PtA | 3P% | FTM | FTA | FT% | Off | Def | TOT | Asts | Stls | Blks | TOs | PFs |
| --- | --- | --- | --- | --- | --- | --- | --- | --- | --- | --- | --- | --- | --- | --- | --- | --- | --- | --- | --- | --- | --- | --- | --- | --- | --- |
| 2015/16 | NBA | Steve Novak | 1 | 1.0 | 3.0 | 1.0 | 1.0 | 100.0 | 0.0 | 0.0 | &nbsp | 1.0 | 1.0 | 100.0 | 0.0 | 0.0 | &nbsp | 0.0 | 1.0 | 1.0 | 0.0 | 0.0 | 0.0 | 0.0 | 0.0 |

Player Page&nbsp&nbsp| Player Stats | Related Articles&nbsp&nbsp| Add to My Draft Express&nbsp
&nbsp
NBA Scouting Reports: Filling in the Blanks- Small Forwards (Part One)
November 9, 2009
Overview: 3-point shooting specialist who is slowly carving out a niche for himself in the NBA. Has good size for a player with his shooting ability, but lacks the quickness and explosiveness to make an impact in other areas on the NBA level. Possesses a poor wingspan as well. A noted marksman from the day he set foot on Marquette's campus. Improved his offensive versatility over his four collegiate seasons, but was drafted early in the second round for his ability to shoot the three. Played more games in his third year in the NBA than he did in his first two years combined. Has improved his efficiency from inside the arc while finding his stroke from deep. Not the most glamorous player, but a solid shooting specialist who would benefit from a few seasons in the same system. An opportunist who needs the right players around him to be effective and can help spread the floor. Not a good enough defender to see big minutes on most teams. High character individual.

Offense: As with most shooting specialists, Novak gets most of his offense in catch and shoot situations when spotting up. Over 70% of his field goal attempts come from beyond the arc. Gets an extremely low percentage of his attempts around the basket and is almost exclusively a jump shooter. Displays good form featuring a high, compact release and nice follow through. Works well off the ball, displaying the ability to hit jumpers running off of screens. Tends to fade away when shooting of the catch moving to his right, limiting his effectiveness a bit. Reasonably efficient shooting on the move, but significantly better when he's floating on the perimeter with his feet set. Doesn't put the ball on the floor very often. Highly one dimensional, but very good at what he does. Able to spread the floor for his teammates and requires attention on the outside. Solid passer who understands his role. Not a playmaker by any stretch of the imagination, but also almost never turns the ball over. Lights out from the foul line, although he only gets there once in a blue moon. Not a dynamic scorer, but provides a different dimension offensively with his range.

Defense: An active defender who lacks the tools to make much of an impact. Doesn't have the length, strength, lateral quickness or explosiveness to effectively defend the perimeter or the post. Tends to be targeted in the post where more athletic power forwards can take advantage of him. Doesn't display great recovery speed when trying to get back to his man after helping or closing out shooters. Lacks the leaping ability and quickness to make an impact on the glass and won't force any turnovers or block any shots. Will do his best to keep his man from gaining position on the block and gets in a stance out on the perimeter, but lacks the physical profile to be an average defender.

[Read Full Article]

---
Orlando Pre-Draft Camp: Day 3 (Last Update: 10:46 AM)
June 8, 2006

This was a lackluster performance for Steve Novak, not seeing the ball an awful lot, being a bit too unselfish compared with how some of the others are playing here, and not knocking down a number of outside shots that he would usually knock down with his eyes closed. His passing looked crisp and excellent throughout the game, though, and his defense was quite a bit better than it was yesterday.

[Read Full Article]

---
Private Workout: Rudy Gay, Steve Novak, Gray, Loughton
May 23, 2006

While Gay is the athletic freak who is oozing with potential but will need to be harnessed a bit until he fully learns how to play up to his strengths, Novak is the crafty senior who is already superb at what he does well and is ready to step into his likely NBA role from day one.

We were warned beforehand that Novak is likely to look much better in the drills portion of the workout than the competitive one on ones, but that ended up not being the case at all here, as he looked very very good in both.

He handled the ball effortlessly in the ball-handling drills, maintaining control at all times while running and up down the floor, and looked smooth pulling up off the dribble and using the glass. Throughout the workout it was clear that we're dealing with one of the most lethal shooting threats we'll probably ever witness in this type of setting. His jump-shot is fine-tuned like a well oiled machine, identical in it's mechanics on each attempt, featuring an incredibly quick release, a beautiful follow through, and deadly range and accuracy. In the drive and kick portion of the workout, he was especially impressive, not missing more than one or possibly two attempts of all the shots he took from mid-range and behind the 3-point line, either from static positions or off the dribble. While watching this drill, a half a dozen NBA teams or more immediately sprung to mind as being able to use this type of threat on the wing right now if they could.

Once the one on one session began, we thought Novak would struggle a bit since he was never considered much of a shot-creating threat in college and was supposed to be at a distinct disadvantage when pitted up against a smaller and quicker player like Gray or a long and disruptive freak like Gay. That wasn't the case, though, as he seems to be more mobile than he gets credit for and is smart enough to know what his strengths are and play to them at all times. One would think that he'd go to his 3-point shot at all costs, but he actually did a wonderful job of keeping his defender guessing at all times by taking him down to the post, and using crafty step-through pivot moves and pull-up jumpers off the glass from mid-range.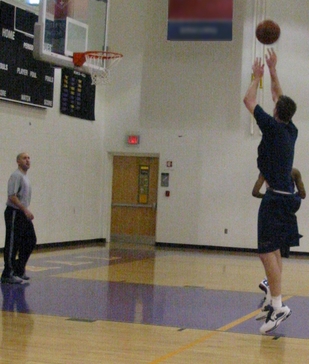 Jonathan Givony, DraftExpress.com



Once he established that he's more than just a one-dimensional shooter, he reminded us what we here for by knocking down an effortless 3-pointer in the blink of an eye from 30 feet out that barely touched the net. He got each of his defenders in the air on multiple occasions just with the threat of his lethal jump-shot, and then sailed smoothly to the rim for the easy finish after the pump-fake. When he did put himself in jail by giving up his dribble, he still used his height and intelligence impressively to knock down tough, contested shots while fading away left or right.

Defensively, he actually did a solid job using his length and getting a hand in his matchup's face on most possessions, mostly due to the effort he put in on this end. He anticipates very well and had all of the players here scouted very well from the few days he had worked out with them already, knowing their tendencies and what kind of counter moves they like to go to.

When he was not on the court, he showed a great attitude by constantly encouraging everyone else on.

In terms of weaknesses, there wasn't too much you could fault him for considering what we know about his likely role at the next level. He is a bit too upright (some would say 'stiff') in the way he moves laterally defensively, not getting low enough to the ground to challenge the often smaller players he will often encounter. His vertical leap is not off the charts, and he still could stand to add some strength to his fairly skinny frame. He's never going to be the type of player who creates his own shot off more than one or two short dribbles, but he seems smart enough to realize how not to be a liability here either. There was no offensive post game to be evaluated in order to see how well he uses his height

All in all he seems like the type of guy people will look back at in a few years and wonder how in the world he was drafted behind certain players who ended up being complete busts when the writing on him was all over the wall. As long as he falls in the right situation, he'll have a long and productive NBA career as a solid rotation player, and maybe even a 3-point contest win or two.

According to information we received independently following this trip, Novak worked out yesterday in Houston with Dee Brown, Chris Quinn, Paul Davis and Chris Hernandez. He has a very interesting workout coming up in Sacramento on Thursday with James Augustine, Kevin Pittsnogle and Steven Smith.

[Read Full Article]

---
Portsmouth Invitational Tournament: Recap
April 11, 2006
A player with possibly more to lose than anyone else participating at Portsmouth, considering the season he had and his well-established specialty skill, Novak for the most part maintained the status quo in showing the type of impact he can have with his perimeter shooting ability. Novak led his team by far in three-point shot attempts (7.3 per game) and converted 45.5% of them, fairly close to his season averages at Marquette. His ability to stroke the ball should be well-known by now considering that he's hit 368 of them in his college career. Novak showed his quick release and picture perfect mechanics repeatedly throughout the week here. His perimeter defense went largely untested as he played heavy minutes at the PF position, but he did do a decent job rebounding the ball, similarly to how he did as a college senior. Novak's role at the next level should be fairly obvious by now: a hired gun to bring off the bench and space the floor, and he did little to dispel that here. Even though he had one awful game where nothing was falling for him in many large stretches, he did a great job otherwise, showing teams the type of impact he can make as a specialist at the next level.

[Read Full Article]

---
Portsmouth Invitational Tournament: Day Three
April 8, 2006
If anyone would have told Steve Novak that he would get this many open looks in a 32 minute span at an NBA pre-draft camp, he probably would have filled out a lottery ticket knowing he was on his way to a 40 point performance. Unfortunately that was not the way things worked out for him, missing open three after open three and not being able to get anything going to jump-start his shot from the perimeter. Things got so bad that even in warm-ups during half-time he couldn't get anything to fall for him, as this just did not appear to be his day in a game that his team easily could have won.

What's odd is that Novak was actually extremely aggressive looking for his own shot, moving off the ball extremely well, using the few screens his team did set for him and finding himself time after time in a situation to put points on the board. His stroke looked just as beautiful as ever, pulling up on a dime with a super quick release which he only knocked down on occasion.

Beyond the shooting Novak was as usual hit or miss. He got outmuscled in the post on a few occasions and got get nothing going putting the ball on the floor. When he did try he was either stopped in his tracks, had the ball stolen from him or passed the ball to an imaginary teammate out of bounds.

Novak has one last chance to redeem himself tomorrow in the 5:30 game. He didn't hurt himself all that much here when it's all said and done considering what his role is going to be in the NBA and how unlikely it was going to be for him to show that in this type of setting. Portsmouth, with it's almost exclusively mediocre point guard play and complete lack of coherent structure in half court sets is not really built for a player like Novak to succeed, but it would be nice to see him get his percentages from behind the arc even remotely close to where they were in college.

[Read Full Article]

---
NCAA Tournament: NBA Draft Stock Watch (round of 64, Thursday games)
March 17, 2006
A typical performance from Novak in the last game of his senior season was not enough to help Marquette beat Alabama. He showed great range on his shot as usual, and even heated up enough to bring Marquette back into the game down the stretch with two huge 3-pointers in a matter of 10 seconds. He wasn't good enough to get them into the lead, however, and missed a potential game tying wide-open shot that he would usually probably make in his sleep.

Novak was forced to guard the much bigger Richard Hendrix, and was burned whenever Alabama decided to go inside. This won't be as big of a problem in the NBA, where Novak would be guarding and playing the small forward position (though his lateral quickness might hurt him there). Steve Novak did what was expected of him, and it wasn't enough to lead Marquette to a win, but what he can do for an NBA team as a lights out tall shooter off the bench is still not in doubt.

[Read Full Article]

---
Steve Novak NBA Draft Scouting Report
January 7, 2006


Strengths


At 6-10, possesses terrific size for a small forward.

Offensively, his calling card in the NBA and easily his biggest strength lie in his shooting ability. Novak has been one of the best 3-point shooters in the country over the last four years, hitting 293 of his 640 attempts or 46% from behind the arc in his career as of the time of this report midway through the season.

His shooting mechanics are picture perfect; featuring a solid release point, an ultra quick release, and decent elevation on his jump shot. That, combined with his outstanding height, makes him a difficult player to fully contain on the perimeter, as he gets his shot off with very little space and is a threat from well beyond the NBA three point arc thanks to his deep range. His mechanics remain the same regardless of the nature of his attempt, whether it's off the catch and shoot, fading away off-balance with a man in his face, or either elevating or stepping back off the dribble from mid-range or beyond the arc. Novak catches the ball with great poise, squares his shoulders immediately and gets his shot off with the utmost confidence.

While he is not going to get to the line much in the NBA, Novak is about as close as you can get to being automatic from the stripe. At the time of this report Novak had only missed 14 free throws in his entire college career, shooting 93% over that span, and is currently working on a streak of 65 consecutive free throws which started almost a year ago.

Mostly a one-dimensional spot-up shooter as an underclassmen, Novak has put in the necessary work over the past few years to expand his offensive arsenal and make himself more of a diverse threat. He is now fully capable of putting the ball on the floor for short dribbles to create the inch or two of daylight that he needs to get his shot off, maybe with the combination of a head or shot fake to get his man in the air first. His terrific footwork and balance help him greatly in this area.

Although it's not as easy to see this skill translate to the NBA, he is also capable of punishing shorter matchups at the college level by catching the ball with his back to the basket and shooting over the top of them with a turnaround jumper (a move Nowitzki uses often at 7-1).

Generally being a smart player, as you would expect from a coach's son, he shows extremely good shot selection, even too good considering what an outstanding shooter he is. He is a fine passer and decision maker to boot, quite unselfish and always looking to make the extra pass; again, to a fault at times. Novak moves extremely well off the ball and appears to have a very good understanding of his team's half-court offense and how to maximize himself within it. He is excellent coming off screens and will make his defender work very hard to try and stop him with how crafty he is.

In terms of intangibles, Novak is reportedly a hard worker with an outstanding work ethic who is constantly looking to improve as a basketball player. He is also reportedly an excellent teammate, which is evidenced by his unselfish play. Off the court he often defers praise from himself from the media and instead prefers to talk about the team effort and his young teammates instead.

As noted in the competition section, Novak made a name for himself already as a freshman with his clutch shooting in the NCAA tournament, so you could say that he is experienced and no stranger to big games.



Weaknesses


While he is not a terrible athlete considering that he is 6-10, he is certainly not a speed demon in the open floor or a jumping jack type that explodes off the floor for put-back dunks. It wouldn't be a stretch to say that he is a below average athlete for the NBA level, and this fact hurts his potential in certain facets of the game.

Defensively would be the main one. Novak will likely struggle staying in front of his man on the perimeter at the NBA level, although not for lack of effort. His lack of lateral quickness would probably put him in the doghouse of many NBA coaches who expect more from their role players. He gets lost off screens at times, struggling to fight through them, and generally does not display the same type of awareness defensively that he does on the other end of the floor.

Novak's weight at 218 and frame is thin enough to let you know that small forward is likely his only realistic position at the NBA level. This is obvious since he plays mostly power forward in college and gets pushed around badly in the paint battling for rebounds and trying to stop his man defensively. It's not so much that he is soft, it's more that he is just not capable of holding his ground from a physical standpoint.

As much as he is a mismatch on the offensive end, often being guarded by post players who struggle to chase him around the three point arc, he suffers just as much on the other end of the floor. It's unclear whether he is such a dynamic offensive threat because of the fact that most teams do not have a matchup for him, and whether long and athletic 6-8 or 6-9 small forwards will be able to shut him down at the next level. To his credit, he was guarded by exactly that type of player in Rudy Gay against Connecticut and still did plenty of damage on him on his way to scoring 41 points.

Being somewhat on the one-dimensional side, when his 3-point shot is not falling for him, there are not many other ways that Novak can make his presence felt on the game. Over 72% of his career field goal attempts (at the time of this report) came from behind the arc. Not being much of a slashing threat because of his lack of strength and first step, his ball-handling is mostly limited to one or two short dribbles before pulling up for a jump shot.

Possibly most concerning is the fact that he has a tendency to disappear from games all too often. His fantastic shooting percentages are undoubtedly a feather in his cap, but you often have to wonder why he doesn't take more shots, especially when his team really needs him to? Novak has trouble being assertive night in and night out and finishes too many games in single digit field goal attempts, something that really hurts Marquette at times. He is not a very vocal player out on the floor and doesn't seem to demand the ball as you would expect a senior player with his type of talent. Novak certainly needs to play next to a playmaking guard or two that is willing to create shots for him and a coach that will run plays to take advantage of his shooting ability.



Competition


Novak played an important role as a freshman in helping a Dwyane Wade led Marquette to the Final Four in 2003, hitting 14 of his 25 shots from behind the arc in the NCAA tournament.

Marquette regressed after losing Wade, with the team only making the NIT over the next two seasons despite having plenty of talent on the roster, including current Orlando Magic point guard Travis Diener. Novak scored 12.5 and 13.5 points per game in those two seasons, improving as a player but never really taking that leap to stardom that many expected from him. This year with the team moving to the Big East it's unclear what to expect from them, as they are led by a freshman point guard in Dominic James who is incredibly talented but will likely be prone to inconsistency in the tough conference schedule. What's certain is that Novak will be challenged every single game. A massive win over UConn in the conference game opener (thanks to a career high 41 points and 16 rebounds from Novak) will help their resume tremendously.



Outlook


Shooters haven't fared as well as the often repeated "the NBA always needs shooters" manta would lead you to believe. Steve Kerr and Kyle Korver were drafted in the 50's in their respective drafts, one of the best shooters in NCAA history in Salim Stoudamire went in the 2nd round, players like Matt Walsh and Matt Freije only had a cup of coffee in the NBA, and the list goes on and on.

That makes Novak's draft stock hard to project, as on top of that he doesn't play for a sure-fire NCAA tournament team and can be a fairly inconsistent player that does not project very well to the NBA draft camp settings.

A team considering drafting him absolutely must know what they have on their hands, as he is a player that needs plays run for him as well as a point guard and teammates that are willing to get him the ball in a position to do what he does best: shoot. Defensive minded coaches who look for hustle, defense and rebounding from the small forward position should certainly look elsewhere. Playing with a big man who draws double teams, an athletic and unselfish slashing guard who loves to drive and dish or a perimeter oriented team that loves to move the ball around are the type of settings that could see him excel.

Novak is no surefire thing as his career will mostly depend on the type of system he is put in, the coach he plays for and the teammates he is next to, as well as his willingness to assert himself in the NBA.




Facts


Comes from a basketball family. His father Mike was his high school basketball coach at Brown Deer High School, and both his brother and sister played college basketball.



[Read Full Article]

---