Roundup: Scoring Machine Dragicevic
March 19, 2008
Dragicevicís productivity has become dazzling lately. To his superb season performance already, he is piling on an even more impressive run as of late. Heís clinched the 20-point mark in the last seven games he has played, and has surpassed the 30-point barrier in his last couple of Adriatic League showings. This past week he opened fire by pouring 22 points on Besiktas in the ULEB Cup, adding 5 rebounds and 2 rebounds to help his team tie the first game of the two-legged top-16 round. Back to the Balkan competition, he erupted for 39 points, 6 rebounds and 2 assists as Red Star beat Helios.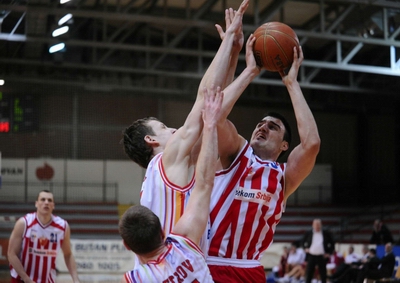 Photo: ABA League
To round up what weíve already reported about Dragicevic this season, itís interesting to note how he looks everyday more of a complete offensive player. He evolves all over the court: from the perimeter to the lane, feeling completely comfortable also in the mid-range distances. Heís starting to showcase some off-the-dribble skills with his long-range shot, although he still needs to gain significant consistency here; anyway, shooting open from standstill positions heís almost money in the bank. He also seems more under control while attacking the basket, always trying to take advantage of unbalanced defenses (he seems to be controlling a little bit his turnovers, although he committed five this past weekend), while showing some soft touch to finish against opposition, an ability that heís also using from the low post. Besides, he moves pretty well off the ball, trying to take advantage of the pick-and-roll play (which often ends up being a pick and pop). Generally speaking, heís showing increasing poise on the court.
As always, he leaves us skeptical about his NBA potential. The guy is becoming so productive, that it would be really surprising if a wealthy European team doesnít take him right this upcoming summer. Then he will have a nice chance to prove if heís able to deliver some dirty work to compliment his offensive skills, such as more defensive aggressiveness, better defensive rotations, or more rebounding. It would probably be the most effective way for him to convince someone that heís worth a chance in the NBA, given that his offensive repertoire would struggle in a translation to the American league due his physical and athletic shortcomings. So, even if we shouldnít completely rule out a call in the second round, it doesn't look all that likely at this point.
[
Read Full Article
]
Roundup: European-Friendly Dragicevic
December 26, 2007
A couple of excellent back-to-back performances for Tadija Dragicevic, leading Red Star to consecutive victories, has earned him another nomination for Player of the Week honors. First in the ULEB Cup, with 19 points and 3 rebounds against Panellinios, and particularly in the Adriatic League, improving to 26 points and 10 rebounds. The Serbian power forward commands the Balkan competition both in efficiency and points per game (20.9).

As the season advances, weíre seeing a wider repertoire in Dragicevicís game. Yes, heís mainly a face up guy who does a great job combining terrific three-point shooting ability (he fires usually in static fashion, and probably enjoys range out to the NBA three-point line) with his ability to put the ball on the floor going either direction (he enjoys a pretty nice left hand). But heís also an able post guy. Relatively short and not showing great leaping ability, itís not common to see him releasing jump-hooks, usually instead trying to beat his opponents with spins looking for layups. Even if heís not close to the basket, he sometimes will turn around and face his match-up to attack him off the dribble. In any case, he shows solid footwork, nice use of his body and good control of offensive situations. Heís a pretty smart player with nice court awareness. However, his degree of offensive activity and incisive game translates to a serious amount of turnovers, although he also draws a large amount of fouls in the process, which allows him to produce consistently from the free-throw line.


Anyway, his NBA potential is close to non-existent. His athleticism is limited (he canít be anything but a power forward), and heís not particularly big. His man-to-man defense is solid, but he barely offers any aggressiveness team-wise (so heís neither a hustler) and his offensive skills would be seriously short-handed against more athletic opponents than he faces in Europe. Obviously, his future in the Old Continent is a completely different story, and he might turn into an excellent player for a high-class team over here.
[
Read Full Article
]
Roundup: Back on Track
October 17, 2007
Itís not every day that you see a draft-eligible player dropping 30 points on a Euroleague team, but it happened last week as Tadija Dragicevic led Crvena Zvezda to a victory over Cibona Zagreb. It was the highlight of an impressive early run that leaves him averaging 21 points and 5.3 rebounds four games into the season, helping his team to a solid 3-1 record in the Adriatic League.

A familiar name for the last years (he was part of the brilliant U-20 Serbian team that won gold back in 2006), Dragicevic is an example your typical low-potential type player that breaks through due to other attributes, such as skills, character, intelligence or intensity. At 6-9, he is not particularly big for a power forward, and heís neither especially athletic-- just a well built guy with nice mobility who actually knows how to use it. More of a face up player, he spends time in the high post cutting towards the basket when his guards create advantages, or by playing the pick-and-roll with them. He course also can play around the three-point line, where he uses a double threat in the form of his perimeter shot and ability to put the ball on the floor. Heís a pretty smart player, knowing what to do on the floor and showing nice positioning.

His long-range shot is rather important for Dragicevic. Not only does it serve as instant point production, but it helps him to create slashing spaces to keep the defense honest. So far he credits a nice 7/17 from behind the arc this season, and indeed went scoreless (0/3) from that distance in his worst game, against Buducnost. Already last year he boosted his offensive production in the Serbian SuperLeague as soon as his treys started falling regularly. Itís the usual spot-up shot of a forward, but itís becoming increasingly effective.


Although not very explosive on his drives, Dragicevic can easily put the ball on the floor to beat his match-ups off the dribble, preferably if they are unbalanced and using his right hand. He rarely passes up an opportunity to go inside, and uses his body pretty well to keep the ball out of reach for the opponents, while heís aggressive and incisive attacking the basket. Around the basket he can finish with both hands, showing a promising touch.
A decent one-on-one defender, although not mobile enough to contest the small forward position, heís pretty underwhelming in his team defense, looking way too static in some situations where he should just jump in the way of the opponent on a defensive rotation. Neither a great rebounder, his perimeter oriented tendencies limit his production on the offensive glass, and he doesnít great desire to make up for his physical shortcomings.
Not an extremely intriguing profile indeed, but still Dragicevic should be able to make a good living in Europe. After all, and even in exceptional cases, guys with a comparable physical resume as Matjas Smodis or
Jorge Garbajosa
show how unexpectedly far can a physically-limited player can get when he puts everything else together perfectly.
[
Read Full Article
]