Timofey Mozgov
Recent Tweets
All Tweets
RT @SportandoBasket: Victor Bychkov, General Manager of Khimki, confirmed the signing of Timofey Mozgov by New York...three year deal.
2010-07-11 10:35:08
Josh Childress, Tiago Splitter, Linas Kleiza, Nikola Pekovic, Omer Asik, Timofey Mozgov, Semih Erden, Big Sofo (?) and others have all left.
2010-07-11 09:56:05
Russian center Timofey Mozgov will sign a three year, 9.7 million dollar contract with the New York Knicks. Knicks will pay Khimki 500k USD.
2010-07-10 21:22:09
DraftExpress Overseas Free Agent Rankings Updated: http://bit.ly/dhld6N - Bouroussis #1, Timofey Mozgov #2, Keith Langford #3, Gary Neal #4
2010-04-02 11:39:04
Top 25s - Full List
Team: Cavaliers
Physicals
Positions
Salary
Misc
H: 7' 1"
W: 256 lbs
Bday: 07/16/1986
(29 Years Old)

Current: C
NBA: C
Possible: C

Agent: Andy Miller
Current Salary:$4,650,000

High School:
Hometown: Saint Petersburg, Russia




Basic Per Game Statistics

- Comprehensive Stats - Statistical Top 25s
| Year | League | Name | GP | Min | Pts | FG | FGA | FG% | 2Pt | 2PtA | 2P% | 3Pt | 3PtA | 3P% | FTM | FTA | FT% | Off | Def | TOT | Asts | Stls | Blks | TOs | PFs |
| --- | --- | --- | --- | --- | --- | --- | --- | --- | --- | --- | --- | --- | --- | --- | --- | --- | --- | --- | --- | --- | --- | --- | --- | --- | --- |
| 2015/16 | NBA | Timofey Mozgov | 14 | 20.4 | 7.5 | 2.6 | 5.7 | 46.3 | 2.6 | 5.4 | 47.4 | 0.1 | 0.3 | 25.0 | 2.1 | 2.7 | 78.9 | 1.5 | 3.1 | 4.6 | 0.6 | 0.4 | 1.0 | 1.4 | 2.1 |

Player Page&nbsp&nbsp| Player Stats | Related Articles&nbsp&nbsp| Add to My Draft Express&nbsp
&nbsp
Moving Up the DraftExpress Overseas Free Agent Rankings (Part Two)
December 8, 2009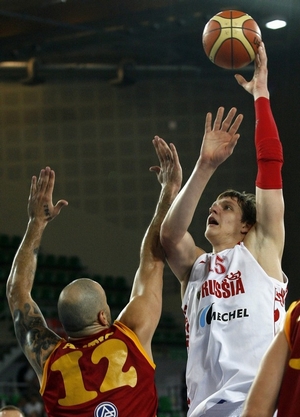 Reuters



The athletic 7-1 center had an outstanding campaign under David Blatt with the Russian national team in the European Championships in Poland this summer, averaging 11 points, 4.6 rebounds and 1.3 blocks in 23 minutes per game, helping his team far exceed expectations despite missing most of their big name players. He seems to be making big strides in his game year after year and is clearly not a finished product at this point. With his outstanding physical attributes and especially the way he runs the floor, it not out of the question that he could be a much better fit for the more up and down style of play that is found in the NBA than he is for Europe.

Right now he's seeing limited playing time on a Euroleague team in Khimki, but is gaining very good experience against the highest level of competition to be found on the continent. His stats in the Russian league and VTB United League are generally more impressive. We will likely follow up on his progress later in the season as we acquire more film.

Mozgov is reportedly interested in playing in the NBA, but has two more years on his contract after this season. He does have an NBA out clause after 2010-2011, with a buy out. It's doubtful that Khimki would look to sell his rights this summer considering how valuable his domestic passport is to them. Russian league rules state that two local players must be on the court at all times.

[Read Full Article]

---
European Roundup: Casspi Coming Along
March 8, 2009
With all the money that BC Khimki decided to spend on free agents this summer—splurging for the services of former NBA players Jorge Garbajosa, Carlos Delfino, Milt Palacio and others—who would have anticipated that arguably their shrewdest signing would come from their second division team? That's exactly what appears to have happened—at least since the mid-season hiring of Italian head coach Sergio Scariolo, and an injury to Maciej Lampe. The 7-1 Mozgov has had some excellent games for the suburban Moscow-based team—for example a 23 point, 6 rebound, 2 block effort in just 20 minutes against Panellinios, and a 14 point, 11 rebound, 3 block, and 3 steal night in 27 minutes against Benetton Treviso.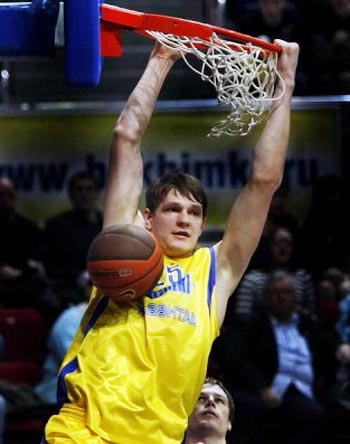 Eurocupbasketball.com



We discussed Mozgov last year already in some depth, talking about an incredibly raw 7-footer with a WWF wrester's body and intriguing athleticism for a player his size. No NBA team heeded the call, and despite being draft-eligible, Mozgov's name was not called at Madison Square Garden theater, making him a free agent for all 30 NBA teams now.

It's not hard to see what makes Mozgov unique on first glance. He is a true 7-footer who is built like a house, with long arms, and outstanding strength and athleticism. Imagine a bulkier Andris Biedrins, or a Russian version of D.J. Mbenga.

Mozgov is an extremely limited offensive player, who is mostly relegated to catching and finishing around the basket, and making his presence felt on the offensive glass. He is an absolute force as an offensive rebounder in fact, leading the EuroCup in that category per-minute. He loves to set bruising screens and then roll to the basket for an empathic alley-oop lob, and does a great job throwing his weight around in the paint and moving opposing centers around. His toughness and activity level are both top-notch, and help make up for some of the many shortcomings that he suffers from at this point.

Despite being a tremendous finisher around the basket, Mozgov possesses little in the ways of touch, post-moves, dribbling ability, footwork or any of the other skill-based attributes that most big men need in order to be effective at the highest level of competition. He's not terribly coordinated, often looking like a bull in a china shop trying to execute advanced moves, thus being fairly turnover prone. While he gets to the free throw line at a solid rate, he only converts around 50% of his attempts, and is obviously incredibly limited when asked to do anything offensively outside of the paint. No one is going to confuse his passing ability or basketball IQ with that of Arvydas Sabonis anytime soon.

Defensively, Mozgov is a major presence, as he's extremely difficult to post up on the block and has all the size, length and athleticism needed to swallow up opposing centers whole, and then grab the ensuing rebound for good measure. He blocks one shot for every 9 minutes he's on the floor, and grabs a rebound every 3 minutes, which obviously makes him one of the more productive players you'll find at his position in Europe. He brings very good intensity to this end of the floor, and has the added bonus of being agile enough to step out and hedge screens, showing very nice agility in the process. Mozgov still has a ways to go in terms of improving his fundamentals and all-around court awareness—he still makes too many rookie mistakes to be trusted by most top-level coaches. He's also fairly foul prone and has a tendency to bite on pump-fakes, being a bit naïve as you might expect from a player with little experience.

All in all, Mozgov looks like a very interesting prospect that teams would do well to keep tabs on, as you just don't find many players with his combination of size, strength, athleticism and intensity. Considering how much he's improved over the past year, and the fact that he's only 22 years old, there is no telling where he'll be in a few years, as he's obviously a late-bloomer who is only getting better by the day.

[Read Full Article]

---
Roundup: Tripkovic Strikes Back
March 26, 2008
We had the chance to take a look at the final, which pitted Unicaja Malaga against Khimki. The player making the most noise on the Russian team was a pretty much unknown seven footer who answers by the name of Timofey Mozgov. Born in 1986, he barely has any experience in first-division basketball and, as far as we know, has never played on any of the Russian National Teams in a FIBA competition. Anyway, the guy looks impressive at first sight, exhibiting a superbly built 7-1 body. He's really strong, actually too strong for his less developed rivals, but he also showcased nice athleticism. Indeed he showed flashes of dominance during the tournament, although we can never forget that he went regularly against significantly younger players.

Mozgov's offensive production was all about power in the lane. Although his effectiveness in the final was limited by the fact that Unicaja smartly played zone defenses, he still actively looked for low post position to deliver his stuff. Showing only decent footwork, he works his way to the basket looking constantly for body contact, in order to deliver a short-range baby hook, or even layups that he can also perform with his left hand. That was pretty much it. Besides some open looks he might get near the basket that he would finish with powerful dunks easily getting off the ground, we didn't see much more out of him when it came to putting the ball on the net. He did try to shoot the ball, but looked rather inconsistent with his mid-range stroke. However, he emerged as being pretty accurate from the free-throw line, and even netted a three-pointer during the tournament. Also, we didn't see him putting the ball on the floor if it wasn't in the low post.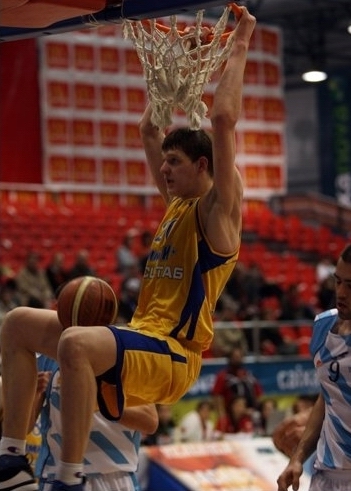 Photo: Santi Rodríguez Olivella (Solobasket.com)


The big Russian delivered some defensive highlights, mostly in the form of spectacular blocks coming from the weak side. He certainly shows nice leaping ability for a guy his size. But even if his big body caused some troubles for his opponents, Mozgov's effectiveness seems to be diluted by his poor understanding of the game. He struggles with positioning and timing, with the measure of his efforts, affecting his defense and rebounding. In the end, he's rarely in the mix for a play, and it doesn't particularly seem to be a problem of intensity.

In the end, Mozgov is a mixture of superb physical tools with a very raw package of skills and fundamentals, and he's not a kid anymore. Although having been called up twice for the first team, he usually plays for Khimki's second squad in the Superleague B (Russian second division), where he averages 15.3 points, 10.5 rebounds and 2.1 blocks. It's highly questionable if he will draw interest in the draft –he's automatically eligible this year-, but it would be really nice to see him in a setting like the Treviso Eurocamp, facing stronger opponents.

[Read Full Article]

---