In this week's roundup we check in on the progress of Israeli SF
Omri Casspi
, Italian SF
Luigi Datome
, and Russian center
Timofey Mozgov
, amongst others.
Past European Roundups:
-Dominant Donatas Motiejunas
-Double-Double Jonas Jerebko
-Vladimir Dasic providing intrigue
-VIctor Claver showing his stuff
-Brandon Jennings Managing Expectations
-Milenko Tepic the Man for Partizan
-Sergio Llull Sparks Real Madrid
Casspi Coming Along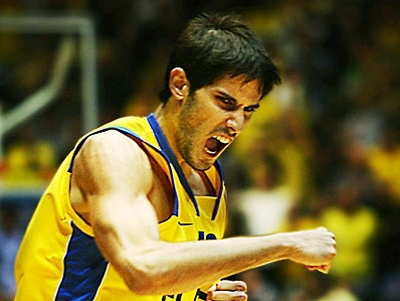 With Maccabi Tel Aviv failing to advance to the next round of the Euroleague, this is a good a time to evaluate the progress of their developing young star,
Omri Casspi
.
Now an 18-minute per game role player in the Euroleague (21 minutes in the local Israeli league), Casspi is clearly starting to find his niche in high-level European basketball, upping his scoring rate nicely while maintaining strong efficiency numbers, and continuing to make the full-time conversion to playing out on the wing. His team uses his mostly as an energy spark-plug off the bench: running the floor in transition, taking open spot-up jumpers, cutting off the ball for emphatic dunks, grabbing offensive rebounds and being active defensively.
Casspi has made strides with his perimeter jump-shot this season, converting on 17/44 attempts (39%) of his 3-pointers in the Euroleague and Israeli league combined, up from 30% last season. While his mechanics remain unorthodox (with a low release point and his elbow flailing out), he is shooting the ball confidently this season, getting his jumper off quickly and with a consistent release point, as long as his feet are set. Off the dribble, Casspi's poor mechanics hinder him from being much of a threat, which limits his offensive potential to a certain degree.
An average ball-handler at best, (particularly trying to change directions) Casspi is pretty limited as a pure shot-creator, although his athleticism and aggressiveness allow him to make plays at the rim regardless. He shows excellent scoring instincts, but still has a ways to go in terms of improving his all-around offensive polish. He can beat his man off the dribble with his quick first step, and loves to finish above the rim if given the opportunity to do so. Casspi plays with a great deal of energy, flying up the floor at the first sign of a fast break opportunity, often beating his man down the court and coming away with an easy basket as a result.
Casspi is a highly competitive player with shows a lot of emotion, not being afraid to go into the paint and come away with a tough basket, and doing a good job using his physical tools to try and help his team out, for example with his rebounding. Getting in the weight room and improving his frame would probably go a long ways, as his body doesn't look that much different than it did last year.
Defensively, Casspi continues to improve on this end of the floor, doing a very nice job putting his excellent physical tools (size, length, athleticism) to good use at the small forward position, and making some very impressive plays from time to time. He still is lacking somewhat in the fundamentals department, having a difficult time fighting through screens due to his lack of strength, and being a little bit over-exuberant in the passing lanes. Still, there's no reason why he can't become a solid defender in time, especially thanks to his physical gifts and hard-nosed mentality.
Casspi still has another year of eligibility remaining before being automatically entered into the draft in 2010, but it's a given that he will declare once again this spring and try to find himself a spot in the first round. Unlike many European prospects these days, Casspi is completely enamored with the idea of playing (and especially being the first Israeli player) in the NBA, and would even reportedly be willing to sacrifice long-term financially in order to make that happen.
Still only 20 years old, Casspi appears to have excellent potential to continue to grow over the next few years, even if he's yet to show exactly how he'd be able to consistently earn minutes at the NBA level, as he lacks a true bread and butter. It's possible that another year at Maccabi could allow him to really break out next season, but he may decide to stay in this year's draft for good regardless. Unlike college players (who are bound by the more restrictive NCAA rules), international prospects like Casspi can pull out of the draft a second time before they become automatically eligible—meaning he'll have plenty of options this coming June.
Draft-Eligible Datome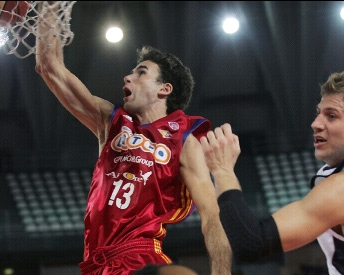 After spending last season on loan to Italian League bottom feeders Legea Scafati (now in the second division),
Luigi Datome
was again loaned by Montepaschi Siena, this time to Lottomatica Roma (for two years) in an effort to regain the momentum that had placed him firmly on the NBA radar a couple of years ago. Despite the success Datome found in junior play early in his career, he hasn't progressed as expected, especially in recent seasons, as he's struggled to find consistent playing time. He's proven to be a relatively efficient role-player for Roma this season, but for a prospect once seemed like a potential NBA draft pick, he isn't showing the type of dynamic play that had scouts excited about him when he was a teenager.
The most attractive aspect of Datome's game remains his outside shooting stroke. His form is very smooth, and though he doesn't display great elevation, his 6-8 height allows him to get his shot of without much trouble. On the season, he's hitting 43.3% (26/60 in 28 games) of his three point attempts, and has proven to be a very solid catch and shoot option. Despite his ability to hit shots with his feet set, Datome's s weaknesses on the offensive end are never more apparent than when he is forced to put the ball on the floor.
Datome is an average athlete by NBA standards, and his lack of foot speed, coupled with his questionable ball-handling ability, makes it nearly impossible for him to create his own shot. Though he'll knock down an occasional tough pull up jumper with a hand in his face, he is forced to alter nearly every shot he takes off the dribble. He has an especially hard time scoring against quicker and stronger defenders, not showing a very functional crossover and avoiding contact in the lane. The lack of improvement in his one-on-one game has been one of the biggest limiting factors in his development as a player, as nearly half of his field goal attempts come from behind the arc, and he gets to the free throw line only 1.4 times per game.
When Datome has managed to get to the rim this season, something that hasn't occurred very frequently, he's finished at a good rate. He does a solid job getting some looks by running the floor in transition, where he shows a good understanding for spacing and fills the open lane when a defender steps up to stop the ball. He's also a solid offensive rebounder, using his length to earn some easy looks. Unfortunately, he creates very few of the looks he gets near the basket on his own, and often struggles when forced to deal with contact in traffic.
On the defensive end, Datome's lack of lateral quickness is very apparent. He doesn't always get in a low stance, making it even harder for him to keep up with the quicker players that he is often matched up against on the wing. Though he will have a good possession from time to time, his lack of consistency defending the perimeter hurts him. He doesn't always close out hard, and has a very hard time defending stronger players in the paint. His length allows him to deflect some passes, tip some shots, and even come up with the occasional block, but his lack of consistency and effort makes it impossible for him to do those things regularly.
At this point, it is difficult to look at Datome as anything other than a marginal roleplayer, since he hasn't developed the skills to dictate otherwise. The years he spent riding the pine in Siena didn't help his development in the least bit, and unless he makes some major progress with Roma, it is hard to see Datome being viewed as an incredibly interesting prospect when he becomes automatically eligible this June.
Looking Beyond the Draft: Timofey Mozgov
With all the money that BC Khimki decided to spend on free agents this summer—splurging for the services of former NBA players
Jorge Garbajosa
,
Carlos Delfino
,
Milt Palacio
and others—who would have anticipated that arguably their shrewdest signing would come from their second division team? That's exactly what appears to have happened—at least since the mid-season hiring of Italian head coach Sergio Scariolo, and an injury to
Maciej Lampe
. The 7-1 Mozgov has had some excellent games for the suburban Moscow-based team—for example a 23 point, 6 rebound, 2 block effort in just 20 minutes against Panellinios, and a 14 point, 11 rebound, 3 block, and 3 steal night in 27 minutes against Benetton Treviso.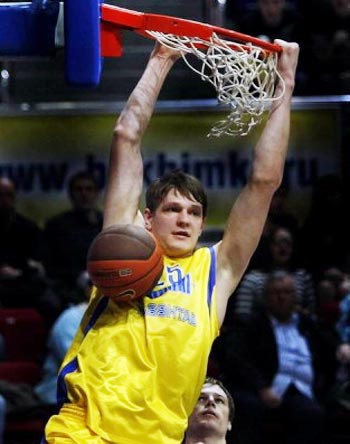 We discussed Mozgov last year already
in some depth
, talking about an incredibly raw 7-footer with a WWF wrester's body and intriguing athleticism for a player his size. No NBA team heeded the call, and despite being draft-eligible, Mozgov's name was not called at Madison Square Garden theater, making him a free agent for all 30 NBA teams now.
It's not hard to see what makes Mozgov unique on first glance. He is a true 7-footer who is built like a house, with long arms, and outstanding strength and athleticism. Imagine a bulkier
Andris Biedrins
, or a Russian version of
D.J. Mbenga
.
Mozgov is an extremely limited offensive player, who is mostly relegated to catching and finishing around the basket, and making his presence felt on the offensive glass. He is an absolute force as an offensive rebounder in fact, leading the EuroCup in that category per-minute. He loves to set bruising screens and then roll to the basket for an empathic alley-oop lob, and does a great job throwing his weight around in the paint and moving opposing centers around. His toughness and activity level are both top-notch, and help make up for some of the many shortcomings that he suffers from at this point.
Despite being a tremendous finisher around the basket, Mozgov possesses little in the ways of touch, post-moves, dribbling ability, footwork or any of the other skill-based attributes that most big men need in order to be effective at the highest level of competition. He's not terribly coordinated, often looking like a bull in a china shop trying to execute advanced moves, thus being fairly turnover prone. While he gets to the free throw line at a solid rate, he only converts around 50% of his attempts, and is obviously incredibly limited when asked to do anything offensively outside of the paint. No one is going to confuse his passing ability or basketball IQ with that of
Arvydas Sabonis
anytime soon.
Defensively, Mozgov is a major presence, as he's extremely difficult to post up on the block and has all the size, length and athleticism needed to swallow up opposing centers whole, and then grab the ensuing rebound for good measure. He blocks one shot for every 9 minutes he's on the floor, and grabs a rebound every 3 minutes, which obviously makes him one of the more productive players you'll find at his position in Europe. He brings very good intensity to this end of the floor, and has the added bonus of being agile enough to step out and hedge screens, showing very nice agility in the process. Mozgov still has a ways to go in terms of improving his fundamentals and all-around court awareness—he still makes too many rookie mistakes to be trusted by most top-level coaches. He's also fairly foul prone and has a tendency to bite on pump-fakes, being a bit naïve as you might expect from a player with little experience.
All in all, Mozgov looks like a very interesting prospect that teams would do well to keep tabs on, as you just don't find many players with his combination of size, strength, athleticism and intensity. Considering how much he's improved over the past year, and the fact that he's only 22 years old, there is no telling where he'll be in a few years, as he's obviously a late-bloomer who is only getting better by the day.
Quick Hitters:
-The Euroleague Top 16 round still has one more game to go, but the competition will be suspense-free next week as all the qualifiers for the quarterfinals, a best of five playoffs series, have already been decided. Panathinaikos will have home court advantage against Montepaschi Siena, as will CSKA Moscow against Partizan Belgrade. The other matchups will be decided next week, as Tau Vitoria and Olympiacos will face either Real Madrid or Barcelona. From a draft perspective, the most interesting prospects remaining include
Sergio Llull
,
Milenko Tepic
and
Jan Vesely
. The winners of the best of five series will advance to the Final Four in Berlin, slated for May 1st and 3rd.
-Most of the participants of the EuroCup Final 8 (a single elimination tournament held in Turin, Italy on April 2nd-5th) have been decided as well, even though one more round of competition still remains. Dynamo Moscow advanced from first place after going 5-0 in the Top 16, followed by Khimki from their group. Benetton Treviso and Zadar move on from Group J, and Lietuvos Rytas and Bilbao continue from Group I. Pamesa Valencia will be joined by either Hemofarm or Azovmash depending on how the last game plays out. Other than a few marginal prospects from Hemofarm, very few NBA draft prospects stand out here, which is good considering that the Final 8 will be held on the same weekend as the NCAA Final Four.
-
Brandon Jennings
' team, Lottomotica Roma, has flamed out of the Euroleague, going 0-5 in the Top 16 round so far, and thus having no chance at moving on to the next stage. Jennings has apparently decided to go out in a blaze of glory, scoring 17 points on 7/19 shooting in his last contest, a 99-64 blowout. He had two of his best games over the past few weeks in the Italian league, scoring 14 and 13 points respectively in games against Fortitudo Bologna and Angelico Biella.
-Following up on our article last week on players in Europe whose rights are held by NBA teams, we should mention that David Anderson in fact does have an NBA out in his contract this summer, and the word from Spain is he would be very interested in playing in the NBA if given the opportunity. The only reason he is not playing in the NBA right now in fact is due to the fact that the Atlanta Hawks have shown little to no interest in his services, which is surprising to say the very least.