Travis Wear
Recent Tweets
All Tweets
DraftExpress: Top NBA Prospects in the Pac 12, (#6-10) http://t.co/XzVQEPbF - Eric Moreland, Brock Motum, Chasson Randle, Mark Lyons, Travis Wear
2012-10-08 02:01:32
Team: San Sebastian
Physicals
Positions
Rankings
Salary
Misc
H: 6' 9"
W: 190 lbs
Bday: 09/21/1990
(25 Years Old)

Current: PF
NBA: PF
Possible: PF

RSCI: 37

Agent: Chris Emens
Current Salary:$507,336

High School: Mater Dei
Hometown: Santa Ana, CA




Basic Per Game Statistics

- Comprehensive Stats - Statistical Top 25s
| Year | League | Name | GP | Min | Pts | FG | FGA | FG% | 2Pt | 2PtA | 2P% | 3Pt | 3PtA | 3P% | FTM | FTA | FT% | Off | Def | TOT | Asts | Stls | Blks | TOs | PFs |
| --- | --- | --- | --- | --- | --- | --- | --- | --- | --- | --- | --- | --- | --- | --- | --- | --- | --- | --- | --- | --- | --- | --- | --- | --- | --- |
| 2015/16 | ACB | Travis Wear | 7 | 20.3 | 7.3 | 3.0 | 7.7 | 38.9 | 1.9 | 4.1 | 44.8 | 1.1 | 3.6 | 32.0 | 0.1 | 0.3 | 50.0 | 0.3 | 2.7 | 3.0 | 0.9 | 0.3 | 0.3 | 0.7 | 2.4 |

Player Page&nbsp&nbsp| Player Stats | Related Articles&nbsp&nbsp| Add to My Draft Express&nbsp
&nbsp
Top NBA Draft Prospects in the Pac-12, Part Two
October 8, 2012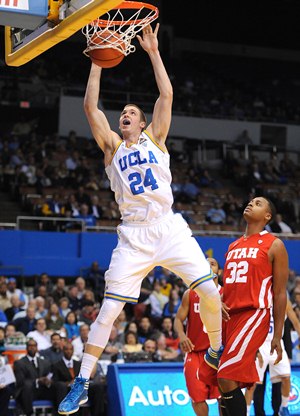 US Presswire



Jonathan Givony

A McDonald's All-American in high school who played a fairly marginal role at North Carolina as a freshman, Travis Wear decided to transfer to UCLA together with his twin brother David at the end of the 2009/2010 season, and saw his first real NCAA action in 2011-2012 as a redshirt sophomore.

Coming off a solid season, Wear is now likely to see significant playing time on a UCLA squad that many have extremely high expectations from, giving him an opportunity to put himself on the map as a role-player who can do a bit of everything on a successful team.

Not particularly impressive from a physical standpoint, Wear has solid size for a power forward at 6-9, but is just an average athlete. He doesn't run the floor incredibly well, nor is he overwhelmingly quick or explosive.

Wear gets most of his points within the flow of the offense, not possessing any one consistent means of scoring that his team can count on. He shoots a high percentage from the floor, makes the extra pass, and doesn't turn the ball over very often, clearly understanding the role he plays and his limitations.

Wear is a fundamentally sound player who moves off ball effectively in UCLA's slow-paced motion offense, allowing him to find seams in which he can get his shot off. He has a bit of a post game he can utilize against similarly sized players, is a very good offensive rebounder, and can create a little offense in a straight line taking his man off the dribble from the perimeter. Considering his athletic limitations, it's unlikely that these parts of his game will be as effective against higher level competition, making it imperative that he improves his jump-shot as his career moves on.

Wear only attempted a handful of 3-pointers last season, even if his mechanics and touch indicate that this could very well become a more dangerous part of his arsenal as his career progresses. Considering the role he'll be asked to play in the NBA, this will be an important part of his evaluation, as he would surely be asked to be a reliable set-shooter and floor spacer to not be an offensive liability.

Defensively, Wear shows good fundamentals and timing and a very high activity level, giving an excellent effort on pretty much every possession he plays. Where he runs into trouble at times is matching up with quicker big men who are capable of beating him off the dribble, or very strong and physical opponents who can back him down inside the post. His lateral quickness is just average, and he doesn't compensate for that with great size, length or strength. Scouts will want to see how he fares going up against the more highly touted power forwards on UCLA's schedule, as there are some question marks about how this part of his game might translate to the NBA.

Another area of concern revolves around Wear's rebounding ability. He pulled down just 4.8 defensive rebounds per-40 minutes pace adjusted last season, which ranked as one the worst rates in our database amongst collegiate power forwards. His lack of strength, explosiveness and at times toughness hurts him here, which is something he'll have to continue to work on moving forward.

Despite turning 22 recently, Wear still has two years of NCAA eligibility remaining. With the spotlight on UCLA likely to increase substantially, Wear has a chance to prove that he is capable of carving out a niche for himself in the NBA, particularly if he's able to expand his range and show he can consistently make an open jump-shot, as well as prove that he won't be a liability defensively and as a rebounder at his position.

[Read Full Article]

---
Player Evaluations, McDonald's All-American Game (West Team)
April 3, 2009
Travis Wear (#41 Scout, #69 Rivals, #42 ESPN) didn't make anywhere near as strong an impression on us this week as he did a few months back at the Hoophall Classic, which isn't a huge surprise considering that he's the type of player who is always going to look better in a more organized setting.

Wear was overmatched physically at times, getting pushed around and not showing as much toughness as you might hope, which is something they are going to have to work with him on at North Carolina. Defensively, he struggled in a major way trying to defend some of the more physically gifted big men he was matched up with. Offensively, he showed his versatility, smarts and craftiness with some nice moves from the perimeter and around the rim, displaying an excellent skill-level and strong fundamentals. He was able to score in a variety of different ways, utilizing shot-fakes, nice footwork and excellent touch. Considering how stacked North Carolina's frontcourt looks at the moment—with Ed Davis, Deon Thompson and Tyler Zeller all returning, and fellow All-Americans John Henson and brother David Wear coming in—it will be interesting to see how much playing time he can garner as a freshman.

[Read Full Article]

---
HoopHall Classic Scouting Reports, Part Three
January 23, 2009
Possibly the most impressive overall player at the HoopHall Classic as far as pure production and fundamentals are concerned, Travis Wear (#41 Scout, #69 Rivals, #42 ESPN) continues to look like one of the most underrated prospects in this year's high school class. After watching him repeatedly over the past few months, it's become extremely evident that Wear is going to be an outstanding college player, and has a chance to develop into an NBA prospect down the road as well.

6-9, mobile, highly coordinated and very fluid, Wear is about as fundamentally sound a power forward as you'll find. He spent considerable time in the paint in this particular matchup, calling for the ball, and showing nice footwork and wherewithal posting up. He has great hands and a beautiful jump-hook, also looking comfortable going to a turnaround jumper. He utilizes shot-fakes and jabs nicely, being capable of putting the ball on the floor with either hand from the perimeter in under control fashion, and rarely making mistakes. He moves off the ball nicely and respects his team's spacing, executing Mater Dei's crisp half-court sets, and looking very unselfish in the process. He also has excellent mechanics on his jump-shot, possessing range that extends out to the 3-point line. In short, Wear is a complete offensive player already as a teenager, which is an extremely impressive sight to behold.

Defensively, Wear puts in the effort and clearly has great fundamentals, getting low in a stance and doing his best to contest shots. He lacks great lateral quickness, and could still stand to add some weight to his excellent frame. As a rebounder he did not stand out.

Wear might lack some of the long-term upside that some of his fellow class-mates posses, as he's obviously not a great athlete (although he's not a poor one either), but he's certainly smart and skilled enough to be effective at the collegiate level. It's hard to understand why he's ranked so low compared to some of his peers in this underwhelming class, as from what we've seen, there is no question that he deserves to be a McDonald's All-American. For Roy Williams to get two power forwards of Wear's caliber (his brother is very similar) is almost unfair to the rest of the ACC, as they are very likely to stick around in Chapel Hill for the long haul.

[Read Full Article]

---
Sidney, Harden lead Artesia over Mater Dei
March 6, 2007
Travis appears to be a little further along than his brother at this point, and he chipped in a very solid 10 points on Saturday. He displayed an outstanding jump shot early in the game. His shooting stroke is quick and smooth, and he has the ability to set himself to shoot without hesitation. Travis can also handle the ball very well, as he displayed when he handled against pressure before hitting a three pointer in transition.

[Read Full Article]

---