A look at all of the 24 players participating at the McDonald's All-American game, starting with the west squad, with observations garnered from the entire week of action. This article will rely heavily on the private scrimmage we were able to attend the day before the event, which was far more competitive than the actual game, and provided significant insight into the strengths and weaknesses of everyone in attendance. We were also able to sit with and pick the brains of many of the dozen or so NBA teams that showed up for the game on Wednesday, which gave us an additional perspective based on their always-fascinating first impressions.
West
Abdul Gaddy, 6-3, Point Guard, Committed to Washington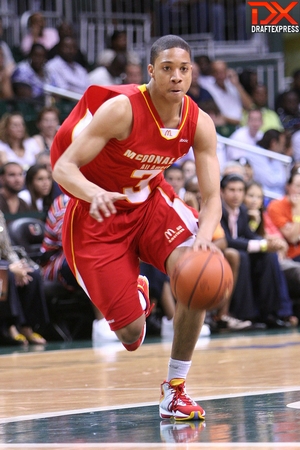 It really wasn't until the private scrimmage we took in the day before the actual game that we were actually fully able to distinguish what makes
Abdul Gaddy
(#9 Scout, #13 Rivals, #16 ESPN) such an interesting long-term prospect. Once we got a chance to see him run a team for an extended period of time, though, it became extremely obvious what the recruiting services see in him.
Gaddy is an incredibly rare prospect, as he's a pure point guard with very nice physical attributes and an excellent framework of skills to build off of. Those three things combined put him in a very unique class, which really gives him a chance to develop into a special player down the road. Once you learn that he's just 17 years old and also brings outstanding intangibles to the table, it's very easy to figure out why he's deemed to have such great potential. The difference a single year makes between the age of 17 and 18 is absolutely huge from a physical and maturity standpoint, which is why Washington fans have to be incredibly excited.
Although he doesn't appear to be a freakish athlete on first glance, Gaddy is an exceptionally smooth player who already seems to show solid ability to utilize changes of speed and hesitation moves. His body is very underdeveloped at the moment, which affects him first and foremost as a scorer (finishing around the basket primarily) but considering the fact that his ball-handling skills are sound with either hand and he shows potential both as a set-shooter from beyond the arc and with his mid-range pull-up jumper off the dribble, he should be able to develop this part of his game in time.
His main virtue, though, lies in his ability to see the floor with his excellent size, and get everyone around him involved creatively, looking highly unselfish and showing a very nice feel for the game for a player his age. He plays at his own unique pace, which you typically don't see from 17-year old guards.
Gaddy's biggest drawbacks at the moment revolve around his defense and his very laid back demeanor. Like a lot of west coast players, Gaddy looks a bit too relaxed at times, not showing much of a killer instinct and being somewhat deferential. This could be a product of his youth, but there may be some that question whether he's just a little too nice. Very much related is the lack of intensity he displays on the defensive end, getting outmuscled with ease due to his lack of strength, and not really trying to do much about it. Washington was a much improved team defensively this year, and hopefully Gaddy will be able to get better on this end of the floor as well over the next few years as well.
As you will hear in the interview below, Gaddy is at least a two-year prospect at the University of Washington due to the fact that he won't turn 19 until his sophomore season. As you will also notice, Gaddy seems to have a great head on his shoulders, as everyone that knows him likes to emphasize. It will be exciting to see how he fits in next season alongside the very undersized and very ball-dominant
Isaiah Thomas
, who Gaddy indicates below he knows very well from the Seattle basketball scene.
John Henson, 6-10, Power Forward, Committed to North Carolina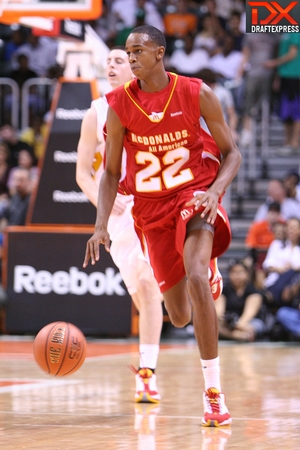 Henson (#3 Scout, #6 Rivals, #3 ESPN) had a strong showing this past week, putting his strengths and weaknesses on full display, and showing why some analysts consider him to have the most upside of any prospect in the 2009 high school senior class.

As we've discussed in the past, Henson is an incredibly physically gifted player thanks to his great size, nice athleticism, and freakishly long arms. The main drawback is his very poor frame, which may hinder his development somewhat early on, particularly his extremely skinny legs.

Regardless, Henson is a tantalizing prospect, as he has budding perimeter skills you typically don't see from a 6-10 player, and also is obviously a great kid with excellent intangibles as you'll be able to see in the interview below. His ball-handling skills and soft shooting touch (mostly from mid-range) are very intriguing attributes, and he also seems to have excellent instincts on the defensive end as well, showing excellent shot-blocking instincts, and seemingly getting his hands on every ball that in his area if strength isn't a factor.

Henson needs to be careful not to try and become too much of a perimeter player. One of the reasons he's so interesting is his ability to operate as a mismatch threat as a dynamic face-up power forward, a position that is very much en vogue in today's NBA, and he shows great potential for with his terrific length and athleticism. It may take him a little bit longer to develop as his body slowly fills out, but he's obviously someone that scouts will follow intently from day one at the college level.
Avery Bradley 6-3, Shooting Guard, Committed to Texas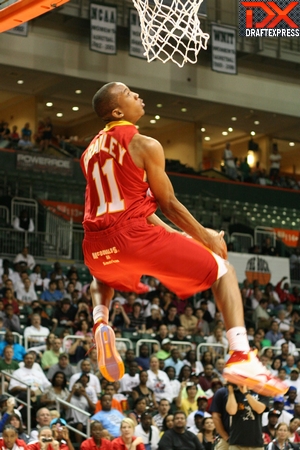 Bradley was definitely one of the week's standouts, both in the practices and in the five on five games we were able to take in. There isn't a whole of new information to add to our very comprehensive file on him, so see our report posted on Tuesday for our latest thoughts. At the very least, he looks like he's going to make a strong run for Big 12 freshman of the year honors.
Xavier Henry, 6-7, SG/SF, Uncommitted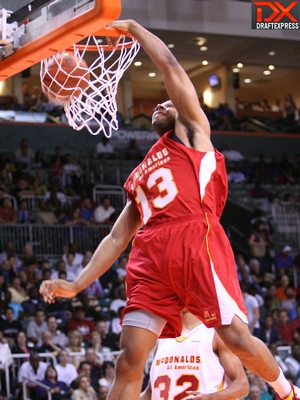 This was a bit of an up and down week for
Xavier Henry
(#4 Scout, #3 Rivals, #1 ESPN), which is not a surprise considering all the turmoil he's faced off the court caused by the departure of the coach he was committed to, John Calipari, to Kentucky. After two very weak practices, he managed to rebound and post a pretty solid showing in the private scrimmage and actual game, showing off his excellent versatility as a scorer.
Henry was able to make his presence felt both as a slasher and shooter, living up to his reputation as a 6-7 shooting guard who can put the ball in the net in a variety of ways. Henry displayed a good first step going left or right, being very strong and aggressive with the ball. His jumper was streaky at times, but still showed excellent potential, as he can create separation from the defense thanks to the elevation he gets and is able to knock down shots at a good rate both from standstill positions and off the dribble. At times he seemed to fall in love with his pull-up jumper excessively rather than trying to get to the rim in advantageous matchups, but this isn't anything that a good coach and a well-defined system that works on getting him good looks can't fix.
As Henry's just-average conditioning level indicates, we probably have yet to see all he can offer at the high-school level due to the setbacks he's suffered with the stress fracture in his foot last year and the car accident he was involved in at the beginning of this season. He's a guy we'll obviously be keeping a close eye on in college to try and figure out just how good of a long-term prospect he is for the NBA level, something we don't have a great read on yet.
Michael Snaer, 6-4, Shooting Guard, Committed to Florida State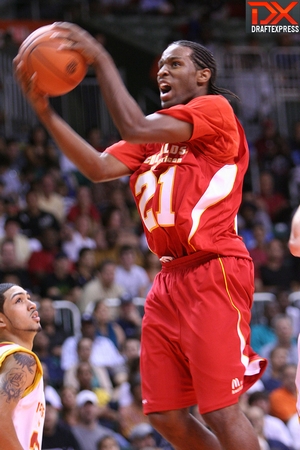 No player helped his stock more this past week than Florida State commit
Michael Snaer
(#22 Scout, #11 Rivals, #44 ESPN). Starting at the first practice, continuing through the scrimmage, and then cumulating in the actual game, Snaer put forth as much effort as you can possibly expect. His toughness, tenacity and non-stop motor did a lot more than likely improve his recruiting rankings, as all the NBA talent evaluators we spoke with clearly came away impressed as well.
Snaer is an excellent athlete who puts his tools to use to the fullest extent possible. You constantly saw him getting out in transition, crashing the offensive glass and attempting to make plays on the defensive end, a characteristic that sticks out like a sore thumb in this all-star setting, particularly when you consider how lethargic and uninspired many of his counterparts in this high school class looked. Snaer is a late-bloomer who didn't start getting hyped by the recruiting services until much later than most, and thus he plays the game with a chip on his shoulder that makes him extremely entertaining to watch.
Skill-wise, Snaer has a ways to go, as his ball-handling skills are average and his jumper is fairly streaky. He may have forced the issue from time to time, but this was only due to his desire to make plays, which you can't really fault him for. He did show some unselfishness with a couple of nice passes from time to time, and was able to make his presence felt offensively thanks to his excellent frame, first step and overall athleticism. Despite his limitations, Snaer is almost certainly going to see playing time immediately in Tallahassee thanks to the effort he displays on the defensive end, which has become quite an emphasis for Leonard Hamilton and Stan Jones. Needless to say, they are absolutely ecstatic to get him from what we've gathered from private conversations. It will be very interesting to see how he develops over the next few seasons at the college level.
Keith Gallon, 6-9, Power Forward, Committed to Oklahoma
Tiny Gallon (#37 Scout, #31 Rivals, #14 ESPN)was one of the more unsteady prospects we tracked over the course of the week, as his performance fluctuated from absolutely fabulous to incredibly awful from day to day and practice to practice. At times he displayed an extremely versatile skill-set and phenomenal talent, while in others he looked completely disinterested and demonstrated terrible shot-selection.
Starting with the good, Gallon is clearly a highly skilled and multi faceted talent at the power forward position, blessed with a sweet stroke from the perimeter, excellent ball-handling skills, and a unique ability to create offense for himself, demonstrated with some very complicated pivot and spin-moves he showed off, sometimes combined with a pretty turnaround jumper. He has decent size, soft hands, and extremely long arms, and as his conditioning-level continues to improve (he's made major strides in this area since last summer), his athleticism is getting better and better. His footwork is very nimble and he surprises you at times with his ability to get up around the rim, although it doesn't appear that he's going to be deemed a great athlete for the NBA level. He regardless put together a fantastic performance in the actual game (which is the only thing the NBA people and the general public were able to see), scoring 20 points in 21 minutes while pulling down 7 rebounds.
Moving onto the bad, Gallon's effort really wavered from day to day, often looking very disinterested in the proceedings. He obviously has a very easy-going personality and clearly came to enjoy himself here, which is understandable considering the vacation-like atmosphere, but you would have liked to see him be a little more serious at times. He complained a lot, demonstrated terrible shot-selection, dribbled the ball excessively and forced a lot of very difficult, contested fade-away jumpers, which really took away from his main strengths.
Gallon is a very interesting player to keep an eye on regardless, as he should be one of the more productive freshmen in the country next year based on his excellent skill-level and versatility. His conditioning issues, combined with his off the court habits are things that teams will take note of, though, as its difficult to project whether he'll revert back to his old ways once he "makes it" so to speak. If he pans out, he could be somewhat of a cross between a
Kevin Love
and a
Glen Davis
, although we'll have to see how he continues to develop.
Renardo Sidney, 6-9, Power Forward, Committed to USC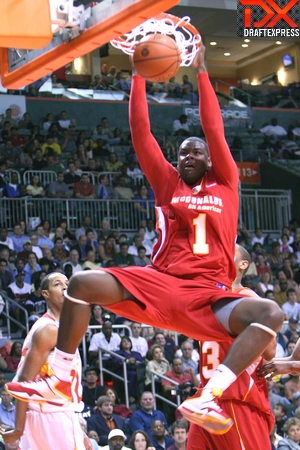 Based on his recruiting rankings,
Renardo Sidney
(#5 Scout, #10 Rivals, #5 ESPN) may have been the biggest disappointment of the week when matching up the hype to his all-around play. Sidney little more than hang out around the 3-point line and settle for 3-pointers (which he can certainly make), putting in almost no effort into any other part of his game. He played zero defense, was not anywhere near as much of a factor on the glass as you might think relative to his outstanding hands and instincts, and showed questionable shot-selection and conditioning.
To his credit, Sidney seems to understand what his shortcomings are, as you will hear in the interview conducted below, and is very much looking forward to Tim Floyd setting him straight at Southern Cal. Sidney really needs a strong-minded and discipline oriented head coach in his life if he's to have any chance at reversing the cumulative effect of the past few years, and Floyd might be just that.
Mason Plumlee, 6-11, Power Forward, Committed to Duke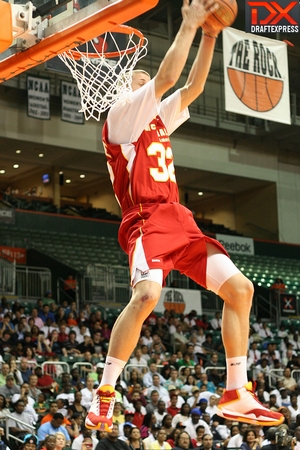 This future Duke big man is quite an interesting prospect, combining great size with terrific athleticism and a budding skill-level, which gives him great upside to continue to develop down the road. Plumlee (#19 Scout, #42 Rivals, #11 ESPN) made some truly jaw-dropping plays in the private scrimmage the day before the real game, exploding off the ground for some highlight reel caliber plays that made both benches erupt with glee. He's quick off his feet, extremely explosive and has a real penchant for the spectacular, as he displayed in the dunk contest as well.

Plumlee can put the ball on the floor a bit and is also capable of knocking down an occasional 3-pointer, while his leaping ability makes him quite a presence on the offensive glass. His limitations are pretty glaring though, as he lacks the strength or footwork to do much of anything with his back to the basket, and despite his nice touch, is still too streaky from the outside to be relied on as much of a perimeter threat at this stage. His body and feel for the game need quite a bit of work as well, but there is no doubt that he's a player to keep an eye on down the road, as he could become a very high-level prospect as he fills out and gains more experience.
Tommy Mason-Griffin, 5-10, Point Guard, Committed to Oklahoma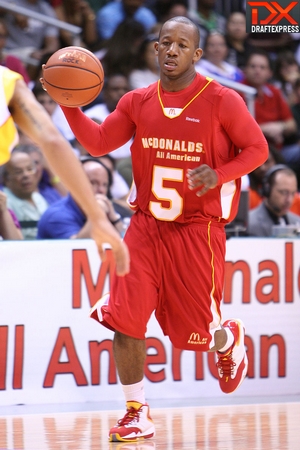 Tommy Mason-Griffin
(#24 Scout, #66 Rivals, #37 ESPN) looks like a very nice get for Jeff Capel and Oklahoma, as he's a speedy point guard with excellent ball-handling skills, very nice change of pace ability, and terrific overall talent. He displayed the raw ability to hit tough shots or find the open man off the dribble, but definitely seemed to be forcing the issue at times, showing a real wild side that Capel will have to harness over the next few years.
Mason-Griffin obviously has great instincts, but he needs to work on his fundamentals in a major way, as he often looks far more interested in making the spectacular play rather than trying to just play good basketball. He ran into brick walls numerous times over the course of the week trying to make fancy streetball style moves, and really showed no conscious whatsoever hoisting up terrible contested shots from the perimeter. At his diminutive size (he looks no more than 5-10 at best) he's going to have to become a pure point guard and learn how to get his shot off in an efficient manner against much bigger guards than he's faced in high school if he's to have any chance at playing at the highest level. Defensively, his height will always be a major hindrance as well.
Travis Wear, 6-9, Power Forward, Committed to North Carolina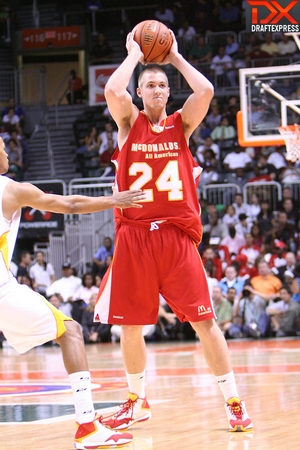 Travis Wear
(#41 Scout, #69 Rivals, #42 ESPN) didn't make anywhere near as strong an impression on us this week as he did a few months back at the Hoophall Classic, which isn't a huge surprise considering that he's the type of player who is always going to look better in a more organized setting.
Wear was overmatched physically at times, getting pushed around and not showing as much toughness as you might hope, which is something they are going to have to work with him on at North Carolina. Defensively, he struggled in a major way trying to defend some of the more physically gifted big men he was matched up with. Offensively, he showed his versatility, smarts and craftiness with some nice moves from the perimeter and around the rim, displaying an excellent skill-level and strong fundamentals. He was able to score in a variety of different ways, utilizing shot-fakes, nice footwork and excellent touch. Considering how stacked North Carolina's frontcourt looks at the moment—with
Ed Davis
,
Deon Thompson
and
Tyler Zeller
all returning, and fellow All-Americans
John Henson
and brother
David Wear
coming in—it will be interesting to see how much playing time he can garner as a freshman.
David Wear, 6-9, Power Forward, Committed to North Carolina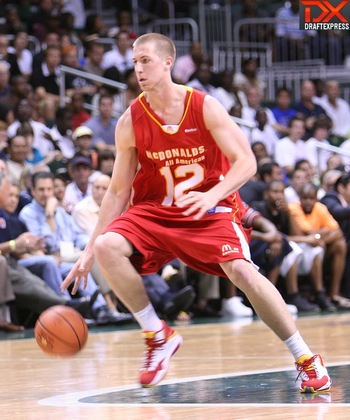 We had a hard time getting a great read on Wear this week, as he really did not appear to stand out in any particular area. We'll have to focus on him more once he gets to Chapel Hill.
Wally Judge, 6-9, Power Forward, Committed to Kansas State
Judge got injured on the first day of practice and was held out of the rest of the week as a precautionary measure, as he apparently pinched a nerve in his neck. Judge was not too happy with the diagnosis, and for some reason decided to conduct his own impromptu dunk contest before the third day of practices as a form of protest.