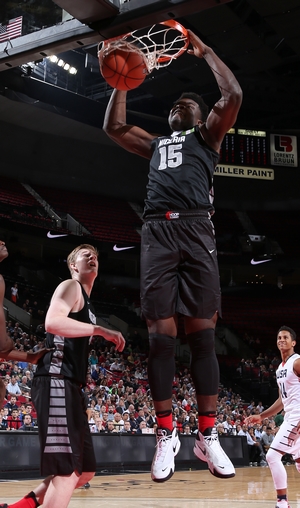 Mike Schmitz
Strengths
-Elite size, length and strength – 6' 11.5" with a 7' 5" wingspan and 265 pound frame. Very developed upper and lower body.
-Good offensive rebounder. Able to carve out space with his strength. Has potential on the defensive glass. Shows flashes of a high motor.
-Solid leaper in space given his size.
-Can make an open right-handed jump hook.
Weaknesses
-Very little feel for the game. Uncomfortable passer, especially vs pressure.
-Extremely raw offensively. Super rigid footwork. Lacks touch on jump hooks. All power, not much skill and finesse. No left hand.
-Doesn't have much pop from a standstill.
-Plays five feet and in. Shoots from his finger tips without much arc or touch.
-Defensive awareness and fundamentals aren't great.
-Very thick legs. Will have to monitor his body as his career progresses.
Outlook
Udoka is a big body with impressive length and not much else at this stage of his development. Given how little Cheick Diallo played for Kansas head coach Bill Self, it's hard to envision Azubuike seeing the floor very often during his first year as a Jayhawk. He has a chance to fill a role as an energy rebounder, defender down the road, but Azubuike is a ways away from being an impact player at the collegiate level.