Vince Hunter
Recent Tweets
All Tweets
DraftExpress: Players who went undrafted Jonathan Holmes Christian Wood Robert Upshaw Mam Jaiteh Michael Frazier Aaron Harrison Vince Hunter more
2015-06-26 00:21:36
Team: Reno
Physicals
Positions
Rankings
Salary
Misc
H: 6' 8"
W: 208 lbs
Bday: 08/05/1994
(21 Years Old)

Current: PF
NBA: PF
Possible: PF

RSCI: 129

Agent: Bill Duffy

High School: Consortium Prep
Hometown: Detroit, MI

Predraft Measurements
| Year | Source | Height w/o Shoes | Height w/shoes | Weight | Wingspan | Standing Reach | Body Fat | No Step Vert | Max Vert |
| --- | --- | --- | --- | --- | --- | --- | --- | --- | --- |
| 2015 | NBA Draft Combine | 6' 6.75" | 6' 7.5" | 208 | 6' 11" | 8' 8.5" | 4.6 | 33.5 | 37.5 |
| 2014 | Nike Skills Academy | NA | 6' 8" | 200 | 6' 10" | NA | NA | NA | NA |



Basic Per Game Statistics

- Comprehensive Stats - Statistical Top 25s
| Year | League | Name | GP | Min | Pts | FG | FGA | FG% | 2Pt | 2PtA | 2P% | 3Pt | 3PtA | 3P% | FTM | FTA | FT% | Off | Def | TOT | Asts | Stls | Blks | TOs | PFs |
| --- | --- | --- | --- | --- | --- | --- | --- | --- | --- | --- | --- | --- | --- | --- | --- | --- | --- | --- | --- | --- | --- | --- | --- | --- | --- |
| 2015/16 | DLEAGUE | Vince Hunter | 6 | 34.8 | 18.2 | 6.8 | 13.7 | 50.0 | 6.7 | 13.3 | 50.0 | 0.2 | 0.3 | 50.0 | 4.3 | 6.5 | 66.7 | 5.8 | 6.2 | 12.0 | 1.5 | 0.7 | 0.7 | 2.5 | 4.5 |

Player Page&nbsp&nbsp| Player Stats | Mock Draft History | Related Articles&nbsp&nbsp| Add to My Draft Express&nbsp
&nbsp
Vince Hunter Updated NBA Draft Scouting Report
May 28, 2015
Matt Kamalsky

After two very productive seasons in Conference USA, Vince Hunter opted to declare for the 2015 NBA Draft on the heels of earning 1st Team All-Conference honors averaging 14.9 points and 9.2 rebounds per game as a sophomore and leading UTEP to a NIT berth.
---
Also on DX:
Vince Hunter Interview in Santa Barbara
---
Standing 6'8 with a solid 6'11 wingspan, Hunter is a big time athlete with terrific quickness and explosiveness. Able to effortlessly finish plays above the rim and defend multiple positions, Hunter's physical profile is a key part of his value proposition at the next level, and a big reason why he was able to fill the stat sheet and endear himself to the NBA Draft analytics community with his efficiency and productivity.

Using 21.7% of UTEP's possessions last season, more than any other player on the Miners' roster, Hunter did the majority of his damage utilizing his physical tools to finish on cuts, fast breaks, and put backs. One of the least prolific shot creators among first options in the entire country, Hunter was a fairly unique player at the college level thanks to his knack for generating shots with his energy and athleticism—something that he'll likely need to continue to do in the NBA considering his average skill-level.

With 76.8% of his field goal attempts in the half court coming on floaters or finishing opportunities at the rim, Hunter made a living in the paint last season. Moving well without the ball, the sophomore was at his best in catch and finish situations when his teammates found him inside. The caliber of athlete who can cock the ball behind himself to avoid the defense or explode for two-handed reverse dunks instead of reverse layups, Hunter proved to be a highly efficient option, scoring 65% on cuts according to Synergy Sports Technology.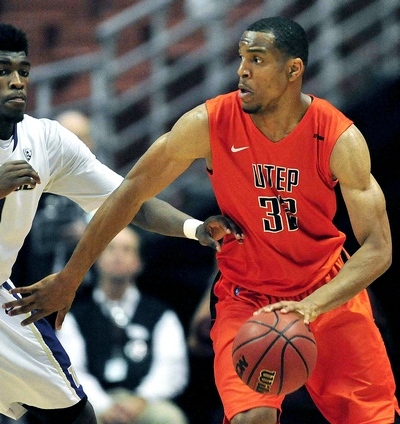 US Presswire



He also made his mark on the offensive glass. One of the top offensive rebounders in our top-100 this season regardless of position, Hunter's aggressiveness, strength, and quick second jump helped him create put-back opportunities for himself at a very high level, which he finished at a terrific 71% rate. Hunter rebounded a significant portion of his own misses as he tends to force shots inside. Often looking to just bully his way straight to the rim on the catch and drawing a terrific 8.7 free throw attempts per-40 minutes pace adjusted because of it, Hunter only finished at an above average 58% clip overall, which may seem low considering his success scoring cuts and put backs, but often won the race to the ball to corral his own misses.

The challenge for Hunter moving forward will be polishing his overall offensive skill set, especially from the perimeter. A power forward in a small forward's body offensively, Hunter took only 28 jump shots last season, converting just 29% of them, with them very ugly misses. He does not sport promising mechanics at this stage, and will likely need to completely revamp his shot to have a chance to developing into a capable spot-up threat, something he'll almost certainly need to do to not be an offensive liability. On top of that, his ball-handling ability can be loose and sloppy at times, and his shot creating ability, both from the perimeter and the post, is based primarily on his explosiveness and lacks a degree of finesse.

Despite his lack of perimeter scoring ability, Hunter remains an intriguing prospect in the Andre Roberson mold thanks to his fantastic lateral quickness and multi-positional defensive potential. The type of athlete who can switch onto and capably match up with players at no fewer than three positions, Hunter ranked second among college big men in steals per-40 minutes pace adjusted behind only Willie Cauley-Stein and also ranked 3rd in our top-100 in defensive rebounds per-40 minutes pace adjusted.

He was stifling at times defensively a season ago with his aggressiveness, recovery speed, and motor, and showed improved fundamentals and discipline from his freshman season. Considering the tools he possesses and the progress he made from one year to the next, he seems to have all the tools to find success on this end of the floor in time.

Only 20 years old, Hunter is a player a team could opt to invest a second round pick in hopes he finds his perimeter stroke and grows into more of a natural wing player. Given his physical tools, the UTEP product will be a player to keep an eye on throughout the draft process and in the coming years, as he clearly has NBA athleticism to go along with tremendous instincts as a rebounder and defender.

[Read Full Article]

---
NBA Combine Competitive Action Recap: Day One
May 14, 2015
18 points, 12 rebounds (9 offensive), 3 steals, 8-16 2P, 2-3 FT, 24 minutes

The 6' 7.5" power forward came out of the gates with non-stop energy and effort on his way to 16 points and 9 offensive rebounds in the first half alone. Although not the most skilled player, Hunter was all over the court on both ends of the floor, crashing the offensive glass relentlessly, finishing around the rim, and diving for loose balls to ignite the fast break. The 20-year-old out of UTEP hangs his hat on his constant motor and proved how he can still impact the game without a refined offensive skill set. Hunter's explosiveness was also on display as he hammered home a couple of rim-rattling dunks, one out of the pick and roll and one off of an offensive rebound. Hunter did show his limitations as a shooter (although he did make one elbow jumper) and scorer on the block. Those limitations coupled with his lack of elite size for the PF position hurt his upside a bit, but Hunter did a great job demonstrating that he has the motor and athleticism to potentially carve out a niche as an energy, athlete/defender at the pro level.

[Read Full Article]

---
Top NBA Prospects in the Non-BCS Conferences, Part 8: Prospects 14-17
November 6, 2014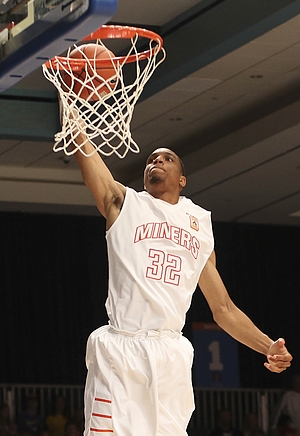 US Presswire



Jonathan Givony

The 129th best player in his high school class according to the RSCI, Vince Hunter played a significant role for UTEP last season en-route to winning Conference USA Freshman of the Year honors, as well as being named Second Team All-Conference.

The team overcame kicking their top scorer and two rotation players out of the program early in January due to gambling allegations, which significantly changed the way they played. Hunter moved to playing heavy minutes at small forward, and the team exceeded expectations, finishing 12-4 in-conference play.

Measured at 6-8 in shoes with a 6-10 wingspan this past summer at the Nike Skills Academy, Hunter has excellent size for a small forward and can get by seeing some minutes at power forward as well, despite weighing just 200 pounds. He has a frame that should continue to fill out, and has very nice athleticism, being quick off his feet, explosive around the basket, and very fluid and mobile overall.

Hunter was one of just a handful of freshmen last season to average over 19 points per-40 pace adjusted with a 58%+ true shooting percentage. The key to that lies in his ability to get to the free throw line, where he took nearly 10 attempts per-40 last season (second best among freshmen prospects), even if he converted just 62% of his attempts once there.

Hunter's touches come in a variety of ways, be it moving off the ball in UTEP's deliberate motion offense, posting up, running the floor in transition, or crashing the offensive glass.

He does a terrific job in the open court, thanks to his excellent speed and aggressive nature, finishing 75% of his field goal attempts in these situations according to Synergy Sports Technology, while drawing a foul on 30% of his possessions. He's very effective on the offensive glass for the same reason, as he's very competitive and is constantly in the mix for loose balls.

Hunter has solid ball-handling ability, particularly if only asked to attack in a straight line from about 15-17 feet. His first step is extremely quick, and he's not afraid to drive right into contact, while showing good touch to finish off plays around the basket, making a solid 59% of his attempts around the rim.

He's also a pretty solid passer on top of that, and shows a very nice feel for moving into open spaces operating off the ball, which was essential for UTEP's ability to manufacture offense playing with such oversized lineups. To make the next step in his development as a shot-creator and take on a bigger share of UTEP's offense next season, Hunter will need to continue to develop his advanced ball-handling skills, particularly with his left hand, which he tends to avoid on both drives and finishes at the moment.

Hunter's biggest shortcoming from a NBA standpoint at the moment revolves around his jump-shot, as he didn't make a single 3-pointer last season and converted just 62% of his free throws. Hunter sports a long, ugly, deliberate shooting stroke from the perimeter, releasing the ball from the side of his head, with sloppy footwork, and zero ability to pull-up off the dribble. Hunter's stroke lacks much in the way of fluidity, which is somewhat discouraging as he absolutely will have to develop some shooting range to make it in the NBA at his size.

Defensively, Hunter shows very nice versatility, being asked to guard anywhere from 2-4 depending on the matchup for UTEP last season. He has good physical tools for a small forward, showing terrific mobility staying in front of quicker players and even recovering and making plays at the rim after getting beat.

Despite that, Hunter suffered from many of the problems most freshman do last season, being too quick to get out of his stance in the middle of possessions, biting on pump-fakes, gambling in the passing lanes, and losing his focus off the ball. His awareness and fundamentals are just average at this stage, things scouts will want to see him improve on as he continues to get stronger and gains experience.

While still in a very early stage of development, and certainly a bit stuck between positions, Vincent Hunter shows the type of athleticism, motor, frame and productivity NBA teams like to see in young prospects his size, making him someone plenty of scouts will be following to see how his skill-level is coming along. He'll have to improve his jump-shot to make it eventually, which may take a while based on the preliminary results, but he's done a very good job of putting himself on the radar early in his college career.

[Read Full Article]

---