Top NBA Prospects in the Non-BCS Conferences, Part 8: Prospects 14-17
November 6, 2014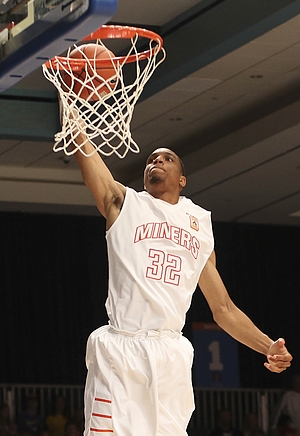 US Presswire



Jonathan Givony

The 129th best player in his high school class according to the RSCI, Vince Hunter played a significant role for UTEP last season en-route to winning Conference USA Freshman of the Year honors, as well as being named Second Team All-Conference.

The team overcame kicking their top scorer and two rotation players out of the program early in January due to gambling allegations, which significantly changed the way they played. Hunter moved to playing heavy minutes at small forward, and the team exceeded expectations, finishing 12-4 in-conference play.

Measured at 6-8 in shoes with a 6-10 wingspan this past summer at the Nike Skills Academy, Hunter has excellent size for a small forward and can get by seeing some minutes at power forward as well, despite weighing just 200 pounds. He has a frame that should continue to fill out, and has very nice athleticism, being quick off his feet, explosive around the basket, and very fluid and mobile overall.

Hunter was one of just a handful of freshmen last season to average over 19 points per-40 pace adjusted with a 58%+ true shooting percentage. The key to that lies in his ability to get to the free throw line, where he took nearly 10 attempts per-40 last season (second best among freshmen prospects), even if he converted just 62% of his attempts once there.

Hunter's touches come in a variety of ways, be it moving off the ball in UTEP's deliberate motion offense, posting up, running the floor in transition, or crashing the offensive glass.

He does a terrific job in the open court, thanks to his excellent speed and aggressive nature, finishing 75% of his field goal attempts in these situations according to Synergy Sports Technology, while drawing a foul on 30% of his possessions. He's very effective on the offensive glass for the same reason, as he's very competitive and is constantly in the mix for loose balls.

Hunter has solid ball-handling ability, particularly if only asked to attack in a straight line from about 15-17 feet. His first step is extremely quick, and he's not afraid to drive right into contact, while showing good touch to finish off plays around the basket, making a solid 59% of his attempts around the rim.

He's also a pretty solid passer on top of that, and shows a very nice feel for moving into open spaces operating off the ball, which was essential for UTEP's ability to manufacture offense playing with such oversized lineups. To make the next step in his development as a shot-creator and take on a bigger share of UTEP's offense next season, Hunter will need to continue to develop his advanced ball-handling skills, particularly with his left hand, which he tends to avoid on both drives and finishes at the moment.

Hunter's biggest shortcoming from a NBA standpoint at the moment revolves around his jump-shot, as he didn't make a single 3-pointer last season and converted just 62% of his free throws. Hunter sports a long, ugly, deliberate shooting stroke from the perimeter, releasing the ball from the side of his head, with sloppy footwork, and zero ability to pull-up off the dribble. Hunter's stroke lacks much in the way of fluidity, which is somewhat discouraging as he absolutely will have to develop some shooting range to make it in the NBA at his size.

Defensively, Hunter shows very nice versatility, being asked to guard anywhere from 2-4 depending on the matchup for UTEP last season. He has good physical tools for a small forward, showing terrific mobility staying in front of quicker players and even recovering and making plays at the rim after getting beat.

Despite that, Hunter suffered from many of the problems most freshman do last season, being too quick to get out of his stance in the middle of possessions, biting on pump-fakes, gambling in the passing lanes, and losing his focus off the ball. His awareness and fundamentals are just average at this stage, things scouts will want to see him improve on as he continues to get stronger and gains experience.

While still in a very early stage of development, and certainly a bit stuck between positions, Vincent Hunter shows the type of athleticism, motor, frame and productivity NBA teams like to see in young prospects his size, making him someone plenty of scouts will be following to see how his skill-level is coming along. He'll have to improve his jump-shot to make it eventually, which may take a while based on the preliminary results, but he's done a very good job of putting himself on the radar early in his college career.

[Read Full Article]

---