Willie Cauley-Stein
Recent Tweets
All Tweets
DraftExpress: Noah Vonleh being traded for a SF seemingly opens up another landing spot for Willie Cauley-Stein in Top-10. Charlotte already had interest.
2015-06-24 20:02:20
DraftExpress: Willie Cauley-Stein's draft range as wide as anyone's in the lottery. Has strong interest at 4 5 6 but could also slide to end of lottery
2015-06-24 16:23:26
DraftExpress: Willie Cauley-Stein dropped to 11 in our latest mock draft (http\/\/t.co\/6eGFJfM1fb). Here's the exact reason why http://t.co/kUFTaF77uU
2015-06-22 13:45:20
DraftExpress: Uncertainty surrounding Willie Cauley-Stein's foot could impact his standing on Thursday night. Full story here http://t.co/kUFTaF77uU
2015-06-22 12:58:43
DraftExpress2: RT @DraftExpress Here's a smooth Willie Cauley-Stein Iso followed by an huge Karl-Anthony Towns dunk. http://t.co/erVkAhCJAZ
2015-06-01 14:30:40
Team: Kings
Physicals
Positions
Rankings
Salary
Misc
H: 7' 1"
W: 242 lbs
Bday: 08/18/1993
(22 Years Old)

Current: C
NBA: C
Possible: C

RSCI: 39

Agent: Rich Kleiman

High School: Olathe NW
Hometown: Olathe, KS
Drafted: Pick 6 in 2015 by Kings

Predraft Measurements
| Year | Source | Height w/o Shoes | Height w/shoes | Weight | Wingspan | Standing Reach | Body Fat | No Step Vert | Max Vert |
| --- | --- | --- | --- | --- | --- | --- | --- | --- | --- |
| 2015 | NBA Draft Combine | 6' 11.25" | 7' 0.5" | 242 | 7' 3" | 9' 3" | 6.3 | NA | NA |
| 2014 | Kentucky Combine | 6' 11.25" | 7' 0.25" | 240 | 7' 2" | 9' 2" | 6.4 | 31.0 | 37.0 |
| 2013 | Big Man Skills Acad | NA | 7' 0.5" | 240 | 7' 2.5" | NA | NA | NA | NA |
| 2011 | LeBron James Camp | NA | 7' 1.25" | 221 | 7' 2" | NA | NA | NA | NA |
| 2011 | Amare Stoudemire Camp | NA | 7' 1.25" | 221 | 7' 2" | NA | NA | NA | NA |



Basic Per Game Statistics

- Comprehensive Stats - Statistical Top 25s
| Year | League | Name | GP | Min | Pts | FG | FGA | FG% | 2Pt | 2PtA | 2P% | 3Pt | 3PtA | 3P% | FTM | FTA | FT% | Off | Def | TOT | Asts | Stls | Blks | TOs | PFs |
| --- | --- | --- | --- | --- | --- | --- | --- | --- | --- | --- | --- | --- | --- | --- | --- | --- | --- | --- | --- | --- | --- | --- | --- | --- | --- |
| 2015/16 | NBA | Willie Cauley-Stein | 19 | 19.0 | 4.6 | 1.9 | 3.3 | 59.7 | 1.9 | 3.3 | 59.7 | 0.0 | 0.0 | &nbsp | 0.7 | 1.5 | 48.3 | 1.8 | 3.3 | 5.2 | 0.3 | 0.6 | 1.1 | 0.7 | 2.4 |

Player Page&nbsp&nbsp| Player Stats | Mock Draft History | Related Articles&nbsp&nbsp| Add to My Draft Express&nbsp
&nbsp
CAA Workout Outtakes: Towns/Cauley-Stein Dunks from LA
June 3, 2015
Two minutes of Willie Cauley-Stein dunks in a gym in Los Angeles. Watch the Kentucky phenom flying all over the rim.



[b]See Also: CAA Workout Outtakes: Cauley-Stein Jumpers,Full Workout Video

[Read Full Article]

---
Willie Cauley-Stein Workout Video and Interview
June 3, 2015
An interview with Kentucky's Willie Cauley-Stein featuring footage from his pre-draft workouts in Los Angeles with Don MacLean and Proactive Sports Performance.

(Video may not load with Internet Explorer. Use Chrome or Firefox)[/i]
---
More Pre-Draft Interviews/Workout Videos
-Karl Towns Workout
-D'Angelo Russell Workout
-D'Angelo Russell Interview
-Justin Anderson Workout Video and Interview
-Cliff Alexander Workout Video and Interview
-R.J. Hunter Workout Video and Interview
-Bobby Portis Workout Video and Interview
-Sam Dekker Workout Video and Interview
-Kelly Oubre Workout Video and Interview
-Stanley Johnson Workout Video and Interview
-Terry Rozier Workout Video and Interview
-Rondae Hollis-Jefferson Workout Video and Interview
-Rashad Vaughn Workout Video and Interview
-Andrew Harrison Workout Video
-J.P. Tokoto Workout Video
-Jarell Martin Workout Video
-D'Angelo Russell Interview
-Quinn Cook Interview
-Frank Kaminsky Workout Video
-Robert Upshaw Workout Video
-Rakeem Christmasn Workout Video
-Myles Turner Workout Video
-Stanley Johnson Interview
-Kelly Oubre Interview
-Frank Kaminsky Interview
-Satnam Singh Interview
-Satnam Singh Workout Video
-Alan Williams Interview
-Aaron White Interview
-T.J. McConnell Interview
-Chasson Randle Workout Video
-Chris Walker Interview
-Chris Walker Workout Video
-Cameron Payne Workout Video
-Cameron Payne Interview
[Read Full Article]

---
CAA Workout Outtakes: Russell/Towns/Cauley-Stein Jumpers
June 3, 2015
Five minutes of sweet/smooth Willie Cauley-Stein jumpers in a gym in Los Angeles. Watch the Kentucky phenom making shots from all over the floor, including spot-shooting, pull-ups, on the move and more.



[Read Full Article]

---
Willie Cauley-Stein Interview
May 23, 2015
A video interview with Kentucky center Willie Cauley-Stein at the 2015 NBA Combine in Chicago, Illinois.

(Video may not load with Internet Explorer. Use Chrome or Firefox)
---
More Pre-Draft Interviews/Workout Videos
-Rashad Vaughn Workout Video and Interview
-Andrew Harrison Workout Video
-J.P. Tokoto Workout Video
-Jarell Martin Workout Video
-D'Angelo Russell Interview
-Quinn Cook Interview
-Frank Kaminsky Workout Video
-Robert Upshaw Workout Video
-Rakeem Christmasn Workout Video
-Myles Turner Workout Video
-Stanley Johnson Interview
-Kelly Oubre Interview
-Frank Kaminsky Interview
-Satnam Singh Interview
-Satnam Singh Workout Video
-Alan Williams Interview
-Aaron White Interview
-T.J. McConnell Interview
-Chasson Randle Workout Video
-Chris Walker Interview
-Chris Walker Workout Video
-Cameron Payne Workout Video
-Cameron Payne Interview
[Read Full Article]

---
2015 NBA Draft Combine Measurements Analysis
May 13, 2015
-Willie Cauley-Stein: The Kentucky center measured 6'11.25 without shoes with a 7'3 wingspan and a 242 pound frame. His 6.3% body fat is very low for a big man and his standing reach ranks 5th among the players measured here. Cauley-Stein isn't as historically large as Upshaw, but his measurements aren't far off those of Chris Bosh who measured 6'10.25 with a 7'3.5 wingspan and a 225-pound frame coming out of Georgia Tech. Cauley-Stein measured a little longer than he had in the past, and that, combined with his terrific agility, instincts and anticipation skills make it very easy to see him developing into a defensive stopper in the NBA.

[Read Full Article]

---
Willie Cauley-Stein NBA Draft Scouting Report and Video Breakdown
April 8, 2015
Video Analysis by Mike Schmitz. Scouting Report by Jonathan Givony

Willie Cauley-Stein did not come to Kentucky as heralded as some of his teammates, being ranked by most recruiting services in the 40-50 range, and expected to take a backseat to fellow freshmen frontcourt players Nerlens Noel, Kyle Wiltjer and Alex Poythress, all McDonald's All-Americans. Cauley-Stein exceeded expectations from the start, quickly entrenching himself as a key player for John Calipari, seeing 28 minutes in his first college game against Maryland and future top-5 pick Alex Len at the Barclays Center.

Cauley-Stein almost certainly would have been a first round pick following his freshman year, but elected to come back to school, and played a major role in Kentucky's surprising run to the NCAA Final Four as a sophomore. Once again, he decided to turn down the lure of the NBA and returned to Lexington for his junior year, despite being projected as a likely lottery pick. Kentucky returned to the Final Four, with Cauley-Stein playing the best basketball of his career, anchoring a historically great defense that ended the year 38-1, after losing to Wisconsin.

Cauley-Stein has tremendous tools for a modern-day NBA big man, standing over 7-feet in shoes, with a 7-2 wingspan, and a 240 pound frame. He'll be one of the most athletically gifted big men in the NBA right off the bat, as he runs the court like a track star, and is incredibly fluid, agile, quick and explosive.

(Video may not load with Internet Explorer. Use Chrome or Firefox)

Defensively is where he has the chance to be a real game-changer at the NBA level. He legitimately guarded five positions for Kentucky this season, showing incredible versatility and agility covering ground on the perimeter and staying in front of players much smaller than him. His exceptionally quick feet give him the ability to switch seamlessly on pick and rolls, and he does a great job of contesting shots on the perimeter or recovering into the paint and offering rim protection. Cauley-Stein averaged a terrific 3.6 blocks and 1.8 steals per-40 minutes over the course of his career at Kentucky, showing outstanding instincts for forcing turnovers.

Offensively, Cauley-Stein is not particularly prolific, but nevertheless finds ways to contribute in small doses. He is a voracious floor-runner, getting out in transition frequently to beat guards and big men alike, and converting 77% of his field goal attempts in these situations when he does, one of the best rates in college basketball.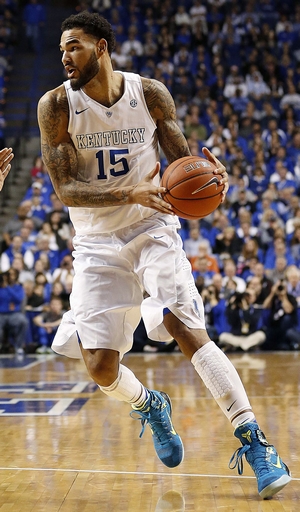 US Presswire



He's also a significant weapon to have as a cutter and roller off the ball, where he finishes 61% of his attempts around the basket in non-post-up situations. This was his most frequent source of production in college, especially off lob plays, and will likely continue to be so in the NBA, particularly in pick and roll situations where his ability to just spring up off the floor off two feet for emphatic finishes is a highly coveted skill.

Beyond that, Cauley-Stein is fairly limited, relegated to occasional flashes of offense creating in a straight line from the high post with an extremely quick first step and very rudimentary ball-handling ability. He also showed some improvement with his jump-shot as a junior, knocking down a handful of jumpers on the season, and increasing his free throw percentage from a dismal 37% as a freshman to a much more acceptable 62% as a junior.

He'll also contribute as an offensive rebounder (career 3.9 per-40), as his superior quickness and leaping ability allows him to go well out of his area at times, and his terrific second bounce gives him the ability to convert putbacks off multiple efforts.

(Video may not load with Internet Explorer. Use Chrome or Firefox)

Nevertheless, Cauley-Stein is unlikely to emerge as anything more than a complimentary player at best on the offensive end, as despite turning 22 a few months after the draft, he still shows poor instincts as a scorer and was rarely counted on for consistent production at the college level.

Cauley-Stein is extremely limited with his back to the basket, being unable to consistently score inside the paint at the college level, even with significantly smaller players guarding him. His lack of strength is an issue, which prevents him from establishing deep post position and finishing through contract in traffic, but so is his lack of balance and countermoves which causes him to look rushed and out of control when under pressure. He misses some relatively easy shots around the rim too frequently, showing average touch in the process, and isn't a particularly good passer either, generating an assist on just 7% of his possessions.

Cauley-Stein's defensive rebounding numbers don't jump off the page at 6.6 per-40, which is partially a product of his role at Kentucky and also somewhat of an indication of things he needs to continue to improve on in time. Spending significant time on the perimeter defensively, or challenging opponents around the rim as a rim-protector, Cauley-Stein often isn't in position to make a play on the glass, something that is very much by design. With that said, his lack of strength and average toughness allowed him to get pushed around in the paint at times, and he is not very fundamentally sound in terms of the way he approaches boxing out opponents, often preferring to just use his incredible natural gifts to go out and grab rebounds instead.

Cauley-Stein's focus and intensity-level tend to waver at times, which spills into other parts of his games as well. You don't always quite know what you'll get on any given night with him, as he's somewhat inconsistent with his approach and will appear to simply be going through the motions every so often due to a lack of concentration—not being productive at all. He's gotten much better with this as his career has moved on, but there are still some concerns about whether he'll be able to maintain the same energy-level and be consistent through a long and grueling 82 game season.

With all that said, Cauley-Stein is still likely to be considered one of the top big men in the draft, due to the incredible physical tools he displays combined with the versatility he offers defensively. Long-armed athletic 7-footers like Tyson Chandler or DeAndre Jordan who can offer both rim-protection and the ability to step out onto the perimeter are incredibly rare and coveted in today's NBA, and it was easy to see what Cauley-Stein meant to his Kentucky squad this year on their historic undefeated run.

[Read Full Article]

---
2014 Kentucky Combine Measurements and Analysis
October 11, 2014
Willie Cauley-Stein measured almost exactly as he did a year ago at the Nike Big Man Skills Academy standing 6'11.25 without shoes with a 240-pound frame and 7'2 wingspan. His 6.4% body fat is simply outstanding considering he's gained some 30 pounds since his high school days, while his 3.15 second ¾ court sprint and 12'3 maximum reach are almost identical to the numbers registered by Dwight Howard coming out of high school. The latter ranks among the 10 best marks in our entire database. The 19 reps Cauley-Stein pumped out on the bench (185-pounds like the NBA Combine) are also fairly impressive considering his strength was maligned early in his career. There's no question that Cauley-Stein is currently the gold standard when it comes athletic ability when it comes to center prospects in the college game.

[Read Full Article]

---
Top Prospects in the SEC, Part 2: Willie Cauley-Stein Scouting Video
September 19, 2014


Mike Schmitz is the video analyst for DraftExpress. Follow him on twitter and check out the DraftExpress video section. He will be breaking down the NBA draft in digital format all year long for us.

[Read Full Article]

---
Top NBA Prospects in the SEC, Part 1: Willie Cauley-Stein Video
October 14, 2013


Mike Schmitz is the video analyst for DraftExpress. Follow him on twitter and subscribe to the DraftExpress YouTube page. He will be breaking down the NBA draft in digital format all year long for us.

[Read Full Article]

---