Jonathan Givony
McDowell-White had an up and down week in Portland, culminating in a somewhat disappointing in the game, scoring just 5 points with 2 assists and 6 turnovers on 2-8 shooting from the field in 25 minutes.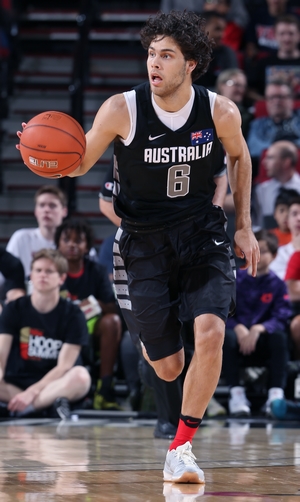 He proved to be a willing distributor in practices, moving the ball utilizing his excellent size and strong court vision. He had a difficult time with the speed and length of the US guards, though, particularly when pressed or trapped, being forced to turn his back to his opponent frequently to avoid having the ball ripped away. While he shows potential as a passer, McDowell-White is still learning the nuances of the point guard position (which he readily himself admits), and he looked overwhelmed at times with the level of competition he faced in the game.
As a shooter, he showed some glimpses of being able to develop into a reliable perimeter threat, especially with his feet set from the corners, but is still fairly inconsistent overall. His mechanics aren't the most conventional you'll find, and he's streaky shooting off the dribble.
Defensively, McDowell-White is willing and active, showing quick hands and instincts getting in the passing lanes. Still, his average 6'5 wingspan mitigates some of the advantage he has as a bigger guard.
At an early stage of his development, McDowell-White is still figuring out how to put all his tools together and become a more consistent player on both ends of the floor. His focus and confidence seemed to waver at times throughout the week, as he didn't always looked as locked in as you might hope, but considering he's yet to turn 18, that's probably not all that surprising.