Wilson Chandler
Recent Tweets
All Tweets
DraftExpress: George Karl redefining the term "going small" here. Al Harrington at the 5, Wilson Chandler at 4, Afflalo at the 3. Paint completely open.
2012-03-26 10:04:22
DraftExpress: Our NBA Lockout stats page has been updated. Now includes China, and the EuroCup: http://t.co/4W0K16cU - Wilson Chandler is not shy!
2011-11-21 10:50:11
DraftExpress: What a player Wilson Chandler has become. At DePaul could barely shoot or dribble, was just an athlete. Now a complete offensive weapon.
2010-12-25 02:27:24
Problem is the Knicks don't really have any assets they'd be willing to give up that also interest Portland. Wilson Chandler was discussed.
2010-08-19 09:37:28
Top 25s - Full List
Team: Nuggets
Physicals
Positions
Rankings
Salary
Misc
H: 6' 8"
W: 210 lbs
Bday: 05/10/1987
(28 Years Old)

Current: SF/PF
NBA: SF
Possible:

RSCI: 59

Agent: Rich Kleiman
Current Salary:$6,757,913

High School: Benton Harbor
Hometown: Benton Harbor, MI
Drafted: Pick 23 in 2007 by Knicks




Basic Per Game Statistics

- Comprehensive Stats - Statistical Top 25s

Player Page&nbsp&nbsp| Player Stats | Mock Draft History | Related Articles&nbsp&nbsp| Add to My Draft Express&nbsp
&nbsp
NBA Scouting Reports, Atlantic Division (Part Two)
January 27, 2009
Overview:A physical specimen of a combo forward. Possesses a great frame, long arms and freakish athleticism. Very young, but seems to be making great progress considering where he was picked in the draft. Given plenty of playing time very early on to aid his development. Somewhat of a limited offensive player, primarily a spot-up shooter and off-ball role player. Not an efficient option offensively just yet, but can come up with some big scoring nights from time to time. A little bit stuck between the 3 and the 4 offensively, due to inability to create own shot or knock down long-range jumpers consistently. Very versatile defensively, and shows great potential on this end of the floor. Still has to find his bread and butter in the NBA, as well as mature, gain experience and become a more polished all-around player. Played just two seasons at DePaul, deciding to leave before making much of an impact at the collegiate level. Received a late first-round promise very early on in the draft process from Isiah Thomas—who knew him thanks to mutual acquaintances in Michigan-- and thus refused workouts with every NBA team.

Offense: Capable of putting up scoring numbers, but has yet to learn how to do so efficiently early on in his career. Relies extremely heavily on his jump-shot as his main source of production, but is not very consistent from beyond the arc just yet. Very solid from mid-range on the catch and shoot, but is extremely streaky from 3-point range and struggles pulling up off the dribble. Cannot create his own shot off the dribble, possesses a quick first step, but is a poor ball-handler, particularly with his left hand, and cannot change directions on his way to the basket. Does not get to the free throw line much at all. Terrific in the open floor, and is a fantastic finisher around the basket if he has space to operate. A good fit in Mike D'Antoni's offense for that reason, especially if he can improve his perimeter jumper. Shows potential in that regard from time to time, but shot-selection and consistency still leave a lot to be desired. Decent passer and not too turnover prone. Would be wise to develop a back to the basket game, in order to take advantage of mismatches at the SF position.

Defense: Has phenomenal tools on this end of the floor, and is already used in a multitude of ways by Mike D'Antoni for this reason. Shows great potential as a one on one perimeter defender. Guards virtually every position from 1-4, can switch on screens with ease, and is quick enough to stay in front of almost all perimeter players. Terrific combination of wingspan and lateral quickness gives him the ability to sag off his matchup and tempt him to settle for long pull-up jumpers, being just long enough to still close out and get a hand in his face once he does. Seems to lose focus from time to time, getting out of his stance, showing poor awareness off the ball, and not always showing the same intensity. Teams like to post him up inside when presented with the opportunity to do so, and he struggles denying space in the paint and not being backed down. Could still stand to get tougher on this end of the floor, as well as add weight to his very promising frame. A good, but not great rebounder at the forward spot.

[Read Full Article]

---
Las Vegas Summer League Day Four
July 16, 2008
Chandler came through with a one of the best performances of the day, showcasing just how far he's come since last summer. He looked exponentially more comfortable shooting from deep, knocking down one three and a handful of catch and shoot jumpers from around 22 feet. His range is significantly better than last year primarily due to his form, which has always been consistently good.

In the same vein, Chandler was dominant from the midrange, knocking down one-dribble jumpers routinely. He did a great job getting up and down the floor and making plays for himself and his teammates. While he's not a great ball handler, he's capable of bringing the ball up the floor in this setting.

Defensively, Chandler was very effective, defending the post for the majority of the game. His ability to guard multiple positions on this level is a testament to just strong he is for a wing player. The timing he showed blocking shots was impressive, as was his ability to anticipate passes on the perimeter. This was a great contest for the second year forward, and he should prove to be one of the best players in attendance if he keeps it up.

[Read Full Article]

---
Filling in the blanks: Wilson Chandler
June 16, 2007
Emptying out our scouting notebook, we continue our series examining under the radar underclassmen that played for non-NCAA tournament teams. Wilson Chandler, a fairly anonymous name in college basketball, is in this year's draft for good despite having an extremely inconsistent season and not being assured of a spot in the first round. Is he making the right move?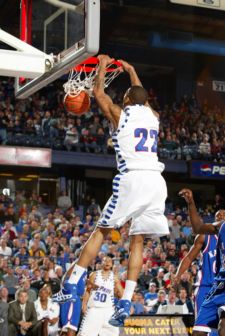 DePaul Athletics



Chandler is a raw, but extremely promising hybrid forward with prototypical tools for the next level. Standing somewhere around 6-8, he passes the eye test and then some, with an awesome combination of size, length, and athleticism. He has a fantastic frame and unbelievable explosiveness, being able to make at least a few plays in each game that almost no players in this draft are capable of.

Not having scouted him all that seriously this past season (no one really expected to declare for the draft, let alone keep his name in), it was hard for us not to come away from watching his tapes recently feeling like he has more potential than anyone outside the top dozen names or so in this draft, and that we may have seriously slept on him these past few months.

The main attraction we found revolves around his unbelievable athleticism. Chandler runs the floor like a deer, with great quickness and big, long strides, being capable of getting off his feet for highlight reel caliber dunks with the great of ease, either in alleyoop fashion or for a thunderous putback dunk. DePaul in fact utilized a backdoor alleyoop play as a regular fixture in their playbook just for Chandler's sake, and his guards knew that throwing the ball in his general direction around the rim would usually result in an easy assist.

Chandler is not a great finisher in terms of his post moves or finishing off the glass, something that gave us a great opportunity to check out his terrific second and third pogo-stick-esqe bounce off his feet for offensive rebounds, which would usually end up being converted in an eventual basket. Chandler is not quite as athletic as a super-freak dunk contest participant like Tyrus Thomas for example, but watching him on tape, he doesn't really seem that far off either. Had he played for a program like LSU and made the Final Four the way Thomas did in 2006, we might be talking about him as a borderline lottery pick rather than as a borderline first round pick.

Regardless, you might be asking yourself why Chandler is such an unknown quantity in this draft as far as his hype is concerned. There are a number of reasons for that, with the main one being the team he played for. Chandler played in an awful college system as far as his style of play is concerned, a dreadfully slow, Princeton-type offense focused on moving the ball around the perimeter methodically in search of a backdoor cut for long 35 seconds, until it came time for someone to jack up an off-balanced three-pointer as the shot clock expired. We're obviously exaggerating, but had he played in the type of up and down, run and gun system that best suits his style of play (think Arizona, Washington, North Carolina), we would obviously be talking about him differently, especially if he had a real point guard next to him.

Instead, he played for the team with the 4th least amount of possessions of any player projected to be drafted on our board, or as you can see here one of the most methodical teams in the entire country. The excellent Ken Pomeroy ranks DePaul as the 296th fastest team in the NCAA.

That hardly tells the entire story, though, as a good amount of the blame for his lack of production has to fall on his shoulders as well. For most of his basketball career, the biggest knock against Chandler has always been his tendency to coast through games and not assert himself. He's an extremely reserved, quiet person off the court, and this unsurprisingly lends itself perfectly onto the basketball court as well. Too often he will just camp outside on the perimeter and wait for the game to come to him, rather than make a commitment to utilize his awesome physical tools to make things happen inside.

Part of this has to do with DePaul's style of play, but it's not hard to notice the influence of his personality on his game as well, particularly on the defensive end, where he often looks tentative and not quite as active as you might hope. Unfortunately these personality traits--as we've too often found out in the past--don't tend to change once a player becomes a pro. That doesn't mean that he can't go on to have a long, productive NBA career, but it very well can lessen his ceiling from being considered to have star potential to "just" projecting as a solid role player—which there is obviously nothing wrong with.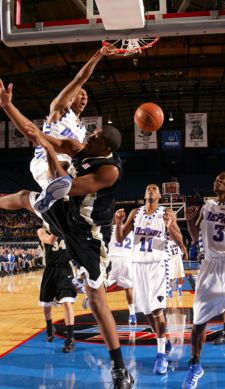 DePaul Athletics



But enough about his mental makeup…what about his skills? From what we can tell, he has a long ways to go to reach his full potential here too. Mostly playing the power forward or even center position in college, Chandler projects as a SF/PF combo in today's NBA—similar to the role Shawn Marion, Andrei Kirilenko or Tyrus Thomas will play once he reaches his full potential. While the combo guards are getting all the media love when discussing the future of the NBA, we think the combo forwards will be playing a big role in the transformation the league is making and will continue to make in the future too. Chandler has the physical tools to play this role as well, after a year or two of seasoning in the D-League, even if his skill-set still has a ways to go.

As a jump-shooter, Chandler has the touch and elevation part down fairly well. The problem is that his otherwise nice mechanics can get sloppy when he is forced to shoot under duress (or even sometimes when he isn't)—as he doesn't always fully set his feet or square his shoulders when getting his shot off, which causes his body to flail, and hampers him from achieving a consistent release point. Further hurting him is his poor shot selection, which combined with his sloppy footwork, lowers his percentages considerably. Even though he only hit 33% from behind the arc and 65% from the free throw line, Chandler regardless has a good base with which to work off of as a jump-shooter, and can very likely develop into an adequate NBA 3-point shooter with his feet set if he continues to work hard.

We already see a raw ability at times in being able to come off a screen and elevate nicely for a mid-range jumper, or even create a shot on his own and pull-up from 16 to 17 feet like a true wing. At times he'll look very smooth doing so, executing the move like an NBA small forward and knocking down the shot beautifully, while in others he'll barely graze the front of the rim or even air-ball the shot completely. Once again, though, the upside is clearly there, it's really a matter of refining his skills from a technical standpoint—often easier said than done.

Continuing with his perimeter skills, we find Chandler's biggest weakness—his ball-handling. Chandler is a poor ball-handler right now any way you slice it, looking out of control trying to create his own shot and make his way all the way to the rim. He lacks complete control of the ball and therefore is slowed down by it substantially, which nullifies what would otherwise be a fantastic first step. With a clear path to the rim, he can take a long stride or two and come up with a highlight reel caliber finish, but anything more advanced than that—particularly with his left hand—is out of his repertoire for the most part. That doesn't seem to stop him from trying, though, resulting in some bad turnovers after dribbling the ball out of control with his head down right into a brick wall. No one has probably ever accused Chandler of having too high of a basketball IQ, at least from what we could tell.

In the post, Chandler is fairly limited as well, not possessing any real moves with which to finish with on a consistent basis besides his freakish quickness and leaping ability. If he's to play some small forward at the next level, it's important for him to learn how to use his size better in the paint, as that could be an excellent source of production when being defended by smaller guys.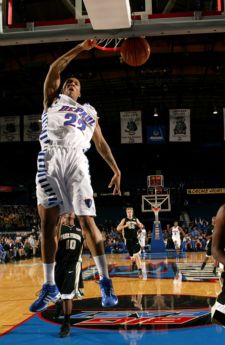 DePaul Athletics



As a rebounder, Chandler is fairly solid, averaging 9.2 rebounds per-40 minutes pace adjusted, which makes him the 6th best rebounding small forward in this draft. That's not spectacular, but it isn't bad either, especially when you consider that he really doesn't make too much of an attempt to box out his opponents, and he's not naturally the most aggressive or active guy in the world either. Most of his production comes from his excellent physical tools—in particular his quickness, wingspan and above average strength.

Defensively, Chandler will at times look great, and in others look completely average. He didn't get much of an opportunity to defend the perimeter while playing so many minutes at the 4/5 spots for DePaul (who also play a lot of zone), but when he did step out, particularly in pick and roll situations, it seemed like he lacked some awareness and footwork to stay in front of players laterally—even if he does have the quickness to do so and then some.

If you've reached the end of this article, you might be wondering why Chandler decided to keep his name in the draft considering how raw he seems to be right now. Part of that we're assuming has to do with the system he plays in, which is obviously better suited to a mid-major team like Richmond or UNC Wilmington, where Chandler's ex-coach Jerry Wainwright worked previously, and who still run virtually the same system that DePaul does.

Having committed initially to Dave Leitao (now at Virginia) before he jumped ship, Chandler never saw eye to eye with Wainwright according to numerous reports, even being suspended for two games at one point for "time management issues." When Chandler began exploring the possibility of entering this year's draft, Wainwright reportedly implied to him that he will not have time to both test the waters and keep himself academically eligibility, and therefore told him to decide very early in the game between going pro or staying in school. Chandler surprisingly decided to gamble on going pro and hiring an agent, and DePaul is now facing the prospect of an even worse season than they had this year.

As far as Chandler is concerned, he could be caught in a pretty tough spot too. He decided to pass up an invite to play in the NBA pre-draft camp in Orlando, but then suffered an ankle injury and is yet to conduct even a single workout at this point. This past week he cancelled workouts with both the Portland Trailblazers (on the 14th) and the Chicago Bulls (on the 11th), and is yet to reschedule working out for either team. Instead, he is scheduled to conduct 7 workouts in 9 days, starting Monday-- leading up to the draft.

A few NBA teams we've spoken to have expressed some frustration with being unable to get Chandler in for a workout themselves, and have quietly began to wonder whether an NBA team has already promised him a spot somewhere in the first round—causing him to shut down his workouts because of the alleged "injury." One media report had him sitting out with a shoulder injury, while others instead cited an ankle injury.

The person that is widely regarded as the source of the promise already warned the media that he plans on being a "Gamblin' Man" in this year's draft, saying that he can afford "take a flier on maybe somebody people aren't expecting you to pick." That "Gamblin' Man" would of course be none other than New York Knicks GM Isiah Thomas, who proved that he is not averse to bucking trends and shocking the world last year by taking Renaldo Balkman with the #20 pick.

This year, not everyone at least would be shocked to see him do something similar with Wilson Chandler at the #23 pick. He's got the upside to warrant being selected that high, but does he have the intangibles to reach his full potential? Stay tuned.

[Read Full Article]

---
Weekly Top Performers: Holiday Edition
December 20, 2006
One player who has elicited widely varyin opinions since his arrival at the D1 level is DePaul wing Wilson Chandler. The Michigan product was billed as more of a PF as a prep, but it was clear from day one last season that he would eventually be spending all of his time at the wing. Chandler struggled through a rough freshman season, not always seeing eye to eye with the coaching staff and struggling with his perimeter shot. However, several huge games over the second half of the season gave many reason to believe that the best was still yet to come for the rangy, athletic youngster.

The very high-upside Chandler presents us with a bit of a dillema, in that he has always most productive using is explosiveness and length around the basket but his upside comes in brilliant flashes of midrange shot creating ability. Chandler struggled a season ago because he relied too much on his inconsistent perimeter game, and failed to translate his immense natural gifts into on-court production. A player with Chandler's combination of size, athleticism, and finishing instincts should never shoot the 43.6% from the field that he did a season ago.

This year, Chandler is showing some major improvement as far as his transition to the wing goes. His perimeter jumper has gone from inconsistent at best to downright dangerous (21.1% from 3 a season ago, 40.5% this year), and he is getting behind the defense for acrobatic, highlight reel finishes on a regular basis. His combination of size and leaping ability is quite formidable, and not many wing prospects can match Chandler's athletic tools at the college level.

In last week's emphatic win over Wake Forest, Chandler was a legitimate go-to force. He spotted up and created shots for himself in the midrange, spent some time picking up garbage points around the rim, and flew up and down the court for severasl spectacular alleyoop dunks. He poured in 20 first half points, and probably would have continued to dominate had the game still been a game in the second half. Very rarely do you see a player who can hang in the air and finish around the rim quite like Chandler, and the highlight of the night was a spectacular finish where he started underneath the basket almost toeing the baseline and somehow managed finish at the rim by half reversing his body, half using his length to flip the ball into the basket.

As far as tangible development goes, this was one of the more significant draft-related performances of the year so far. The sophomore has remained consistent all season, not a full time go-to guy just yet, but certainly sharing the load with Sammy Mejia. He put together an excellent showing in Maui, and has put together a nice stretch of scoring games since then. Chandler needs to continue to use his natural advantages in length and explosiveness around the basket, but it appears that an NBA future does await. It remains to be seen if this is the beginning of a breakout season, or if he will need to come back for a season as the full-time man once Mejia moves on. Either way,this is a player with the natural tools and upside to warrant a lot of attention from scouts even as an underclassman.

[Read Full Article]

---
Top NBA Draft Prospects in the Big East (Part One: #1-#5)
November 6, 2006
We're talking about a 6-7 or 6-8 forward with excellent tools to play the game. To start with, he's extremely athletic, with a nice vertical leap, good quickness, and a strong first step. His frame is solid-- although it could certainly use some more bulk-- and his wingspan long enough to allow him to play bigger than his size. On top of that, Chandler is very smooth and seems to have a really nice feel for the game. In a nutshell, that's where the majority of his intrigue stems from.

Offensively, Chandler shows a lot of promise in terms of making the transition to being a full-time wing. He is smart moving off the ball and really knows how to present himself around the basket for athletic finishes. His ball-handling needs work, but he showed plenty of potential in terms of creating his own shot and making his way to the hoop.

Although his shooting mechanics are not consistent at this point in his career, he has the touch to improve drastically in this area if he puts in the work. He does a little too much standing around at times waiting for things to come to him, but most of that has to do with DePaul's unbearably slow offense, a direct derivative of his coach Jerry Wainwright's background at Richmond and UNC Wilmington—two other programs with notoriously ugly styles of play. Wainwright's insistence on playing at this slow pace was fairly surprising considering that he had the horses to get and up down the floor consistently last year if he pleased.

Defensively, Chandler is largely untested on the perimeter, as he was asked to play in the post for most of his freshman season. He has nice tools here, though, including good length, nice quickness and the intelligence to stay in front of his man, but his mentality was a bit hit or miss in terms of the effort he brought night in and night out. He was suspended for two games for what Wainwright described as "time management issues," and was rumored to be unhappy with his role in DePaul's offense. Whether this is something to be concerned about is anyone's guess, as he is supposedly actually a great kid off the court. As a rebounder he showed plenty of potential, averaging 7.2 per game in 30 minutes, and also came up with his fair share of blocks despite giving up a few inches on most nights.

All in all, Chandler has plenty to build on after a very successful freshman season—averaging 13 points per game in the Big East slate--one that could have been even more successful had he been on the same page with his coach for the entire year. He's by no means a sure-thing, but if he continues to improve the NBA certainly looks to be in his future down the road.

[Read Full Article]

---