After conducting a very informative practice on Thursday, the players scrimmaged on Friday and then participated in the actual game on Sunday, giving us two additional opportunities to evaluate the 24 prospects in attendance. Unfortunately the scrimmage was not all that competitive, and the game ended up being a total bust, as the play was completely bogged down by the whistle-happy referees and the typical lackadaisical approach of this very relaxed class. Still, we were able to put in the work we needed to in terms of evaluating those high school prospects who we had not written about in the previous two high school all-star games.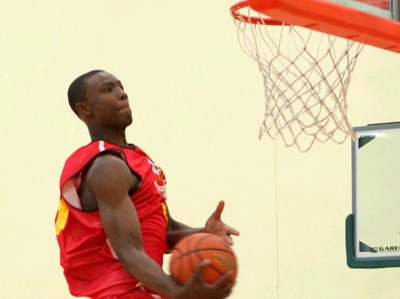 -
Wally Judge
was one of the revelations of the week, as few prospects here could match his combination of athleticism, versatility and upside. Judge is a 6-8 power forward with tremendous quickness and leaping ability, as he showed on a number of occasions with some incredibly explosive dunks. He has the ability to both make shots from the perimeter and create from the outside, but needs to work considerably on his skill-level, as he tends to be fairly mistake/turnover prone when trying to do too much from the outside. Defensively, he lacks the strength to keep his matchup out of the lane and did not show much if any intensity level of this end of the floor throughout the week. His fundamentals seem a bit average and his approach to the game and overall feel is generally inconsistent. Still, it's hard not to get excited about his talent, and it's likely that he makes quite an impact as a freshman at K-State.
-
Jordan Hamilton
had an impressive week, showing off his physical tools and his developing skill set, looking very much like he's ready to step in at the small forward position next season. A good but not great athlete, Hamilton has great size for the 3, though he appears to have below average length. Hamilton applies his physical tools frequently in his play, being one of the more consistently aggressive players in attendance. Hamilton was relentless attacking the basket both in the half court and full court, finishing well around the basket and showing good ability to adjust his body in mid-air. One area Hamilton seems to really excel is at attacking the offensive glass, as he frequently flies in from nowhere to get a hand on the ball and make putbacks around the rim.
Skill-wise, Hamilton is still coming along, having a good handle in the open court and the ability to make subtle changes of direction in the half court, however he can get into trouble in tight situations and still could use more work on his advanced ball-handling. As a shooter, Hamilton has the basic foundation of his mechanics in place, however he gets inconsistent at times, specifically with the flaring out of his right elbow, leading to some bad misses.
-
Daniel Orton
may not have been overly productive in the three days we saw him, but it's pretty obvious that he will be quite a force in college once he gets his feet underneath him. Orton has an NBA body and a tremendous wingspan, although he's not what you could consider a tremendous athlete. He likes to play inside, though and is more than capable of making his presence felt down there, even if he needs to work on his footwork and all-around post-game. He stepped out and knocked down a mid-range jumper on one occasion, but it's not clear that this is a consistent part of his offensive arsenal just yet. Defensively, he has the strength and length to be a factor at this level around the basket—more than that, we'll have to wait and see.
-
Durand Scott is someone we've been meaning to formulate a scouting report for, and we expected this week would be a good time to do so, but there really isn't a whole lot we can say with confidence after this week. He's a rangy athlete with a good handle in the open court (however it gets shaky in tight situations), and he's a capable shooter with range to the three-point line. Spotting up he appears very reliable even in spite of a slight hitch in his mechanics, however he didn't show much ability pulling up off the dribble. He doesn't appear to have much of a point guard's game at this moment, being more of an undersized two, and his decision-making in general is questionable. He did appear to be a fairly intense defender at times, though.
-
Dominic Cheek
is another player we wanted to take a long look at, but again there was only so much we could take away, especially with his non-aggressive offensive demeanor. That's not an insult to his game, as he appears to be very comfortable doing the little things, playing off his teammates, something he does well, knocking down spot-up jumpers and cutting off the ball to finish at the basket. Cheek is also formidable on the defensive end, where he plays pretty aggressive and uses his physical tools well. He's a good athlete with good size and length for his position, though his body is a bit underdeveloped, as he could definitely use some time in the weight room.
-
Jamil Wilson is a long and athletic small forward who has nice potential at his size, but will likely take some time to pan out at Oregon. His ball-handling skills look questionable and his shooting mechanics appear to need plenty of work (his elbow flails out violently), even if he was able to knock down some shots occasion this week. He seemed to be willing to put the effort in defensively and also didn't have a problem making the extra pass to an open teammate. He did a nice job in transition as well. There is obviously some upside here for Ernie Kent to tap into.
International Game
The day actually started off with a fairly interesting game featuring many of the top prospects in the 1993 international class. While we came in anticipating a very strong showing from some of the very highly touted European players, it was actually the two young Nigerian players who probably delivered the most impressive performances.
6-10 power forward Ismaila Dauda (out of Choice Academy in Miami) scored 21 points in the first half, drilling a couple of NBA 3-pointers (one on an impressive pick and pop play), and also making some very nice moves in the post. He appears to have good footwork for a player just finishing his freshman year of high school, as well as very soft touch on his turnaround jumper. Dauda has an outstanding frame and the length to establish himself as a legit shot-blocker, although he does not appear to be a tremendous athlete on first glance. He has a very good feel for the game considering he's just 16, though, and did a very good job communicating on defense. Dauda is already committed to the University of Miami, despite being a member of the 2012 class. If he continues to develop over the next few years, and holds firm in his commitment, he could end up being quite a steal for the Hurricanes.
6-1 point guard Adeolu Ojo or Ojo Olaiya Adeolu as he was called on the official roster also did an excellent job in this game, despite being unable to participate in any of the practices after only having landed the night before. Adeolu was probably the best overall athlete in this game, as he showed on a number of terrific drives to the basket, where he displayed outstanding quickness and the ability to elevate over defenders. He does not appear to have the body of a 16-year old, as he already sports a chiseled frame with long arms. He showed excellent intensity on the defensive end, getting into a low stance on each and every possession and absolutely locking up his man on the perimeter. His jump-shot and playmaking skills appear to be the two areas of his game that he needs the most work on, but on first glance he appeared to have a good feel for the game and plenty of upside to grow into. He finished the game with 20 points in 20 minutes.
The game's leading scorer was 6-foot Slovenian
Luka Rupnik
, a quick, tiny and feisty guard who looked to be absolutely oozing with confidence. He dominated the ball for most possessions of this game, getting to the free throw line 16 times, and finishing the game with 27 points, 3 assists and 6 turnovers. He seems to be a very crafty young player with nice ability to change speeds and get to the rim, being a good ball-handler with a nice floater. His body is extremely underdeveloped at the moment and he doesn't appear to have the strength to shoot 3-pointers with very much consistency just yet, although he does seem to have the ability to make shots from the perimeter. He appeared capable of making plays for others, but largely looked interested in doing everything himself. We'll have to see how much he grows and develops over the next year, but we can already see the
Jaka Lakovic
comparisons starting up fairly soon.
6-7 Lithuanian wing player Tauras Jogela only got to play 18 minutes in this game, but he showed nice potential in the practices and from the brief glimpses we were able to see, as he possesses a great frame, excellent size and nice athleticism at his position. He shows a nice first step and the ability to create his own shot effectively, as well as smooth passing skills and range out to the 3-point line. It's hard to say much more than that based on the limited sample size, but he left a nice impression.
6-4 Serbian guard Nenad Miljenovic came in with plenty of hype from his home country, but took a little while to get going from what we were able to see. He is a big combo guard who can create shots for himself and for others with crafty footwork and nice ball-handling skills, but is an average athlete with very limited strength, which made it very difficult for him to finish around the rim. His jump-shot looked excellent in the practices, both with his feet set and off the dribble.
6-6 Czech wing player
Martin Kriz
looks very raw at the moment, but showed a nice first step and strong ball-handling skills at his size, taking the ball coast to coast on a couple of occasions.