A thorough look at the five major NBA draft prospects on the rosters at the 2012 Copa del Rey in Barcelona, which we attended.
Tomas Satoransky, 6-7, PG/SG, 1991, Sevilla
Jonathan Givony
Despite only narrowly qualifying for the Copa del Rey together with his Banca Civica Sevilla club,
Tomas Satoransky
managed to advance past the quarterfinals with a win over Unicaja, thus giving us (and the dozen or so NBA teams in attendance) two opportunities to watch him in Barcelona.
Satoransky saw almost all of the 28 total minutes he played at the point guard position, only attempting five shots overall, which is a fairly representative sample of the role he's asked to play for this team.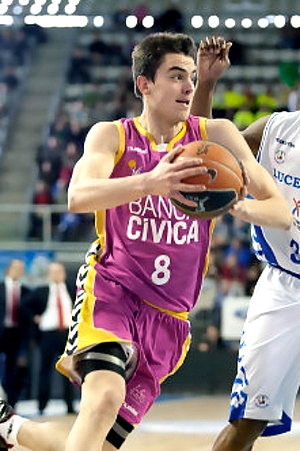 Measured at an impressive 6-7 at the adidas EuroCamp in Treviso last June, Satoransky has tremendous size for either guard position, even if his 6-7 wingspan and 207 pound frame are just average. He's a solid athlete, capable of playing above the rim, but not showing tremendous quickness in the half-court or the type of blow-by speed you expect to see from a player at his position in the NBA. Once appearing rail thin when we first saw him all the way back in the summer of 2008, he's done a nice job developing his body over the last few years, and will likely continue to fill out considering he's still only 20 years old.
After a terrific adidas EuroCamp performance last summer, many were expecting Satoransky to have a breakout year in this, his third season in the ACB. Instead, through 22 games, his minutes, usage rate and scoring output are actually down from last season, which is a bit disappointing.
The backup to American guard
Earl Calloway
, Satoransky plays a somewhat limited role for Sevilla, often being asked to just bring the ball up the floor, hand it off to a teammate, and then move to the corner and see how the offense develops. Watching his film from the entire season, Satoransky has noticeably lacked aggressiveness, often pulling the ball back in transition, deferring to teammates excessively, and even passing up good opportunities to score.
While it's clear that this team is built around the inside scoring prowess of
Paul Davis
(the league's best per-minute scorer), Satoransky's role makes him a bit difficult to evaluate. It's unlikely he would see many minutes (if any) at the point guard position in the NBA, making his situation in Sevilla very foreign compared with how he might be utilized at that level.
Further complicating matters is the way Satoransky's jumper has regressed as of late. Whereas last season he made 40% of his 2.5 3-point attempts per-game, this year he's both taking (1.5) and making (30%) less of these shots, while continuing to show the same unattractive mechanics we've seen throughout his career. With time and space, Satoransky is capable of making his catch and shoot jumpers, but things seem to fall apart for him when forced to shoot quickly and/or off the dribble.
While not overly aggressive with the ball in his hands, Satoransky has the ability to create offense for himself and others, something we've seen from him in other settings. He's a solid ball-handler with both hands showing good footwork and body control, and using nice court vision finding open teammates creatively. He doesn't always have the initial burst to turn the corner on his matchup, which makes it difficult for him to break down opponents in the half-court at end of shot-clock situations, and he lacks some strength, toughness and/or aggressiveness finishing plays around the basket.
Defensively, Satoransky has good size and plays with a solid intensity level, often being asked to put pressure on the ball, even very far away from the basket. Showing just average lateral quickness, he gets beat off the dribble a fair amount by smaller players, and may have an even more difficult time in the NBA where there is considerably more space to attack slow-footed guards, something that may be a concern moving forward.
While Satoransky's size and basketball IQ continue to stand out and leave room for optimism regarding his future, it's difficult to point out any one part of his game that will translate seamlessly to the NBA at this stage. Whether it's his role on this team, his youth, the overall style of European (and particularly Spanish) basketball, or just a lack of development, it's difficult to get overly excited about what Satoransky has shown up until this point this season.
Barring another tremendous showing at the adidas EuroCamp in June, Satoransky may have to wait until his draft-eligible year (2013) if his goal is to get drafted in the first round and/or get brought over immediately to the NBA next season. Otherwise he'll have to hope he gets picked by a strong organization in the second round and be optimistic that things work out for the best. To his credit, he is reportedly very much gung-ho about the NBA style of basketball and would likely do whatever it takes to make it in the NBA, which can't be said about all young European players these days.
Raul Neto, 6-1, Point Guard, 1992, Lagun Aro GBC
Jonathan Givony
After somewhat underwhelming performances over the course of 2011 at the Nike Hoop Summit in April, the adidas EuroCamp in June and the FIBA Under-19 World Championships in July, few would have expected
Raul Neto
to emerge as one of the most productive young players in Europe in 2012. That's exactly what he's done playing in the ultra-competitive ACB, on a playoff contending team no less, seeing a solid 18 minutes per-game.
Neto played just a single contest here in Barcelona, a loss to Caja Laboral, but was able to show quite a bit in his 24 minutes of action, both good and bad. Reviewing the film of his 21-game season thus far, his performance seems to be fairly representative of the kind of year he's had, complete with abundant highs and lows.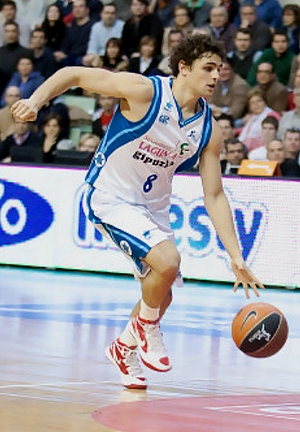 Measured in a few different places (Hoop Summit, Treviso) around 6-1 in shoes, with an average 6-2 wingspan, Neto is not the biggest or longest point guard you'll find. He's done an excellent job with his frame, though, appearing to have bulked up significantly, particularly in the upper body.
Athletically, Neto is a class above most European guards, showing terrific speed in the open floor and a very quick first step. This, combined with his aggressive nature, allows him to create his own shot exceedingly well, which he seems to have quite a bit of freedom to do in head coach Sito Alonso's up-tempo, high-scoring offense. This perhaps isn't a surprise considering Alonso is the former coach of
Ricky Rubio
and
Rudy Fernandez
in DKV Joventut, but it's still fairly unique in European, and especially Spanish, basketball.
Neto does a good job creating high percentage shots inside the paint and getting to the free throw line, being particularly dangerous in transition, where he likes to attack retreating defenses. He possesses strong footwork and ball-handling skills, as well as the ability to change speeds on the pick and roll. Extremely aggressive with the ball in his hands, he attacks the rim ferociously, finishing extremely well around the basket, sometimes through contact, despite his average size and leaping ability. He also has a very nice tear-drop in his arsenal, which he's been converting at a very high rate this season.
While he's a very effective slasher, Neto's perimeter shooting needs work, as he's only converted 12 of his 41 jumpers (29%) on the season. He's able to make shots from behind the 3-point line on occasion (6/23 this season) with his feet set, but really struggles off the dribble, not showing the ability to pull-up in the mid-range area if opposing defenses close off the paint.
As a point guard, Neto shows clear strengths and weaknesses. On one hand he's a confident and creative player who can get to spots with the ball and find the open man unselfishly in drive and dish situations, sometimes in highlight reel fashion. On the other hand, he's not consistent at all with his decision making yet, as evidenced by his 36/31 assist to turnover ratio thus far this season. He looks very careless with the ball at times, over-dribbling and trying to make spectacular plays, which is something that should improve in time with added experience and maturity.
Defensively, Neto has been very effective thus far, which is part of the reason he's been able to carve out such an important role in the ACB at his age. He's extremely aggressive on this end of the floor too, putting excellent pressure on the ball and getting right up in his opponents fearlessly. He has quick feet and good hands, helping him rank in the top-5 in the ACB in steals per-40 minutes this season.
Neto's aggressiveness and lack of size, length and experience can get exposed on occasion by some of the extremely high quality guards that are found in the ACB, but considering his age (19) and the fact that this is his first season playing outside of his home country of Brazil, it's difficult not to be impressed by the toughness and competitiveness he's shown.
It will be interesting to see how Neto progresses from here and whether he can continue to build on his successful rookie season in the ACB next year and beyond. His quickness and aggressive style of play on both ends of the floor would seemingly translate very well to the NBA, which makes him a prospect to keep an eye on moving forward.
DNP's
-
Augusto Cesar Lima
–
Lima hasn't had an easy season thus far. He wasn't able to play until December due to an injury, and then had to bide his time on Unicaja's second team in the LEB Gold waiting for his Spanish citizenship to become official. Now no longer forced to occupy the spot of an American (non-EU) player for Unicaja, the Brazilian is attempting to work his way into the struggling team's rotation, which has not proven to be easy due to their abundance of big men options.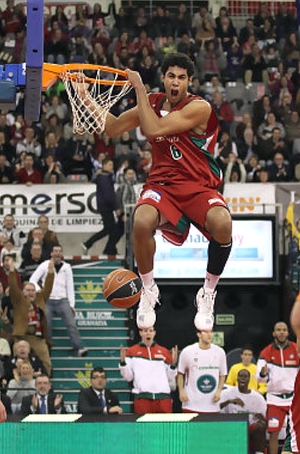 Thus far he's played just 75 minutes for Unicaja this season, the majority of which have come in garbage time, and another 86 for their "junior" team Clinicas Rincon. Barring something dramatic changing in his situation in Malaga, or possibly another strong performance at the adidas EuroCamp, Lima may need to wait until his draft-eligible year of 2013 to get picked as high as his potential indicates he should.
-
Rafa Freire
–Freire is having a solid season as the backup point guard of Alicante, averaging 16 minutes per game, but was unable to play at the Copa del Rey due to a leg injury. We'll revisit his NBA prospects at another time.
-
Dejan Musli
-
Its perhaps not a surprise that Musli didn't see a second of playing time for Caja Laboral at the Copa del Rey, as he's only played about 40 total minutes over the past two seasons. Musli has been loaned to the likes of Montegrenaro and Fuenlabrada to try and earn some playing time, but was quickly sent back to Vitoria due to concerns about his poor work ethic and questionable attitude.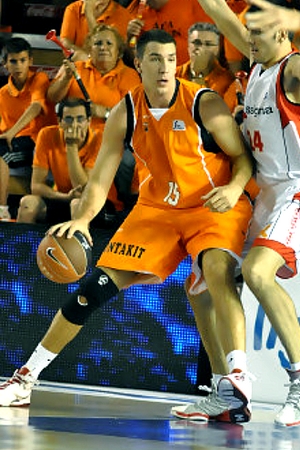 Once considered the top prospect in his 1991 age group, Musli does not appear to have made very much progress since
we first evaluated him
as a 7-foot man-child dominating the U-16 European Championships nearly six years ago. He was able to score at will inside the paint in the junior categories, but has had a difficult time translating that to competition versus grown men at the senior level. We already had some concerns about Musli's development back in 2009, and he's seemingly regressed even more since then.
Players with Musli's size and strength are rare, but unless he's able to make some serious changes to his approach to the game on and off the court, he will likely have a very difficult time getting a major contract after his five year deal with Caja Laboral expires.