In our first group of player reports, we take a look at two pairs of teammates who will definitely see significant time in the NBA this season, as well as an international player who made the most of his summer trip across the pond.
DraftExpress All-Rookie Summer League Teams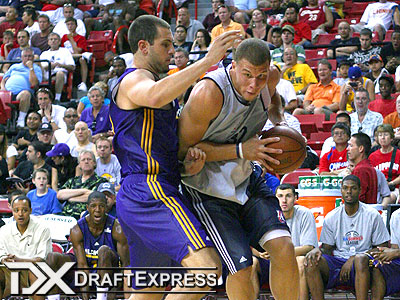 First Team
Blake Griffin
Tyler Hansbrough
Chase Budinger
James Harden
Tyreke Evans
Second Team
Dante Cunningham
DaJuan Summers
Austin Daye
DeMar DeRozan
Jodie Meeks
Third Team
DeJuan Blair
Derrick Brown
Marcus Thornton
Rodrigue Beaubois
Darren Collison
DraftExpress All-Veteran Summer League (Part One)
Anthony Randolph, 6-10 Forward, Golden State Warriors, 1989
DraftExpress MVP
In terms of raw talent, no player displayed more glimpses of potential than Golden State Warrior
Anthony Randolph
. Leading the summer league at 27 points per game in just 33 minutes, Randolph was simply a scoring machine all week long. Besides putting the ball in the net with the greatest of ease, though, Randolph also contributed in other areas, with 8.5 rebounds, 3 blocks and 2.2 steals.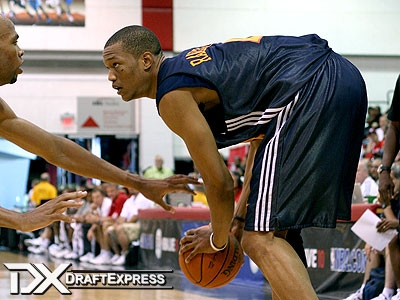 Randolph's physical gifts are impossible to ignore, and are clearly a huge part in what makes him such a special talent. 6-10, with a pterodactyl wingspan and freakish athleticism, there are very few players in the NBA he can be compared to. He used his athleticism to make a number of unbelievable plays throughout the week, particularly utilizing his length around the rim.
What makes Randolph unique is his ability to create his own shot from the perimeter at his size, or operate as a super fluid one-man fast break. He possesses a devastating first step and excellent ball-handling skills, to go along with great coordination and extremely advanced footwork. It's not rare to see him tap-dancing his way to the basket with the greatest of ease, often throwing in lightning quick spin-moves along the way, only to stop on a dime and then pivot in the opposite direction for an effortless finish.
Randolph got to the free throw line like an absolute machine in Vegas—21 times in a single game in fact (!)—and although he was getting calls at times as if he were a 10-year summer league vet, it wasn't hard to see how tough a cover he is for almost any player to guard. Randolph also didn't shy away from taking his man down to the paint and showing his post repertoire. This is an interesting part of his game that can still be developed into a terrific weapon, as his excellent combination of quickness and footwork really makes him a big mismatch against small forwards and power forwards alike, despite his lack of strength.
Thanks to his size, Randolph also has the ability to rise up and get his shot off almost whenever he pleases, and he indeed showed a very nice turnaround jumper he can use to bail himself out when he gets himself into trouble.
Despite all the positives, there are still a number of glaring holes to Randolph's game that he must iron out if he wants to reach his incredibly high ceiling. Considering that he's still only 20 years old, this might not come as all that much of a surprise.
For one, Randolph's jump-shot is still very much a work in progress. He didn't hit a single 3-pointer in Las Vegas, and was fairly streaky from mid-range as well. His shooting mechanics remain poor, and he still seems to settle for difficult shots off the dribble, which his matchup in the NBA would gladly give him almost anytime. Randolph has a bad habit of kicking his legs out, fading away excessively and even falling down on his jump-shot attempts, likely in an attempt to draw calls from the referees. Not only is he bailing the other team out with these bad shots, he's also giving them an easy opportunity to score in transition while he collects himself off the floor.
Randolph's lack of strength makes it difficult for him to finish his moves around the basket at times, especially when going up against long, athletic NBA caliber big men who can deny him the space he needs to get his shot off—of which they were few of here at this summer league. He also still heavily favors his left hand almost exclusively on his finishes around the rim. While here in Vegas that would never be an issue, an NBA advanced scout would absolutely make that a focal point of an opposing team's scouting report.
Defensively, there are still plenty of question marks that need to be answered about Randolph's position in the NBA. He is almost certainly too frail and weak to guard most NBA power forwards without emerging as a liability, and just isn't fundamentally sound, experienced or intense enough to guard most small forwards at this point either. Randolph's incredible combination of quickness, footwork and length should allow all the potential in the world to develop into an above average defender at the very least, but he must be willing to put the time in both on and off the court if he wants to develop this part of his game. Considering the teams he's played for, though, and the message that was likely sent on a nightly basis by those around him, it's tough to fault him for not showing much in this area.
Randolph's talent in this setting was truly mesmerizing to watch at times, and you really wonder just how good of a player he could develop into over the next few years if he continues to improve his game. He's still a long ways away from being a consistently productive, efficient all-around basketball player who helps his team win games on a nightly basis, though, meaning the jury is still very much out on him.
Anthony Morrow, 6-5 Shooting Guard, Golden State Warriors, 1985
Sporting an improved frame and a brand new Mohawk,
Anthony Morrow
came into this year's NBA Summer League looking like a completely different player than a year ago. That's what 23 minutes per game in your rookie season will do for an undrafted free agent, and Morrow seemed to have no problem asserting himself on this setting right off the bat, to the tune of 25 points per game on 61% shooting from the field.
Morrow's game hasn't changed that much, but his confidence appears to be sky-high at the moment. Fresh off leading the entire NBA in 3-point shooting percentage at 47%, he didn't need to be told twice to fire up shots when given the opportunity to do so. Morrow made jumpers in every way possible: coming off screens, firing in transition, spotting up off a double team, or pulling up off one or two dribbles. The result was the same every time, as his pure, effortless stroke never alters regardless of the amount of attention the defense gives him—allowing him to make 50% of his 3's here, despite hoisting up a number of very questionable attempts.
Besides his incredible shooting ability, there isn't a great deal to speak of about Morrow's game. His ball-handling skills are poor, meaning he rarely if ever gets to the free throw line. He generated just a single assist in his three games here in Vegas, although he's traditionally not a turnover prone player at all to counter that when he's playing in a real basketball setting. He's actually an extremely intelligent player who understands his limitations quite well and knows how to maximize himself on the court. Defensively, he doesn't offer a great deal, as he's often willing to put the effort in, but just doesn't really have the physical tools to be much of a presence here.
Morrow is not just a 3-point shooter, though, only 34% of his field goal attempts last season came from behind the arc in fact. He does an excellent job of using shot-fakes to get his man in the air and then calmly pull-up for an open jumper from 18-20 feet. He shoots almost just as many mid-range jumpers as 3-pointers, and makes over 50% of those too. His ability to make shots at such an outrageous rate should allow him to stick around the NBA for quite some time, especially if he continues to improve on his defense and ball-handling skills.
Serge Ibaka, 6-10 Power Forward, Oklahoma City Thunder 1989
A 2008 draftee, Serge Ibaka came into this year's Summer League circuit as one of the most intriguing players to watch. Blessed with awesome physical tools, including a lean frame, a big wingspan, and excellent end to end speed, Ibaka's audition for the Thunder can't be considered anything less than a major success considering the athleticism and potential he'll bring to their already impressive roster of young talent. Despite being very raw in terms of fundamental skills, the Congo native showed a lot of positive things for a player who won't turn 20 until September and didn't consistently see substantial playing time with Ricoh Manresa of the ACB last season. However, the disparity between his performance in Orlando and Las Vegas were a reminder of how much room he still has to improve.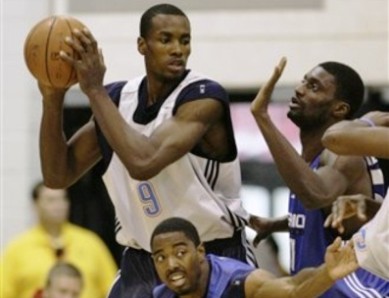 Ibaka's best assets at this point are his speed and effort level. A long-strider with good quickness, Ibaka was the first player up the floor for the Thunder on certain possessions, running hard to the block and attempting to get position down low. Though he didn't get many touches in transition in Las Vegas, his willingness to get up the floor is one that should serve him well playing next to
Russell Westbrook
down the road, just like it did at times in Orlando. His speed also helped his team's half court offense, mostly on the pick and roll, where he was able to open up space for his teammates by sprinting up from the opposite block to set screens, giving his ball handler more space to attack rotating defenders by quickly establishing position. His feel for how to operate out on the court appears to have improved greatly over the last year, which is a testament to the work that his coaching staff in the ACB put in with him all season.
Ibaka's effort level manifested itself on the defensive end regularly as well. While he lacks great fundamentals and works himself out of position at times, Ibaka did some admirable work down low. Though he got beat off the dribble a number of times by the stocky
DeJuan Blair
and had some issues against bigger players like
Roy Hibbert
and longer players like
Hasheem Thabeet
, Ibaka's length allowed him to block some shots, including a memorable swat of a transition lay-up in Orlando.
Despite committing quite a few fouls in both Summer Leagues, Ibaka wasn't as foul prone as one might expect a 19-year old to be last season in Spain –a promising sign for him moving forward. The keys to Ibaka's development as a defensive player are added experience and coaching, two things he'll get plenty of in Oklahoma City. He still needs to learn how to utilize his lateral quickness to his advantage and improve his rebounding ability, which will likely require him to add some weight.
Though Ibaka possesses an impressive build already, his ability to pack on pounds will be a point of interest moving forward. His frame seems like it could add quite a bit of weight, which will only augment the things he already does well and help him greatly down the road. The biggest issues Ibaka has had this summer became apparent in Las Vegas, where the likes of
Hasheem Thabeet
and
Chinemelu Elonu
made it tough for him to score around the rim. After having a very efficient series of games in Orlando, Ibaka looked out of control at times around the basket when forced to finish through defenders, often struggling to assert his physical presence at the basket.
Many of those issues stem from his lack of finishing ability with his left hand. Ibaka showed time and time again with Manresa that he is capable of doing some damage offensively with his right hand, displaying a developing running hook and a decent turnaround jumper. However, his lack of counter-moves hurt his ability to score in Las Vegas, as he didn't find much success going to work against defenders with superior defensive tools. These issues were compounded over the course of the week as he began to rush his shots, missing a lot of half-hooks and short-range looks that he converted in Orlando.
That urgency doesn't show in every part of Ibaka's game, as he does have some unique tools for a prospect with his size and experience. Though Ibaka no longer takes as many jumpers as he did during his days playing for CB L'Hospitalet, he still possesses nice form and solid range on his shot. A bit tentative at times to pull the trigger from the midrange, Ibaka is going to benefit immensely from the personal attention he's sure to receive from Oklahoma City's coaching staff. Improved confidence and footwork could turn him into a very capable shooter over time. Such development would be a welcome addition to his excellent timing on the offensive glass, where he was able to earn himself a few easy shot opportunities by following his teammates to the rim on the secondary break and generally showing a knack for moving to the right place at the right time when shots went up.
Considering that Ibaka is coming to a team that already has a ton of young players and ample cap space, he should be able to develop at his own pace. The Thunder organization will have no trouble finding him minutes, whether they come in Oklahoma City or with their Development League affiliate, the Tulsa 66ers. With a lot of margin for error, and some time to reach his physical potential and gain experience, Ibaka's performance in the Summer League was nothing more than a progress report on a player who is still only scratching the surface of his potential.
Nick Young, 6-7 Shooting Guard, Washington Wizards, 1985
After an inconsistent season with the Wizards, Young, along with most of the team's young reserves, took another tour of duty in the Summer League to mesh with his teammates. Reaching a critical point in his development, Young has shown the tools to be a major offensive threat on the NBA level. Unfortunately, he has a hard time consistently stringing together good quarters of basketball, let alone good games. The four games Young played in the Summer League were a microcosm of that issue, as he once again wavered between utter dominance and inefficient productivity against lesser competition. As one of the only NBA players here that averaged more than 10 points per game last season, Young didn't surprise anyone with his big game ability.

Always lauded for his prototypical size, speed, and leaping ability for a wing, Young's most exciting, and sometimes frustrating, asset remains his shot making ability. Possessing a fluid stroke with solid elevation and a nice release, Young effortlessly drilled shots from the perimeter in his team's rout of the Cavaliers. Hitting five of his eight three-point attempts, Young connected on shots off the dribble, off of passes, from the block, running off of screens, and even a fadeaway 20-footer that came after a jump stop and a pair of pump fakes. Young's assertiveness with the ball placed him amongst the top scorers in the whole Summer League at 23.8 points per game. While that number is very impressive, the fact remains that Young still has his fair share of weaknesses offensively, many of which were still apparent despite his scoring.

Young is often too confident in his scoring ability for his own good, taking more shots with a hand in his face than most players care to try. Though his percentages on these shots aren't bad in comparison to the average bulk scorer, the fact that he takes as many of them as he does can be concerning. This problem didn't rear its head often in the Summer League, as Young was able to move freely in transition and in half court sets without much resistance, finding daylight to put himself in position to score essentially at will.

Moving with a purpose coming off of screens quite frequently this week, he has a lot of potential as an off-screen scorer, though that accounted for a very low percentage of his possessions last season. When he couldn't shake his defender, Young hit a couple of tough shots early in the week, but also put the ball on the floor a number of times, showing off his impressive pull up jumper and tossing in a couple of tough shots near the rim between defenders. Despite naturally fading away on his jumper when driving right and almost always taking the first available jump shot when driving left, Young didn't hurt his team with his decision-making off the dribble in their early contests.

Everything that went right for Young in his 36 point outing against the Cavaliers went wrong in Washington's game against a more talented Clippers team. Young still finished with 19 points, which is not too shabby, but he went only 5-14 shots and turned the ball over 8 times. During the first games where Young showed excellent consistency in his shooting mechanics, he began to rush things more and more as the week went on. To compensate for a couple of defended, short-armed jumpers, Young earned himself a number of trips to the line by attacking the rim aggressively, going 7-7 against Los Angeles. As time goes on, Young would be well served to improve his ability to get to the line to decrease his reliance on his midrange jumper.

Young's overall performance was almost perfectly aligned with what we've grown to expect from him on the NBA level. Offering very little in the form of defensively ability, passing, or rebounding, Young scored at will and didn't do much else. He wasn't too bad defensively, but for a player with his tools, he forces very few turnovers, doesn't close out aggressively, and lets himself get beaten off the dribble by lesser athletes too often. Some of that has to do with a lack of awareness, but it is also an indicator of where Young is at this point in his career.

Blessed with outstanding scoring tools, Young is a useful NBA roleplayer who is capable of lighting up the score board if he gets hot. However, the way he will attempt to score those points will often lead to bouts of inconsistency, which coupled with his lack of versatility, can make him a much less exciting prospect. One can't question Young's skill level, talent, or his ability to score at will in the Summer League, but his aggressive shot selection and ability to make tough shots is just as much a curse for him as it is a blessing when the regular season rolls around. With Washington's roster finally boasting a clean bill of health, Young will need to play a more controlled offensive game to complement his team's high usage players. If he can hit his open shots coming off of screens, not force as many jumpers one-on-one, and focus on his defensive game, Flip Saunders won't miss the occasional 25 point outbursts Young had last season.
Andray Blatche, 6-11 Power Forward / Center, Washington Wizards, 1986
Yet another 10 point per game scorer from last season's injury plagued Wizards squad, Blatche is a player who has coasted through the Summer League before. A near 7-footer with nice athleticism and an improved frame, Blatche played the four here for the most part, with
JaVale McGee
taking center duties. It took very little time for Blatche to remind onlookers both why he was so highly regarded by the Wizards after falling into the second round, as well as why he still popped up on their Summer League squad.
Possessing a high skill level for a player his size, Blatche was aggressive, if nothing else, during his three game stint here. Able to get to the rim against nearly any player he was matched up with, Blatche had no trouble making his presence felt near the rim. Preferring to drive right when he can, Blatche uses a mixture of aggressive jabs and shot fakes to quickly put his man off balance before using his huge stride length to get into the paint. Though he got to the rim nearly at will, Blatche did so at the expense of his teammates, often disrupting the flow of the offensive to go one-on-one.
While Blatche was able to convert a number of shots at the basket, he hit a handful of extremely difficult jumpers as well, including a pair of near 17-foot turnarounds (one over each shoulder), during the course of the week. Unfortunately, he also tossed up two near air-balls from the same spots on the floor off the dribble. Not frequently establishing position all that close to the basket, Blatche functioned as a high volume slasher in Las Vegas, for better or worse.
Like most players his size who like to put the ball on the floor and head all the way to the rim, Blatche had some issues with turnovers, especially in Washington's debut against Cleveland. Not exceptionally agile once he clears his initial defender and puts his head down, Blatche was called for a couple of charges, but had a lot more problems with pesky guards getting their hands on the ball when taking his second and third dribbles. This was an issue for Blatche during the regular season as well, as he is notably less effective when he has to change hands with the ball. Moving forward, Blatche needs to work on his left hand, both in terms of ball-handling and finishing, in order to use his dribble-drives to their fullest potential.
His lack of shooting ability with his left hand is also an issue around the basket, but doesn't present as big of an obstacle as his overall lack of interior scoring moves. Blatche can be a creative finisher for his size when he gets to the rim off the dribble, but he had a hard time scoring when he couldn't get in close in Las Vegas. Improving his jump hook or developing some type of go-to-move down low would be a definite step in the right direction for Blatche, who is often the beneficiary of dump passes from driving teammates and collects quite a few offensive rebounds. Over the course of the week, he rushed some contested 6-footers when he didn't see a lane to the rim, tried to force some of his left handed drives back to the right hand underneath the backboard, and made one notably questionable drop-step across the lane that positioned him with his back to the rim on the wrong side of the glass where he put up a scoop that didn't draw iron.
Blatche's interior scoring still has some room for improvement, but it isn't quite as problematic as the weaknesses in his jump shot. Able to hit some shots off the dribble when driving right and prone to spinning back towards to the top of the key for turnaround jumpers when driving left, Blatche is truly an odd case. He'll hit a contested, off-balance 17 footer on one possession, or drain an uncontested 21-footer with time and space before badly missing an open pull up off of one dribble or missing a series a catch and shoot opportunities. Last season, Blatche was substantially more effective off the dribble than he was off the catch, which is not only unusual, but indicative of some mechanical and shot selection deficiencies that need to be rectified. Though his jumper can be a weapon for him periodically, added consistency would have help immensely.
Just as his jumper is a bigger issue that his short-range game, so too is his perimeter defense in comparison to his post defense. Blatche has some nice tools that allow him to create problems for his matchup, namely his length, footspeed, and quick hands, but he gets out of position on the perimeter too easily. He did a decent job staying in front of his man down low, showing nice lateral quickness and even giving offensive players some problems by going straight up when they looked to shoot. He may get backed down by stronger players and doesn't always do an ideal job of keeping himself between his man and the basket, but he shows a knack for getting his hand near the ball when shots go up down low. The development of his fundamentals under Flip Saunders will be key to his ability to get his defensive skills up to the same level as his defensive tools.
Washington's new staff will be hugely important to Blatche's future in many areas of his game. Most of his touches in Las Vegas came between the elbow and top of the key on the right side and closer to the basket on the left. Obviously he is being molded for the role he'll play for the Wizards this season, but right now, his skill set has some holes that need to be filled before he can excel. Becoming a better catch and shoot threat to force defenders to respect him on the outside, improving his left hand to take advantage of his lateral quickness, and learning the nuances of effective defense should be priorities for Blatche and the main responsibility of some member of Washington's staff. With Brendan Haywood back in the fold, Blatche needs to begin to fill in some of the gaps in his game to give the Wizards the frontline punch they'll need late in the year.
Up Next:
Marcus Williams
,
Adam Morrison
,
Jason Thompson
,
George Hill
,
Trey Johnson