West Coast Workout Swing: Day 1
(
Dominic McGuire
Private Workout)
West Coast Workout Swing: Day 2
(
Joakim Noah
,
Corey Brewer
, etc)
West Coast Workout Swing: Day 3
(AIB Player Evaluations/
Josh McRoberts
Workout)
West Coast Workout Swing: Day 4
(
Nick Young
,
Bobby Brown
,
Danny Granger
)
Following our trip down from the Bay Area to Southern California, we hopped on a short flight to Las Vegas, Nevada, to check on the progress of the many players training at the second facility belonging to Joe Abunassar of Abunassar Impact Basketball. Those included
Ryan Gomes
(Boston Celtics),
Marcus Williams
(Arizona),
Jared Dudley
(Boston College),
Stephane Lasme
(UMass),
Julius Hodge
(Free Agent),
Aaron Brooks
(Oregon),
Taurean Green
(Florida),
Chris Richard
(Florida),
Wendell White
(UNLV),
Brian Cusworth
(Harvard),
Shagari Alleyne
(~Kentucky),
Jermareo Davidson
(Alabama), Levon Kendall (Pitt),
Sammy Mejia
(DePaul), Kevin Kruger (UNLV), and
Ali Traore
(Le Havre).
Aaron Gray
(Pitt) is also working down here (and is reportedly down 11 pounds to 270), but had to go home that weekend for graduation.
The workouts are being run by an excellent young trainer by the name of Rob McClanaghan, a former guard at Syracuse from 1997-2000. McClanaghan is a no-nonsense Northeastern type who isn't afraid to tell his players what's on his mind and runs a very tight show as far as getting his guys to execute what he wants them to. He made a name for himself with the excellent work he did with
Ryan Gomes
prior to him being drafted, and continued that reputation (together with the fellow Providence Friar Gomes) by sparking a massive turnaround in
Herbert Hill
's game over the offseason last year.
The facilities in Las Vegas are a little bit easier to deal with than Los Angeles because the courts are adjacent to the strength and conditioning equipment (run by Athletes' Performance, like in LA). As we were taking in a workout we watched a hyperbolic excorcise chamber being delivered and installed, much to the amazement of the players in attendance.The chamber is meant to simulate high-altitude oxygen conditions, which is only one of the multitude of scientific programs Abunassar endorses. Abunassar is already working on building another gym in Las Vegas, which will supposedly blow this one out of the water.
Player Evaluations
Ryan Gomes, 6-7, SF/PF, Boston Celtics
A head coach out on the floor, it sometimes seems like Gomes should be paid for the work he's doing out in Vegas rather than the other way around. He's constantly helping the future rookies out, dishing out advice, giving them veteran pointers, wowing them with his skill level in the post and on the perimeter, and just being the class act that he's always been. He's out here in Vegas working on his game already even though training camp is almost six months away, and we constantly saw him putting in extra time outside of his scheduled workouts—running on the treadmill or putting up hundreds of extra shots from behind the arc.

Gomes is a great guy to watch workout in this setting, because he's a classic example of the dangers of writing off unconventional college players, reminding us that it's not only the "prototypes" that end up having successful careers. Listed at 6-7, but weighing in around 253 pounds, he's obviously stuck in between the 3 and the 4 spots, without a tremendous amount of athleticism to make up for it. His lateral quickness is just average and his leaping ability is nothing to write home about. If he were in the draft this year, he'd be written off as a tweener before he even got to Portsmouth. But as he told us with a wink and also showed on numerous occasions during this trip and throughout his NBA career so far: "just put me out on the court…I'll get it done."

The reason for that is his outstanding feel for the game combined with a terrific skill level. Gomes is a master of using crafty footwork and pump-fakes to get his man off balance and either work his way to the mid-range area for a pull-up jumper or spin his way into the paint. His shot is smooth and he possesses the utmost confidence in his abilities, showing great hands, long arms and phenomenal touch around the rim to get the job done with pure smarts and fundamentals rather than any real flash or incredible explosiveness.

After everyone was done for the day with their workouts, we watched Gomes do a drill where he would shoot first 10 college 3-pointers and then 10 NBA 3-pointers from seven different spots from beyond the arc, starting with one baseline and working all the way around to the other. We charted him at 70% from the college 3-point line and 64% from the NBA.
---
Marcus Williams, 6-7, Shooting Guard, Sophomore, Arizona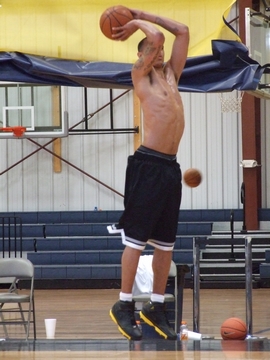 Very often we come into these private workouts feeling one way about a player's skills or attitude, only to find out that our initial impression was very much off base. In the case of
Marcus Williams
, it was quite refreshing to see the work ethic he's showing here as a player who has had about as much negativity thrown his way as anyone since exiting early from the NCAA Tournament.
Williams worked out with
Jared Dudley
in what was probably the most intriguing session of our time in Vegas. He was a little streaky shooting with his feet set, particularly once he got out to NBA 3-point range, but looked exceptionally good in the mid-range area creating space for himself and pulling up off the dribble. Once he's in motion his shot seems to gain consistency, likely because of the fact that he doesn't have as much time to cock the ball to the side of his head the way he does on his set shots, which gives him a very inconsistent release point, and thus a higher (and unnecessary) degree of difficulty. He seems to have very good touch regardless, though, meaning he can get into a groove and knock down a bunch of shots in a row.
In the ball-handling and one on one competitive drills is where Williams' skills really came out. He can create his own shot with ease thanks to his combination of crafty footwork, smooth ball-handling skills, changes of speeds and pro moves from the triple-threat position, being able to utilize multiple jabs and fakes to get his man off balance and either make his way to the rim or pull up from mid-range. He's very long, but a bit frail and not freakishly explosive, relying heavily on his instincts and skill level to help him put the ball in the basket.
Off the court, Williams is a personable and well-spoken kid who seems to enjoy being around the NBA players here in Vegas. "That's the biggest perk here by far, being around the pros. Players relate to players better and there is so much I can learn from a guy like
Ryan Gomes
."
Once the workouts were over for the day, he was the only one to stay late and join Gomes in putting up shots from beyond the arc, and the next day he decided to come in at 8am, an hour before everyone else, to work on his shot even more.
Williams did not participate in the 5 on 5 (his agent does not want to risk an injury) and will not participate at the Orlando pre-draft camp, meaning it will be up to him at workouts to secure himself a spot in the first round. All in all, he looked considerably better than we thought he would. If he can correct his shooting mechanics to give himself a chance to develop into a solid NBA 3-point shooter, he has a very good chance to help someone out down the road. His size, length, versatility and scoring instincts at the 2-guard position aren't something that you can find everyday in this draft.
---
Jared Dudley, 6-7, SF/PF, Senior, Boston College
Dudley is down 10 pounds since the season ended according to what he told us, from 229 to 219. Considering his size and relative lack of athleticism, he will almost certainly need to play quite a bit of small forward, meaning that getting into tip-top shape is an absolute necessity. He still has another 8-10 pounds he can shed off his frame before the draft rolls around from what we can tell, and it should help him get quicker and more explosive on both ends of the floor.
Dudley was one of the more impressive guys we've seen in shooting drills so far. His mechanics are excellent, featuring a high release point well above his head and a very nice following through. The most important thing here is that his shot looks identical every single time he shoots it, and so do the results for the most part. Dudley barely missed on the one-dribble pull-ups, showing great footwork, terrific touch and the utmost confidence in himself. He hit about 80% of his college 3-pointers (36/45), and a scintillating 38/50 NBA 3-pointers (76%).
In the one on one drills against
Marcus Williams
his weaknesses began to come out, though. Williams took him off the dribble with ease for the most part, exposing his lack of lateral quickness and biting too often for the series of pump-fakes and jab-steps he threw his way. Offensively he attempted to create his own shot off the dribble exclusively rather than taking advantage of the strength advantage he has on him in the post, which revealed his average first step.
Dudley did not have the benefit of a five on five setting (he went home before the second day) to show off the strengths that make him such a unique player, including his passing, rebounding, back to the basket skills, and overall feel for the game. He is a player that thrives in the team setting and needs shots created for him, freeing him up to do all the little things for his team. His numbers—19 points, 8 rebounds, 3 assists, 55% FG and 44% 3P—speak for themself, and it will be interesting to see how he translates his floor game to the unique setting of the Orlando pre-draft camp. He's a guy that won't jump off the page at you unless you really watch him closely to take in all the different things he brings to the table.
---
Stephane Lasme, 6-7, Power Forward, Senior, UMass
One of the more intriguing players seen at the Portsmouth Invitational Tournament, it's pretty clear that
Stephane Lasme
has been working pretty hard on his game since then. His shooting mechanics are the first thing that jumped out at us, showing a nice high release point, good footwork and a solid follow through. It didn't fall for him all that consistently (he seems to be thinking about his shot an awful lot), but he's obviously gone from a guy with no game at all outside of 5 feet of the basket to someone who is able to knock down a jumper for the most part if he's left open.
Lasme has some excellent physical attributes, including long arms, nice quickness, and plenty of explosiveness getting off his feet. He can dunk the ball with ease from some very tough angles, and is excellent at coming from the weak-side to challenge shots with his length. His lower body needs plenty of work (his legs are extremely skinny), as he might have trouble holding his spot on the block defensively and boxing out for rebounds until he can find a way to put more mass on. He struggled in one particular drill where he was asked to finish through contact around the basket, not being able to convert much at all due to fatigue issues at the end of a tough workout against
Ryan Gomes
. In the conditioning drills he was one of the best players around, though, running as hard as any of the players and showing great perseverance. We'd like to see him show just a little bit more activity at times, as it will be his toughness and go-to-itiveness that keeps him in the league (ala
Jason Maxiell
), rather than his finesse. Lasme is another player that will be participating at the Orlando pre-draft camp.
---
Taurean Green, 6-1, Point Guard, Junior, Florida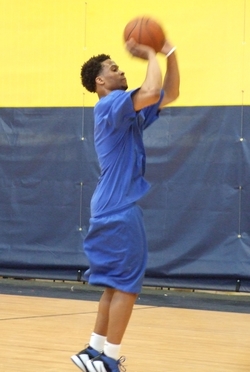 It was pretty interesting to take in the difference between watching
Taurean Green
participate in the drills in day one compared with his effort in the 5 on 5 game.
If a team brings him in for a workout not knowing his background (starting point guard for the back-to-back national champion Florida Gators), they might be disappointed by watching him run through cones and shoot three pointers off the dribble all by himself. He sure didn't impress us doing that, particularly trying to stay in front of
Aaron Brooks
on the defense end.
But once the ball went up on the five on five pick-up game, his stripes as a floor general really started to show. Green controlled the tempo of the game for his team, running pick and roll plays to perfection and making outstanding decisions. He showed a variety of passing skills, including lobs, bounce passes, drive and dish plays, and simple post-entry passes. When the lane was too clogged he settled gladly for the pull-up jumper, showing slightly unorthodox mechanics but a super quick release that is consistent from shot to shot and goes in at a very high rate. If the lane was open he finished nicely with a beautiful floater, scoring a good amount of points in this fashion, and aided greatly by his excellent upper body strength.
While other players dogged it in the conditioning drills, Green pushed on. He seems to put pride in everything he does and doesn't take no for an answer as we saw in the five on five games, showing great maturity and leadership skills.
Green will also be participating at the Orlando pre-draft camp and will be a fascinating case to follow. Scouts should know his game up and down after all the experience he's garnered, but it seems he will have to once again prove his value alongside considerably less talented players than he played with in college, or will play with in the NBA for that matter…
---
Chris Richard, 6-8, Power Forward, Senior, Florida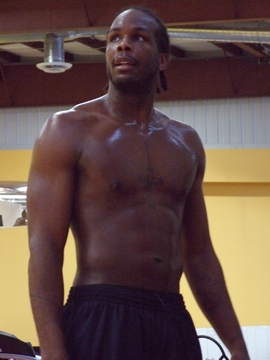 Another future Orlando pre-draft camp participant, Richard averaged considerably less minutes than any of the players here in attendance, but has quite a bit more to show for it. For that reason alone scouts will be watching him very closely in Orlando, since there is a legit case to be made that he has quite a bit more in the tank than he was able to show behind
Joakim Noah
and
Al Horford
.
Like his fellow teammate
Taurean Green
, Richard wasn't much of a drills guy at all. Anything that had to do with perimeter skills looked pretty ugly, including his shot, touch, or ball-handling skills. Richard went up against another beast in
Wendell White
for a number of one on one games, and the two basically seemed to be focused on who can inflict more pain on each other rather than actually scoring points. Richard has a body like He-Man and is unbelievably strong, so there is quite a bit of pain he can inflict if he puts his mind to it.
In the five on five pick-up games the next day, Richard looked considerably better. He started off the game by draining a spot-up jump-shot from 16 feet out, and then followed that up with a couple of semi-athletic drives spinning into the paint for a hook shot, sometimes throwing an elbow into his defender's grill just for good measure. He then proceeded to swish a 17-footer when his man was late to come out and guard him. In the post, he took a little bit too long to set up, showing some average footwork in terms of creating offense for himself on the block. Another negative that became quite clear were his poor hands, struggling to catch passes with a bit of zip on them and not being able to take advantage of his brute strength on the offensive glass.
Check back tomorrow for a recap of the other players in attendance here