Julian Applebome
Junior combo forward Isaac Copeland built on his Big East All Freshmen Team season with an inconsistent or even relatively disappointing sophomore campaign that saw his numbers largely plateau on a per-minute basis. In what was a very down year for a Georgetown Basketball program that had its first ever losing season under Head Coach John Thompson III, Copeland showed signs of positive development in a much larger role in which he started all 33 games, but also took a step back in other categories, which left him no choice but to return for his junior campaign without even testing the NBA Draft waters.
With the departure of D'Vauntes Smith-Rivera, the teams leading scorer last season, Copeland will have an opportunity to carry more of the load offensively, for what should be an improved Georgetown team.      
From a physical perspective, Copeland remains a mixed bag. At 6'9 he has good size to play at either forward position, but boasts below average length (6'9" wingspan) which shows in certain aspects of his game, particularly in his ability to finish around the basket. Hovering slightly above 200 pounds, Copeland has a solid frame, but doesn't stand out as being a particularly strong or physical player. He is not an elite athlete in terms of explosiveness, but is fluid with his movements, and has the ability to finish above the rim if he is given time and space to load up. He runs the floor well for a guy his size, and is able to find a lot of easy offense in transition when he is able to get out in the open court, and run the wings on the break.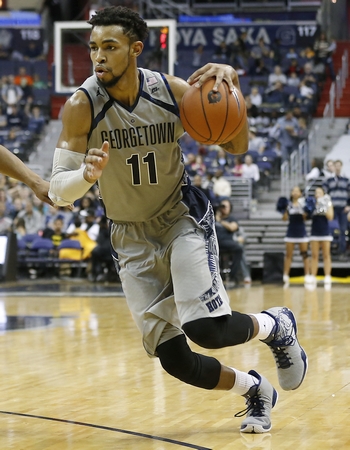 What is most intriguing about Copeland from a professional perspective is his ability to knock down shots from beyond the arc at his size. He fell off percentage wise from his freshmen year, hitting only 27% of his 3.8 attempts per game, but still seems to have the touch and quick release to develop into a more reliable threat from deep after hitting a more promising 39% of his 3-point attempts as a freshman. His mechanics are not ideal, and his jumper can come off flat at times, but he has the range and size to hit shots from all over the floor. He's active without the ball, and finds a lot of his easy offense on cuts to the basket, but he also looks comfortable moving without the ball to come off screens and hand offs for quick jumpers. While the majority of Copeland's offense came out of catch and shoot situations and off ball movement, he did show the ability to step in and knock down a one or two dribble jumpers going either direction.  
Copeland hasn't yet shown much in terms of creating his own offense. He is fairly limited in terms of ball handling ability, and rarely looks to attack off the bounce. On the occasional straight line drive to the basket or closeout attack, Copeland has shown he has the touch and body control to finish in traffic, but lacks the length and explosiveness to do it a consistent level. He's able to get away with it at the college setting, but it's something to monitor when he gets to the professional game and has to deal with more proficient rim protectors. He doesn't really look to finish through contact and only averaged 2.7 free throw attempts while spending just over 32 minutes per game on the floor.  
His ability to attack the basket at a better rate will certainly depend on defenses having to respect his outside shot, opening cleaner driving lanes. While Copeland has yet to show much in terms of advanced ball handling abilities, he has demonstrated some promise as a distributor.  He was featured in a fair amount of ball screen situations, something unique for a player his size, and showed the patience and vision to make the right decision.  His size allows him to see over the top of the defense, and find rollers to the basket and shooters spread across the floor.  He generally plays within himself, not forcing the issue, while compiling fairly low turnover numbers.  
Given his size and mobility, Copeland has the ability to guard wings, and some smaller power forwards that don't look to play a more physical brand of basketball out of the post. He competes and can be a willing defender who plays out of a stance, but is hurt by his lack of length and doesn't bring the same effort on every possession. His steal and block averages were both below 1 per-40 for his career, a bit of red flag for someone his size. He has the tendency to close out too aggressively on shooters, allowing penetration and forcing his team into multiple rotations. He should be able to be more of a reliable presence on the defensive end of the floor given his smarts and mobility, but he has to show some improvement with his fundamentals and toughness.
Copeland is a relatively mediocre rebounder, averaging just 6.8 per-40 last season. He did a poor job of attacking the offensive glass, posting one of the lowest rates at his position at just 1.8 per-40, which is disappointing considering his size and seemingly solid basketball instincts. Scouts will want to see Copeland play with a higher motor and sense of urgency on both ends of the floor, and this is one place he can make significant improvement as a junior.
Copeland didn't live up to the lofty expectations he created for himself after a very promising freshman season, , and will need to have a much more productive Junior campaign in order to keep his name in the draft conversation and not be labeled an enigma.  There are not too many guys in the college game who are 6'9, fluid, have a feel for the game, and can shoot the ball from deep at a consistent level, so if Copeland is able to find a more reliable stroke from deep this season, and play with better toughness and assertiveness, he will open up plenty of options for himself.  Georgetown has a much improved roster this season, but will surely rely heavily on Copeland's talent to try and bounce back from a highly disappointing year.