Jalen Hill, 6-7, Power Forward, Corona Centennial, 2017 Class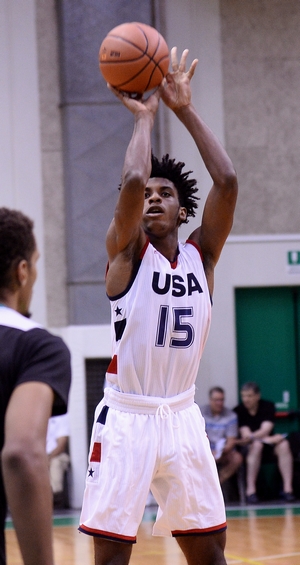 Strengths
-Tremendous frame (big shoulders, solid lower body) for a 16-year old that should fill out nicely in time
-Long arms (plus 5 1/2 inch wingspan) allow him to play bigger than his size.
-Extremely mobile player. Covers ground exceptionally well
-Multi-positional defender who shows great versatility on the pick and roll and stepping out onto smaller players on the perimeter.
-Nimble feet and excellent lateral quickness
-Possesses very strong footwork inside the paint and can score with very nice touch around the basket. Has good hands.
-Competitive player who runs the floor, tries on defense and generally gives a strong effort level
-Solid feel for the game
-One of the youngest players in the camp. Won't turn 17 for another six months. Still has plenty of time to continue to grow and improve his skill-level.
Weaknesses
-Undersized for a big man at just 6'6 without shoes. Frame has filled out nicely in the past year, but doesn't appear to have grown.
-Does not posses a very high skill-level offensively. Had a very difficult time putting the ball in the basket in Treviso, scored just 16 points in 63 minutes against much older players, on poor efficiency.
-Shows some potential as a mid-range shooter, but has a long ways to go in that area. Only made 4/11 free throws. Career 61% free throw shooter in 37 games we have in our database.
-Still learning how to play physical inside the paint. Has a great frame but lacks strength. Had a very difficult time on the glass in Treviso (11 rebounds in 63 minutes).
Outlook
Committed to UCLA. Big man with a great frame, but less than ideal height at this early stage. Right now a 6'7 PF/C. Impresses with the versatility he offers defensively, along with his footwork and touch around the basket, but will need to expand his skill-level and hopefully grow to emerge as a more interesting long term prospect. Did not have a great EuroCamp but undoubtedly this was a very good learning experience going up against much older and more experienced players. Will be 17 years old until midway through his freshman season in college.