James Banks, 6'10.5", La Lumiere High School, IN, 2016 Class, Texas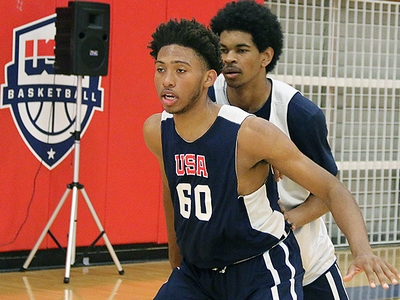 Strengths
-Tremendous physical profile for a center prospect – 6'10.5" with a 7'5" wingspan and 9'3" standing reach. Extremely developed 242-pound frame that still has room to grow. Very proportionate frame – tree trunk legs, strong upper body.
-Fairly mobile for his size
-Steadily improving motor and toughness. Shows some relentlessness on the offensive glass. Uses his body to carve out space. Will chase down rebounds outside of his area.
-Has value as a rim protector thanks to his length and compete level. Solid instincts and timing. Blocks shots as a primary and secondary defender. Uses his body well around the rim. Solid understanding of verticality.
-Can make a right handed jump hook. Occasionally shows touch from the free throw line.
-Has made great strides since we first evaluated him at Adidas Nations in 2015
-Well spoken with a vibrant personality
Weaknesses
-More long than explosive, which limits him as a finisher and rebounder in traffic. Plays mostly below the rim from a standstill despite his elite length. Slightly knock kneed. Can be a bit uncoordinated at times.
-Very limited offensively – 10.6 points per 40 minutes on 49.2% from two in 28 Adidas games. Bobbles passes. Doesn't have great touch or much in terms of go-to moves. Limited to put backs and uncontested finishes. Plays five feet in.
-Feel for the game is a work in progress – 9 assists and 26 turnovers in 516 minutes. Strong motor but can improve his timing and instincts on the defensive glass.
-Has room to improve his defensive fundamentals, especially on the perimeter.
-Has improved considerably but still has a long way to go in terms of refining his skills, becoming a threat as a scorer and improving his feel for the game.
Outlook
Banks, who at times in the past has been more prospect than player, showed great improvement, notably in terms of consistent effort, physicality and rim protection. His physical tools speak for themselves, and it was good to see the Georgia native putting them to good use on the defensive end. He's still a ways away from being much more than an energy big off the bench, but his progress is most certainly a positive as he heads to Austin to play for head coach Shaka Smart. Any player with Banks' physical profile is an NBA prospect, and it will be interesting to see how he develops under Smart, and alongside
Jarrett Allen
, over the next few years.
Interview