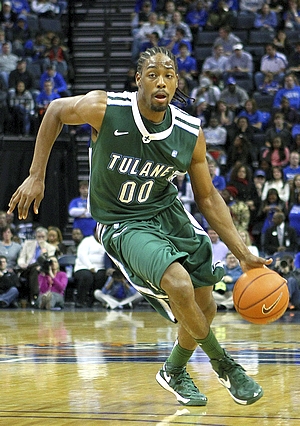 Jonathan Givony
A lightly recruited high school player who started his career close to home at nearby N.C. State, Josh Davis spent one season with the Wolfpack but ended up transferring to Tulane upon realizing he had little chance to find playing time for Sidney Lowe as a sophomore.
Davis ultimately developed into an excellent player for Tulane, earning first team All-Conference USA honors in his second year there, despite finishing just 6-10. Having played three seasons of college basketball in four years, Davis was eligible to spend his senior season at the school of his choice as a graduate transfer, and ultimately selected San Diego State this past May.
Standing 6-8, without a great frame, Davis has below average size for a NBA power forward. He's a solid athlete, and a very versatile offensive player, but his physical tools are unlikely to impress most NBA teams on first glance, which means he'll have to win them over in other ways.
While Davis entered college as strictly a role-playing hustle player, he developed his skill-set significantly over the past four years.
He is a very good ball-handler for a power forward, capable of creating his own shot in the half-court or in transition in impressive fashion. Davis' quick first step, long strides and commitment to attacking the defense tenaciously put tremendous pressure on opposing big men. He can drive and finish with both hands, utilizes spin-moves well, and is very creative around the basket. Davis got to the free throw line 9 times per-40 minutes last season, one of the top rates in college basketball, and converted 72% of his attempts once there, up from 47 and 54% respectively his first two seasons.
Davis' excellent footwork, ability to finish with either hand and aggressive approach makes him fairly effective with his back to the basket. And while it's difficult to see his post-game translating to NBA settings at his size, his rugged style of play will surely be appreciated by coaching staffs, as everyone loves a player with a real mean streak.
Davis' motor translates in a major way to his work on the glass, as he's constantly in motion and is not afraid to dive on the floor to secure extra possessions for his team. He pulled down a very solid 11.9 rebounds per-40 minutes, which is another facet of his game that could certainly endear him to talent evaluators.
Despite Davis' improvements from the free throw line, he hasn't been able to show any type of perimeter jump-shot in his time in college thus far. In the handful of attempts we can see on film from last season, it's not difficult to tell why, as he shoots the ball awkwardly, well in front of his face and with a noticeable hitch. Davis will certainly have to improve this part of his game in order to reach his full potential at the professional level, as there are very few players his size who can survive without some type of jump-shot in modern basketball.
Defensively, Davis has work to do to convince NBA teams he's capable of holding his own at the power forward position with his lack of size and bulk. He struggled badly in post-up situations last season, letting opponents score on a shocking 58% of their field goal attempts in these situations. He simply doesn't have the strength to hold off bigger and wider power forwards who can back him down inside the paint, which likely won't get any easier at the pro level.
On the perimeter, Davis finds more success, as he has solid lateral quickness and can be very effective when he's dialed in and playing at maximum intensity. Davis had a number of impressive possessions on film last season, showing that there is certainly some potential to work with, but like his entire team, he was not consistent at all in this area. Tulane ranked as one of the worst defensive teams in Conference USA last season and Davis certainly played a part in that.
It will be interesting to see how he looks at San Diego State in this area, as the Aztecs are usually one of the best defensive teams in the Mountain West Conference under Steve Fisher.
Somewhat of a positionless player at the moment, Davis has some very distinct and noteworthy strengths and weaknesses that will both endear and detract certain NBA teams depending on how they view him. He is certain to garner far more attention from NBA scouts in his senior year than he has up until this point in his career, and has a chance to really help himself with a strong season culminating in a NCAA tournament appearance. It's possible that a NBA team might try to convert him into being more of a combo forward (along the lines of DeMarre Carroll), but he will likely need to develop a more polished perimeter game to make that a reality.